How Does Shiprocket Handle Total Loss Refunds?
There are several hassles in running a business. Having an eCommerce store does not necessarily mean every problem will also be online. There are much more severe, tangible problems that business owners/ managers face.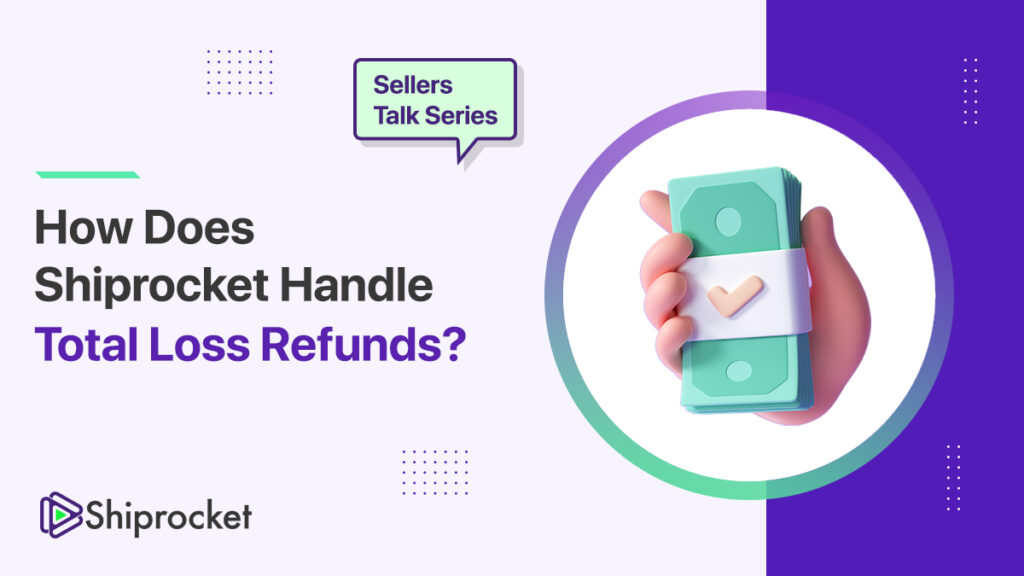 One such problem is when the product gets lost. Maybe it got lost in transit due to service failure or some other reason, it becomes a seller's reason for worry.
At Shiprocket, we strive to keep our sellers happy and satisfied with our services, including processing total loss refunds.
What is Total Loss?
Total loss is the stage where the courier company has marked the package lost after a certain number of days from their end.
In case of a total loss, Shiprocket returns* the entire amount back to the seller in 10 working days.
Below is an example of how Shiprocket helped Vijay, owner of an online electronics store from Ranthambore, Rajasthan, to process his order in a situation of total loss. Listen to the conversation below.
* only if blanket cover is activated.
Audio Transcript
SR Representative: Good afternoon, This is Ritesh on behalf of Shiprocket. How may I help you?
Seller: Yeah, Hi, I am Vijay from Dream Computers. I have had it with Shiprocket yaar. I had shipped an order with you guys way back on 20th March. The customer cancelled the order because he wanted a different product, so ek hafte ke baad on the 26th, my package was marked as RTO. Ab aap log kya hi karte ho pata nahi.. it's been more than two months, and I have still not received my package back.
SR Representative: Sir, we understand your frustration, and I am really sorry to hear about your experience. While RTO delays like this are very rare, I would like to apologize to you on behalf of the courier partner. To assist you better with this, I'll need a few details. Sir, can you please tell me the AWB number of the shipment?
Seller: Yes, it's XYZ0001234.
SR Representative: Thank you for the information, sir. As I can see from my end, the order value is ₹45,000. Is that correct?
Seller: Haan, tabhi toh keh rha hu, yeh amount bhi kaafi bada hai, aur mera package bhi nhi aya, Ab kya hoga?
SR: Sir, please do not worry. I would like to inform you that you had Shiprocket's Blanket Cover Activated on your orders. It gives you a security cover of upto 25 lakhs on all your shipments. As I can see, the shipment has been marked lost by the courier partner on…
Seller: Kya, aise kaise loss mark kar diye, mere ₹45,000 ki shipment hai. Ab mere paise ka kya hoga?
SR: Vijay, Please don't worry. As informed, you have Shiprocket's Blanket Cover Activated on your orders, and hence you will receive the complete shipment value directly in your bank account in 10 days.
Seller: Matlab mere paise wapas aa jayenge na? I am worried a lot. With Shiprocket, it's not usually like this.
SR Representative: Yes Sir, we have specially come up with this feature to safeguard the interest of our users. Our ultimate aim is to always let all our sellers like you ship orders with us without ANY worries.
Seller: Okay, chalo thoda relief hua abhi. Mujhe is feature ke baare mein dhyan nahi tha. Now I can continue to send my orders through Shiprocket.
SR Representative: Thank you, sir, really pleased to hear that. Is there anything else that I can help you with?
Seller: No, just this only. Shiprocket has such useful features that I generally don't have any problems. This is the first time I have faced such a challenge, but I am glad ki meri is problem ka solution mil gaya.
SR Representative: Happy to help, sir. We are always here to resolve all your queries. Thank you for calling Shiprocket support. Have a great day!
Summary
Businesses should not suffer from an unfortunate turn of events and process lapses. Shiprocket makes sure that every seller, small or large, is taken care of and their hard-earned money is in safe hands. Keeping situations like total loss in mind, Shiprocket has features that safeguard the sellers' interests to make their shipping experience more unique.
Stay tuned for more such seller talks.Have a query that needs answering? Write to us at support@shiprocket.com or call us @ +91-9266623006 [07:00 am -12:00 am] (Monday – Sunday)
Calculate Your Shipping Costs Now