A Guide To Help You Sell Handmade Items Online
You already have designed your handmade craft and it's now ready to be out in the market.
What is the best way to sell handmade items online?
You could set up a stall at a local fair, but that won't provide you with a wide reach. To cash a much larger audience, it would be most efficient to try selling your hand made items online. With online platforms such as Etsy, Craftsvilla, and many more, it's relatively easier these days to pitch your product to a vast audience.
One downside that most online sellers are concerned about is shipping. Selling relatively larger items such as large wall art, handcrafted furniture and so on, might become a hassle as it adds to the overall shipping cost.
However, we want to introduce your talent to the world. Why should buyers across the globe not get access to your exclusive design and style?

With courier and logistics aggregators like Shiprocket, you can now easily ship your products across 24,000+ pin codes and 220 countries, with discounted shipping rates starting from as low as Rs 20/500 gms. You can choose to ship your products from our top-rated courier partners, as per your requirements (fast delivery, low cost, etc), with no minimum shipment limit.
If you sell your products on your own website, you can seamlessly integrate your website with Shiprocket and enjoy hassle-free shipping.
Steps to Help You Sell Crafts Online
Now, let's look at a few simple steps that would help you in making money off your craft in no time.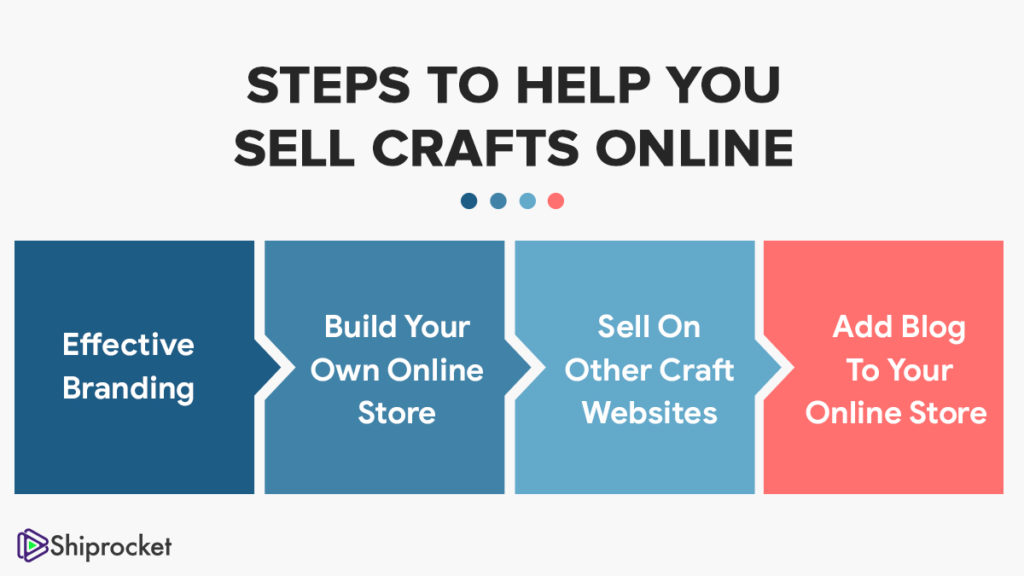 Branding
Establishing your brand is one of the most important steps in selling your handmade items online. This is to get the audience introduced to your style and establish you as an artist. Your branding strategy should consist of ideas that can give your customers an insight into what makes you unique. There are two crucial aspects that you should take into consideration while designing your branding strategy –
Having A Unique Selling Point
Finding the Unique Selling Point is extremely important for any new brand if it wants to reach bigger groups of potential customers through online platforms. Touching the nerve of that one thing that sets your craft apart from multiple other competitors in the market and branding it in an effective way can strengthen the business. Highlighting the extra value that a brand can add to potential customers can take it a long way.
Unique Brand Image
A unique brand image helps customers get attracted to the brand's personality. A brand image consists of various things such as the brand logo, social media captions, banners, taglines and so on which ultimately would highlight the story of the brand. If you sell your products on your own website, it is important to choose a theme for your website, which includes the layout, graphics and much more.
Your brand should give the audience an identity of your brand, and this should be applied to everything from your business cards to your online craft store and social media profiles.

To learn more about branding in detail, check out our guide on how effective branding can increase your sales.
Build Your Own Online Store
There are, undoubtedly, several ways to sell your handicrafts online. However, selling through your personalized online store is one of the best ways to sell your handmade items online. This way, you can deal with your customers directly without having to pay any marketplace fees. Also, once a customer visits your online craft store, there's no competition, as they will be looking at just your collection, presented the way you want.
If you've never built a website before, there's nothing to worry about. With Shiprocket 360, you get a do-it-yourself (DIY) platform where you can build your own online store in a few simple steps. It allows you to add products, payment gateways, logo, images, etc in the easiest manner you would find.

With Shiprocket's API integration, you can also easily integrate your handicraft store with your Shiprocket account and access all your orders from one single platform.
Top Marketplaces To Sell Online Crafts
Apart from selling on your own online crafts store, there are many other crafts websites that can help you in widening your reach and find more potential customers. If customers like your crafts, there are high chances they visit your website too. Here's a list of a few popular online craft stores listed for you-
Etsy
Etsy is a global online marketplace that focuses on handmade or vintage items and craft supplies, They fall under a number of categories such as jewelry, bags, home decor, furniture, etc. Many consider Etsy as one of the best eCommerce websites to sell handmade items online.
Craftsvilla
Craftsvilla is an online marketplace to discover Indian handicrafts. It offers products such as traditional apparel, handmade gift items, home decor, and accessories. Whether you are an individual supplier or an artisan working with traditional handicrafts and arts, you can sell your items on Craftsvilla.
The India Craft House
This is a perfect online marketplace if your products have a contemporary touch to them. The store sources all the products directly from artisans, which can be sold from anywhere, within India.
Add A Blog To Your Online Store
Adding a blog to your online craft store will help you in drawing traffic to your website. Writing about topics that are closely linked to your crafts will help you in connecting with potential customers more. Blogging not only connects you well with customers, but the right‌ ‌keywords‌ ‌used‌ ‌in‌ ‌your‌ ‌blog‌ ‌can also help your website to rank higher on search engines like Google, Yahoo, Bing, etc.. This, ultimately, will lead to more and more customers to visit your online store.
You can apply these simple ideas while writing your blog –
Your inspiration and favorite artists
Your upcoming projects to update your customers.
Write about the hurdles that came your way while making your craft projects and how you overcame them
Help other craft makers through your blogs by writing about simple tips and tricks
How To Boost Handicrafts Sales Online
After doing all of the above, it's time to boost sales of your handmade crafts. No matter which online handicrafts site you choose for selling your items or you build the most customer-friendly online store of your own, you will always need a few ways that will help you boost your sales.
High-quality Product Photos
'The first impression is the last impression' stands true when it comes to customer's choices. Hence, professional-looking photos of your handmade items are extremely crucial. These pictures will help in attracting more potential customers and eventually improve the sales of your products.

The photographs should be extremely clear and attractive to the users' eyes. For example, try and click pictures of your crafts on a plain white background, this makes sure there's nothing else in the image that can draw attention away from the crafts.
Utilize Social Media Platforms
Increase your presence on all mobile and web-based social media platforms. Utilizing social media to the fullest is one of the most effective ways to boost your handicrafts sales online. Create attractive social media posts and let your customers know about your latest offerings. Along with posting regularly on social media, it is also very important to analyze your social performance.
Facebook and Instagram come with built-in analytics tools that help you in figuring which of your posts are working best at attracting people to your store. These tools will also tell you how much your promotions are helping you in selling crafts.
Take Care Of Your Listings
Another effective way to boost your craft sales is to take care of how you word the listings of your product. Think from your customer's perspective. Rather than using a more creative name that you might have given your craft, try to name and describe your product listing in simpler language, keeping in mind the search terms your target might use while searching for similar products.
Now that you are aware of the steps required to sell your handmade items online, what are you waiting for? It's time for you to get your online shop up and running.
Happy selling!
FAQs (Frequently Asked Questions)
Is selling handmade items a good idea?
Yes, many people have a thriving handmade and homemade products business in India. You, too, can start your business, and we can be your shipping partner.
Can I ship my handmade items with Shiprocket?
Yes, you can ship your products with us at the lowest shipping rates.
Where can I ship my handmade items in India?
You can ship your handmade products with us to 24,000+ pin codes in India. You can also ship your products to 220+ countries with us.
Can I build my online store with Shiprocket?
Yes, you can build your store with our power-backed omnichannel solution Shiprocket 360.
Calculate Your Shipping Costs Now