7 Hyperlocal Delivery Challenges & Practical Solutions to Overcome Them
The hyperlocal delivery market is growing at an exponential rate in India. According to a report by Tracxn, we have seen an 80% growth in the number of startups that have emerged for hyperlocal delivery since 2014.
The hyperlocal market in India is mostly unstructured. Therefore, it is not an easy task to formulate a streamlined supply chain process for the delivery of goods. Since there are many micro markets among these hyperlocal ventures, it is necessary to provide them with a marketplace or individual delivery services.
Various hyperlocal marketplaces like Grofers, Zomato market, have taken shape in the last few years. Multiple hyperlocal vendors have also set up their online website to expand their business and reach more customers.
For example, ever since we have gone on a lockdown, various essential goods are being delivered with hyperlocal delivery. This is testimony that the market is enormous and upcoming.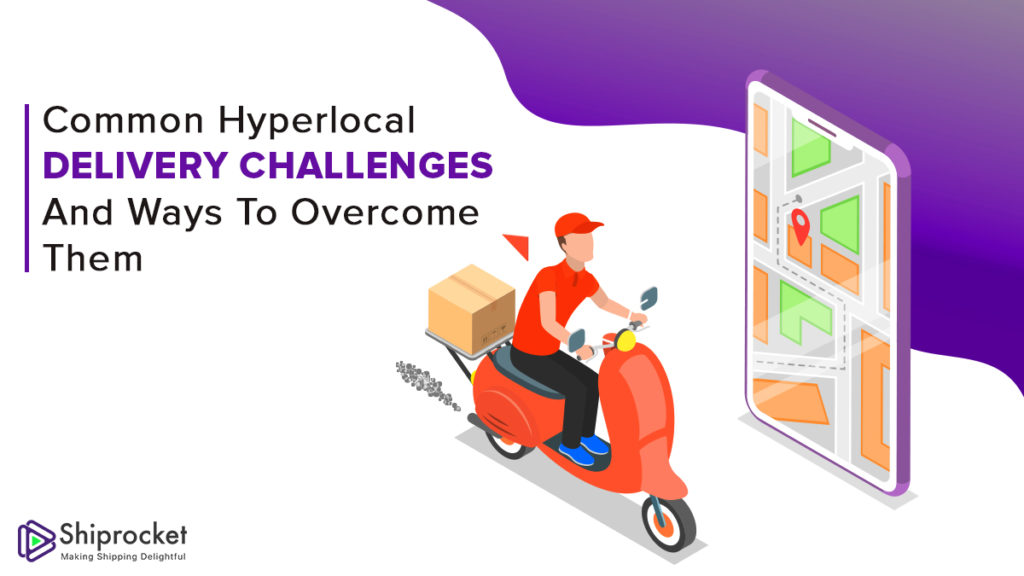 But with every opportunity, there are some challenges that come across. Since the market is large and unstructured, the problems accompanying it are also vast. Let's have a look at these challenges faced by sellers who run hyperlocal businesses and try for delivery.
Increasing Competition
The hyperlocal eCommerce market has always been a competitive one. With time, hyperlocal delivery is no longer just an additional benefit. There is immense competition in the hyperlocal delivery business with players like Shadowfax local, Dunzo, Grab, etc. coming into the picture. Since most sellers are opting for the services, you must have a good reach and a service that gives you access to all these delivery partners. You can get that with Shiprocket hyperlocal services.
Fleet Management
Hyperlocal sellers that sell products like grocery, medicines, stationery items, raw meat, etc.usually tend to hire their fleet. This can be challenging as the resources spent on managing this workforce can be a lot. Also, since the orders are not scheduled at fixed intervals, managing a large fleet can be cumbersome.
Irregular Operations
Hyperlocal deliveries are extremely scattered. Even though the customers may be loyal, their orders are not always regular. There are many times in the year that these orders see a spike. For example, on occasions like Diwali, when guests are pouring in regularly, the frequency of orders may increase. Otherwise, the order frequency is rather low. Therefore such irregularity in operations is a significant challenge for hyperlocal deliveries.
Additional Fees by Hyperlocal Marketplaces
Hyperlocal marketplaces have been the talk of the town for a few years now. They have grown to be customer's favorites as they sort out their delivery needs conveniently. But, for sellers, they are not such a treat. Even though they provide the required visibility to these stores, sellers have to shell out additional costs for getting their products listed on these marketplaces. This can be quite a challenge for somebody who is just starting with the hyperlocal market and does not have the margins to do so.
Fight for Exclusivity
On these online hyperlocal marketplaces, brands have identified a few of their exclusive stores. The stores are usually the ones that can afford to pay extra for visibility and reach. In this fight for exclusivity, smaller stores typically don't make the cut. Also, marketplaces have started manufacturing their products. This poses a threat to the already available shops and sellers. Hence, selling on marketplaces is also not as easy as it may look.
Additional Marketing Costs
Providing hyperlocal delivery is one aspect of the business, but making your customers aware of it is a different ball game altogether. Hyperlocal delivery sellers do not have a huge profit margin on their sales. Therefore, investing in elaborate offline marketing can be a challenge. It is easy to inform regular customers about the service, but acquiring new customers is difficult. For sellers who had their online shop set up along with their brick and mortar store, can run campaigns on social media. But targeting a small area specific audience can be a challenge.
Difficult Expansion
Since these shops operate at the micro-level, it is challenging to expand delivery services until very far. You can target buyers only till a particular geographical area after your market saturates. Therefore, growing your business leaves you with only a few options, like opening branches in different regions.
One-Stop Solution – Shiprocket Hyperlocal Service
A one-stop solution to counter all these challenges is Shiprocket's hyperlocal delivery service. With our hyperlocal service, you get access to leading hyperlocal delivery partners such as Shadowfax local, Dunzo, Wefast, etc. Also, you can ship conveniently in a range of 50 km. The platform is extremely user-friendly, and you can book a courier at your convenience. This helps you eliminate the requirement for managing a large fleet, and you can easily counter the occasional spike in orders.
If you want to ship local orders with Shiprocket's hyperlocal services, click here.
Make hyperlocal deliveries a seamless task for your business!
Calculate Your Shipping Costs Now