Introducing Shiprocket's Hyperlocal Delivery Services!
How many times has it happened that a nearby customer ordered a product from your store, and you couldn't deliver it because you did not have delivery agents? This problem persists with most grocery stores, chemist shops, online pharmacies, food delivery shops, home cooking ventures, etc. Many sellers lose out on customers who live close to the store because they cannot deliver the products on time, or they do not have the necessary resources.
Today, no buyer is interested in waiting for more than 24 hours or a maximum of 48 hours to get their products delivered. Moreover, if a buyer needs to purchase groceries, he wouldn't want to wait for more than a few hours to get the items at his doorstep. Hence, it becomes necessary to be able to have a system in place that can help you provide these products timely and efficiently.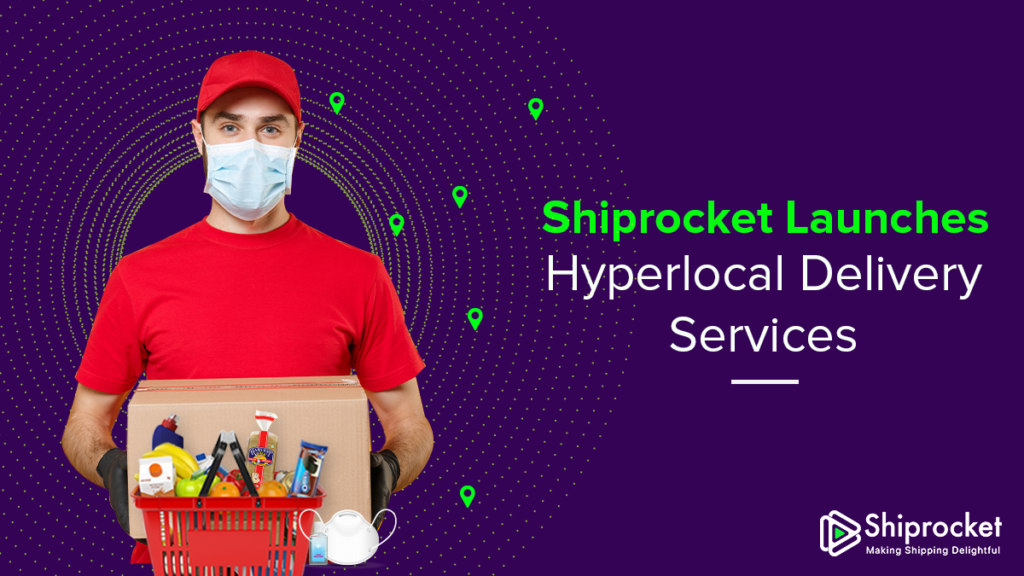 To ensure that sellers can reach out to maximum customers directly without the delays of pick up, processing, and delivery Shiprocket has come up with their new venture – Hyperlocal Delivery Services
What are Shiprocket's Hyperlocal Delivery Services?
Shiprocket's hyperlocal delivery services are for eCommerce sellers who want to deliver their products within a radius of 50 km from the pickup location. Sellers can sign up on the shiprocket platform and ship their hyperlocal orders with a range of delivery partners.
As of now, we are active in 12 cities across India (you can find the list of cities in further sections), and you can ship with the experienced hyperlocal delivery agents of Shadowfax Local, Dunzo & Wefast. Soon, we will have more delivery partners delivering your orders too.
For Shiprocket's hyperlocal delivery to function, the pickup pin code and delivery pin code must be in a range of 50 km.
Interested to learn more? visit https://www.shiprocket.in/hyperlocal
How are these Services Useful for Your Business?
Hyperlocal delivery services can be a game-changer for your business if you sell items like grocery, pharmaceuticals, food products, cosmetics, medicines, etc. Here are a few benefits –
Faster Delivery
You can provide the same day or next day delivery to people staying within a 50 km radius. This lets you unlock various opportunities and also build valuable customers who repeatedly choose your store.
No Hassles of Volumetric Weight
You do not have to calculate the volumetric weight of each order. The only condition is that the product must not be greater than 12 kgs so that the delivery agent, who is delivering on a two-wheeler can easily carry it.
Decreased Shipping Cost
You can ship at a starting price of Rs.79/5 km. Also, the return order charges will be the same as the forward order charges. This will give you an edge over businesses, and you can conduct more deliveries.
Experienced Agents
Shiprocket gets you the best delivery agents of experienced partners like Shadowfax Local, Dunzo, and Grab. They have ample experience in the field, and you will not need to train them separately.
How to Get Started?
All you need to do is create an account on the Shiprocket panel. You can do so by clicking here.
If you are already signed up with Shiprocket, you can follow the following steps to process a hyperlocal order with Shiprocket –
Login to your Shiprocket account
Go to the Add Order tab
Add delivery address and pin code
Select the exact address on the map provided
Add your local pick up address
Add product details like the price, weight, and quantity
Check all details and click on Add Order
Go to the 'Process Orders' tab, locate your order, and click on Ship Now
Enter the HSN code if you have it or skip to the next step
In the courier recommendation page, Go to the Local tab
Select your desired partner
Generate pickup and print invoice
You can also use your Android mobile app to schedule deliveries. Here is how you can do so –
Open the mobile app
Go to 'Create New Shipment'
Add the pickup address
Fill in the delivery pincode
Select the address on the map provided
Add product details like the price, weight, and quantity
Click on find courier partner
Choose from the courier partners available
Add the buyer's details
Click on Ship Now and Request Pickup
Download the manifest
List of Cities Active for Hyperlocal Deliveries with Shiprocket
Ahmedabad
Bangalore
Jaipur
Chennai
Delhi
Faridabad
Gurgaon
Hyderabad
Mumbai
Navi Mumbai
Noida
Pune
Final Thoughts
Shiprocket's hyperlocal deliveries can be a useful tool for your business to conduct deliveries faster. You can also use it as a tool for expedited last-mile delivery. Especially in times of the COVID-19 pandemic, you can utilize Shiprocket's services to deliver essential items to your buyers!
Calculate Your Shipping Costs Now