Hyperlocal Delivery Services in Hyderabad
Expanding your business to the hyperlocal model of eCommerce can be one of the best things you do for it. While reaching out to customers across different parts of the country along with across the borders seems a good way to expand the business and earn profits, it is also quite challenging. You have to put in a lot of effort into building your reputation, then planning a strategy to target the customers along with keeping your business up to date with the latest market trends.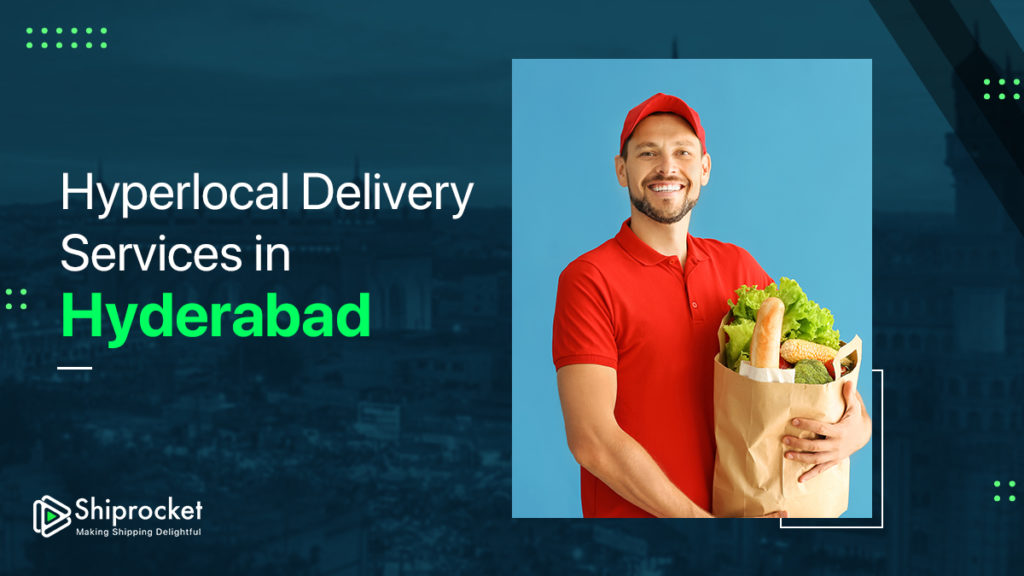 However, there are other quick ways of expanding your business that can also bring you instant profits. One such business model is the hyperlocal delivery model. Not only does it open new sources of income for your business, but bring it to the people, it might be most relevant to. It opens your opportunities in your geographical area, where understanding the customer is much easier, and reaching out to them is convenient.
In other words, hyperlocal delivery can be a big business opportunity, especially in Hyderabad due to the presence of several hyperlocal delivery carriers. Right from gifts to essentials and more, you can plan to cater to the demands of your local customers with the help of these carriers. This directly helps you deliver more and thus earn instant profits. If you're looking forward to learning more about these courier services, don't worry, we've got your back! Read on to find out the top hyperlocal delivery services in Hyderabad.
Hyperlocal Delivery Options for Hyderabad
Before you start shipping with any of the hyperlocal courier services, it is essential to know about the delivery options in your area. While hyperlocal can encompass a wide variety of products, you must be aware of what your local customers look online the most. For example, even though you can sell clothes in a hyperlocal delivery model, chances are you'll not get any orders for them. This is because customers have a buying preference for certain products. More to this, hyperlocal delivery models fit the kind of products that have generally an urgent requirement. Some of the examples of products that you can deliver via hyperlocal delivery services in Hyderabad include-
Flowers
Cakes
Grocery
Restaurant food items
When it comes to gifts, flowers and cakes are an excellent option for delivery. But most people don't offer these to their customers since there is a great chance that these products are not delivered fresh to the customer. This results in bad customer experience as well as a damaged reputation of the seller. However, with hyperlocal delivery services in Hyderabad, these products are delivered as fresh as they are dispatched.
A similar scenario goes with food items. Customers love to order food from restaurants. So, if you have a restaurant that only provides dine-in facility to customers, you can maybe start thinking from a delivery point of view. Especially, as a post-COVID business opportunity, food delivery is a great option, since most customers will be expecting it. With fast and quality delivery partners in Hyderabad, you can capitalize on this opportunity and get to increase your profits.
Top Hyperlocal Delivery Partners
Wefast

Wefast is one of the most popular delivery options in Hyderabad. The company is known for its reputed hyperlocal delivery services in not only Hyderabad but other cities of India as well. One of the best qualities of Wefast is that it makes a delivery agent available at your doorstep within 15 minutes of raising a request. Wefast also has a wide coverage area in the city, helping you deliver at your customer's doorstep in the shortest amount of time. Here are other striking features of Wefast-
90 min expedited delivery
The price starts at Rs 40
Convenient tracking
COD option
Moto delivery
Delivers documents, products, flowers, and more
Dunzo

Another one of the top names in the hyperlocal delivery business is Dunzo. Dunzo is known all over India for its fast and quality delivery services. It is also one of the low-cost hyperlocal delivery services in Hyderabad. Right from groceries to food supplies, pet supplies, and more, Dunzo is there to help you reach out to customers in your geographical area. Here are some of the best features of Dunzo-
No minimum order
Free delivery for new users
45 minutes expedited delivery
Bike pool
Health and wellness products
Delivery of fruits, vegetables, groceries, meat and fish, gifts etc.
Grab

Grab is a hyperlocal delivery service that was launched in 2013. The company has ever since been known for its quality hyperlocal delivery services. Over the years, Grab has constructed a delivery fleet that helps several small and medium sellers reach out to their customers in their local area. This not only gives a boost to the local business but also helps customers get urgent deliveries without any delays. With its proven services, here are some of the advantages of using Grab-
First mile services
Forward and reverse delivery
Intra City delivery within 5 kms
Delivery of food, grocery, retail, pharmacy, documents, and custom packages.
SARAL
Shiprocket is one of the most popular names in eCommerce logistics across India. SARAL is a hyperlocal delivery division of the artificial intelligence backed platform Shiprocket. It is a multilingual app that lets sellers reach out to their customers extensively in a geographical area. With SARAL you can conveniently add your hyperlocal orders on your mobile phone and get it delivered at the lowest costs.
Multiple delivery partners
COD options
Quick remittance
Multi-lingual support
Wide pin code coverage
Pick and drop service
Low-cost shipping
Shadowfax

Even if you don't ship hyper-locally, you must have heard the name of the reputed courier company Shadowfax. Shadowfax is known for its low cost and fast delivery services across the entire nation. eCommerce businesses often use Shadowfax for forward and reverse shipments. With its hyperlocal delivery services in Hyderabad, Shadowfax makes this field of commerce extremely simplified for the sellers. Here are some of the top benefits of shipping with Shadowfax-
30-90 minute expedited delivery
Delivery of food, pharmacy products, groceries etc.
Hassle-free technology platform
Final Thoughts
With these delivery services, you can take your hyperlocal business to the next level and reach out to even more customers in your area. Since you can dispatch more orders in a day with this business model, you can cater to more customers and, as a result, draw more profits to your business. Be sure to understand the demands of your customers first before you prepare a strategy for your hyperlocal delivery business.
FAQs (Frequently Asked Questions)
Can I deliver my orders in Hyderabad with Shiprocket?
Yes, you can deliver your orders to more than 24,000 pin codes in India, including Hyderabad, with Shiprocket.
Can Shiprocket help me deliver hyperlocal deliveries in Hyderabad?
Yes, you can deliver your hyperlocal orders with us in Hyderabad.
Which courier partner will deliver my hyperlocal orders?
You can deliver your hyperlocal deliveries with Dunzo, Shadow Fax, and Borzo.
Can I track my hyperlocal deliveries with Shiprocket?
Yes, you can always keep your buyers in the loop with real-time SMS & email tracking updates with Shiprocket.
Calculate Your Shipping Costs Now