Why is the Application of eCommerce in Your Hyperlocal Business a Smart Approach?
Digitization in India has exploded in the last few years. Almost all operations are being automated, and internet penetration in the country is increasing exponentially every year.
According to a report by Statista, we had over 525 million internet users in the country in 2019. This number is projected to touch 666 million by 2023.
With so many users on the internet, you can put eCommerce to good use for delivering day to day supplies and services.
A study by KPMG India pointed out that 85% of SMEs that adopted eCommerce found it to be an extremely efficient and cost-effective medium for growing sales.
Most SMEs in India are unstructured and distributed. They operate via small shops and sell to a limited audience daily. Most of their deliveries are hyperlocal, and their business is restricted to a small geographical area.
These businesses can excel to greater heights if they adopt the eCommerce model.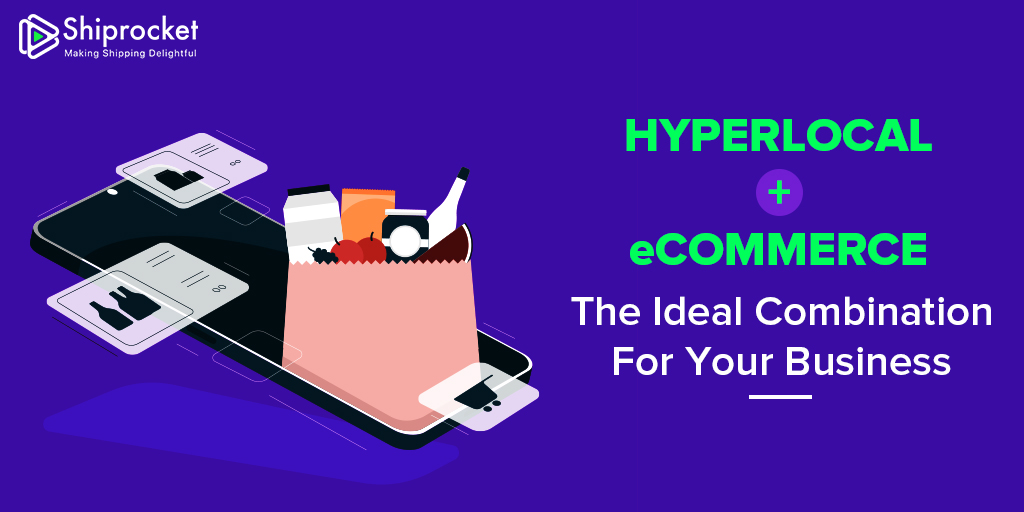 The eCommerce model is the process of listing your products online on the website or market place and then shipping them to buyers when they place an order.
The application eCommerce model can be beneficial for hyperlocal sellers as well. Let's see how –
Website for your Store
Once you set up a website for your store, you can list all your products online. You can ask your buyers to log onto the site and create an order directly from there. This will help you reduce the time wasted on phone calls, and you can fulfill more orders in less time.
Also, with a website for your store, you can easily mark the inventory that is in stock and easily remove products that are not available. If the same order collection process is done on call, you will have to manually check if the product is available and then give a response to the buyer.
Furthermore, when a buyer calls you for placing an order, they have a specific number of items in mind. If they order products from your website, they might be prompted to buy more than they intended to as they will have more options in front of them.
We have an easy way for you to create your website. You can do so on Shiprocket Social. You can create a website for free and step a store in minutes to shift your business online.
Easier Order Management
Once you put in place a system for inventory and order management, all your incoming orders will be in sync with the catalog. This way, you will be able to process orders systematically and also have accurate data about your inventory.
Since hyperlocal orders usually consist of items that are either perishable or have a short shelf life, a more streamlined order management system can help you restock smartly.
Hyperlocal Delivery with Multiple Agents
You can sign up with channels like Shiprocket to help you deliver orders faster. You can create an account, add orders, and ship with multiple hyperlocal couriers to ensure that your orders reach your buyers on time.
The main benefit of working with such hyperlocal delivery solutions is that you can be flexible with your deliveries. You can take orders in advance for customers and schedule them beforehand to avoid any misses. Moreover, with such platforms, your dependency on one agent delivering goods to nearby customers decreases.
Shiprocket has partnered with Shadowfax local and Dunzo to deliver products within a radius of 50 km. So, you can also accept orders from households slightly away from your shop.
If you want to deliver to nearby customers with a reliable hyperlocal delivery service, click here or call us at 9266623006.
Decreased Delays
Once you streamline the incoming orders and put in place a process for handling these orders, you can allocate more work to people and get things done faster. If you integrate your website with a hyperlocal delivery solution like Shiprocket, you can automate your process to a large extent.
If you sell medicines or necessary cosmetic products, you can set up auto-repeat of orders after fixed intervals so that customers do not have to order the same products again and again. You will be able to develop a lasting relationship with your customers, and they will be able to receive their products without any delay as the orders will already reflect on your system.
Buy Online & Pickup in Store (BOPIS)
Another useful avenue of eCommerce for hyperlocal sales is the buy online pick up in store aka BOPIS option. Many times it happens that people do not want to wait for a long time for deliveries. In such cases, you can allow them to place the order online and then to pick it up from the store.
This will help you reduce any additional delivery charges, and the buyer can check the product beforehand. It is useful for you as you will not have to take orders on calls, and any miscommunication can be prevented.
Mobile Applications
Since there are millions of active users of mCommerce, Setting up a mobile application for your store can help you engage with many more customers. You can promote your store widely and also provide offers to customers based on their location.
Another great thing about applications is that people access them more frequently. So, if you have an android or iOS application, people will return to your store as it will be more accessible for them.
Since grocery items, meat products, and other essential items are consumed by customers regularly, having a mobile application can give you an edge and help you forge long-lasting relationships with customers.
Customer Support via calls & emails
Once you provide the service and products to your customers, support follows. Moreover, sometimes customers want to enquire about the products you sell, and cannot find that information when they are shopping with you over phone calls.
With a website or application, you can install a full-fledged support system and help docs to clarify any query that your buyers may have. Furthermore, if they have any complaints or feedback regarding the product or service, they can do that via text/call and get a resolution quickly.
Conclusion
eCommerce has taken the retail industry by storm. Today, most retail sales are dominated by eCommerce, and the hyperlocal landscape is not far behind. The application of eCommerce in this domain can help sellers grow their business tremendously with faster deliveries and more exposure!
Calculate Your Shipping Costs Now