How is BOPIS a Win-Win eCommerce Approach For You & Your Customers?
In this uber-competitive eCommerce market, your store must evolve with the changing trends. It's the era of quick shopping; the preferences are moving toward same-day delivery. Moreover, people now want to be sure before they make a purchase. Due to a hectic lifestyle owing to extended work hours, it becomes challenging to make returns. This is where the concept of 'buy online and pick up in-store' comes into place. It's the right balance between shopping online and quick delivery. Let's dive into what it is and why it can be an intelligent choice for your business!
What is Buy Online Pick Up In-Store (BOPIS)?
Buy online pick up in-store (BOPIS) or 'click and collect' is the process of placing an order through the website or mobile app of a brand, and instead of getting it delivered to your doorstep, you can pick it up from the physical store.
It is an omnichannel approach and helps you provide your buyers with a uniform shopping experience across various channels. For retail sellers looking to divulge into the online ecosystem, it is an excellent approach as it leaves ample space for growth and diversification.
According to a report by emarketer, nearly 81.4% of internet users worldwide reported ordering items online for in-store pickup as more consumers are drawn to the service's convenience and speed.
How Does it Work? – The BOPIS Process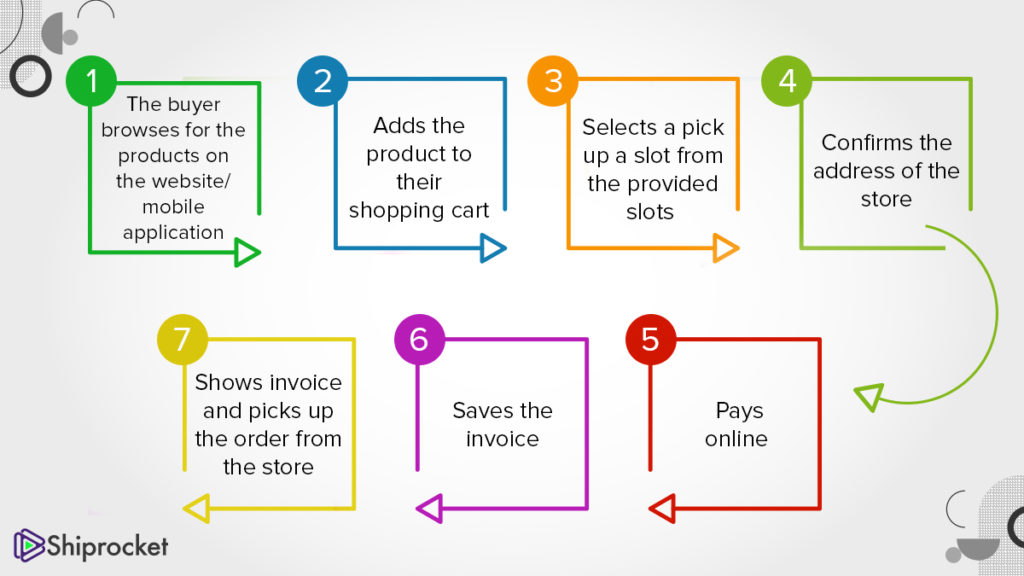 Step 1 – Buyer Browses the Products on the Website/Mobile Application
As any other online shopping process begins, the customer selects the products they want to buy. They can go through the product catalog on your website or the mobile application, whichever they feel is more convenient.
Step 2 – Add the Product To Their Shopping Cart
Next, they add these products to their cart. Once they finalize their shopping cart, they can select their mode of delivery i.e., store pick up or doorstep delivery. This is where you can provide flexibility to your customers. If they are comfortable with standard delivery, you can do so by shipping with a solution like Shiprocket, and if they need a faster option, they can pick it up from the store.
Step 3 – Select a Pickup Slot From the Provided Slots
Following this, your buyers can select a suitable date and time slot to pick up their orders. Putting out a schedule for pick up in-store gives you two advantages –
You can restock your sold out products and hand them over at a further date. This way, you can display these products on your website and find a bridge between sold-out inventory and restocking.
You can control the number of people coming into the store for smooth operations. This can help you avoid confusion and chaos. Also, if you have multiple branches, you can redirect the buyer to the store that has the product in stock.
Step 4 – Confirm The Address of the Store
Post selecting a slot, the buyer must cross-check the store's address.
Step 5 – Pay Online
Next, the buyer can pay online for their order with different payment modes like credit cards, debit cards, net banking, UPI payment, etc.
Step 6 – Invoice Generation
After payment, the buyer can save their invoice. This would contain the order and payment details.
Step 7 – Pick Up the Order From the Store
Finally, the buyer can show their invoice at the store and pick up their orders.
Advantages of Buy Online Pickup In-Store for Your Business
Buffer to Stock Up
With the buy online and pick up in-store model, you can easily postpone your delivery date if the product is not available in stock. All you need to do is provide the buyer with a different delivery date. The best part about this is that you do not have to show any product as out of stock. Also, if a buyer selects a later date for pick up, you get ample time to stock up. You can manage inventory better and do not need to overstock even in the festive period.
Reduced Last-Mile Delivery Hassles
With the buy online and pick up in-store approach, you can eliminate or even reduce your shipping costs. This is so because you no longer need to deliver the products to your buyer's doorstep. You save on shipping costs as well as the infrastructure required to deliver these products, and the workforce required to do so.
Scope to Offer Better Discounts
Once you eliminate the shipping costs, you can easily offer more competitive prices to your buyers. This enables you to give better deals and discounts to market your products better. As we are aware, Indians are quickly drawn to striking deals, and you can tap into this psyche to sell more.
Sell More With Bundle Deals
A report by Invespro states that nearly 75% of shoppers make an additional purchase when they collect their products. Therefore, if you offer bundle deals at the time of their pickup, there is a high chance they will end up purchasing more than what they had planned for. This enables you to market your products better while you save on overhead costs. Moreover, you can easily retain customers if you offer them deals throughout the year.
Integrate Your Online and Offline Store
The buy online and pickup in-store approach is an intelligent way to provide your buyer with an integrated shopping experience across your offline and online store. It is a bridge that joins eCommerce with retail and helps you target both the audiences simultaneously.
Conclusion
The buy online and pick up in-store is a progressive move if you want to enter the retail space. Whereas, retailers who wish to experiment with the eCommerce market, can also begin with this and slowly start delivering. It gives your business a push and helps you sell wider.
Calculate Your Shipping Costs Now