Hyperlocal Delivery Vs Last-Mile Delivery: Know the Difference
The eCommerce industry is enormous. More often than not, we tend to get confused between a few terms and also use them interchangeably. Hyperlocal delivery and last-mile delivery are two such terms. Even though both of them comprise similar functions, their specifications and functionality are slightly different. But the end goal for both is the same – get things delivered faster, tamper-proof, and drive the best customer experience for any business.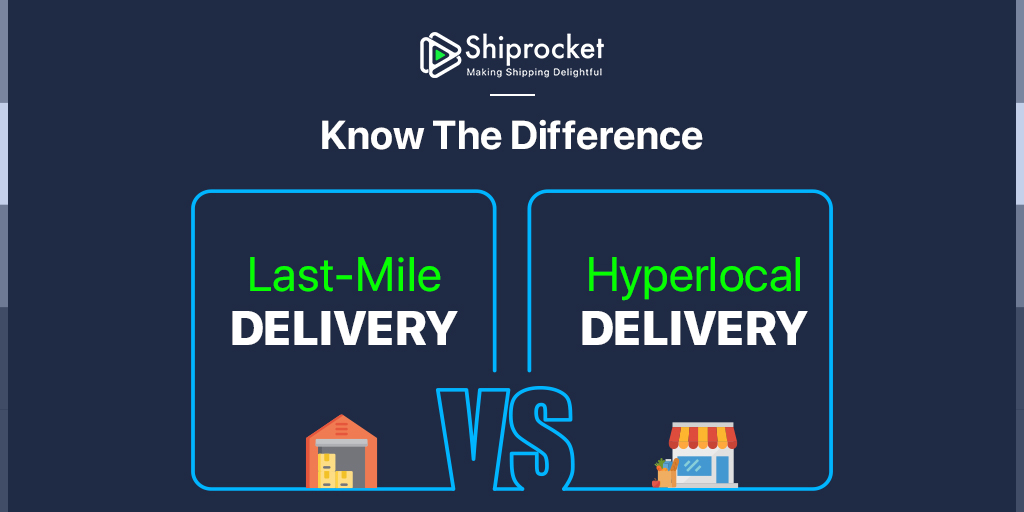 But to understand which delivery model needs to be strengthened for your business, you need to understand the difference between the two. Let's dig deeper and micro-analyze to see which delivery model serves what purpose.
Last-Mile Delivery
These kinds of deliveries are usually done by a last-mile delivery fleet of the courier company appointed for delivery. Agents carry packages on their bikes, vans, or other transportation means, to deliver them successfully to a customer. Last-mile distribution is defined as the process of transportation of packages from a central hub to the customer's doorstep. It is the last leg of an elaborate fulfillment process followed by eCommerce companies.
Hyperlocal Delivery
Hyperlocal delivery refers to the process of delivering goods directly from a seller to the customer. It involves the operation of a courier agent picking up products from a seller and then delivering them directly to the customer's address. It is carried out in a small geographical area, and deliveries are usually completed within a few hours.
Difference Between Last-Mile & Hyperlocal Delivery
Time Taken for Delivery
The time taken for delivery in the last-mile model can be anywhere between 12-16 hours. If you receive a message from your eCommerce company stating that the delivery agent will deliver the product today, you will receive the product anytime between the next 12-16 hours or even the next business day. Sometimes when the delivery area is greater, like in metro cities, the time taken can be more than 16 hours also.
In hyperlocal delivery, usually, the aim of a courier delivery agent is to deliver the product in a span of 2 to 3 hours or a maximum of 6 to 8 hours. Since the geographical perimeter is smaller as compared to last-mile deliveries, deliveries do not take very long.
Delivery Responsibility
The responsibility of delivering the product to the customer lies solely with the courier company that was assigned to carry out the first-mile delivery. The end-to-end process is carried out by one partner.
In hyperlocal delivery, it can be carried out by the seller's fleet or via the delivery company employed by him.
Delivery Area
In last-mile delivery, the delivery area is not restricted. The delivery agent can go up to 30 km also to deliver goods to customers on time. The last-mile delivery area is determined by the location of the central transportation hub.
In hyperlocal deliveries, the delivery area is usually much smaller. Maximum deliveries happen within a 5-15 km radius. Sometimes, they can be done intra-city, too, where the distance is greater than 20 km.
Weight and Volume Restrictions
For last-mile deliveries, there are no package restrictions as such. The seller pays the delivery charge based on the volumetric weight. This delivery charge is inclusive of the last-mile delivery, and no extra costs are levied from the seller.
For hyperlocal deliveries, there is usually a cap of 10 to 12 kgs when delivering products. Since the delivery agent carries this package on his two-wheeler, three-wheeler, or car, they have to be careful about the weight. If the weight exceeds the stipulated number, extra charges are taken.
Products Delivered
Last-mile delivery can include anything ranging from televisions, fridges, cutlery, clothes, cosmetics, etc. There is no particular category that is delivered via last-mile delivery. These usually do not include fresh food items, groceries, etc.
Since hyperlocal delivery is carried out in a small area and the delivery time is less, essential items like groceries, medicines, food items, tiffin boxes, etc., are usually delivered through hyperlocal.
The Relevance of Last-Mile & Hyperlocal in Today's Times
Coming to the present scenario when the entire country is amidst a lockdown, last-mile delivery and hyperlocal deliveries both have an essential role to play.
The buying pattern of customers has changed drastically. As eCommerce has come to a halt, only essential items like groceries, medicines, food, medical equipment, pet supplies, etc., are being made available to customers. In some places, there is a complete lockdown, and people are not even allowed to step out of their houses. This is where eCommerce is of prime importance.
Today, some courier companies have started their operations for the delivery of essential items across the country. So, their last-mile delivery operations must be top-notch to ensure that both the person delivering the package and the person receiving the package are safe. Masks, sanitisers, and other protective equipment must be made readily available. Also, the delivery operations must be quick so that people can receive their orders on time.
Since people usually buy essential items from nearby shops, hyperlocal delivery can also be a game-changer. Now, nobody is allowed to visit shops to purchase their weekly groceries or medicines. Sellers can opt for hyperlocal delivery and make these products available to customers at their doorstep. Since hyperlocal delivery is not a very common concept in India, here is a fast-track method for you to adopt.
Practical Solution for Hyperlocal Delivery – Shiprocket Hyperlocal Delivery Services
Shiprocket hyperlocal services are your one-stop solution for hyperlocal delivery. It is the latest hyperlocal delivery initiative by Shiprocket, India's leading shipping solution.
With our hyperlocal delivery, you can deliver products like food, grocery, medicines, and other essential items within an 8 km radius. The delivery speed is quick, and you get to work with experienced courier partners like Shadowfax Local, Dunzo, and WeFast.
It is an excellent opportunity to maintain the continuity of your hyperlocal business and make essential items available to customers directly within a short period.
If you want to start shipping your hyperlocal orders with Shiprocket, click here.
Final Thoughts
Last-mile delivery and hyperlocal delivery are both relevant to the success of your business. Hence, you need to give importance to the functionality of both. If you want to deliver hyperlocal orders, it is not possible without a robust last-mile network. Hence, hyperlocal can be considered as a subset of last-mile delivery and a micro-arm of the same.
Calculate Your Shipping Costs Now