International Shipping Packaging Tips: What To Look For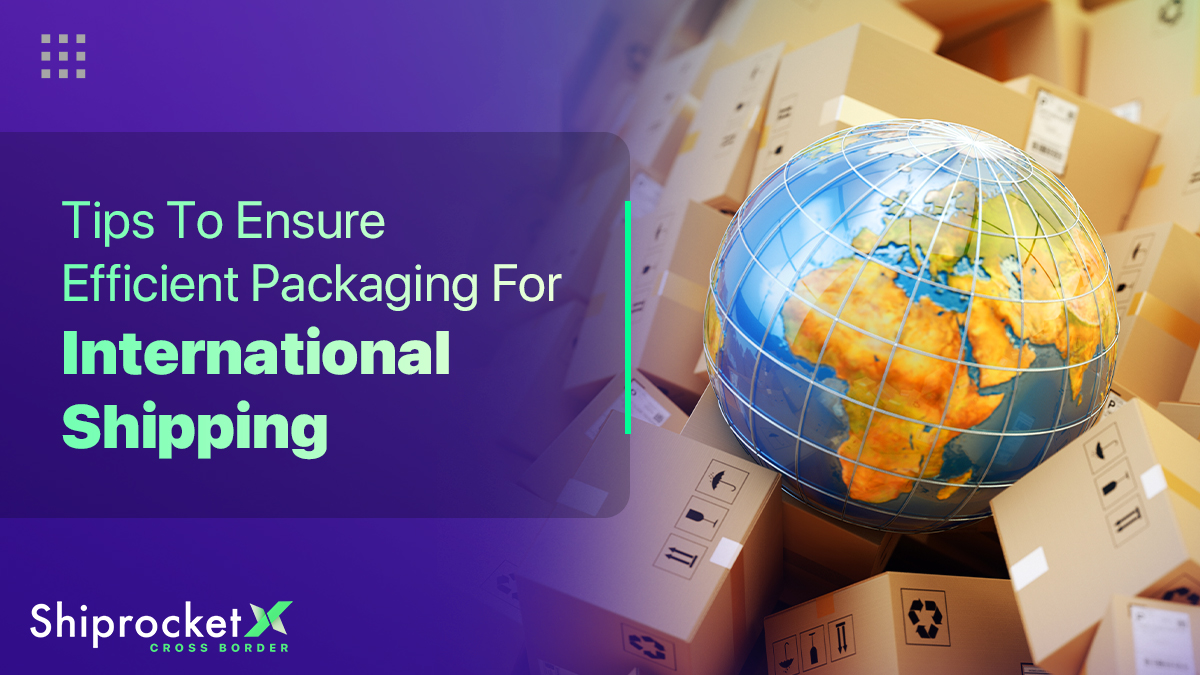 Introduction
Receiving international orders indicates that your firm is flourishing, which is excellent news. Your goods will, however, be in transit for longer and may require a little more protection to make it through the trip.
To make sure packaged goods reach the buyer undamaged, you must focus on how well they are packaged.
Packaging Your Goods For International Delivery
Overseas road freight is far more complicated than delivering domestically. One of the most important elements, the packaging, is essential to delivering secure, high-quality goods.
International deliveries often entail air or sea freight, which means goods and packaging must endure the rigors of travel on both boats and airplanes.
Every company that ships goods abroad has to ensure that the packaged goods are securely confined in suitable packaging that is strong enough to withstand movement and pressure yet lightweight and space-efficient enough to be economical.
Things To Consider While Packing An Overseas Shipment
Some of the pointers for shipping packaged goods abroad are:
Make Sure Your Products Are Prepared To Withstand The Stress And Demands Of International Shipping
You must first verify the security of the transported products. In addition to safe packaging, the items must be able to endure the stresses of overseas transportation. Therefore, you need to be careful to position the items, so they do not collapse.
This implies that you need to make sure your products can be stacked. Your items may be sent with a variety of other items. They must all be secured and able to be placed alongside, on top of, and against other items without being damaged.
Verify The Permitted Size And Weight, And Use Proper Packaging
Your goods must adhere to the appropriate weight and dimension. The box or crate you choose for packaging must be able to support the whole weight of your product. If not, your products could be damaged while being shipped, especially if there are expensive, bulky items. People frequently have to endure great losses when the crates can no longer withstand the weight of the contents.
Keep Internal Packaging And Taping In Mind
Use durable air-cushioned supports and foam peanuts to fill up the empty spaces in the boxes.
You may also employ the box-in-box technique to handle similar circumstances. A larger box with covered areas is used to house the item box within. H-taping, where the openings and edges are covered with tape, is also advised to prevent any damage during shipment and handling.
Prioritize Protection Over Looks
Many eye-catching and vibrant baskets and sacks are available to entice buyers. Yet, shipping overseas entails transitional pauses, and sturdy packaging is advised. It would be best if you chose practicality above aesthetics to secure your assets.
Make sure the items are properly wrapped and taped up if you choose attractive packaging.
Evaluate Customer Feedback
The most crucial thing to remember is to listen to your consumers. Consider making extra efforts to determine why your packing may not be effective and enhance it if consumers are complaining that their purchases are missing or damaged.
Ask consumers for feedback once they get their shipments or packages to determine if everything met their expectations. It might save future hassles for your company and dissatisfied clients.
Securing Your Package
Making sure your package is secure and will remain so until it reaches the customer is an essential part of the shipping process. In the case of international shipping, its relevance increases since the distance the package travels is greater. The following steps should be followed to secure your package and ensure it reaches in the perfect condition.
Select The Proper Box Size
To prevent the contents of your boxes from shifting while they are being transported, they should be packed firmly. Even large products should be packed in boxes that are nearly the same size. If you must use a box substantially larger than the item you are sending, fill up the space with safeguarding packaging materials.
Avoid Overfilling
Although you should fill the whole capacity of the box you are sending, you shouldn't stuff too much at once. The bottom may collapse and spill the contents.
Never attempt to force items into a box that clearly won't fit. Doing so might cause the box to crack and cause damage to the contents.
Use Proper Labeling
Even if you're merely moving from one place to another, you should always label your shipments. The shipping firm can guarantee the package reaches the destination based on proper labeling.
Reused boxes should have any previous shipment information covered with black ink or removed.
How To Know If The Packaging Is Secure
It is essential to secure your items throughout shipping to guarantee that they arrive unharmed and that any person around the parcels while they are in transit is safe.
The following are ways in which you can assure that your packaging is secure.
Make Sure It Minimizes Damages
Packages experience a great deal of stress. They might drop from a forklift, a conveyor belt, or a pallet that has shattered. Delivering your goods to the consumer will cost more than twice as much if it is rendered useless due to a thoughtless error.
The secret is to pick durable materials that will shield your goods from harm. It would also help to consider how exposed a package is to the environment: severe temperatures, leaky roofs, and strong winds.
It Should Provide Appropriate Cushioning
In packing, cushioning consists of loose material used between the products. Foam sheets, bubble-out bags, bubble wrap, and Styrofoam or biodegradable packing peanuts are a few typical types of cushioning.
To provide the best protection for fragile and collectible goods without breaking the bank, cushion the interior of the box by 3 inches.
It Should Be Sealed Effectively
A strong seal on your packaging is also essential with a good cushion. All the protective padding in the world won't help if your package should open in the middle of the journey.
Many sealants are available that will successfully keep your box closed.

Types Of Packaging/Packaging Material Recommended For Use
Your business will undoubtedly outperform competitors if you can optimize your packaging and prevent some of the frequent packaging errors. You can review the materials listed below to grasp your options better.
Bubble Wrap
Many different sizes and types of bubble wrap are available, but bubble bags are the most popular.
They may also be found in rolls, which is convenient for wrapping goods in packaging boxes.
They offer packing as well as protection.
Packing Peanuts
The size and form of packing peanuts are comparable to those of unshelled peanuts.
Fragile items are frequently packaged with them in bunches in packaging boxes.
As a filler, they safeguard delicate objects.
They take advantage of open space and closely encircle the items to be guarded.
Padded Divider Sets
You can use sectioned, cushioned boxes called "padded sets" to organize shipping goods. These boxes offer cushioned coverings and surfaces on all four sides for increased support.
Small walls separate them into sections.
It is feasible to send two incompatible items in the same package using padded divider sets.
Paper Wrapping
Wrapping paper, often known as packaging paper, can be used in a variety of packaging applications.
It comes in a range of colors and textures, such as brown paper, carton, etc., and is considerably thicker and more durable than standard printer paper.
It is often sold in rolls.
To keep the paper in place, you might add tape or glue to the packed paper.
Foam Packaging
Many different materials may be cut and formed into shapes appropriate for different packaging boxes.
Compared to others, this packaging material is bigger and denser. It is typically utilized for international shipping.
It can bundle objects that lack a definitive form as per the packaging boxes.
Its varieties include sheets, sponge rolls, foam rolls, and egg crates.
You have a range of possibilities because several different types of foam are used in packing.
It might be packaged collectively with the item.
Role Of A Good Shipping Partner
With all these aspects to be considered in international shipping, it is vital to engage the services of a reliable shipping partner. The type of shipping firm you select will determine how well your shipping partner fulfills all your needs.
With a shipping partner, you needn't worry about major aspects of shipping. Hence it is usually a good idea to collaborate with a partner when managing international freight.
Reputable international logistic partners like Shiprocket X can completely optimize your supply chain and assist you in growing your company and beginning to export to more than 220 countries.
Conclusion
Selling and exporting your products worldwide benefits your company since it increases the number of customers. However, you must take great care while packaging your products to ensure that the buyers receive them undamaged. You can always win your client's trust by undertaking appropriate measures and partnering with a reliable shipping partner.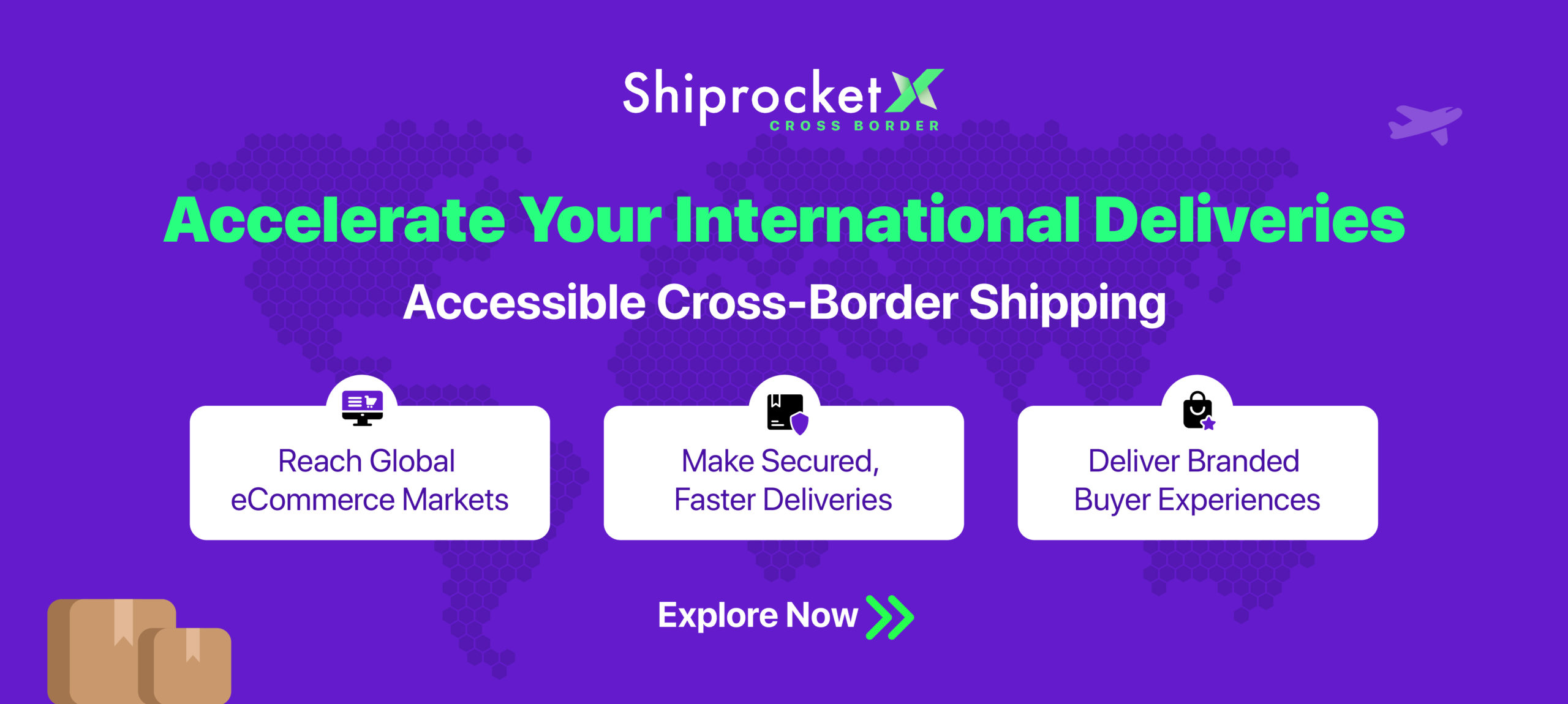 Calculate Your Shipping Costs Now