Tips to Keep Your Amazon Prices Sharper & Competitive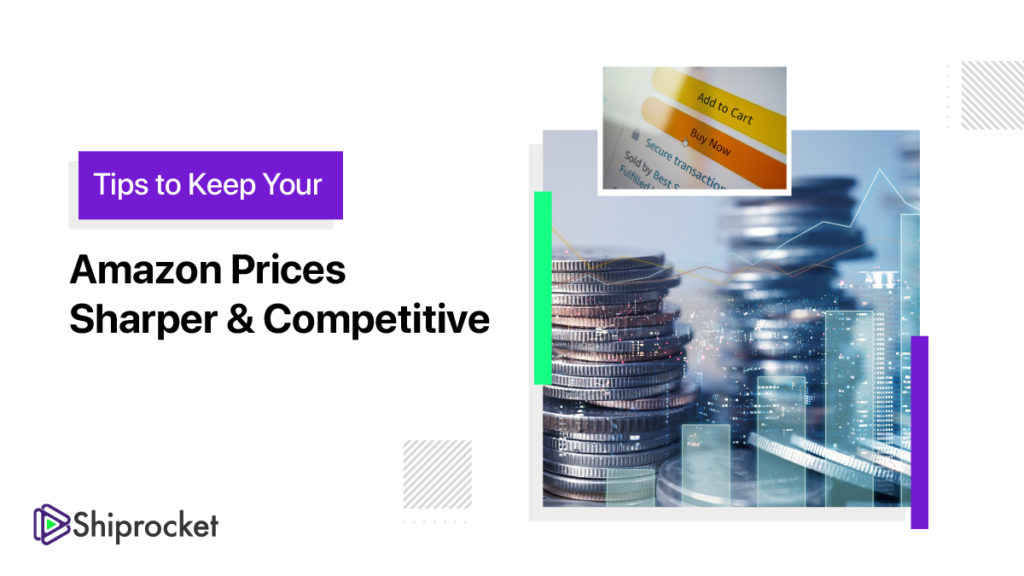 It is essential to keep competitive prices to attract customers when selling online. Since it is easy for the customers to search and find similar products online, they can choose options with lower prices and delivery time. Thus, if your prices are on the higher side, your customers might buy from another seller. The number of available options makes it harder to attract customers.
Also, when selling online, especially on Amazon, it isn't easy to keep trending prices all the time. Also, individually setting up prices for every product might divert your attention from focusing on your business and delivering a pleasant customer experience.
Product price fluctuation is also higher in online marketplaces, which keeps online sellers on their toes all the time. You need to continuously monitor the prices in order to be competitive in the market.
Amazon Prices
Product prices on Amazon are competitive. Not only does this affect the chances of trending on the marketplace, but it also acts as a critical factor in the customer's buying decision.
However, pricing items on Amazon is not as simple as it may sound; it is logic. If the product sales are on the higher side, the prices are raised. Similarly, if the sales are on the lower side, the prices are lowered. However, Amazon has a complex algorithm, and cutting your profit margins through price reductions doesn't guarantee a better position on the platform.
Essentially, there are types of Amazon seller pricing that you must be aware of – item price and total price.
As the name suggests, item price is just the cost of the product. This doesn't include the freight cost or any other cost that might affect the product's total price. On the other hand, the total price includes everything the customer will pay at the end of the purchasing funnel. The total price might consist of:
Item price
Discounts and rebates
Low-price guarantees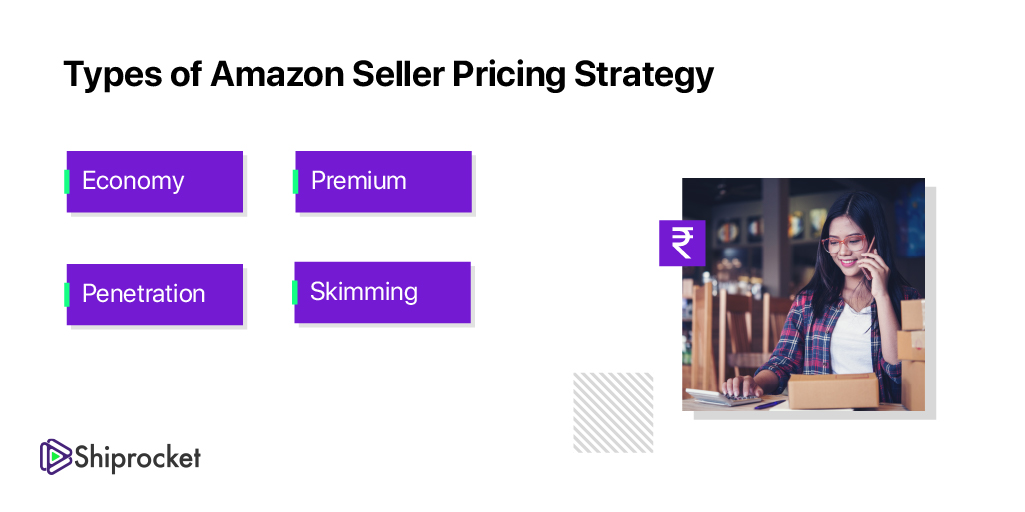 Types of Amazon Seller Pricing Strategy
There are four types of strategies that you can use for deciding Amazon product pricing:
Economy
Amazon sellers get small profit margins at low advertising costs in this strategy. This is an ideal pricing strategy for everyday products, like groceries and detergents. This strategy helps in making the product available to a bigger market. There are generally no shipping costs as they are already included in the sales price.
Premium
Premium strategy is the opposite of economy strategy. It uses the brand name to get customers' interest and is used for high-priced products. As brand names generally have less impact on the eCommerce giant, those sellers using this strategy typically offer high discounts on their products to attract customers. Reputable brands like Gillette and Bajaj Electricals generally use this strategy.
Skimming
In the skimming pricing strategy, the seller initially starts with a high product price and later lowers it over time to match the competition. The prices are reduced to remain competitive in the market. This pricing strategy is generally used by businesses that sell unique products but want to stay in the competition.
The skimming pricing strategy aims to help a business maximize its profits in a shorter period of time before it catches cut-throat competition.
Big brands like Microsoft and Sony use this kind of strategy on their gaming consoles like Play Station and Xbox when their new or updated version is first released in the market. They also offer sales on these products to attract customers. As other brands make the products available, they lower their price over time to match the competition.
Penetration
Online sellers use this pricing strategy to attract customers to their new products by offering a lower price. With a lower introduction price, a new product can penetrate the market and attracts customers from the competitors. And as the product attracts customers and makes its mark in the market, its prices gradually increase.
This strategy is used by new brands or newly introduced products as it helps promote. However, with this strategy in place, a brand cannot remain profitable in the long run.
Conclusion
There are shortcuts when it comes to succeeding on Amazon. Everything takes time, and you need to try before failing or succeeding. So, make sure you consider the above-mentioned strategies before pricing your product on Amazon and choose the one that can help you beat your competitors.
Calculate Your Shipping Costs Now