How Shiprocket Helped The Hatke Overcome COD Barriers and Deliver Seamlessly
"Whatever the mind can conceive and believe, it can achieve."

Napolean Hill
This is what our young entrepreneur Mr Mihir Mittal believed! He never wanted to opt for a regular 9-5 job which he considers a monotonous activity. He always had a dream of achieving something bigger in life. He was prepared for the challenges that the entrepreneurial life had in store for him and had a desire to achieve something significant. Indeed, he achieved what he believed!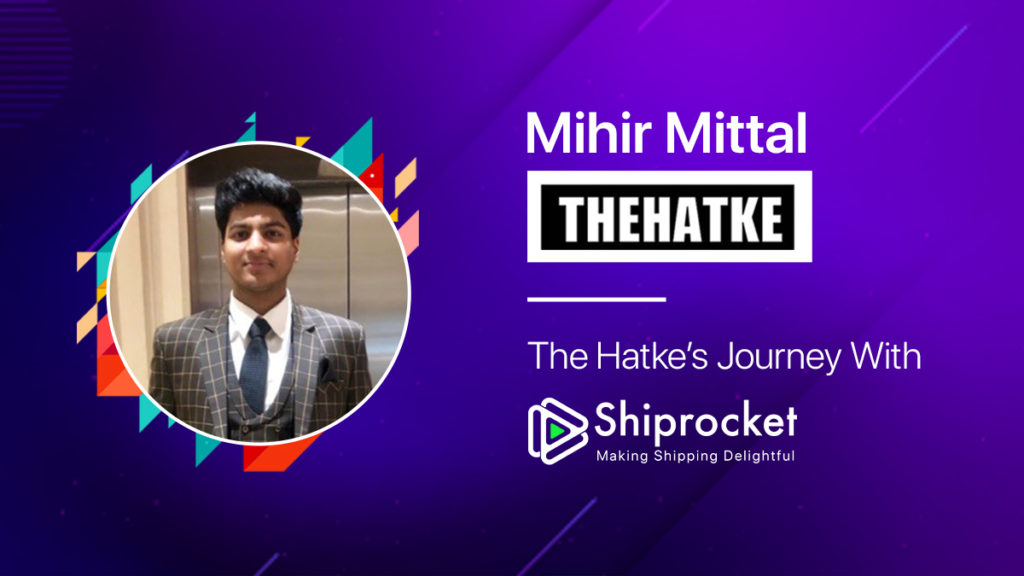 Mr Mihir Mittal owns a Delhi-based fashion brand – The Hatke. As the name suggests, his fashion brand is indeed very unique (Hatke).
"I never wanted to opt for a job and always wanted to become an entrepreneur. I wanted to have something of my own." As said before, Mihir always wanted to become an entrepreneur, and that is why he established the fashion brand, The Hatke, along with his cousin, Ayush Singhal, when he was in the second semester of his Bachelor's program. The online fashion brand was first launched on Instagram.
The brand focuses on providing customers with the finest home accessories, fashion apparels, and printed phone cases at the best prices.
"We serve the youth between the age of 18-40 who are not satisfied with the options available to them. We export products from different parts of the world to cater to the varied needs of the customers."

The biggest challenge that Mihir faced in shipping was COD options. Many buyers would make an online purchase but would not accept the delivery. "They order but don't take products, and we had to bear the RTO charges."
Getting Started With Shiprocket
Shiprocket contacted Mihir back in 2016. He purchased our three months subscription plan but did not use the services much. "The Shiprocket sales team contacted me again in 2017, and since then, I am actively using Shiprocket services to process all my orders."
"We launched a Shopify based website in 2019 and have been successfully offering COD options as well."
It was not an easy road to get where The Hatke is today. Shiprocket has actively partnered with Mihir in his business growth. One of the biggest milestones for Mihir was to launch his website in 2019 to meet the increasing needs of his customers. "Now, we get 30000-40000 orders a month."
"The Post Ship feature keeps me updated where my product is, and when will it be delivered. I must say Shiprocket is the best logistics platform for online and social sellers."

Mihir is more than happy with Shiprocket's services. He finds our features like NDR and post shipping SMS tracking the most advantageous. "Shiprocket innovates a lot and adds new features almost every month. Besides, the dedicated account manager from Shiprocket has helped me simplify the logistics aspects of my business. I talk to my account manager directly for all my queries, and always get a quick resolution."
"Everything is shifting online, and people prefer to buy phone accessories online. We provide them with the best quality at a very reasonable rate, so they don't have to go anywhere else. In my entrepreneurial journey, Shiprocket has helped me focus on my core business by taking care of the logistical aspects of my business. Thank you Shiprocket," he said in his endnote.
Calculate Your Shipping Costs Now