What is Minimum Order Quantity (MOQ) & How to Deal with it Effectively
If you're in the eCommerce space for some time now, you must have come across the term Minimum Order Quantity. While some businesses like the concept, some don't, as it comes with some amounts restrictions on the inventory quantity. In this article, we will talk in detail about what is minimum order quantity and how you can define it for your eCommerce store –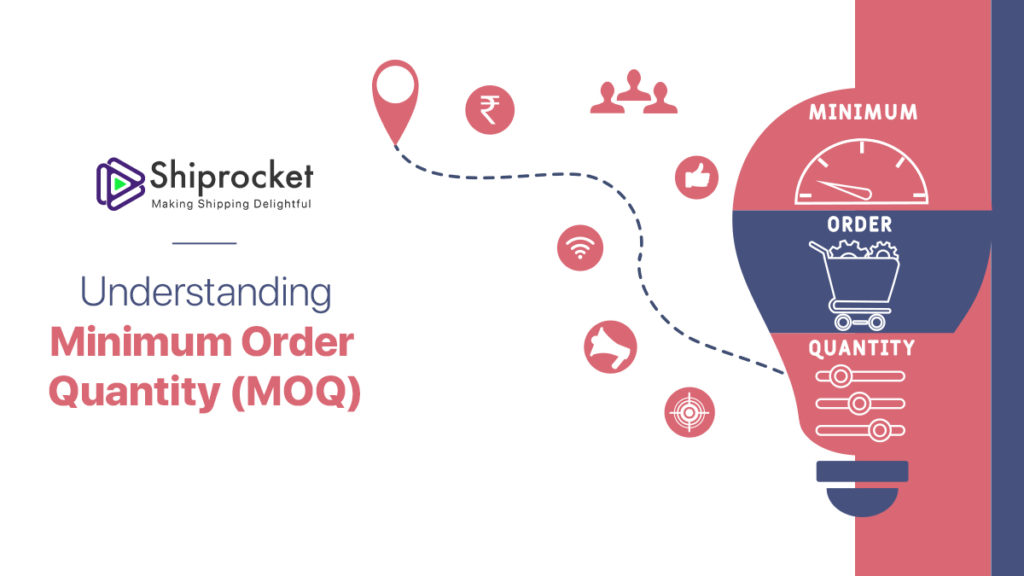 What is Minimum Order Quantity?
Minimum order quantity or MOQ is defined as the least amount of stock one can order from a supplier or the lowest stock the supplier is willing to sell. If you cannot purchase the minimum order quantity of an item you need, the supplier won't sell it to you.
MOQs vary depending on the type of product. Precious items that cost more to produce typically have lower MOQs, while lower value items that are cheaper to produce have higher MOQs. In the former case, your supplier can make a profit by selling a smaller quantity of the article, whereas in the latter case, suppliers will be counting on the number of items you purchase from them to make a profit. Thus you would need to buy more in number from them.
What Determines the Value of a MOQ?
The concept of MOQs is essential to help manufacturers or businesses. Two factors go into the determination of a MOQ. One is the manufacturer, and the other is the cost of production.
The determination of MOQs based on the production cost requires that the manufacturer consider all of the expenses incurred in production, make a per head cost, and calculate the number of goods as are necessary for him to cover his production cost and get him to break even. Then his MOQ can be set to this figure.
For instance, if a manufacturer of toys incurs an average price of Rs. 50 per pack of small cars, but requires Rs. 500 to get his machinery working, pay labor, pay for distribution, and other fixed costs that he will necessarily incur regardless of the quantity he is producing. His MOQ will be set at 10 packs to ensure he at least breaks even.
MOQs are very important to guide manufacturers in making decisions to ensure that they only take good orders.
Importance of Minimum Order Quantity
Minimum order quantity is equally essential for both the supplier and the retailer or buyer who is purchasing the stock from the supplier. Suppliers set minimum order quantity after considering the total cost of the inventory and other expenses incurred while sourcing the items. Choosing MOQs correctly helps suppliers in increasing their profits while selling off the inventory quickly.
For buyers or retailers, MOQs play a crucial role in getting the best price possible for each unit. This happens when the retailer purchases items in bulk from the supplier because bulk purchases always lower the per-unit cost, allowing them to maximize profits while selling each unit.
However, remember that when you buy the MOQ from your supplier, you will be investing a good amount in inventory alone. So, you need to ensure that you have the capital to seek credit for the entire quantity. Plus, you will also need money for day-to-day operations. For example, it costs you Rs. 20 each for an MOQ of 1000 units. This means you have to pay an upfront cost of Rs. 20,000 for the stock alone. In addition to this, you will need to spend on other aspects like shipping, warehousing, and so on.
How to Deal with MOQs as a Buyer or Retailer
As a retailer, you need to present yourself as the ideal customer to your supplier while ensuring that the deal is beneficial. Let us take a look at how to deal with MOQs as a retailer-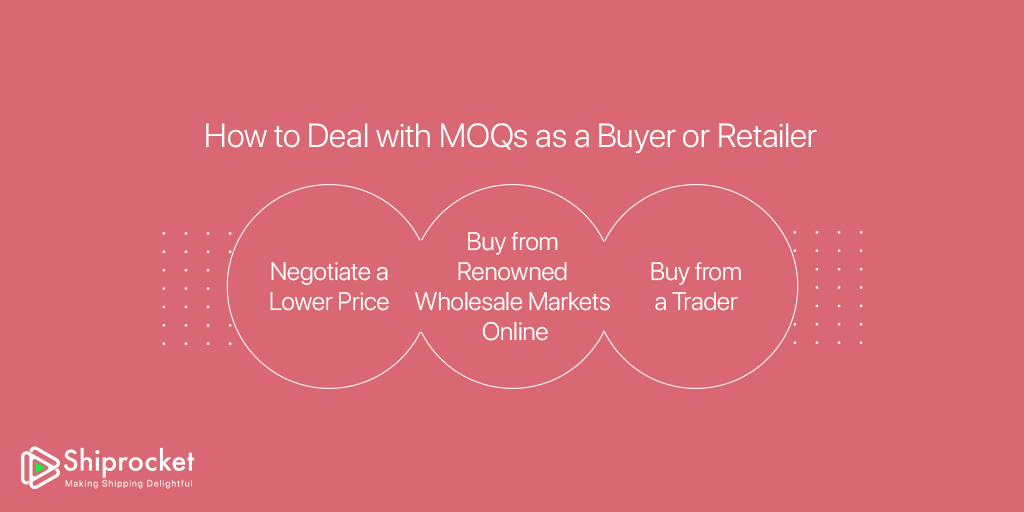 Negotiate a Lower Price
Attempt to negotiate a lower price if you want to make MOQs worth it. Do not assume that the price being offered can't be lowered, as there is always room for negotiation. Even if you are unsuccessful in the first negotiation attempt, revisit the pricing after developing a good relationship with your supplier. Likewise, you can convince your supplier to offer lower prices to you when they're having a lean period or excess stockpiling.
However, if the supplier you're approaching is in high demand with other loyal customers, it will be challenging to get a deal. In such a case, if you want the items badly but don't want the full minimum quantity, the best course of action for you would be to pay more and receive less.
Buy from Renowned Wholesale Markets Online
Online marketplaces such as Alibaba, IndiaMart, etc., will help you source products from a large variety of suppliers, thus allowing you to compare prices and deals that best suit your business needs. One essential thing you must keep in mind while choosing suppliers from marketplaces is, even though the marketplace may have vetted them, you must assess the suppliers independently. It will be wise not to go by reviews alone and to run your checks.
The primary benefit of buying from online B2B marketplaces is that you get a wider pool of vendors or suppliers offering the same product with multiple price ranges for you to choose from.
Buy from a Trader
Getting a trading company to place an order for your inventory can also work out for you.
Because trading companies can place one order for multiple retailers, they can meet the supplier's MOQ without you having to stretch your budget or take the whole inventory. So, various retailers can enjoy the benefits of a lower-priced MOQ and holding just as much stock as they need by buying through traders.
Final Say
You may be tempted to try to lower your supplier's MOQs as much as possible. And while some suppliers go as low as they can, know that you may have to deal with some issues. Very low MOQs may force suppliers to produce and provide low-quality goods so that they can maintain profits. This is likely to make your products less durable and hence affect your earnings.
It's essential to keep in mind that MOQs is just one of the many considerations you have to make. Factoring in your inventory turnover rate is also just as crucial to helping you manage your inventory smoothly.
Calculate Your Shipping Costs Now