National Logistics Policy in India 2023: Logistics for the Future
Logistics plays a crucial role in the economic growth of a country as it efficiently moves resources from one location to another. Optimising logistics operations saves time and cost and improves overall operational efficiency. As a result, efficient logistics systems become the major driver of business growth and global competitiveness. Realising this, the Indian government laid its landmark National Logistics Policy (NLP) in 2023, changing the supply chain environment in the country.
Let's take a deeper look at NLP, its main objectives, features, and its future impact on the logistics sector in India.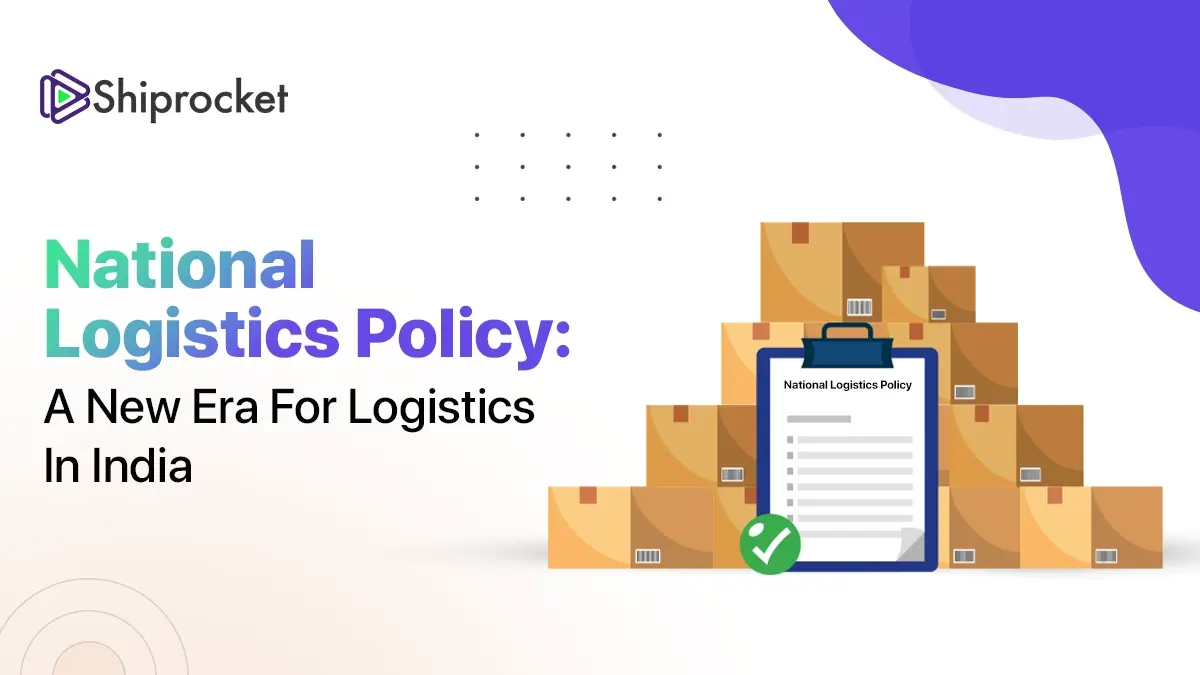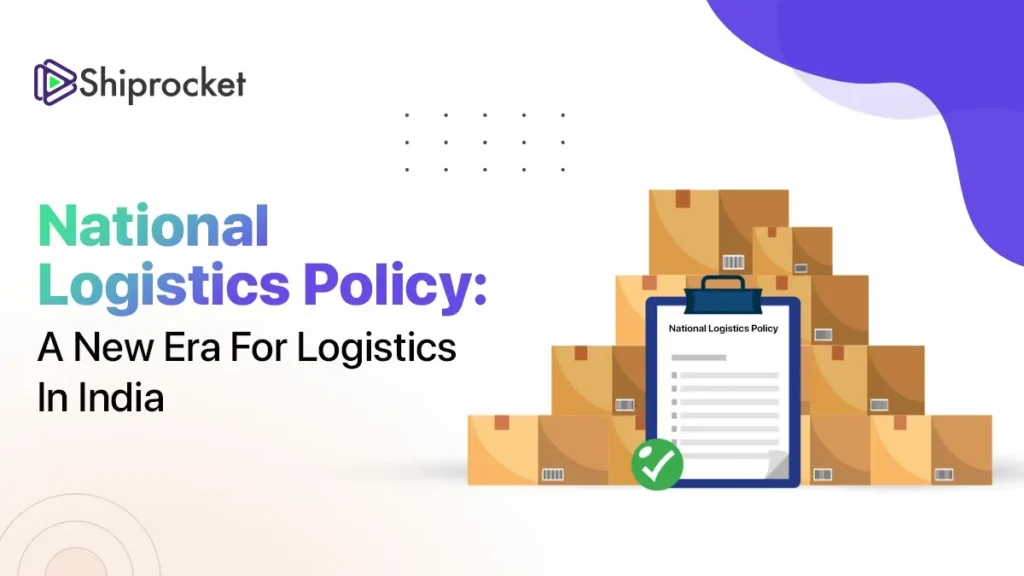 National Logistics Policy Goals and Objectives:
India has recognised the need for a national logistics policy due to the high logistics costs compared to other developed economies. Currently, logistics costs account for 14-18% of GDP, significantly higher than the global best practice of 8%. This places Indian goods at a disadvantage in the international market.
The primary goals of NLP are:
Cut logistics costs by half and, by 2030, reach standardised global costs. This will propel India to the top 10 countries on the Logistics Performance Index.
At the macro level, NLP aims to streamline regulations in the logistics sector. It will minimise paperwork steps for shipping service providers and initiate a single-window approval process concerning all logistical considerations. Such changes are anticipated to make conducting business in India more expeditious and appealing both domestically and globally.
NLP also aims to improve the skills of the resources. The policy prescribes a comprehensive plan to enhance human capital in the logistics sector. It aims to bridge the gap between educational qualifications and industry requirements, leading to more job-ready manpower.
The vision of the National Logistics Policy (NLP) is to boost the country's economy and make businesses more competitive. It aims to create a smooth, efficient, and eco-friendly logistics network using the best technology and the most skilled people. This network will lower logistics costs and improve its performance.
Steps Taken by The Government:
In March 2023, the government organised a workshop with international experts to share best practices. A task force, which includes senior officials from various government departments and experts from different fields, was also formed. The task force had several meetings. They used existing data to estimate the baseline for logistics costs. They also developed a survey-based method for calculating logistics costs in the long term.
Even though they had some limitations with the data, they plan to use this estimate as a starting point for future analyses. This long-term survey will help them get more detailed cost estimates so they can make improvements in different sectors and modes of logistics.
Notable Features of the Policy
The National Logistics Policy has plenty of advantages that will benefit India's economy as a whole:
1. Process re-engineering: To improve logistics efficiency, the policy emphasises process re-engineering. This involves identifying and eliminating bottlenecks, streamlining documentation procedures, and adopting best practices from other countries. By simplifying processes, businesses can save time and reduce costs associated with logistics operations.
2. Integrated logistic ecosystem: By connecting various modes of transportation and investing in infrastructure, an integrated logistic system would reduce transit times while increasing efficiency throughout supply chains. Infrastructure development is a critical component of the National Logistics Policy. The policy emphasises the need for the development of logistics parks, warehousing facilities, and transportation networks, leading to improved connectivity.
3. Tech adoption promotion: Digitization is the first major change NLP wants to bring to the logistics sector in India. By embracing cutting-edge technologies like AI, Blockchain, and IoT in logistics operations, the NLP tends to improve inventory management. Data-driven decision-making in the logistics sector is another focal topic of the policy.
4. Skilling up people and raising industry standards for human resources: To ensure the successful implementation of the National Logistics Policy, capacity building and skill development are essential. The policy emphasises the need for training programmes and skill development initiatives to enhance the capabilities of logistics professionals. By improving the skill sets of individuals working in the logistics sector, India can build a highly efficient and skilled workforce.
5. Multi-modal transportation: To decrease reliance on a single mode of transport, NLP encourages multiple modes of transportation, including roadways, railways, airways, and waterways. This will not only reduce traffic jams but also strengthen connectivity. The policy aims to develop multi-modal logistics parks and create seamless connectivity between various transportation modes.
Tech's Role in Advancing Indian Logistics
Forward Technology is about to be an absolute game changer for India's logistics sector. With national logistics policies embracing digitalisation more and more, tech solutions are becoming even more commonplace than ever before!
Let us look at how technology may influence this industry:
Real-Time Tracking
IoT-enabled devices can offer real-time tracking of goods while they're being delivered, consequently reducing theft opportunities as well as ensuring timely delivery periods. What could make your business run smoother than that?

Data Analytics
Want to plan the best routes? Then, data analytics is your tool. Algorithm-based planning will ensure optimised route planning and lesser fuel utilisation.

Automation
Warehouses and distribution centers are already using several types of automation tools to reduce the time taken to move parcels. Besides, automation removes the scope for errors and boosts accuracy in picking and packaging orders.
Government's Tech Push in NLP (2023)
The government continues to stress the use of Natural Language Processing (NLP) in everyday projects:
1. EGovernance: The NLP plans on introducing an online system to allot approvals, permits, or licences. It will restrict the use of physical paper to complete these logistics operations.
2. Digital platforms: The digitisation of the government's administration has attracted a lot of attention in recent years. These online platforms have simplified communication and made it easier for customers to access logistics services while also providing transparency in all transactions.
Going Green: Sustainability in NLP (2023)
Environmental sustainability is a key component of NLP (2023). The logistics sector has a major impact on carbon emissions, and to compensate for this, the NLP seeks ways to reduce its environmental effect.
The main steps to improve the goals of NLP by the logistics services include:

1. Green Transport: Encouraging companies to use electric and hybrid vehicles is a main drive across the logistics industry.

2. Efficient Packaging: Lobbying for sustainable packaging practices that can lower waste and protect nature from degradation.
3 Optimised Routes: The logistics industry is using data-driven route optimisation technology as much as possible to lower the total travel time needed to transport things. This helps in lowering fuel consumption and reducing greenhouse gas emission levels.
The Future of National Logistics Policy
National Logistics Policy is a major step forward for India's logistics sector. If we do it right, this could bring plenty of perks:

1. Competitive Edge: Lowering the shipment prices will give an edge to Indian goods in global marketplaces.

2. Occupational Opportunities: Expansion of delivery services would establish millions of work positions all around the country and beyond its borders.

3. Infrastructure Boom: Investing in transportation infrastructure shall turn out beneficial for developing economies connected by new logistics networks.
Conclusion
The Government, with The National Logistic Policy (2023), looks determined to make our logistic industry one among those that meets international standards! With a main concentration on digitalisation, sustainability, and efficiency, the policy is properly positioned to make India a logistics hub of international reputation. In future years, as it progresses outwards, we will be able to see its influence on India's economic landscape, and this would be an interesting sight.
What are the three pillars of NLP?
The three pillars of NLP are the integration of digital systems, the unification of the platforms used as logistics interfaces, and ease of logistics.
How does technology play a role in new national policy?
Technology plays a very crucial role in the new logistics policy as it helps in real-time tracking, data analytics, and automation.
What are the three Ps of logistics and how do they help with NLP?
The three Ps of logistics are – processes, partnerships, and performance. They ensure sustainability by fostering technology partnerships for efficient packaging and route selection, aligning with NLP principles.
Calculate Your Shipping Costs Now