Tried and Tested Ways to Engage with Your Customers Online
Even though it is helpful to bring in new customers on board, it is tough to retain the ones you already have. It becomes imperative to actively engage with new and existing customers to establish a voice for your brand and reach out to the masses faster. According to a report, 65% of a company's business comes from existing customers. This means that you need to ensure that the voices of your customers are heard, and they continue to do business with you.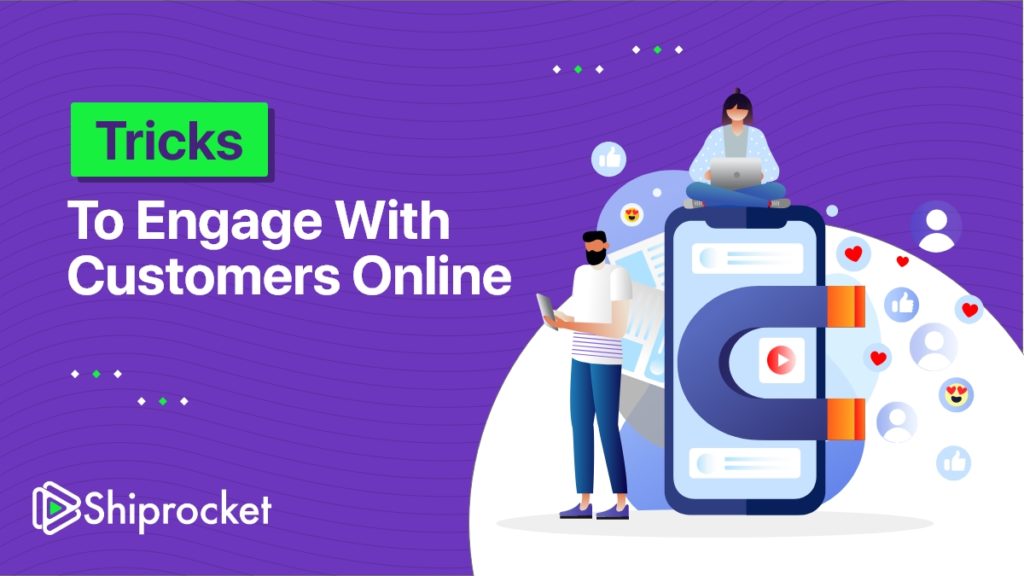 Just shoving sales pitches and product promotions in your customer's faces will only make them run away from you. You must devise a customer engagement strategy to communicate with your buyers and provide them with a channel to voice their concerns. This will ensure seamless connectivity and an active engagement that will further strengthen your connection with customers.
When you run a brick-and-mortar store, you can conveniently hold events and drives to reach out to customers. Moreover, there is more human interaction in every visit when your customers don't see you while shopping. It becomes more important than ever to engage with them actively.
Let's look at some of the tried and tested techniques to engage with your customers online.
Why is Customer Engagement Important?
Imagine you just sold five body wash to your customers. One of the people had an allergic reaction to it. They tried to contact you, but because you did not have any active engagement strategy in place, they could not reach out to you soon enough. Out of frustration, they took some images and posted them on social media handles like Twitter and Facebook. This invited a lot of negative brand coverage for your business, and eventually, you were labeled as insensitive as you did not reach out to the customer proactively.
No business owner ever wishes to be in such a situation. Even though it may seem very real, as we have seen several examples, it is avoidable. If you engage with your customers and hear them out regularly, your customers will reach out to you before posting anything on social media. That is the importance of active online engagement.
You need to be your customer's agony aunt in case they face any issues. Along with that, you also need to be their best friend where they can share ideas and give feedback. Such initiatives will help you build a community, and you will be able to engage with your customers and establish a positive word of mouth within their circle.
Besides establishing a personal connection with your customers, online engagement also helps retain customers and improve business. Since keeping customers is more convenient than acquiring new customers, attention can help you do this at a meager investment. All you need is to talk to your customers with an open communication channel.
Here are some tips to actively engage with customers online.
How to Actively Engage With Customers Online?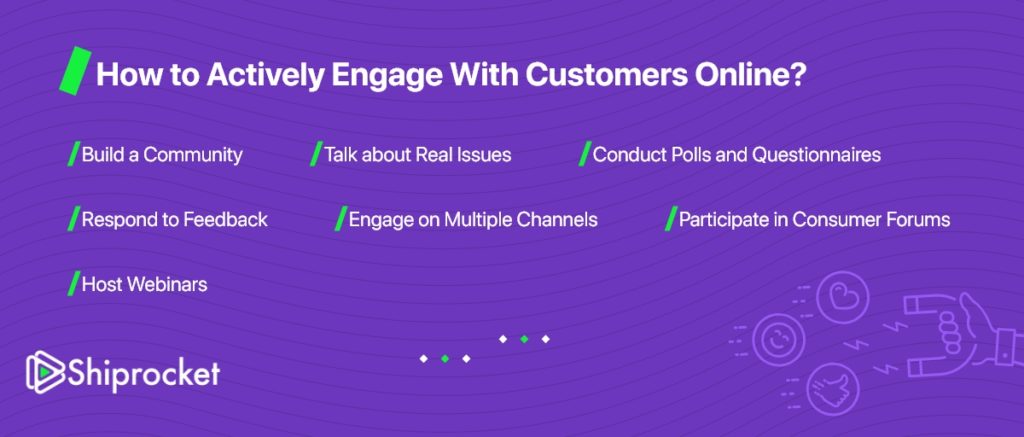 Build a Community
The first step towards actively engaging with customers online is to build a community. You can build a Facebook group and discuss customer concerns there; you could set up a forum to interact with you and fellow shoppers actively. This gives them a platform to discuss their concerns, share feedback and also find answers quickly. Many famous brands like Apple, Google, One plus, Nykaa, etc., have their communities where people can come in, share ideas, discuss queries and get resolution.
Talk about Real Issues
The following way to establish a brand voice and connection with your customers is to talk about real issues. If you only keep selling your product, your customers will never feel the need to interact with you. They will never relate to your product on a human level, and the chances of making a purchase would go even down. Brands like Nike, Dove, Brooke Bond Red Label tea do so well with customers because they talk about the real issues in society. Because of their stance, they can tap into the trends that customers follow and amp their following. Customer engagement online is like talking with a real human being. You need to define your voice so that like-minded people can find you and interact with you.
Conduct Polls and Questionnaires
Another intelligent way of interacting with customers online is by conducting polls in questionnaires. You can gauge the trends and choices of people by running quizzes and polls. For example, you can run a poll to know the most favorite color of the season to understand what your customers are feeling. Yeah, polls and questionnaires help you assess the issues faced by your target audience, and they can reach out if they want to suggest something more.
Respond to Feedback
Many people leave comments on social media posts in case they have any feedback to share. They also communicate the same via Twitter. You must make an initiative to respond to this feedback and be available permanently for your customers. Sometimes such engagements can also help you convert negative feedback into a positive one, and you can enhance the customer's experience almost immediately. But if you are late in responding, you can miss out on the opportunity.
Engage on Multiple Channels
Do not forget to engage on different channels. If you just take the effort of interacting with people on one channel, it will make you very streamlined and narrow. Your approach needs to be vast to target a larger target audience. Engage on social media platforms, forums, emails, push notifications, etc.
Participate in Consumer Forums
Several consumer forums are set up by consumers interacting with each other and discussing ideas. One such example is read it. You can use Reddit to read what your customers are searching for these days and interact with them. Many brands have their Reddit page 30 share out customers' opinions and give them a chance to share ideas regarding product launches, new products, etc.
Host Webinars
Last but not least, host webinars. Webinars are very similar to offline events, and customers can voice their thoughts and opinions to an online channel. Moreover, you can use webinars to discuss industry trends et cetera with experts, and give your buyers an option to be a part of it.
Final Thoughts
Engaging online with customers is essential if you want to build your brand and move beyond just selling products. Even after your products become non-relevant, your brand stays with your buyers. So you must work simultaneously to build your brand and promote your product so that you can be a thought leader in the industry.
Calculate Your Shipping Costs Now