Top 10 Social Media Management Tools for eCommerce
According to the Global Digital Report, the number of social media users worldwide in 2019 was 3.5 billion, up 9% year-on-year. This means that social media is a compelling channel for you to interact with your buyers and promote your products.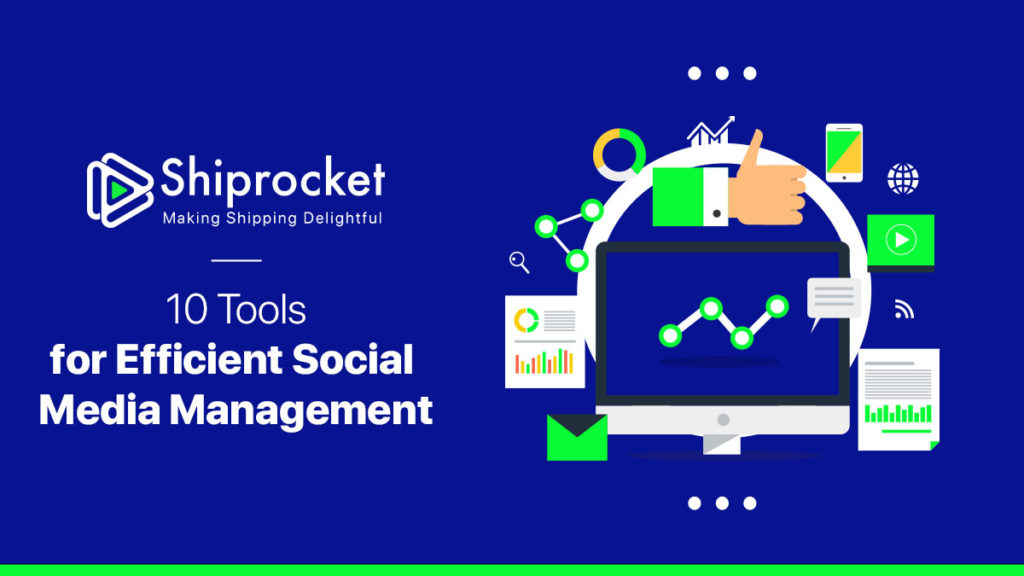 Social media is enormous; it is no longer restricted to just a few channels. It encompasses many aspects and several media, including Facebook, Twitter, Instagram, Snapchat, LinkedIn, YouTube, Pinterest, etc.
Every channel has its significance and specifications. The target audience on different media is diverse, and only a few of them might be overlapping. Even in cases of overlapping, the audience's intent to use that social channel is entirely different. Hence, one strategy does not fit all.
Hence, social media forms a significant chunk of your eCommerce marketing strategy. Since most buyers actively use social media, you do not have any choice but to engage with them on different channels. It is also a great option if you sell to them directly through these social channels.
Sometimes, dedicating time and resources to social media can get exhausting. Most of the work is repetitive, and you only spend time drafting a strategy, probably once or twice a month. Rest only include posting content, analyzing comments, and engaging with responses on your stories, polls, etc.
Since most of this work can be automated, you recommend using tools to make life easier. Let's look at what social media tools are the stories you can use for your eCommerce store and social media marketing.
What are Social Media Tools?
Social media tools are solutions or software designed to help you simplify different aspects of social media.
They can be used for content creation, discovery, scheduling, publishing, analytics, etc., to improve your effectiveness and efficiency for running one or many social media channels for your eCommerce store.
Let's look at top social media management tools that can help you efficiently manage your eCommerce store's social presence.
Social Media Management Tools
Content Curation & Research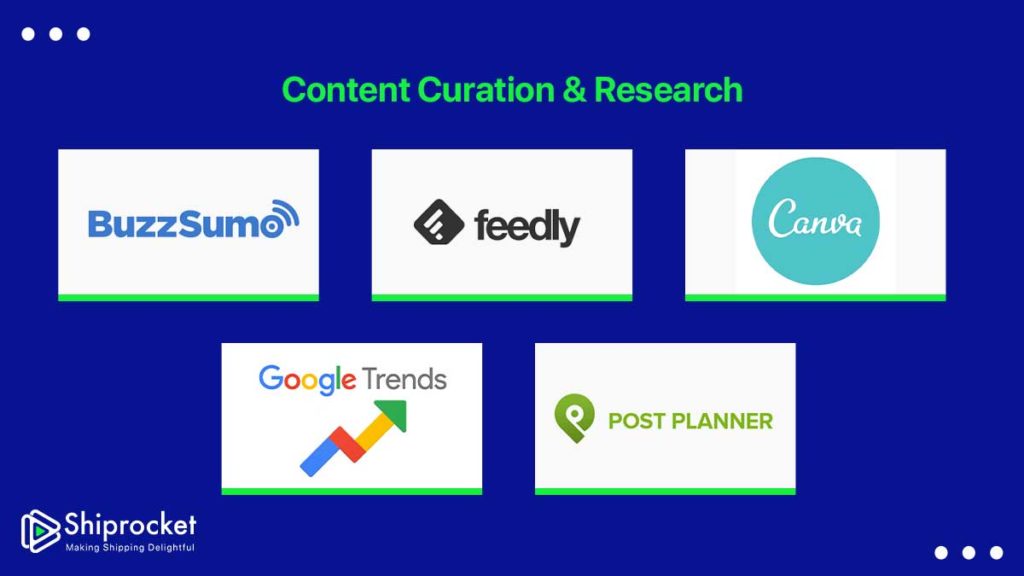 BuzzSumo
BuzzSumo is an excellent tool to help you research trends and how they perform on various social channels. It lets you get an idea about the trending topics in a country, and you can also discover keywords for your posts.
You can also discover topics about your keywords with their 'discover new ideas' feature. You can simply enter the keyword or subject that interests you, and BuzzSumo will give you an analysis of the Facebook engagement, Twitter shares, Pinterest shares, links, employment, etc.
Another great feature is that you can also discover influencers on different platforms like Twitter, Facebook, and YouTube.
Feedly
Feedly is another excellent app to discover trending topics and gain insights into the latest updates. You can explore different articles that are trending in the field you desire.
Their interface is uncomplicated, and you can easily create boards and your Feedly updates to keep track of the latest updates. They fetch information from leading publications, journals, newspapers, industry publications, bloggers, social media feeds, etc.
You can utilize this platform to organize your sources and stay on track with any latest updates that roll in.
They currently offer three plans – Pro, Pro+, and Business.
Canva
Canva lets you create engaging images for different social platforms like Facebook, Twitter, Instagram, LinkedIn, Pinterest, etc.
They have several templates to help you design the perfect social media posts for your eCommerce channel. If you are running out of time or need inspiration for a quick post, Canada is your place to go!
They have recommended designs in the correct sizes for social media posts, stories, banners, covers, thumbnails, etc.
It is user-friendly, and you can use it to create beautiful designs for your social media. They have a free and paid plan. The plans include Free, Pro, Enterprise, Education, and Nonprofits.
The free plan is suitable if your business is small and you do not have many design requirements. The pro plan is ideal for teams who want more advanced tools and different design templates, and so on.
Google Trends
If you want to know what people are searching for currently and the interest, you must lose Google trends.
Google trends give you a real-time update about the trending topics with an area-wise distribution of search data. You can create your content on social media in line with the trending searches to be discovered successfully on social media platforms.
You can begin your search for trending topics with Google trends and then move on to other platforms like Baso more, fiddly, etc., to get a more in-depth insight into relevant issues.
Post Planner
Post Planner helps you discover content from Facebook pages, Twitter accounts, Instagram hashtags, or blogs. The recommendation engine sources content from the internet and share it with you regularly.
You can search for content with the help of keywords, always browsing their industry-specific pages. If you like something, you can instantly share it with your Instagram, Facebook, and Pinterest audience and even schedule it later.
Their plans start at $3 per month for three profiles, 30 posts/day, and 300 scheduled posts.
Post Scheduling & Activity Management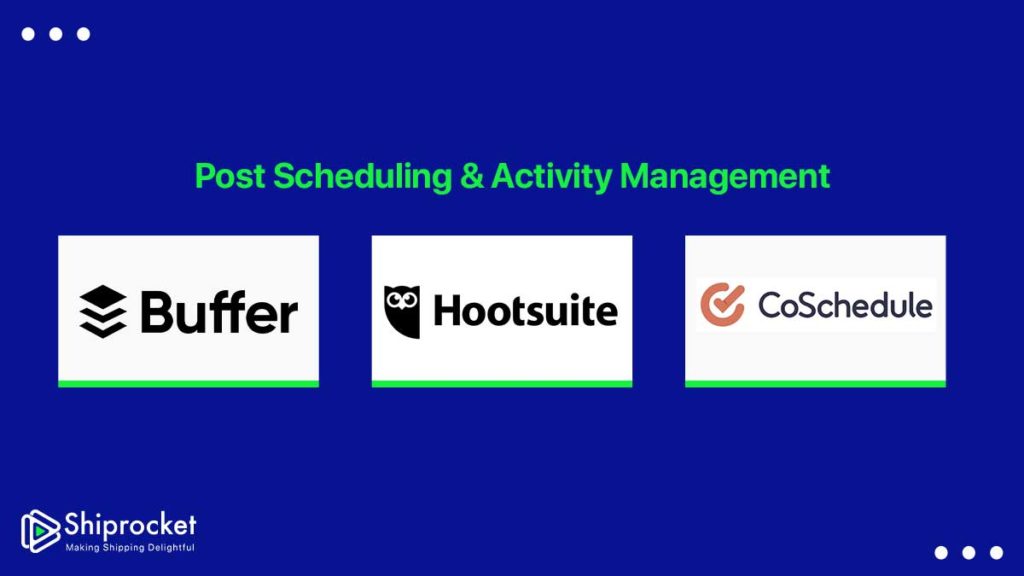 Buffer
Buffer is one of the most popular tools for social media post scheduling and management. You can utilize it to schedule posts on Facebook, Twitter, Instagram, and LinkedIn.
You just need to add posts according to your time slots. Buffer gives you an option to edit, move, or delete those. With the offer, you can add your posts in advance and give them so that you do not have to share them every time manually. It is an excellent tool if you have to post on weekends or after work hours.
They offer you a free plan for three social media accounts and 10 scheduled posts per day. Following this, you have to use a paid plan, starting at $15 a month.
This is an excellent tool if you post frequently. You can automate your marketing and social media process with Buffer.
HootSuite
HootSuite is a social media management tool that helps you schedule posts on your social handles for later.
You can plan a calendar for all social content and share it with your team to make organization and planning easier. You can also use the whole suite to engage with customers through your inbox using public and private messages.
You can also use their calendar to monitor your competitor's activity and stay on track with your strategy. It is trusted by various brands and has a good reputation with social commerce entrepreneurs.
They offer a free 30-day free trial for their paid plans. You can also use a free version to sign up as a single user and manage up to three social profiles.
They have a professional, team, and business plan with varied users and social profiles in all plans.
CoSchedule
CoSchedule lets you do much more along with social media management. You can use it as a social organizer to publish posts and also analyze how they perform.
They offer you five tools: a content organizer, a social organizer, a work organizer, a marketing calendar, and an asset organizer.
The best part about her schedule is that they have an intelligent post sharing mechanism. With this, you do not need to schedule posts for a particular time of day based on your analysis. The feature will do this work for you as it tracks peak traffic time and then records posts for you.
You can utilize CoSchedule with its growth, professional, and enterprise plan.
Analytics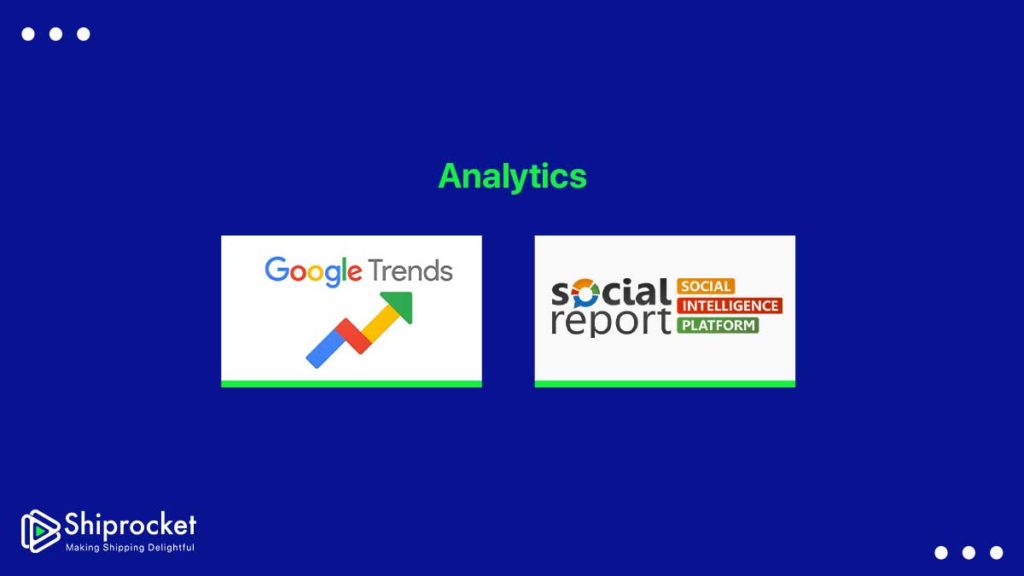 Google Analytics
Google Analytics is one of the most renowned tools for tracking the performance of any website. The chances are that you must have already installed Google Analytics for your eCommerce website.
Google Analytics not only gives you information about the traffic and conversions on your website, but it can also provide you with information about how many users are coming in from your social media platforms.
All you need to do is go to acquisition and social overview. This space will give you information about the impact of your social media strategy on your eCommerce website.
Since your social media initiatives' primary goal is to bring more customers to your website, social analytics can help you identify networks in communities where people engage with your content. This can help you immensely to modify your social media plan and create content most suitable for prospects.
Social Report
The Social Report is an aggregated platform for social media management and reporting. They offer custom analytics for Facebook pages, Twitter profiles, blogs, website performance, etc.
With social reports, you can get an aggregated description of the growth, engagement, and activity on multiple networks.
They offer you a key metrics tool for measuring activity, engagement, audience, site visits, conversions, etc. You can also study your daily stats and segment your customers based on channels, geography, etc.
Final Thoughts
These top 10 social media management tools can simplify your social media marketing plan and make life easier for your eCommerce store. They can help you reduce redundant work and draw helpful insights from your posting information. Use these tools to optimize your strategy and promote the best about your eCommerce store on social channels.
Calculate Your Shipping Costs Now