Explained: The Difference Between Shiprocket's Prepaid & Postpaid Payment Model
When it comes to eCommerce shipping, there are various solutions out there that claim smooth shipping for their customers. But only a few can offer you seamless shipping while maintaining a steady cash flow. Shiprocket is one of them! With Shiprocket, you do not only get simplified shipping with 14+ courier partners, but you also get the flexibility to pay according to your convenience. Yes! You read that right. You get the option of managing your payments and also maintaining your cash flow. To understand how you can do this better, let's understand Shiprocket's prepaid and postpaid models closely.
Shiprocket Prepaid
Shiprocket's prepaid model is the most basic form of payment. In this model, you can load money into your shipping wallet and pay for your shipments as and when they are processed. It is convenient, as you do not need your credit card or a different payment technique every time you decide to ship your products from the panel.
The concept is simple. Add money to your wallet and ship your products with these shipping credits. The minimum amount you can add to the wallet is ₹500, while the maximum amount is up to ₹50,00,000.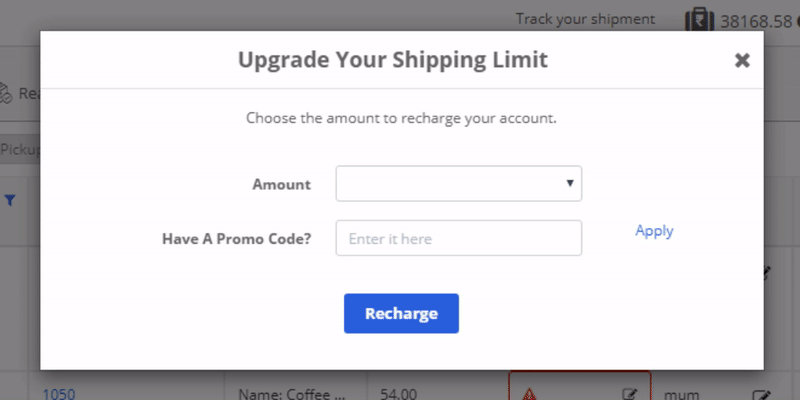 Benefits of the Prepaid Model
Ease of Use
This mode of payment is easy to maintain and does not require constant checks and balances for your transactions. The process is simple, and you do not need to stress about choosing a different payment method every time you need to pay for shipping.
Accessibility
The recharge tab is easy to navigate, and you can quickly recharge via different payment methods that include credit card, debit card, internet banking, or payment wallets. You can easily complete your recharge within 3 steps without any additional roadblocks.
Reduced Hassle
Once you recharge your wallet, you can ship in one step. This reduces any additional hassle of continuously recharging your wallet and reduces the chances of payment errors. This process helps you ship faster and also gives your entire cycle a boost by eliminating unrequired elements.
Shiprocket Postpaid
Shiprocket's postpaid model is a unique approach toward maintaining steady cash flow for your business. It gives you immense flexibility and makes the process hassle-free for you! This is how it works –
A part of your COD remittance that is processed in the regular cycle is transferred directly to your shipping wallet. This means you can make use of your money before it is transferred to your account. Or in other words, you can skip the step of recharging your wallet and directly use your COD remittance as shipping credits to process your shipments.
To begin using the Postpaid feature, you need to activate it on your Shiprocket panel. Go to → Settings → Company → Remittance settings → Swipe the toggle to select Postpaid shipping

Benefits of the Postpaid Model
Steady Cash Flow
With Shiprocket postpaid, you can easily maintain a steady cash flow. For instance, if you are traveling for a week and cannot recharge your wallet on the go, you can still process your shipments as the amount from your last COD remittance can be used as shipping credits. It's a win-win solution for you and your business!
Dynamic Shipping Limit
Shiprocket offers you a dynamic shipping limit based on your risk profile with us. With this dynamic shipping limit, you can ship products before your remittance is processed. This feature is particularly helpful in the festive season when the order volume is high, and the incoming cash might not match the quantity.
Faster Remittance
With thrice a week COD remittance, you can efficiently process all your shipments at a much faster rate while maintaining your finances. This saves you the time and also helps you with planning other aspects of your business, like inventory management, warehousing, purchasing packaging material, etc.
Prepaid vs Postpaid – A Brief Comparison
Final Thoughts
Both the Prepaid and Postpaid shipping models are advanced and useful. However, you must strategically decide what works best for your eCommerce business. It can depend on several factors like shipment volume, seed investment, etc. to determine what payment method is more suitable for your business. Start shipping with Shiprocket today to avail of these fantastic features and make your shipping top-notch!
Can I shift from prepaid to postpaid and vice-versa?
Yes. You need to change the remittance settings in your Shiprocket account to make these changes.
What is the minimum recharge amount for prepaid delivery?
The minimum recharge amount is Rs. 500
Is the postpaid limit static or dynamic?
The limit keeps on changing based on your use and frequency of remittance.
Calculate Your Shipping Costs Now