Product Updates
Product Highlights From March 2022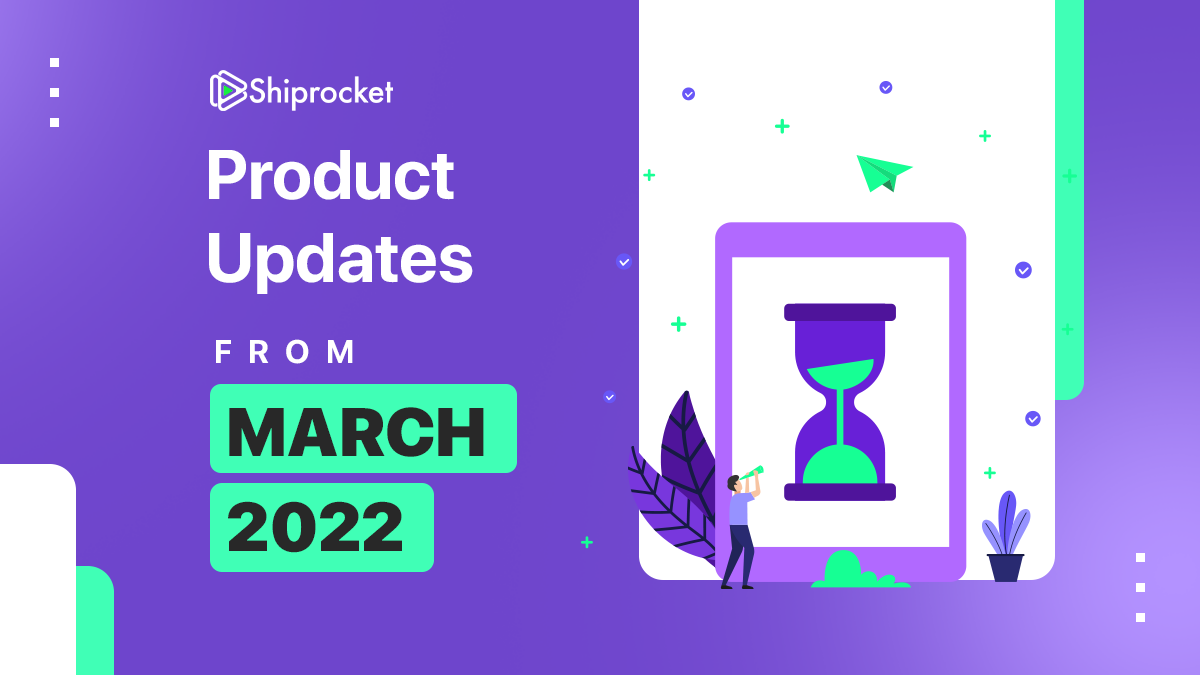 The Shiprocket team is constantly making improvements and bringing regular product updates to help you reach your eCommerce goals. Yet again, we have made significant changes in the month of March for our sellers. Here are the highlights from March that will help simplify your returns and refunds process, enable your business to reach new heights and much more.
Here's what we were upto in March 2022-
End-To-End Returns and Refunds Management by Shiprocket – Now Available to All!
We have made product returns easier and faster for you and your buyers. This feature is now available to all our sellers. This will make your buyer's post-delivery experience even more simpler and streamline your return management processes as well.
You can now also enable faster refunds by integrating your RazorpayX account with Shiprocket. By this, you will be able to make direct refunds to your customer's bank accounts, cards, wallets or UPI handles.
Follow these simple steps to enable returns & refunds settings on your account-
How to Activate Returns Management
Go to → Settings → Return Settings
Now, turn on the toggle for 'Enable Buyer Return Workflow on Tracking Page'
Then, select the number of days upto which the customer can raise a return request
Following this, select the products you want to determine as eligible for returns. You can either select all your SKUs or upload a list with the specific SKUs
How to Activate Refund Management
Go to → Settings → Refund Settings
Now, select the toggle if you want to allow refunds against COD and prepaid orders and determine the order status at which the refund will be processed.
Shopify sellers can choose an auto refund if they want to process a refund to their buyers in the form of store credits.
Simplifying Return Processes
You can process returns & refunds from a single tab.
If you are a Shopify seller, you can enable restocking on your account. We automatically update your Shopify channel inventory after you 'Acknowledge' your return shipments.
Enable Quality Check to ensure that all products are unused/unworn.
Process Shopify store credits in one click. (For Shopify Sellers)
Automated return status updates to your buyers via Email & SMS.
Follow These Steps To Make A Return
Go to Returns from the left menu.
Here go to the Return Requests tab where you can either accept or reject a return request. Please keep in mind that this tab contains the return requests made by your buyers through the tracking page.
If accepted, the request will be moved to the New Returns tab.
Here, click on the Initiate Return button to select a courier partner.
You Can Now Set Up RazorpayX Direct Refunds for Your Return Shipments
You can now connect your Razorpay X account to make payments directly to your customer's bank accounts, cards, wallets, or UPI addresses at any time. This will also significantly reduce your operational costs and minimize manual work by automating all your refunds.
Here's how you can integrate your Razorpay X account with shiprocket-
Go to → Settings → Refund Settings→ Go To Payment Integrations → Connect Razorpay X Payouts
This step will help you in automatically deducting the amount from your RazorpayX account and you won't have to manually do it.
Go To Returns → Delivered → Refund
New RTO NDR Workflow- Manage Your Undelivered RTO Orders Easily
Shiprocket has added a new RTO NDR workflow to your Shiprocket account. If your orders are not delivered, you can now submit a re-attempt request in the RTO journey, which is similar to the Forward NDR workflow.
How Do I Request a Reattempt?
Navigate to Shipments and click the RTO button.
RTO now includes a new tab RTO-NDR, which lists all of your undeliverable RTO orders.
Clicking the Reattempt button will open a pop-up window where you can view the NDR reason and request a reattempt.
Choose a reattempt date for your RTO order. Next, modify your contact information and address if you want your RTO order delivered to a different location.
You can also record and upload an audio file or add your comments to the Remarks section.
Once all of the information has been entered, click Request Reattempt to proceed.
Important Things to Keep in Mind
Each RTO NDR order is limited to one reattempt request.
If the delivery of an RTO NDR order fails after a reattempt request, the order will be disposed off.
If no action is taken within 10 days of the RTO NDR date, the order will be disposed off by the courier.
You Can Now Add Shelf Life for Your FMCG Products
You can now share your shelf life data while uploading the product list. The information will be processed at various stages as mentioned below-
You can add maximum time for which a product can be stored
You can add minimum shelf life for products that should be accepted at the warehouse
You can also add which products need to be processed first based on the shelf life
You can add a CSV file and add necessary information in the sections-
Shelf Life
Inward Shelf Life
Outward Shelf Life

Follow These Steps-
Go To Products → Go To Add New → Sample File
Updates in Android App
You can now update your Shiprocket mobile app and get brand new features-
Secure Your High-Value Shipments From The App
You can now secure your high-value shipments at the time of courier selection instead of at the time of order creation. For example- If you are shipping an order which costs more than ₹5000 and want to secure it you can directly do it from the app at the time of selecting the courier option.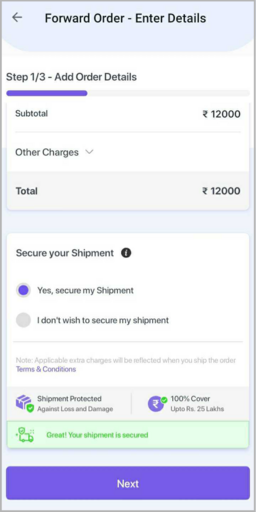 Now Raise Support Tickets From Your Android App
The Help & Support section in your Android app has been updated and you can now raise support tickets directly from your Android app. For this;
Go To Help & Support from the More menu.
There are three tabs on this page: Create Ticket, Open Tickets, and Close Tickets.
To create a support ticket, choose a Category and a Sub-Category to better describe the problem.
Please share any supporting documents you have as well.
To create a ticket, click the Proceed button.
Note: In the Open Tickets tab, you can see all of your tickets for which a resolution is pending. The Close Tickets tab will contain all tickets for which a resolution has been reached and no further action is required.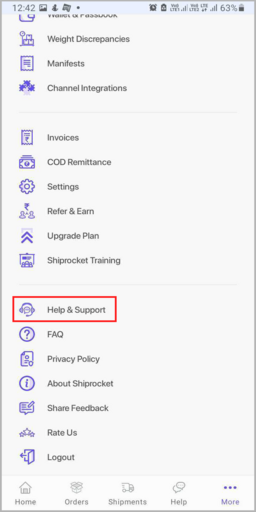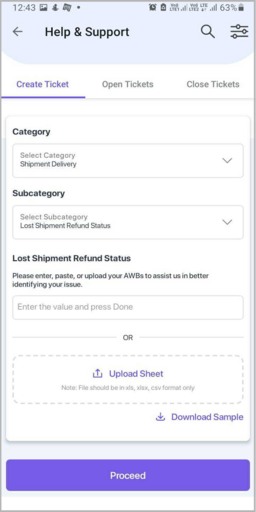 Now Get Order Notifications on WhatsApp For All Sellers
Shiprocket is offering FREE WhatsApp notifications to all our sellers now.
We will now send an 'Out for Delivery' message to your customers which will give real-time order updates and reduce NDR. The customer might miss an email but unlikely that he will miss a WhatsApp message. This will reduce RTO and increase order deliveries. This feature is currently in the pilot phase and will be made available to all sellers for free very SOON.
Amazon Shipping 500gms, Kerry Indev Express, and Xpressbees Air Are Now Available To All
You can now improve your shipping performance with the newly added Amazon Shipping 500gms courier. Even if you don't sell on Amazon you can leverage the power of Amazon to boost your shipping.
Also, the Kerry Indev Express 2kg has been added to Shiprocket recently. If you want a wider reach and express tracking, this is a great courier service to use. Kerry Indev Express 2kg is available to all Shiprocket sellers. We've also made Xpressbees Air services available to all Shiprocket sellers.
All Shiprocket sellers now have access to international shipping.
Customers can now make a re-attempt request for their undelivered orders directly from WhatsApp. They can also select the re-attempt date from WhatsApp, can add an alternate mobile number or cancel the order.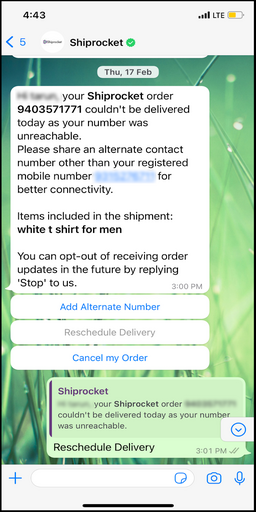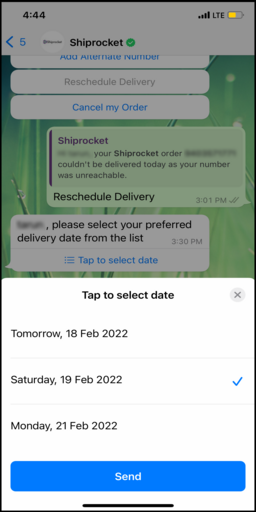 Conclusion
Stay tuned for more. We would be delighted to bring you some more new features and updates next month.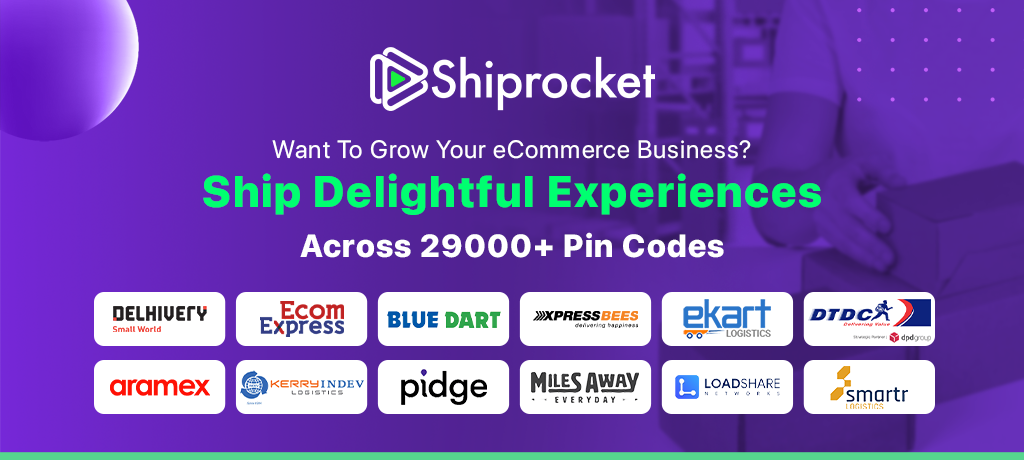 Calculate Your Shipping Costs Now