Powerful Product Updates from August 2020
The past few months have been quite eventful for us. We have worked non-stop to help provide you with powerful features to amp up your eCommerce fulfillment operations. Along with new features, we have also worked on improving our existing offerings to make sure that you can ship seamlessly to any part of India.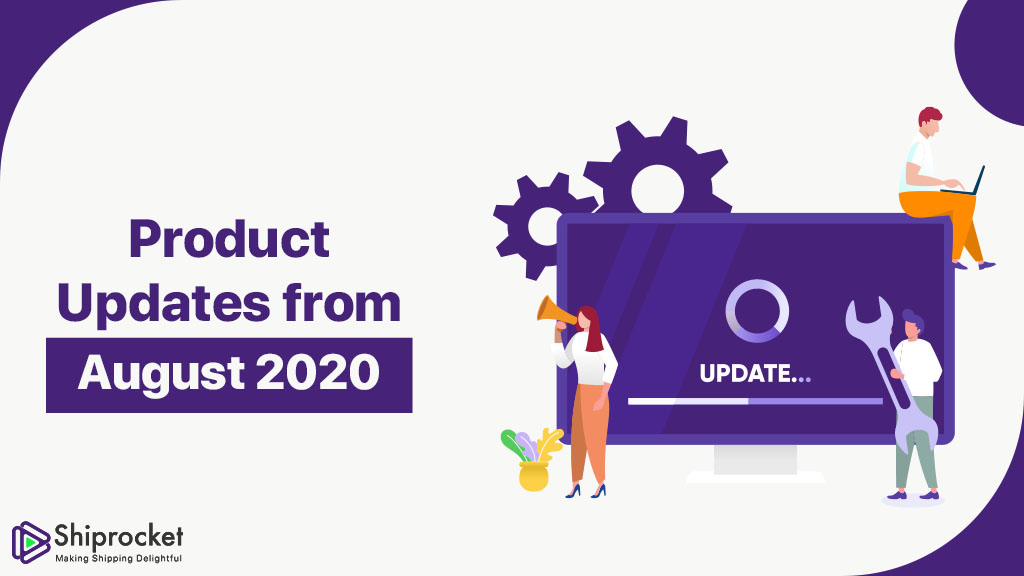 Right from verifying bank account details, to printing labels, and processing orders faster by prioritizing pin codes, we have come up with interesting solutions that can help you optimize the fulfillment process and speed up your shipping. Without further ado, let's quickly have a look at these features –
Verify Bank Account Details in Less Than A Minute
Leave behind the hassle of waiting to get your bank account details verified to receive your COD remittance. Better one-click bank account verification, you can start shipping your COD orders faster than ever.
All you need to do is enter your bank account details like account number, account type, IFSC code, and a one rupee transaction will be credited to your account. That is all we need to verify your account details.
This feature is available for both web and mobile app users. So, if you are awaiting to get your bank account details verified, head to a platform and do it that faster way with these steps –
Go to → Settings → Company → Accounting & Bank Details
Enter your bank details to verify your account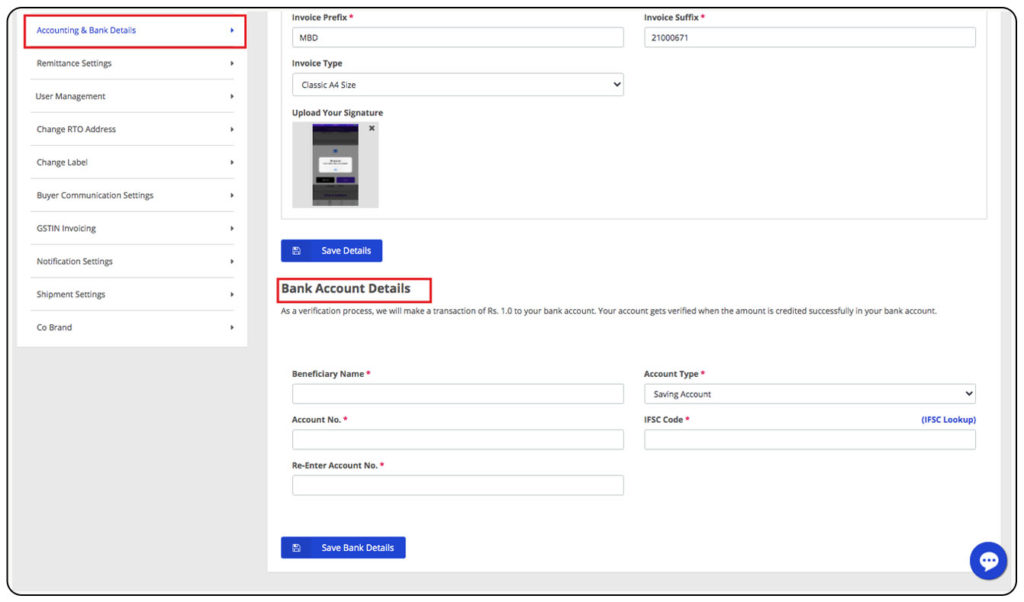 To verify your account, we will make a transaction of Rs. 1.0 to your bank account. Your account gets verified when the amount is credited successfully.
A New Label With More Details
Recently, we added a new label in the dimensions 6 inches into 4 inches that is suitable for thermal printers. This label contains information about the product and price details along with the brand logos!
Here is what it would look like –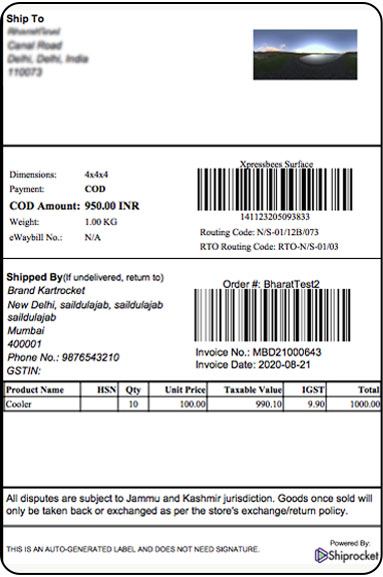 To choose this label for your shipments, follow these simple steps –
Go to → Settings → Company → Change Label
Select the third format to start using these new labels.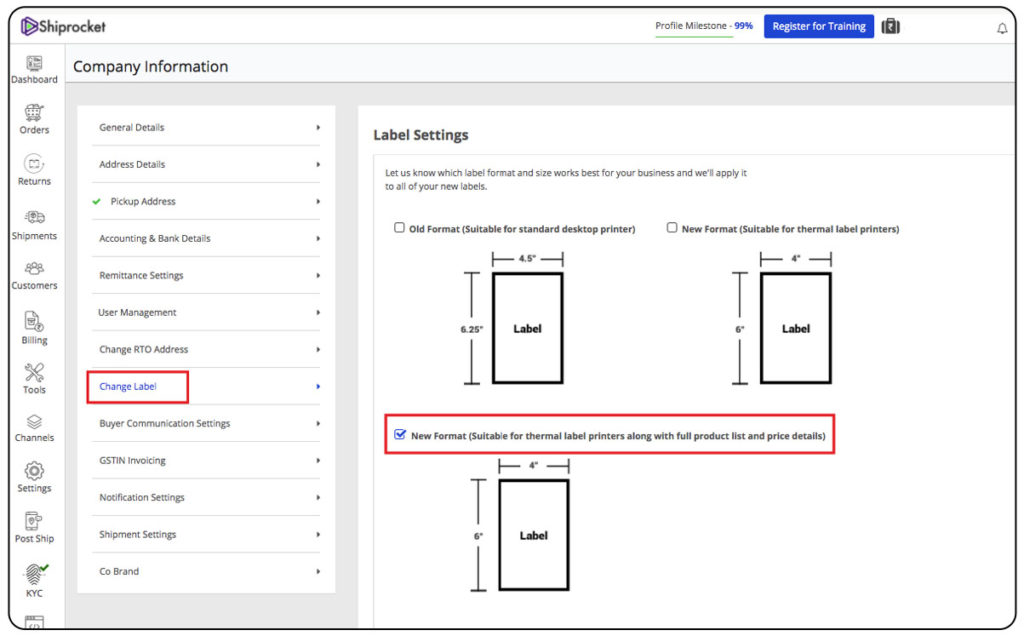 Remove Out of Delivery Area and RTO-Prone Pincodes
When you process many orders on a regular basis, it is difficult to keep track of which pin codes are out of the delivery area and more prone to RTO orders. This can often lead to incorrect delivery and an increase in your RTO shipments that can cause a huge dent in your business.
To make sure that you can easily track these pin codes that are out of the delivery area (ODA) and RTO prone, we have set up a new feature, where you can remove the high probability RTO and ODA pin codes from your ship rocket account.
This will give you an edge while shipping as you can identify the RTO zones and prevent shipping out these orders repeatedly. Along with that, you can reduce returns and improve your buyer's delivery experience by many folds.
Here is how you can get started with blocking RTO and ODA pincodes
Go to Settings → Couriers
Select the courier partner whose pincodes you want to block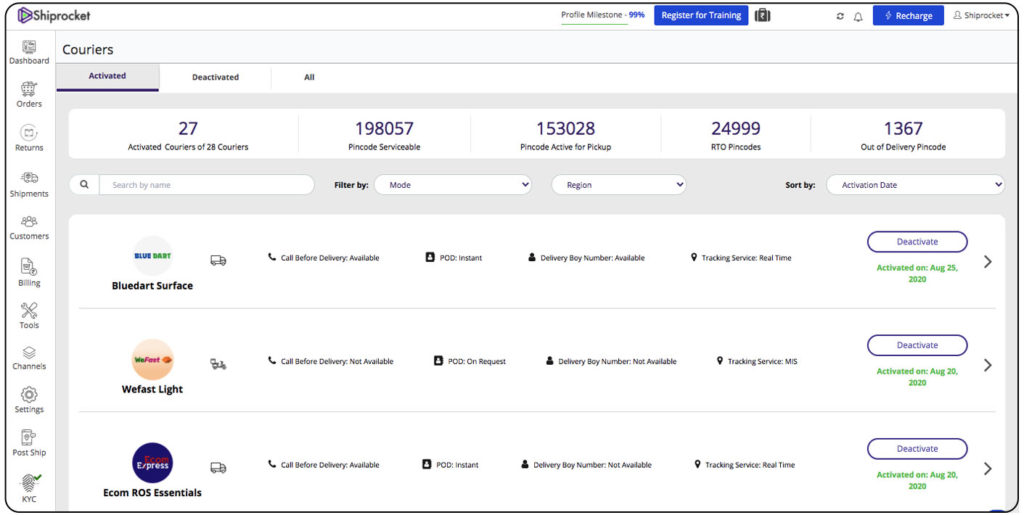 Here you will find two boxes, RTO pincodes, and ODA pincodes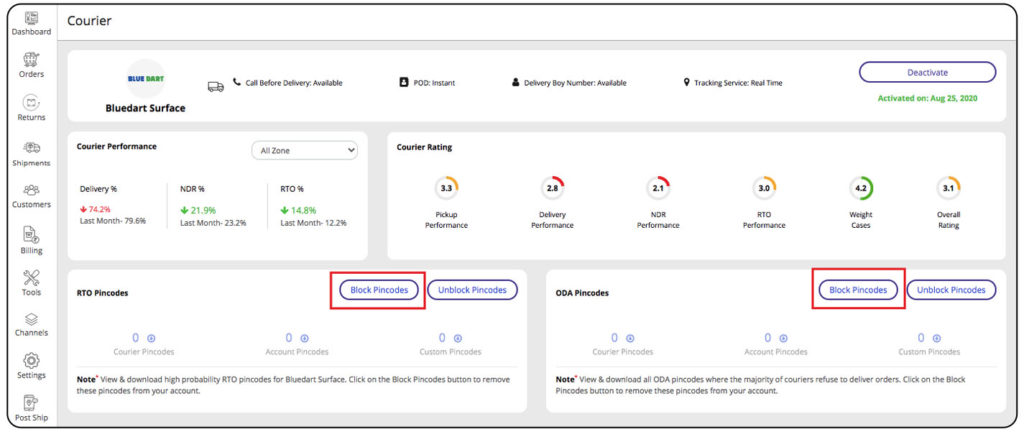 For either set, select block pin codes and select the pincodes you want to block.
You can block all, specific or custom RTO/ODA pincodes for your account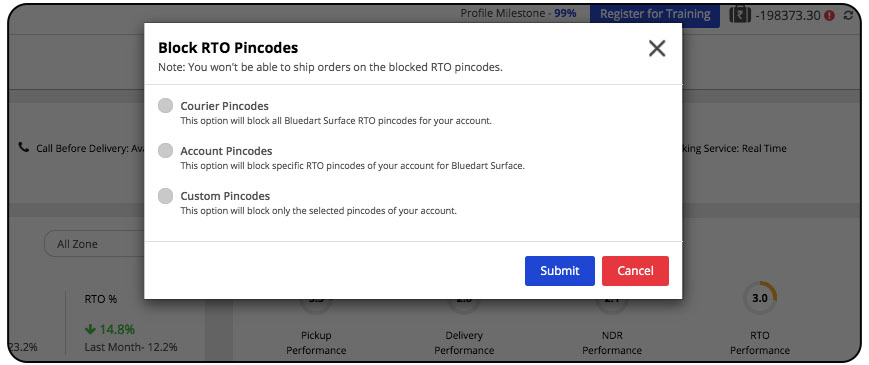 Initiate Faster Refunds
Providing refunds for orders can be time-consuming and prone to a lot of errors. Moreover, it can lead to negative customer experience as the customer might have to wait a long time to receive the money in their bank account or store credits. Many companies offer their clients immediate refunds and climb up the ladder of e-commerce success with a trust bridge built on this arrangement.
For D2C businesses, it can get cumbersome to establish a long drawn automation process to refund money almost instantly. So, to help you and your customers with efficient returns right from the tracking page, Shiprocket has devised a new refund process that you can activate from your panel.
Go to → Post Ship → Returns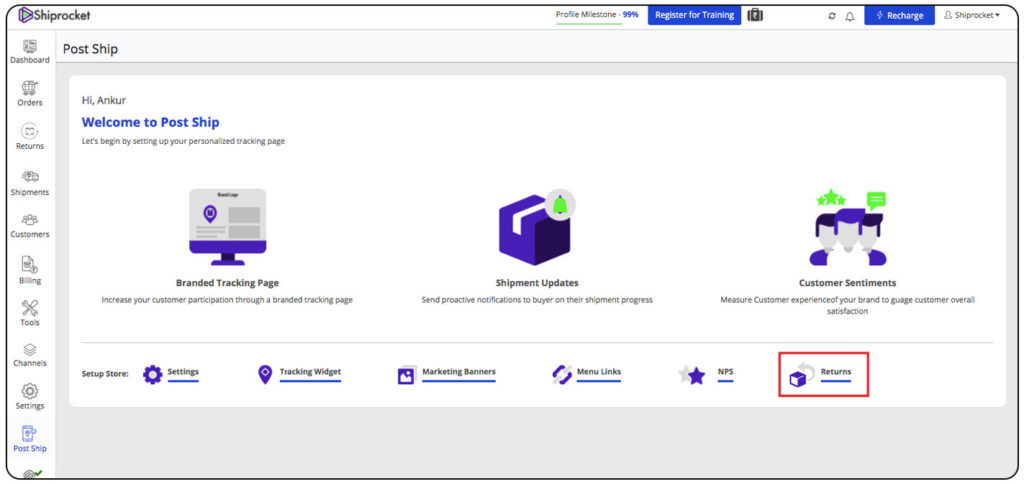 Here, you will come across several configurations that you can enable for providing returns.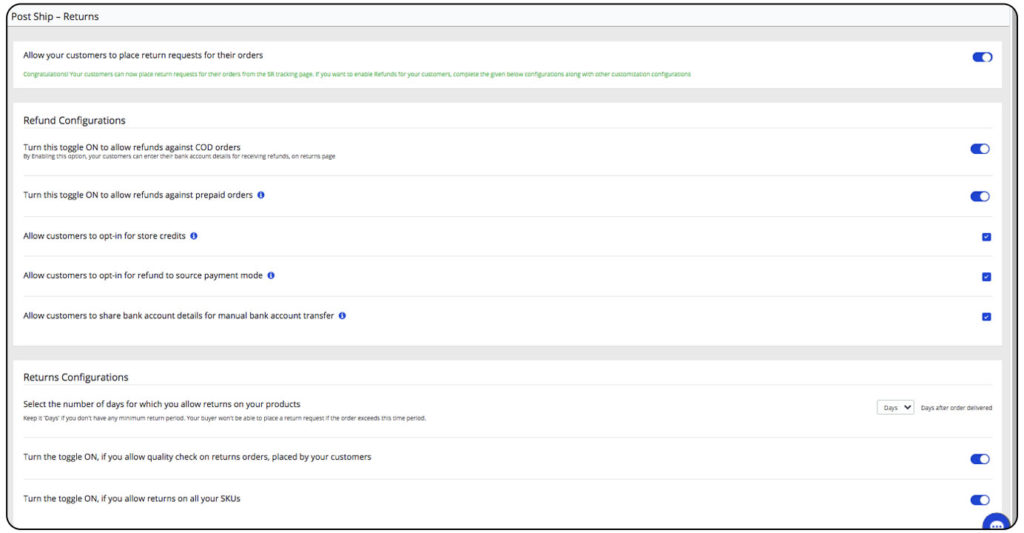 In the Refund Configurations section,
Turn the first & second toggle on if you want to provide returns for COD & Prepaid order respectively
If you offer refunds in the form of store credits, select the third point.
Select the fourth point if you want to allow customers to opt-in for the refund to source payment mode like a bank account, e-wallet, etc.
Choose the fifth point if you want to allow customers to share bank account details for manual bank account transfer. This is most useful for COD orders.
In the Returns Configurations section,
Select the number of days for which you allow return requests.
In the second option, turn the toggle ON, if you allow a quality check on returns orders, placed by your customers
For the last point, turn the toggle ON, if you allow returns on all your SKUs
Multi-Packet Shipments for Convenient Shipping
We understand how stressful and difficult it is to track and pack several small shipments consisting of various AWB numbers but has been placed as a single order. To help you with smooth shipping, we have introduced the feature of Multi-packet shipment where you can now ship a single order with multiple child products (maximum number of child products = 5) in more than one package, but under a single master AWB number. This way, you have to track a single number and know about the whereabouts of multiple packets. For more convenience, child AWBs will also be assigned to different child packets.
Currently, multi-packet shipment is only available for Delhivery. Soon, we will make it accessible for all couriers.
Let us take an example to understand the benefits of this feature better. Suppose you received an order of a mobile phone, a phone back cover, and a camera from a single customer. Now, instead of generating separate AWB numbers for all the products, you can create a "multi-packet shipment" and ship all the three products under a single AWB number. To keep a note of the status of these products, all you need to do is track the master AWB number.
Please note, pick-up of your multi-packet shipment will only be done when all the products ordered by the customer are available in your warehouse.
How to Enable Multi-packet Shipment Feature In Your Account?
If you want to enable multi-packet shipments for your account, you can simply request your account manager or get in touch with our support team to get it activated for you!
Conclusion
We hope that with these updates and improvements, eCommerce shipping truly turns out to be a delight for you! We will be back with more innovations and updates to power your eCommerce business. Stay tuned for more!
Calculate Your Shipping Costs Now