Product Highlights From February 2022
2022 has been an exciting year till now at Shiprocket. We are constantly working to bring updates to help you reach your eCommerce goals. February has been no different. Even though the month has fewer days, the updates have been significant. Here are highlights from February that will help simplify returns management, grow your business, and more.
Let's dive in and see which exciting updates await you.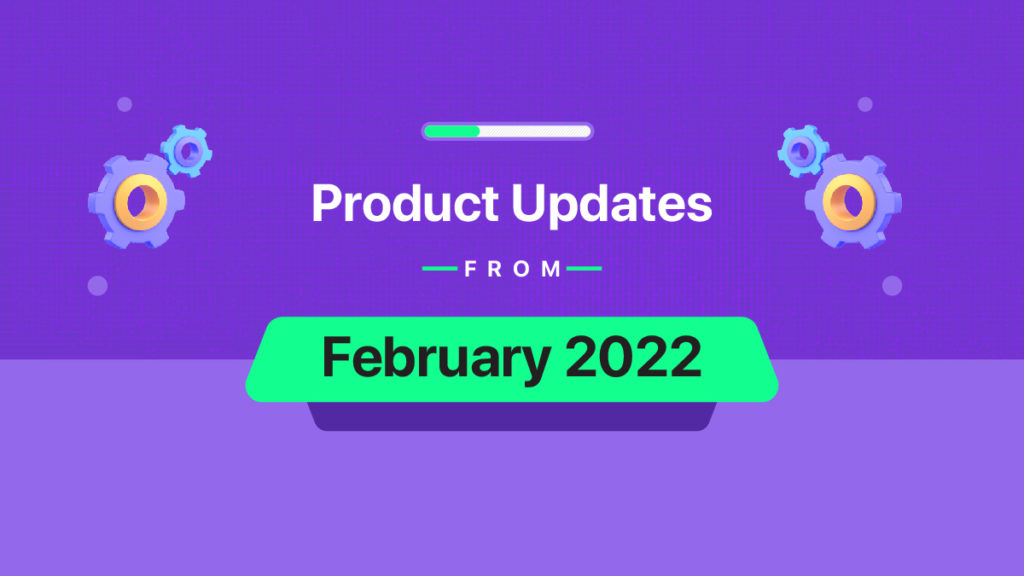 Manage Returns Easily With End-to-End Returns Management by Shiprocket
Now, you can make your buyer's post-delivery experience even more seamless and also make return management uncomplicated at your end.
With accepting return requests from the tracking page and initiating a reverse pickup, you can now enable a 'Quality Check' during return pickups to ensure the orders match your return guidelines.
Your buyers do not need to wait for the money to be credited for refunds. You can credit the amount as soon as your order is picked up or delivered to you.*
Shopify sellers can also set up auto-refund which will be credited in the form of store credits
How to Activate Returns Management
Go to → Settings → Return Settings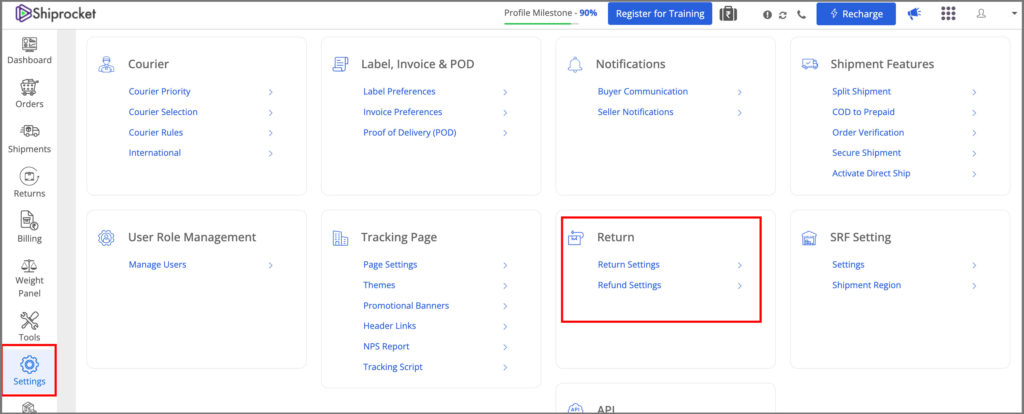 Here, turn on the toggle for 'Enable Buyer Return Workflow on Tracking Page'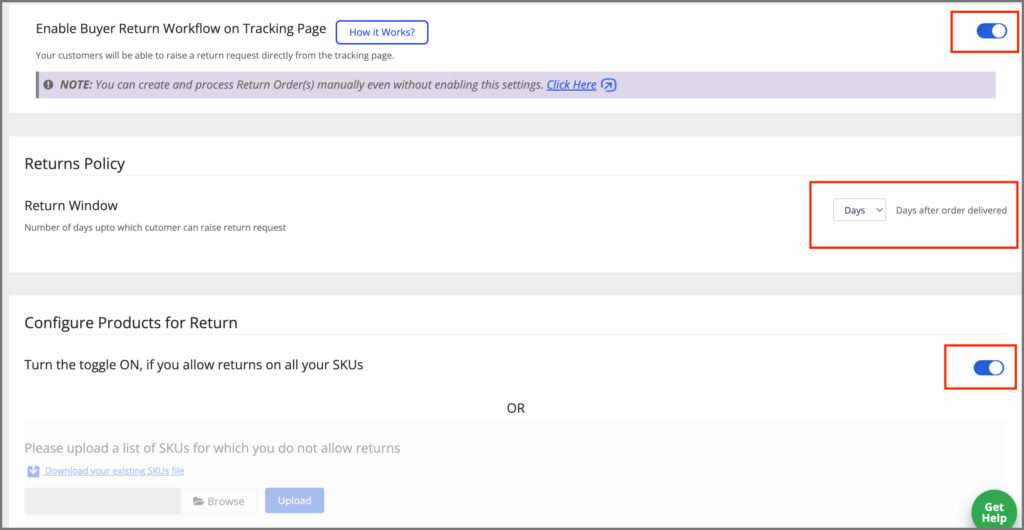 Next, select the number of days upto which the customer can raise a return request
Following this, select the products you want to determine as eligible for returns. You can either select all your SKUs or upload a list with the specific SKUs
How to Activate Refund Management
Go to → Settings → Return Settings
Here, select the toggle if you want to allow refunds against COD and prepaid orders and determine the order status at which the refund will be processed.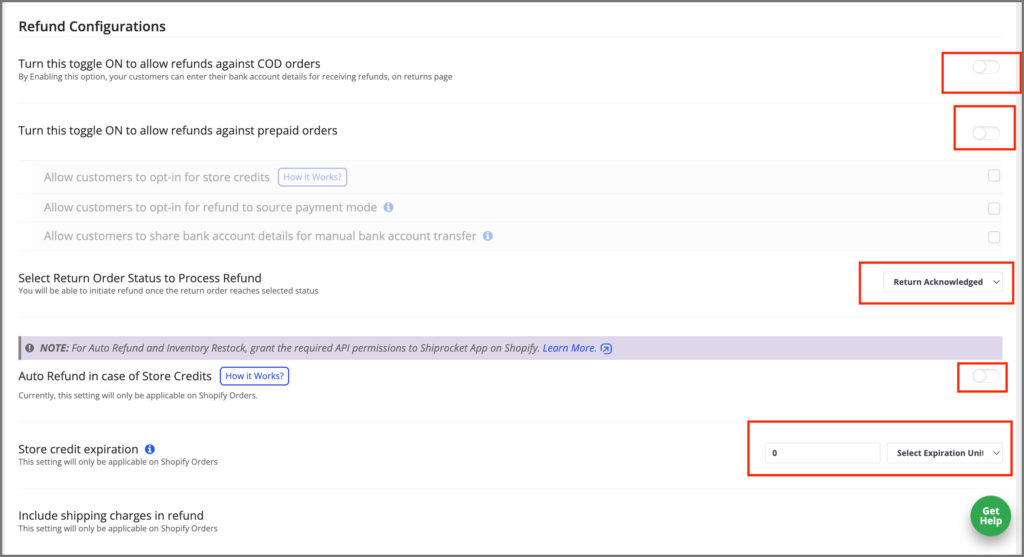 Shopify sellers can choose an auto refund if they want to get the refund in the form of store credits.
How The Return Process Works
For non-Shopify sellers

Buyer request Return from Tracking Page → Accept/Decline your Return Requests → Schedule
Pickup for Returns → Process Refund Manually → Acknowledge Returned Product(s)
For Shopify sellers
Buyer request Return from Tracking Page → Accept/Decline your Return Requests → Schedule
Pickup for Returns → Process Refund Manually or via Shopify store credits → Acknowledge Returned Product(s) and Auto Restock
Benefits of End-to-End Return Management
Seamless Return Flow
You can process returns, refunds & restock from a single tab
Quality Check
Enable Quality Check to ensure that all products are unused/unworn.
Auto Refund (For Shopify sellers)
Process Shopify store credits in one click
Auto Status Update (For Shopify sellers)
Get real-time updates on Shopify's return and refund statuses.
Buyer Communication
Automated return status updates to your buyers via Email & SMS
Grow Your Business With Our New Partners – IndiaMART, Bikayi, and Razorpay
Now, you have another opportunity to grow your eCommerce business with Shiprocket by leveraging our recent partnerships.
Razorpay and Bikayi
Suppose you sell on Bikayi or with Razorpay Payment Pages. In that case, you can simply integrate your channel with Shiprocket and directly automate the order fulfillment process to ship far and wide without any hassles.
Simply go to → Channels → All channels → Add new channel → Select your desired channel from the list.
Here is an example of Razorpay payment pages –
IndiaMART
If you are a Shopify seller, you can grow your brand and reach millions of buyers free of cost by listing products on IndiaMART.
You simply need to select the Shopify store from which you want to list products and once the listing is approved, IndiaMART will re-direct buyer traffic to your website to submit orders.
After order submission, logistics & payments will be taken care of by the website.
To get started, go to → Channels → All channels → Add new channel → Select IndiaMART.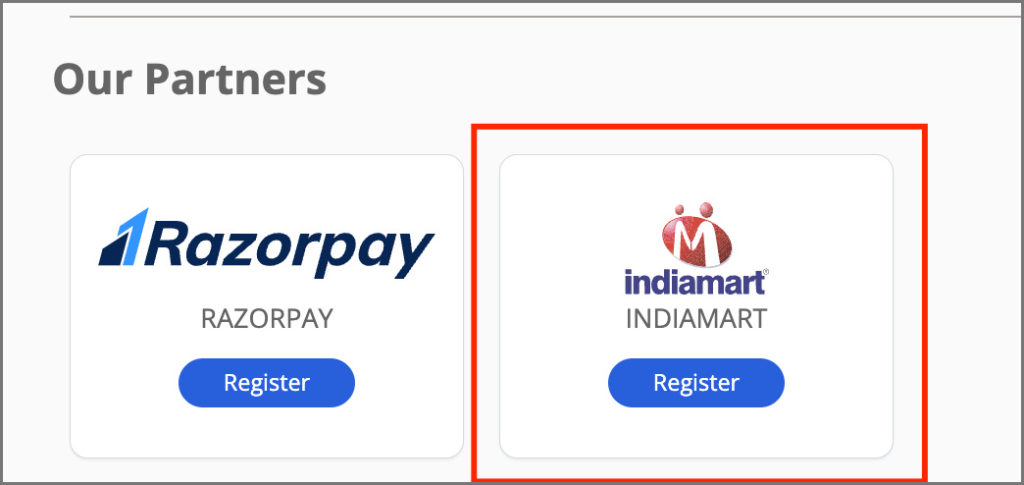 Next, click on register, and you will be asked to select the channel from which you want to list products. Click on 'List Products' once you make all selections.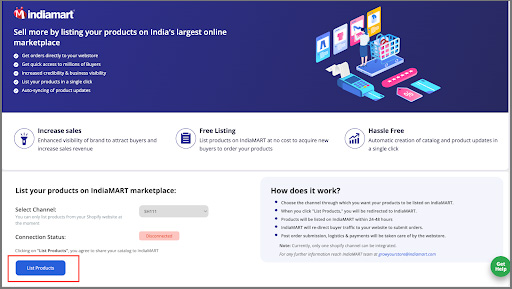 Check Out What's New in Your Shiprocket App
Along with the Shiprocket panel, we have also introduced a few changes in the mobile app to make shipping more accessible and convenient for you. Here are the updates –
Estimated Delivery Date in Rate Calculator
Now, you can view the estimated delivery date in the shipping rate calculator on the iOS and Android applications. This can help you make valuable decisions regarding the courier partner you want to ship with by comparing yet another critical piece of information.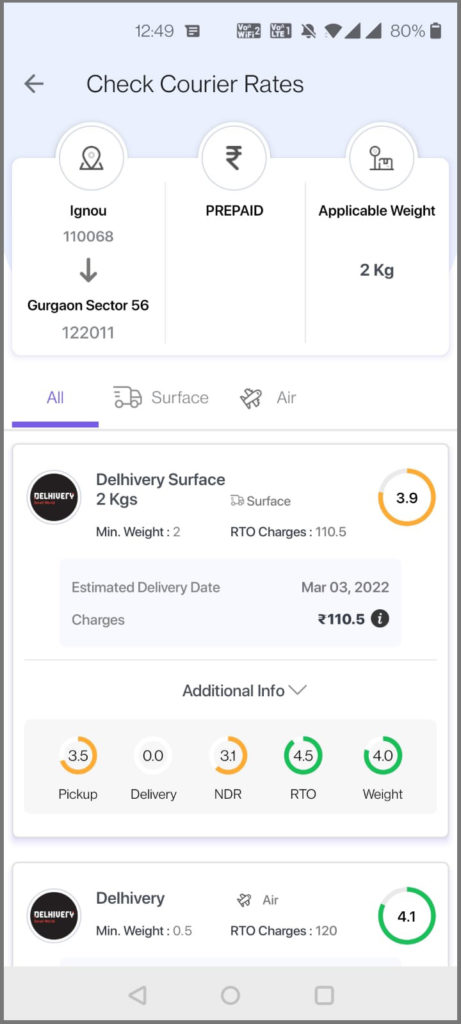 Quick Ship From the iOS App
Create and process shipments in just three simple steps – Adding order details, choosing a courier partner, and entering customer details.
To enable quick shipping in your app, go to → More → Features → Turn on the toggle to activate quick ship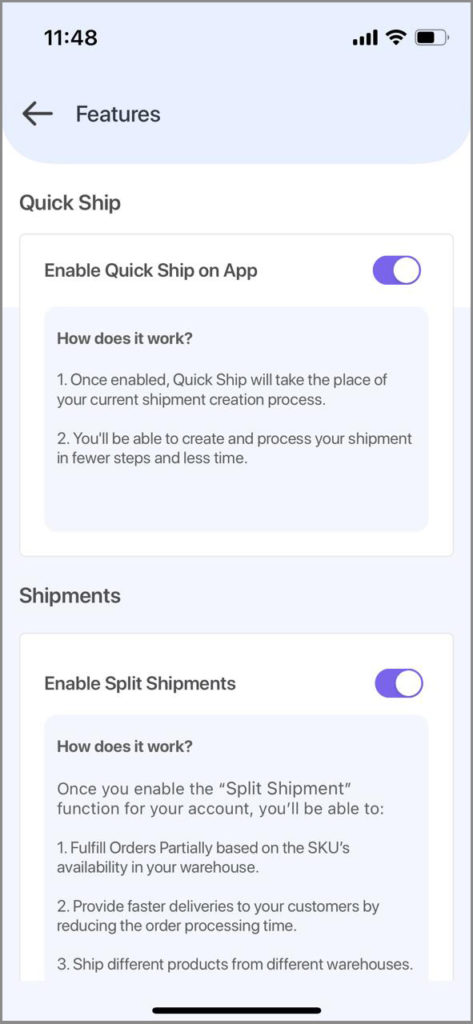 Following that, you can schedule a pickup right away or later from the Shipments tab.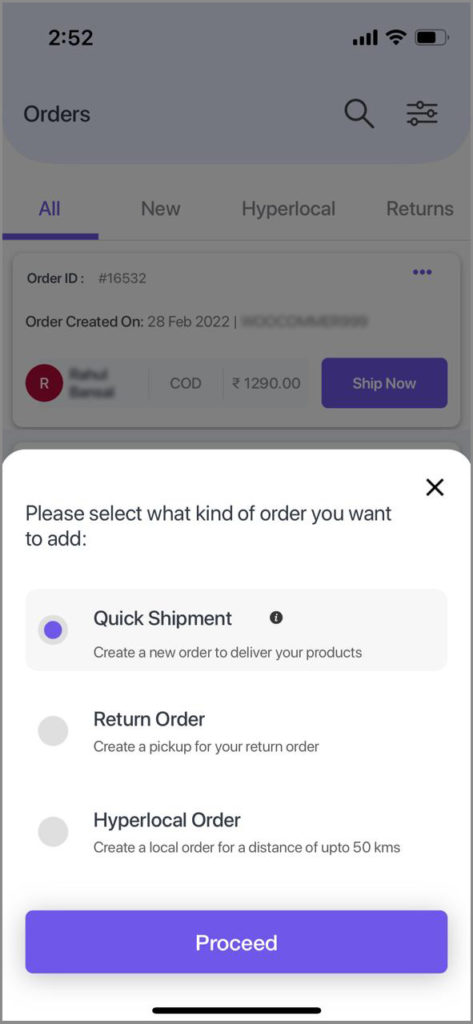 Change Payment Mode for Xpressbees Shipments
Now, you can change the payment mode from COD to Prepaid for all your Xpressbees shipments before they head out for delivery. This was available for Ecom and Delhivery shipments earlier.
This can assist you to lower the risk of RTO and converting more shipments into prepaid before they are delivered.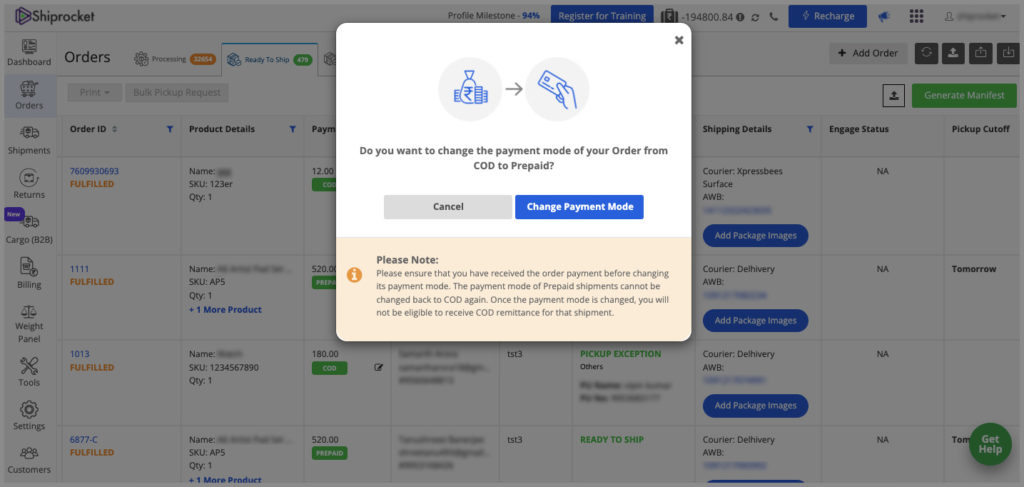 Cross-Border Shipping Made Easy with Shiprocket X
Shiprocket now offers you an exclusive service to ship your orders across the globe to 220+ countries and territories with leading courier partners with our latest international shipping service – Shiprocket X.
You can ship via multiple carriers & track all orders in a single place. You can even integrate with leading global marketplaces like Amazon, eBay, Shopify & WooCommerce to make order management and processing easier.
Here is how you can process and ship orders with Shiprocket X
Upload Documentation
Get started with minimum documentation like Import-Export Code(IEC) and PAN card for verification.
Add Your Order(s)
Import several orders at once using our seamless website and marketplaces integration or add manually
Select A Preferred Mode
Choose from the available shipment modes and speed of delivery based on the pin code serviceability.
Ship Your Order
Generate labels, download invoices & schedule pickups in a few clicks
Track Your Shipment
Get a unified tracking experience against your assigned airway bill throughout the order journey.
Final Thoughts
We hope that you can make some significant changes in your order processing operations and make shipping an even more streamlined experience with these updates. We work tirelessly to bring you more updates and enhancements to simplify your shipping experience. Stay tuned for more updates in the coming months.
Calculate Your Shipping Costs Now