The Latest Shiprocket Product Updates From July 2020
With the eCommerce scenario rapidly picking up pace in the country, it is essential that our sellers are provided with all the latest features and functionalities to make eCommerce shipping seamless and hasslefree for them.
At Shiprocket, we have worked tirelessly to make every aspect of logistics much more simplified for you. We have seriously taken into account your feedback and made some exciting additions in the Shiprocket panel to make the process uncomplicated and seller-friendly!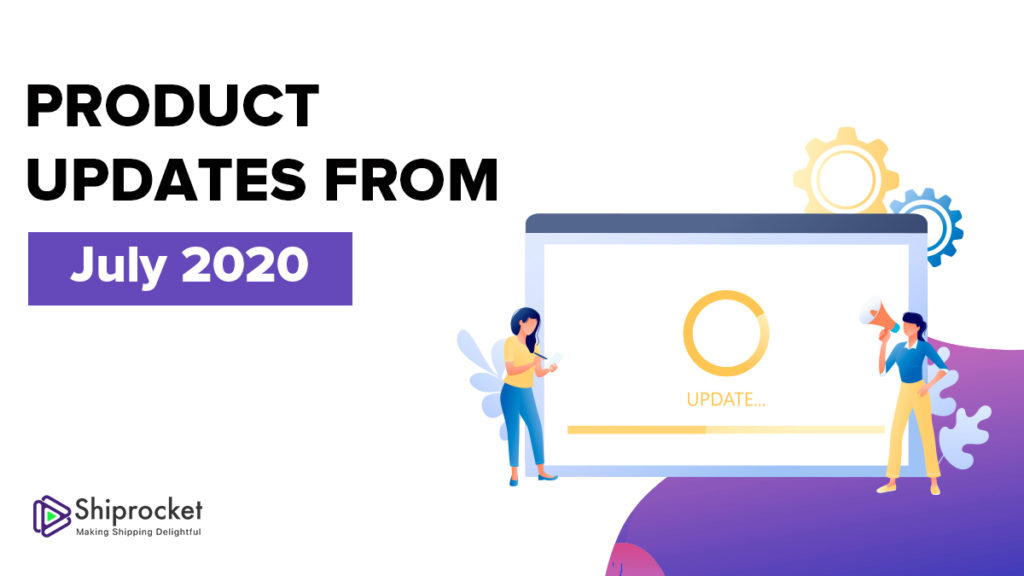 With several features around analytics, NDR, bulk download, pick up escalations, and many changes in the mobile app, we have some very interesting updates to share with you.
Let's dive into these updates and have a closer look at how they can be game-changing for your business!
All New Shipment Analytics Dashboard
To understand patterns of success and failure, you need to have a close eye at trends and how your decisions have been performing. No better way to analyze these with the help of detailed analytics represented in extremely simple methods.
To help you make informed eCommerce logistic decisions, we have introduced many new dashboards in the Shiprocket panel. These include dashboards for orders, shipments, NDR, RTO, couriers, and delays.
Each of these dashboards contains several comparisons based on your previous shipments.
The order section contains information like the top 10 customers, the top 10 products, buyer demographics, most popular orders location, etc.
These insights give you a better understanding of your best selling products and how are your products performing!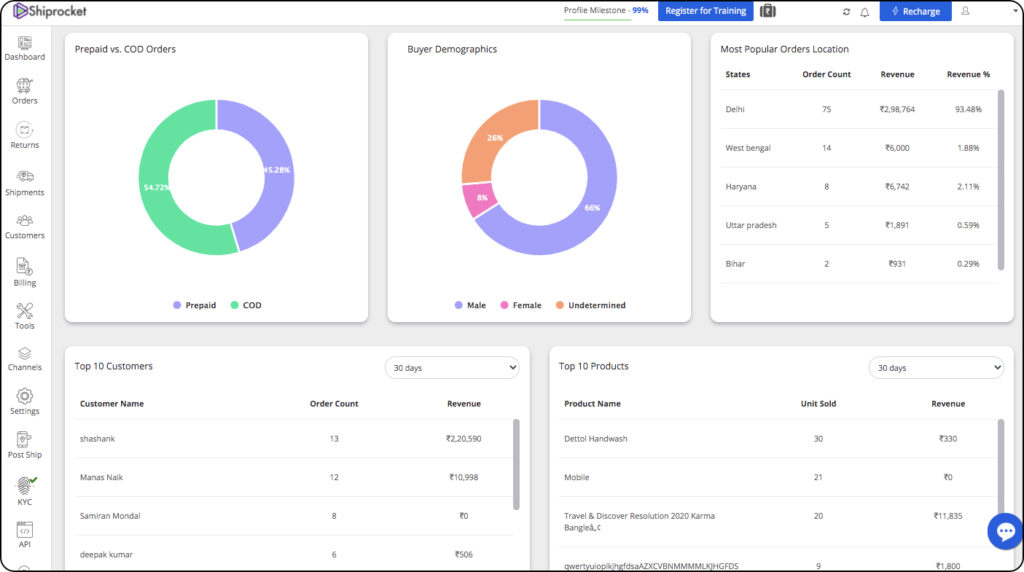 Next, the NDR and RTO dashboard give you a better understanding of how many of your shipments have been marked as undelivered, the reasons for their non-delivery, and how many were delivered in their second delivery attempt.
This information combined with other relevant statistics, can help you gauge & tackle a very serious concern for your business – Return To Origin(RTO) shipments.
You can make informed decisions for the same and alter your strategy to help reduce this number.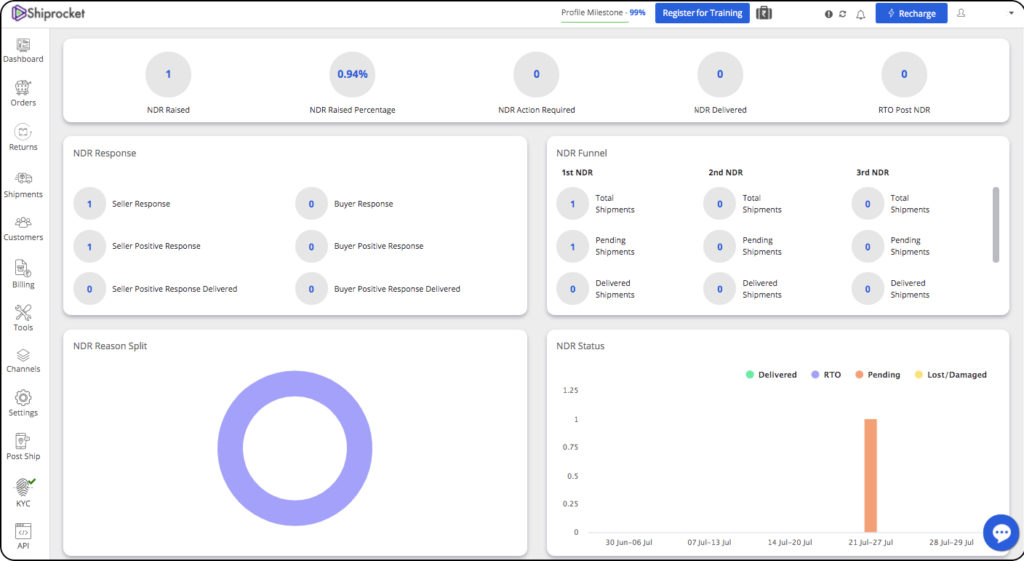 In the delays dashboard, you can see where in the process you are facing maximum delays for example if there is a delay in the pickup, NDR to re-attempt, in transit, RTO, etc. You can also get a consolidated number of lost shipments, damaged shipments, destroyed shipments, etc.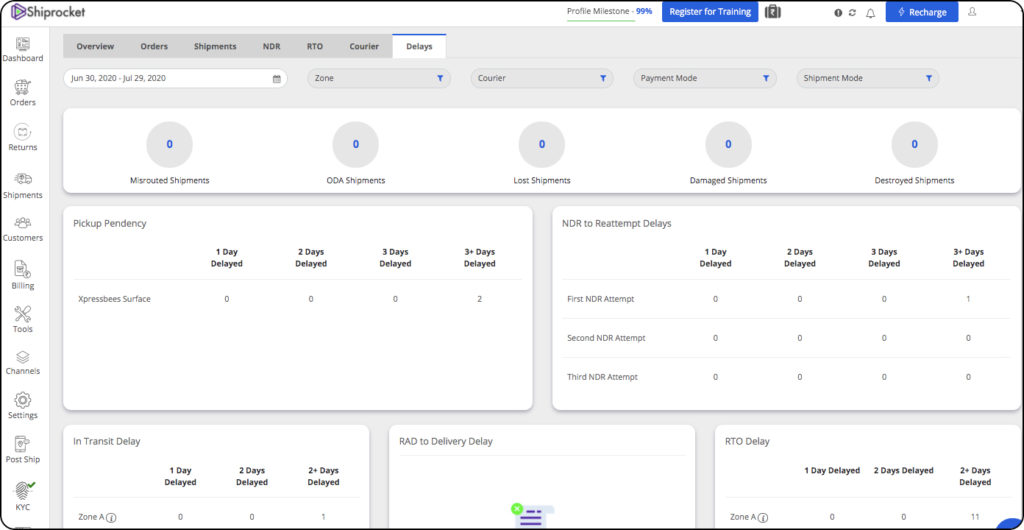 The best part is, you can filter out data according to the dates you want and draw solid conclusions backed by numbers. These insights can help you optimize your fulfillment and shift much faster to your customers. The main reason we bring to you this update is to make data available around your shipments. Since most of these numbers are difficult to record manually, you cannot get them easily. At Shiprocket, we hope to eliminate this missing link and hope that such data can help you simplify shipping and carry out the process in a much more seamless and powerful manner!
An Improved NDR Panel
We can understand how confusing undelivered orders and returns can be. Hence, to make processing them easier, we bring to you a simplified NDR Panel.
We have work to segregate the NDR and RTO process so you can deal with both separately. In the NDR panel, we now show you essential data like the NDR attempts and NDR distribution in the consolidated fashion so you can monitor daily activity and perform necessary action on the same.
The data about 'NDR Attempt' gives you information about how many NDRs you have received and the subsequent re-attempts.
The information about 'NDR Distribution' talks about how many buyers responded positively, the successful deliveries after NDR, and the RTOs that were successfully delivered.
As before the section is divided into the action required, action requested, delivered, and RTO tabs so you can easily process your NDR orders in a systematic manner.
You can also sort your orders based on the reason given by the customer for non-delivery, the re-delivery attempts, and the escalations.
To access this updated NDR panel,
Go to → Shipments → Process NDR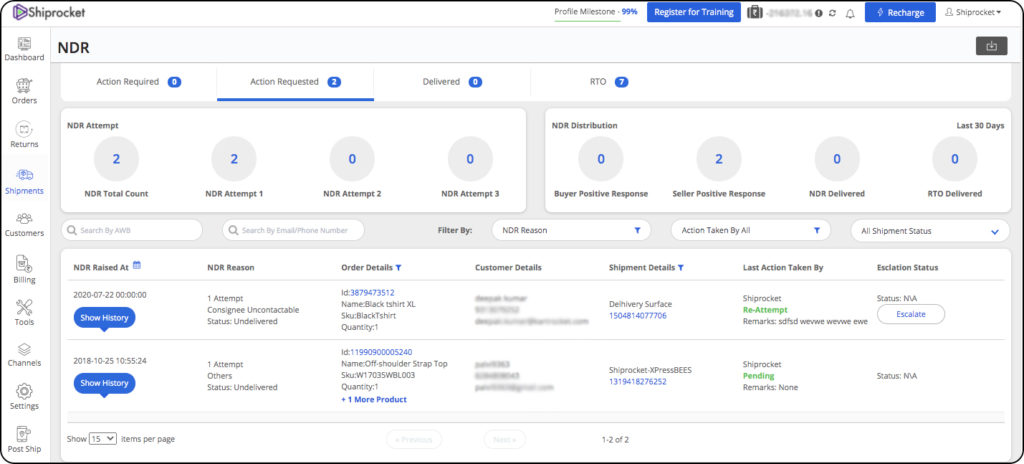 Bulk Download Labels & Invoices
It can get extremely tedious to scout for individual labels and invoices if you have multiple orders to fulfill in a day.
Thus, to make this process much easier for you, we have introduced a bulk action feature in our panel. From this section, you can directly enter multiple order IDs or Tracking(AWB) numbers to download all required information at once.
You simply have to go to → tools → Bulk Actions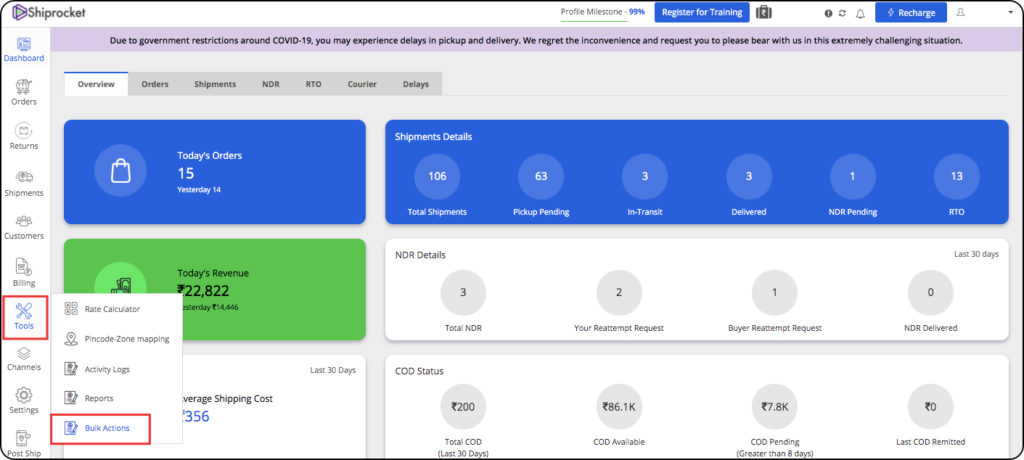 Select the information you want to provide i.e. order IDs or tracking (AWB) number and which information you would like to download (labels or invoices).
Enter these details separated by commas and click on submit. All the printable information will be shown in the activity logs, in the bulk label or bulk invoice section.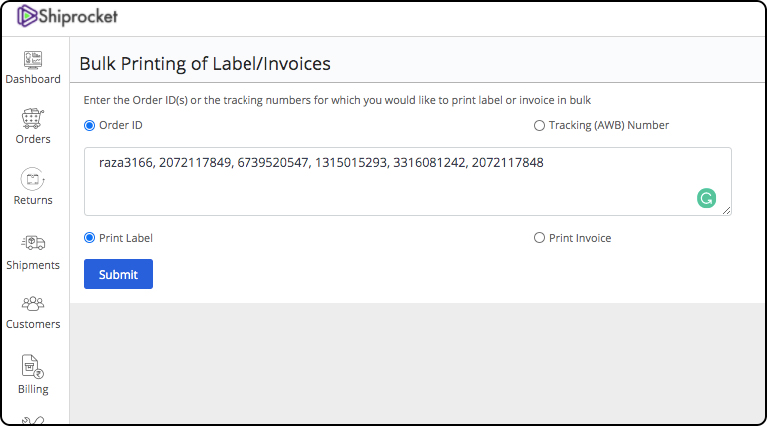 Save time and effort while fulfilling orders!
Simplified Pickup Escalations
We have gone one step ahead in making it easier for you to escalate your order pickups. Now we give you an IVR call to know if the courier has picked up your shipment on time or not. Along with this, we will also send an SMS and email to confirm the same.
If there is a pickup failure at your end, you can directly let us know over the call rather than raise escalations from your platform repeatedly.
This minor shift will save you ample to and fro communication and you can easily deal with delayed pickups.
Other than this, you can always raise an escalation from your platform too!
Mobile App Updates
As much as you process your orders from your laptop or PC we understand the importance of the mobile app and how it makes shipping accessible for you. Therefore, we have introduced many new features in the android and iOS mobile apps so that you can easily process orders from there as well.
Here are a few of them –
Label & Buyer Communication
Just like on the web panel, now you can choose to enable or disable email and SMS communication for every delivery status right from the mobile app.
Just go to more label & buyer communication – enable SMS for buyer/enable email for buyer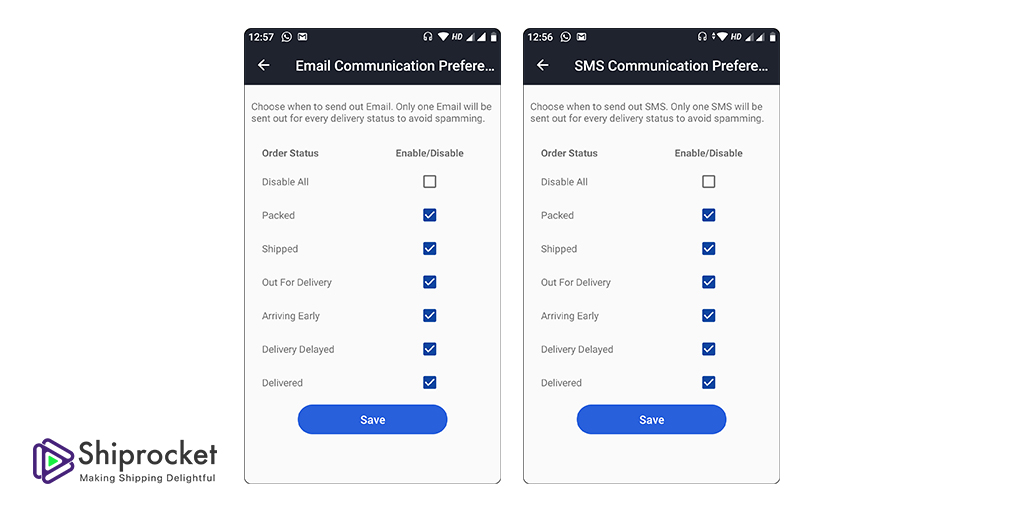 Revamped Order Screen
Get a better display of all your orders with a revamped order screen showing all important information in a consolidated manner.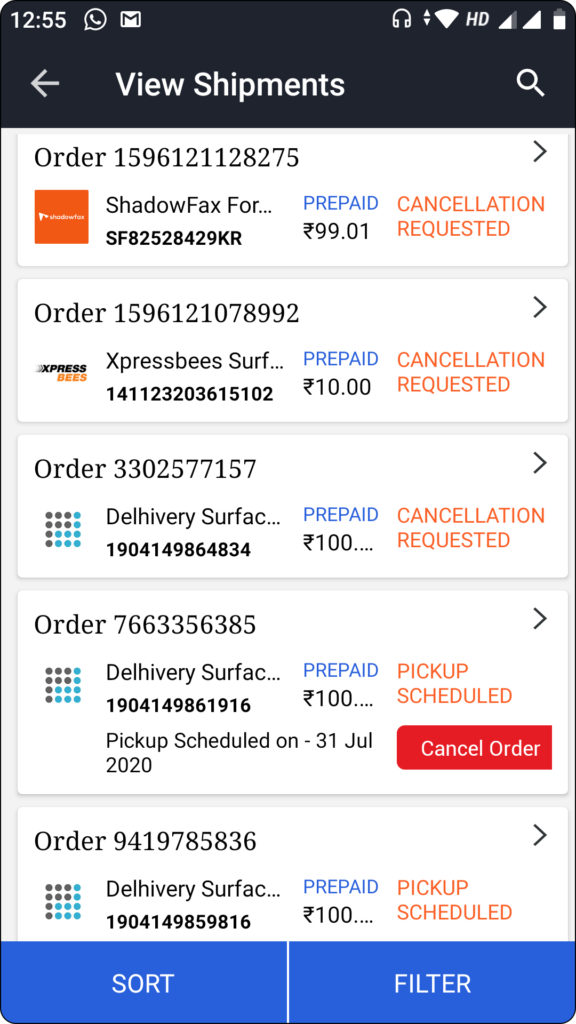 Other Updates
You can find the courier executive's name and phone number in the tracking tab when you process your order.
When you add a new pickup address to your address book, you can get the corresponding phone number verified for it right from the mobile app.
Final Thoughts
We are confident that these updates will help you ship faster, better, and smarter. You will be able to take a better look at your shipping and delivery and make necessary changes in your strategy wherever needed. We will further strive to work on your feedback and uncomplicate the process even more!
Calculate Your Shipping Costs Now