Introducing SARAL by Shiprocket – A One-Stop Mobile App for Hyperlocal & Intra-City Delivery
Recently, Shiprocket forayed into the world of hyperlocal delivery services. We enabled a platform for sellers to perform hyperlocal deliveries within a radius of 50 km at the rate starting at Rs.37.
Shiprocket hyperlocal services enable you to ship products such as groceries, food items, personal and baby care items, and many more with multiple hyperlocal delivery partners that include names like Shadowfax, Wefast, and Dunzo.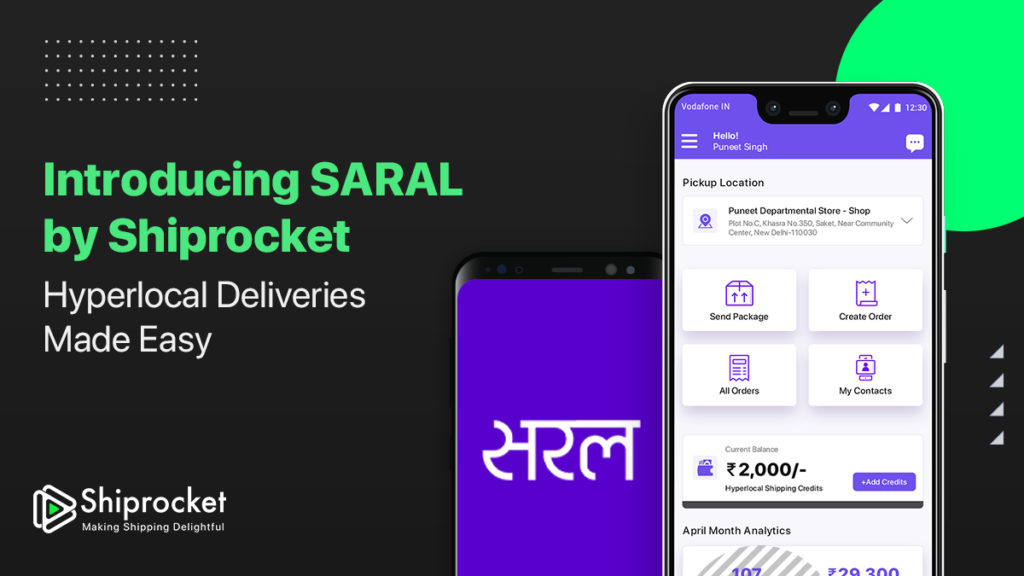 We got an overwhelming response from our sellers who found this service to be extremely useful for their small scale business. Especially during the lockdown, hyperlocal deliveries worked great for sellers who wanted to continue shipping to nearby buyers. To make hyperlocal deliveries much more accessible and convenient, we present to you our Android app for hyperlocal delivery – SARAL.
Let's quickly have a look at what is SARAL and what it has in store for your hyperlocal and eCommerce business-
A Closer Look at SARAL
SARAL is the hyperlocal delivery Android app by Shiprocket. It is a dedicated app that lets you ship hyperlocal orders within a short geographical area.
For instance, if you have a small store from where you sell groceries and want to deliver products within a radius of 20 km, you do not need to download the Shiprocket app to carry out hyperlocal deliveries.
With SARAL, you will be able to conveniently add hyperlocal orders and ship them, all through the dedicated mobile app. With this, you will be able to eliminate all the unnecessary steps that were followed to schedule deliveries and process them.
Saral is a multilingual app designed to function in English and Hindi. It breaks the barrier of language and helps you process orders faster in your comfort zone.
Here are some benefits that you can reap from this application.
Benefits of SARAL
Suitable for Every Business
If you run a small Kirana store, chemist shop, or a huge grocery and lifestyle store, you can use the app to ship your orders conveniently as we don't ask you to ship with a minimum order count.
Wide Area Coverage
You can ship within an area of 50 km with the Saral app. Provide your buyers with their orders within a few hours or the next day. Increase your user base as you deliver to a wider area.
If you are a Kirana seller, who only sells products to nearby customers, you can expand your business by selling to individuals who stay at a distance of 20 or 30 km also.
Reasonable Rates
Hyperlocal delivery must not be expensive. Saral app does just that for you. You can ship your hyperlocal orders at rates starting from Rs.37. Work this to your advantage and sell as many orders to nearby customers
Multilingual Application
Now access your orders in the language you desire. Have trouble comprehending English? You can process all your orders in Hindi and never miss out on an update due to miscommunication.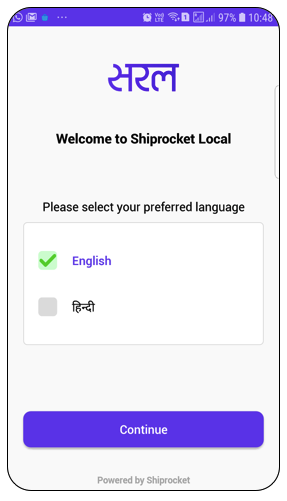 Multiple Delivery Partners
With the Saral app, you can ship with multiple renowned hyperlocal delivery partners like Dunzo, Shadowfax, and Wefast. Leverage the experience and coverage of all three courier partners and never miss out on an order because of serviceability issues.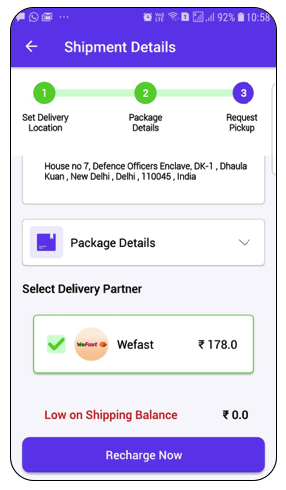 Multiple Payment Modes
Don't ship orders via just prepaid mode. Offer COD deliveries also to your buyers. Pay when you process your orders and get COD remittance the next day after order delivery.
Don't limit your business to just one mode of payment. Attract more customers with multiple payment options.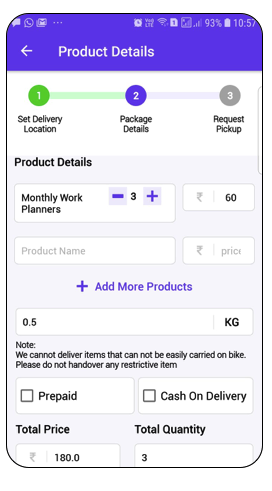 Pick & Drop Service
The Saral app offers you a pick and drop service that allows you to send packages to your loved ones any time from anywhere. You can ship packages like documents, keys, groceries, food, essentials, gifts, flowers, etc. without any hassles.
All you have to do is arrange for a pickup, handover the product to the delivery agent and get it delivered.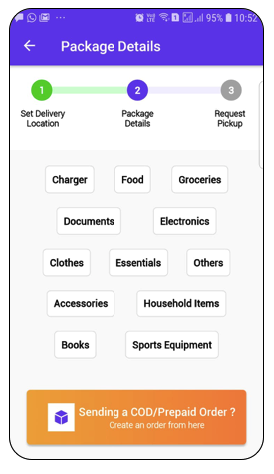 Place Orders in a Few Clicks
The SARAL app is extremely accessible and easy to use. Any person can easily use it without any previous technical know-how. All you have to do is create your account, or sign in into your existing Shiprocket account and get going with the Saral app.
Just enter the pick-up address, your buyer's delivery address, and details like mode of payment, order value, etc. and process your orders.
You can also store addresses of regular customers in the contact book which will help you process orders even faster.
COD Remittance Directly in Bank Account
If you are worried about receiving your COD remittance post successful order delivery, you do have to worry. With SARAL, enter your bank account details and get your remittance amount directly in your bank account. This way, you can maintain all your accounts and balance in one place.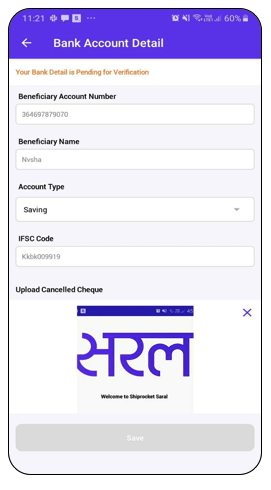 Regular Tracking Updates
Last but not least, give your customers a superior post shipping experience with live tracking and regular tracking updates.
Send them details like the field executive's name, number, etc. Also, tell them the whereabouts of their package like when it is packed, shipped, and out for delivery.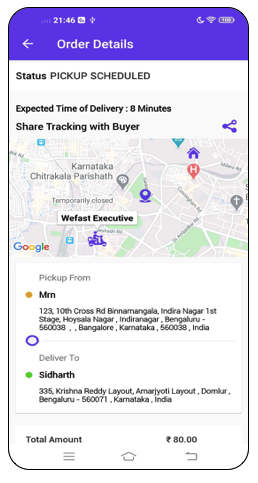 Final Thoughts
The Saral app can make hyperlocal delivery extremely efficient and convenient for you. Don't forget to download it from the Play Store and make your shipping and delivery a cakewalk. Deliver to hundreds of buyers and improve your customer experience by leaps and bounds.
Calculate Your Shipping Costs Now