How to Use Shipping Barcode for Enhanced eCommerce Fulfillment
If you are an eCommerce business owner, you must have come across the term barcodes. Barcodes are extremely important for any business selling physical goods. These are used in brick and mortar stores as part of the purchase and returns process, in warehouses in fulfillment centers to track inventory and packages, by courier companies to locate and track shipments, and at times on invoices to help with accounting.
Barcodes have become such an important factor in the entire order fulfillment process that modern shipping and logistics would be incomplete and much more prone to errors without them.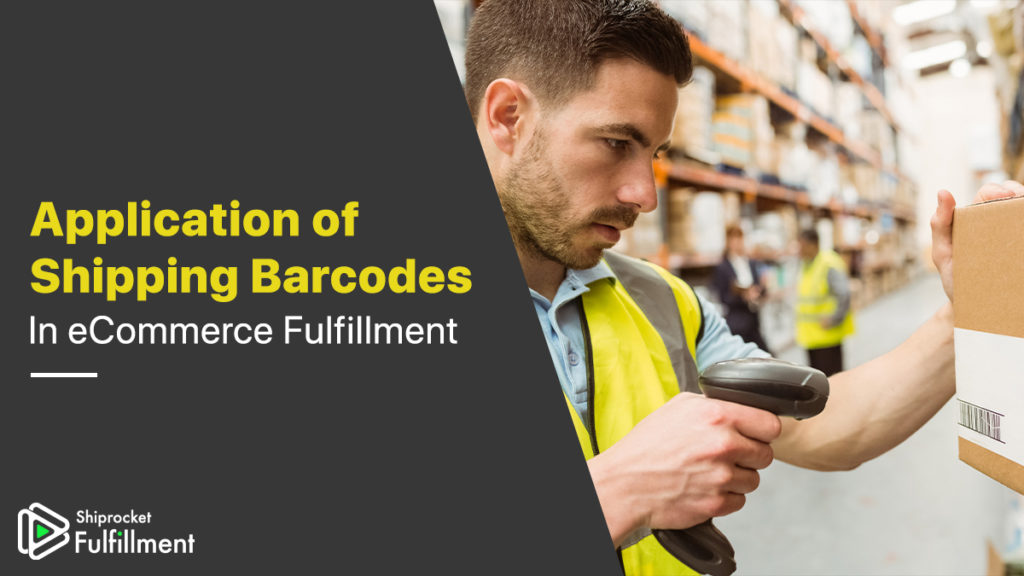 Most third-party logistics companies rely on barcodes to efficiently run their warehouses so that they can serve their clients for whom they perform Fulfillment services.
Let us take a look at what exactly these shipping barcodes are and how you can use them for enhanced eCommerce fulfillment.
What is a Shipping Barcode?
A barcode is a pattern of parallel lines of varying widths that are supposed to be read by a machine and printed on merchandise for controlling stocks. A barcode is typically printed on the shipping label of the shipment. It is scanned at each phase of the delivery starting from picking the product to dispatching it to the end customer.
A barcode on a shipping package can identify the order and access information such as products in the package, customer name, delivery address or mode of shipping. Barcodes on documents like purchase orders or return documents can retrieve the appropriate record from the server.
When are Shipping Barcodes Used
Any business arranging their eCommerce inventory or shipping online orders use shipping barcodes for enhanced eCommerce tracking and Fulfillment. Here's how shipping barcodes are used:
Receiving Inventory in Fulfillment center
Whenever inventory is received in fulfillment centers, experts at the center scan barcodes to understand whether they have arrived from parcels or freight shipments.
Handing Out Orders to Courier Companies
Once an order has been picked and packed and is ready to be shipped, there will be a shipping barcode on the label that's pasted on the package. The eCommerce or retail company will hand off shipments to the courier company, and the carrier will scan the barcode before leaving the fulfillment center.
Receiving Return Orders from End Consumers
The kind of returns vary with each merchant, but for those who have customers ship their returned products back to the third-party logistics provider, the 3PL will scan the shipping barcode on the shipping label before accepting the order.
Types of Barcodes in Fulfillment Operations
Shipping Barcodes
A fulfillment center scans the shipping barcode while receiving inventory and shipping packages – for wholesale orders as well as direct-to-consumers. Shipping barcodes help in tracking stockout situations as well as delivery exceptions that are stuck in transit.
Product Barcodes
Storage location barcodes are used for identifying bins, shelves, and pallets locations. At the same time, barcodes on individual products can be a way to store inventory more securely and optimally. Barcodes on SKUs can also help improve accuracy. Besides, it also helps ensure that the right products are shipped to the right customers.
How can Shipping Barcodes Improve your eCommerce Fulfillment Operations
Barcodes form a crucial part of the entire warehouse management process. Barcode technology is vital to maximizing the benefits of a warehouse management system.
Here are a few ways in which shipping barcodes can provide greater operational efficiency and cost savings for your business:
Increased Speed in Order Processing
Imagine processing large volumes of orders without any product scanning technology. How will you be able to gauge the number of items in a package, product details, or customer details without a scanning technology? Shipping a number of orders on the same day is extremely difficult without barcode scanning of inventory, especially if your business is growing every single day.
Reduced Errors
Keying in important data related to your inventory manually can lead to a number of errors. When properly integrated with a warehouse management system, the barcode technology has the potential to reduce manual data entry to nearly zero and increase data collection speed across receiving, picking, shipping, and inventory management activities. In most cases, barcode scanning gives us information that is almost 99.9% accurate.
Increased Mobility and Efficiency
With the evolution of technology, scanners no longer have to be physically attached to a single point, which means warehouse merchants no longer have to stand at a fixed location to scan items.
Having wireless barcode scanners increases warehouse efficiency by reducing unnecessary walking time. Although this might not be an obvious liability for smaller companies, it is extremely beneficial for companies that are slightly bigger in terms of the number of orders they process in a single day.
eCommerce businesses that are adopting wireless barcode scanners will be the first ones to reap its benefits, delivering minimum errors, and lowered costs to customers.
Improved Dashboards and Management
There is tremendous data available throughout your fulfillment center operations but much is paper-based and hard to access. Barcodes, when integrated with the right warehouse management system, give you real-time data capture of major functions, allowing line managers and fulfillment directors to focus on other facets of the business.

How Shiprocket Fulfillment Uses Barcodes
All the order fulfillment steps performed by Shiprocket Fulfillment such as receiving inventory, counting, picking, packing, shipping, and handling returns is handled more accurately when a barcode is pasted to each item, hence we recommend you to use barcodes for every individual shipment.
Moreover, we have all the measures in place to track the movement of packages in our warehouse, which are powered by warehouse management experts.
We also have barcode scanner available in Shiprocket mobile app. You can download the mobile app here.
From receiving and storing your inventory, shipping orders timely to your customers, and handling returns, we use the best practices and ensure first-class inventory management.
Calculate Your Shipping Costs Now