Shiprocket
Shiprocket To Introduce Prepaid Model For Better Freight Bill Management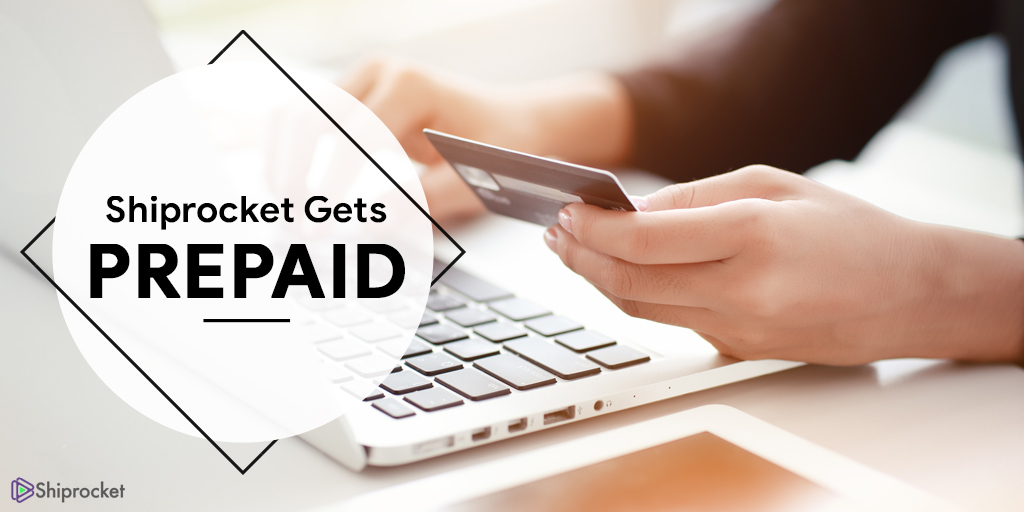 At ShipRocket, we always try to make ecommerce logistics more comfortable for you so that you can focus on your core business. This is why, we are moving to a prepaid model which will be effective from 1st May 2015. This means, you no longer have to block your cash flow by depositing security money. With this new model, you can "Pay As You Go." All you need is to recharge your ShipRocket account according to your business needs, use that amount to ship your products and recharge again, once it gets exhausted.
Why We Are Moving To This New Prepaid Model?
We have been working for the past few weeks on how we can make ShipRocket a better product for you. That's why, we have decided to move to a complete Prepaid model where you can use ShipRocket services according to your shipping weight needs. With this new model, you will get benefits like:
• Use services for the amount that you deposit in your Shiprocket account.
• No security deposit hassle. This will ensure your working capital is intact and your cash flow is not blocked.
• With the new prepaid model, you can manage your freight bills more efficiently.
• For business analytics and future projections, you can manage your business cash flow requirements more accurately.
• Instant credit as soon as you top up your account and instant activation of shipping.
How Will The New ShipRocket Prepaid Model Work?
Here is a simple guide to use the new Shiprocket Prepaid Model:
1) Recharge your account by clicking on "Buy Shipping Credit." Choose the amount according to your business needs, just the way you recharge your mobile.
Once You click on "Buy Shipping Credit", the following screen will come. Choose the amount to recharge your account.
• You can use this amount to ship through Air and Surface Shipping both.
• For Air Shipping, you would get 0.5 kg for every Rs. 60 that you deposit.
• For Surface Shipping, you would get 0.5 kg for every Rs. 12 that you deposit.
For example, if you top up your account for Rs. 3000, then you will get
• Air Shipping limit of 25 kgs.
• Surface Shipping Limit of Rs. 125 kg. Please note that the minimum shipping weight which will be charged by the courier company will be 10 kgs. This means if you are shipping through surface shipping and the weight is 8 kgs, the courier company will charge you freight bills according to 10 kgs. Know more about how Shiprocket charges for air and surface shipping here.
It will be reflected on the admin panel in the following manner: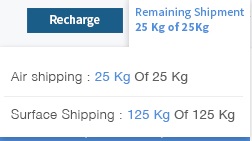 2) As soon as you recharge your Shiprocket account, the shipping credit will be activated instantly.
3) You can now start shipping your orders using this credit. Click on Ship Now, select courier company and assign AWB No and get started.

4) Whenever you will enter the shipment weight, it will be automatically deducted from your credit weight. As per the norms of courier companies, you will be charged a minimum of 0.5 kg (or in multiples of it) for your Air Shipping. This means:
• If no weight is inputted, then 0.5 kg would be applicable.
• If weight inputted is 0.2 kgs, it would get rounded off to 0.5 kg.
• Similarly, if the weight inputted is 1.8 kgs, it would get rounded off to 2 kgs (the next multiple of 0.5 kg) and so on.
Applied Weight Treatment
Please note that the weight charged by courier company could differ. The courier company's applied weight will be adjusted in the remaining weight limit on your Shiprocket account.
For example, if the remaining shipment is 25 kgs and the inputted weight is 1 kg, then the remaining weight will be 24 kgs. However, if the applied weight comes out to be 1.5 kg for the same shipment, then further 0.5 Kg will be deducted. So, the remaining shipment would be 23.5 kg.
In case of any issues, where reverse of credit is applicable, the weight would be increased in that proportion to your limit. For example, if the inputted weight is 2 kgs, weight deducted during AWB assignment will be 2 kgs. Hence, remaining shipment will be 23 kgs/50 kgs. But, if the courier company actually charges only 1.5 kgs, then the difference in weight would be credited back, and the remaining shipment would be 23.5 kgs/50 kgs.
To know more Applied Weight concept, read this.
P.S. For Existing clients, the security deposited by you would get converted to prepaid shipment credit. For example, if you had made a security deposit of Rs. 6000, then you will get a prepaid credit of the same amount and shipping credit of 50 kgs. Once this prepaid credit gets exhausted, then you can recharge your Shiprocket account and buy more prepaid credit.
Will Happen To Your Credit Once The Freight Bill Is Raised?
Once the freight invoice is raised, it will get auto adjusted to the credit in your account as following conditions:
1) If Invoice Amount Is More Than The Credit In Your Account
The freight invoice will be marked as unpaid and it will constantly reflect on your panel and invoice history. If you fail to pay your freight invoice, then the shipping will be suspended. To continue using ShipRocket services, you need to recharge your account for the unpaid invoice as the well the new shipping limit.
2) If Invoice Amount Is Less Than The Credit In Your Account
The invoice amount will be automatically adjusted from your credit and marked as paid. You can continue using Shiprocket services from the remaining credit amount.
What Are The Other New Features Introduced In My Shiprocket Panel?
Along with the launch of the prepaid model, we will also launch:
1) Freight Panel
You can easily view your freight invoices on an order level and check the courier company charged weight and total amount for that shipment.
2) COD Panel
You can easily track the COD status on order level.
3) Account Summary
Your Shiprocket panel will reflect the history of the amount recharged on a particular date for a particular weight.
Our team is also working towards making our processes and reporting very proactive in terms of ensuring timely pickups and delivery, accuracy in order tracking, RTO tracking, NDR reporting, new user interface. We will inform you about these developments via email as soon as they come into existence.
If you have any queries regarding this mode or anything else, feel free to raise a ticket at srs@shiprocket.in.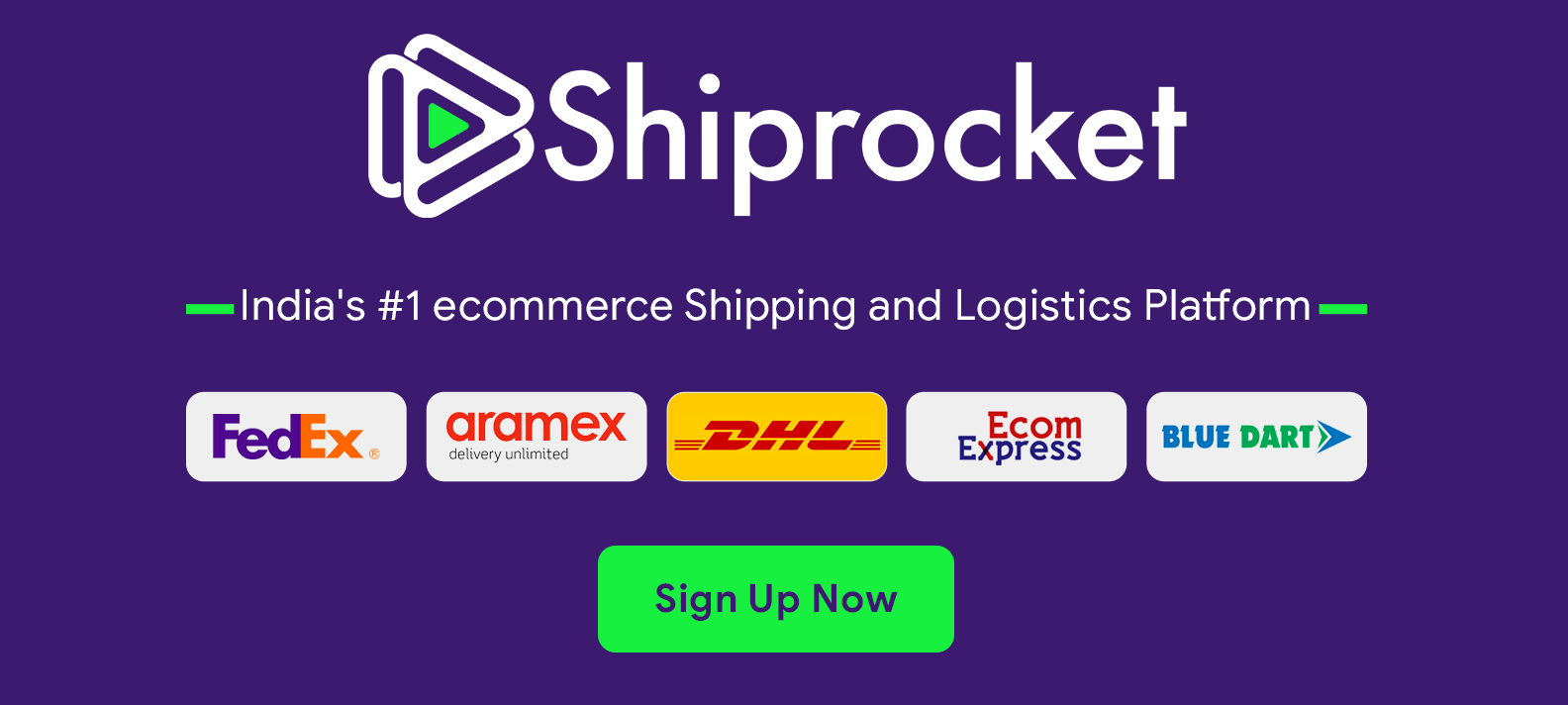 Calculate Your Shipping Costs Now