Introducing Shiprocket Smart – Get Faster Deliveries At Flat Shipping Rates
eCommerce shipping is one of the most crucial aspects of your business. It can make or break your customer's final delivery experience. Therefore, elements like faster delivery, lower shipping costs, timely delivery, etc., play a significant role in maintaining and enhancing your customer's shopping experience.
As an eCommerce seller, you are always struggling to find a courier partner with a brilliant track record of delivering orders in an area at the lowest costs. This often leads to a dilemma where you need to choose a successful brand or a low-cost courier. And doing this every day for multiple orders can get exhausting.
To eliminate this dilemma from your daily decision-making process, we bring you Shiprocket Smart. A one of its kind data-backed courier allocation solution by Shiprocket that matches you with the best courier for every shipment. Let's see what Shiprocket Smart is and how it can be a game-changer for your business.
What is Shiprocket Smart?
Shiprocket Smart is a technology-backed courier allocation solution for SMEs designed to decrease courier selection problems and ensure that you pay consistent bills for your orders.
For example, if you have to ship an order from Delhi to Haryana, shipping would lie between Rs.50 – Rs.100 depending upon the pickup and delivery pin code. And your delivery will also depend upon the courier partner you select. However, with Shiprocket Smart, you will get a consistent shipping cost for the zone. You can avoid the hassles of choosing a courier partner as we will allocate the most suitable courier partner for each order.
Let's see the benefits Shiprocket Smart offers for your business.
Benefits of Shiprocket Smart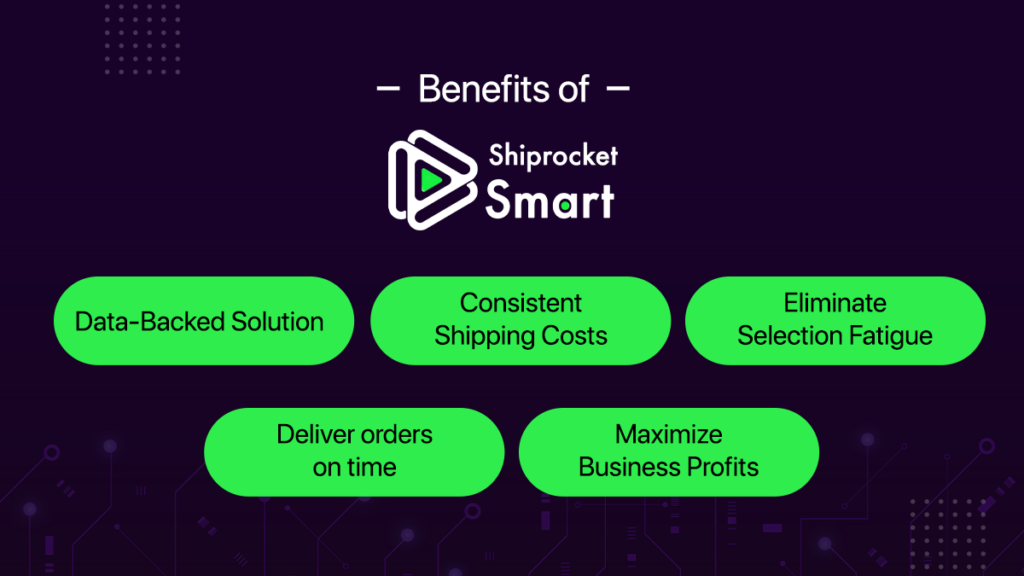 Data-Backed Solution
Shiprocket Smart is a data-backed intelligent courier allocation platform that matches you with every shipment's right carrier. It is powered by a machine learning data engine that analyzes several data points to provide you with the most relevant courier partner.
Flat Rate Shipping
With Shiprocket Smart, you get consistent shipping costs according to your zones. You get a standard rate for all couriers in a zone for each service, i.e., standard or express shipping. This enables you to offer the lowest shipping costs to your customers, and you can save on shipping by a large margin.
Eliminate Selection Fatigue
You can also reduce any selection fatigue as you do not need to choose from various courier companies. Shiprocket offers you the most suitable courier for every shipment based on several delivery SLAs and the lowest freight costs. This way, you do not need to pick between the high brand value carrier or the one with the lowest price. We will make the best choice for you.
Deliver Orders On Time
With Shiprocket Smart, you can deliver orders on time as you will ship with the best carrier partner without being concerned about the price. As you optimize costs and pick the most suitable carrier, you will fulfill orders faster and provide your customers with a delightful delivery experience.
Maximize Business Profits
You can fulfill orders and customer expectations by meeting over 90% of your delivery SLAs and saving 2X time in order processing as you move further from courier selection for every single order. This helps you maximize your business profit, so just save time and resources to focus on other facets of your business.
How Does Shiprocket Smart Work?
Shiprocket Smart works in a very similar way to your process of all your Shiprocket orders. The only difference is that you have to choose between standards and express shipping rather than selecting from the list of 12-17 courier partners.
Here is how Shiprocket Smart works –
You add the order you want to ship.
Choose between standard and express shipping.
Shiprocket allocates a courier partner for your shipment by taking into account several data points and parameters.
You ship with the assigned courier partner.
Automated tracking notifications are sent to buyers.
How to Get Started With Shiprocket Smart?
Create a new account on https://app.shiprocket.in/register
Recharge your Shiprocket account
Next, you would see a pop up for Shiprocket Smart.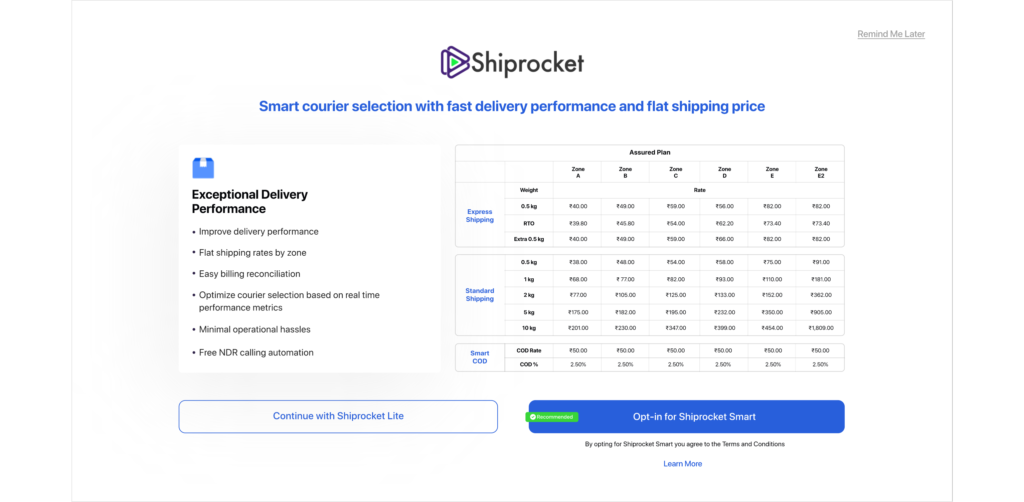 Select 'Opt for Shiprocket Smart'
Conclusion
Now you have a more simplified way to offer consistent shipping costs to your customer and improve your delivery performance with flat rate shipping. Activate your Shiprocket Smart plan today to reap the benefits of successful shipping and systematic order fulfillment.
Calculate Your Shipping Costs Now