Shiprocket Presents SHIVIR 2020 – India's Largest Virtual eCommerce Summit
COVID-19 has impacted the Indian economy considerably. Ever since the nationwide lockdown has been announced, sellers are struggling to revive their businesses and maintain continuity.
Amidst the changing dynamics and many restrictions, the pandemic has left various sellers confused about how they should make their business work. Although the government has now allowed eCommerce businesses to function, most sellers are still worried about the post-lockdown scenario. It is expected that India's growth rate in FY20-21 will be down to 2% from a range of 4.7%-5.2%, as was predicted earlier by the rating agency ICRA.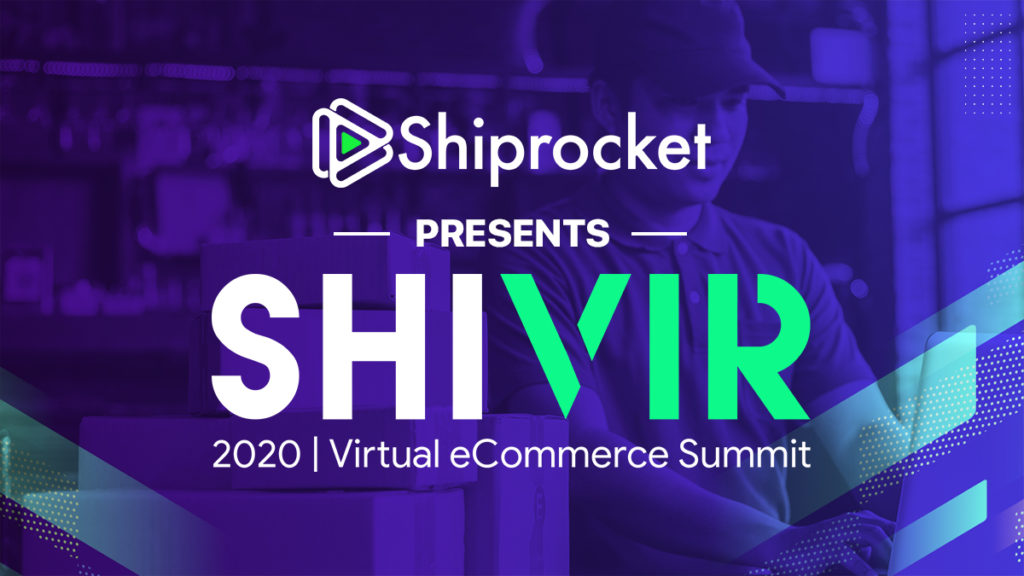 So how can you overcome this business slowdown? Is there any way to attain stability that you can accelerate later? These are some questions that every commerce seller like you must be facing.
To help you with these dilemmas and guide you through this challenging crossroad, Shiprocket is hosting an eCommerce virtual summit – SHIVIR 2020
Let's have a look at what SHIVIR is and how it will be insightful for your business.
What is SHIVIR 2020?
SHIVIR 2020 is a virtual eCommerce summit aimed at bringing eCommerce experts to sellers like you on a single forum to address your concerns around eCommerce business continuity
This virtual eCommerce summit will give you more exposure to expanding your business operations online, financing your business, changing eCommerce dynamics, understanding the purchase behavior, and simplifying eCommerce logistics during these challenging times.
Furthermore, you will be able to interact with industry experts and be a part of engaging discussions around these subjects. You will be able to find relevant solutions to recent business challenges with the help of useful insights and observations by notable industry experts.
SHIVIR 2020 is a three-day event beginning from 20th June 2020 to 22nd June 2020. The registration is free, and you can register yourself to reserve your spot. The event will be conducted online via a webinar platform, and you can join the same from your home's comfort.
Agenda for the Summit
The summit would pan out across three days from 3 pm – 5 pm. We will have eminent personalities from the eCommerce industry address the joinees and have discussions to bring light on the difficulties faced and suggest possible solutions around the same.
Day 1 – 20 June 2020
The first day would involve a panel discussion on the topic 'Growing Your eCommerce Business'.
This panel discussion would be between personalities from well-known eCommerce giants like Shopify, Unicommerce, Shiprocket, and Altudo.
With this discussion, you will be able to gain more insight into the importance of eCommerce and online selling in the current scenario. Also, you will be able to identify solutions that can help you grow your online business without any delays and run eCommerce operations smoothly.
With insights from industry experts, you will be able to move your business to an online platform with ease and understand the application of different aspects like website building, order management, warehousing, and other eCommerce operations effectively.
This will be followed by a training session about the Amazon marketplace and how you can begin to sell effectively on marketplaces and manage your online business to generate maximum sales.
Day 2 – 21 June 2020
The second day would be a deep dive into eCommerce business solutions. This would include discussion over topics like eCommerce marketing, payment, website building, and other aspects like international selling, logistics, and recent breakouts like hyperlocal and on-demand delivery businesses.
With industry experts from PayU Money, AdYogi, Zoho commerce, Payoneer, and Shiprocket you will be able to analyze how to utilize these eCommerce business solutions in your online business and apply them effectively to grow your business post the lockdown era.
With a discussion on these topics, you will be able to identify the strategies required for running your eCommerce business successfully and how you can adapt your business to the changing dynamics and purchase behavior. There will be insightful discussions about hyperlocal businesses and a look into the SARAL app by Shiprocket for hyperlocal deliveries.
This will be followed by a training session and a live chat where Facebook experts will guide you about the recent trends, the eCommerce growth scenario, and how you can utilize technology for your endeavors.
Day 3 – 22 June 2020
The third day will include keynote sessions by sellers who are running their business during this lockdown period. They will share their experiences about how they managed to maintain business continuity during the lockdown and how the business process will change post lockdown.
All the attendees will be able to put up the questions and get answers to their business queries in an exclusive Q&A session on all days.
It will be an excellent opportunity for you to network and interact with industry experts and get answers to your questions.
Why Should You Join SHIVIR 2020?
SHIVIR 2020 will give you a platform to interact with industry experts coming from the eCommerce industry.
You will also get a chance to increase your knowledge about eCommerce concepts like logistics, financing warehousing, marketing, etc.
Also, the best part is that the registration to the three-day virtual summit is free.
Furthermore, you will get access to India's leading eCommerce shipping solution that is trusted by 40,000 active D2C sellers.
Join Us At India's Largest Virtual eCommerce Summit – SHIVIR 2020
Register today to reserve your spot!
In Association With
Shopify
ZOHO Commerce
Unicommerce
PayU
Facebook
Altudo
Adyogi
Payoneer
Dr. Vaidyas
Saral
Don't miss the opportunity to broaden your horizon and achieve greater heights for your retail & eCommerce business!
Calculate Your Shipping Costs Now