5 Social Selling Challenges & Viable Solutions to Overcome Them
Social selling has exploded on the internet like wildfire. Most small businesses that do not have many funds and capital prefer to give their business a shot by selling on social media. Moreover, social selling is a much easier way to determine your target audience and the kind of products they want to buy.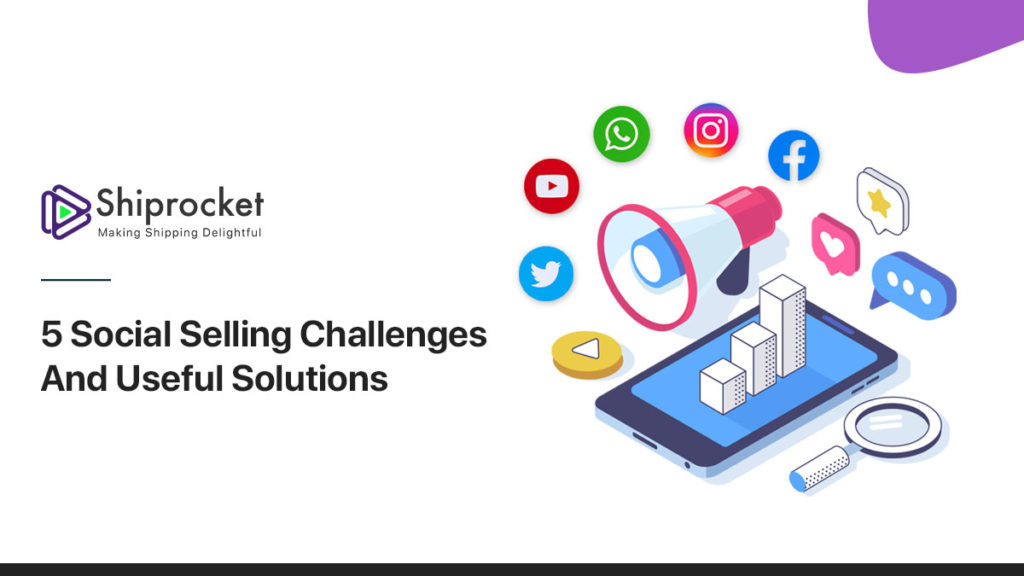 According to a report by optinmonster, 78% of salespeople engaged in social selling are outselling their peers who aren't.
This statistic implies that social media is an incredibly vast sea, and everyone's on their way to sail in it. Today, almost every business has its social media account on Facebook, Instagram, YouTube, LinkedIn, Pinterest, and other similar channels. If the audience is so large and options are so many, some challenges are bound to arrive. Let's take a look at these challenges and how you can work towards a viable solution for them.
But before we begin, let's briefly look at what social selling is.
Social Selling
Social selling is the process of utilizing social media channels for eCommerce. This means that you can connect with people on social media and then sell your products.
You can either list your inventory on Facebook shop, use product tags on Instagram, or simply put out a picture and ask your audience to connect with you on WhatsApp; all these techniques constitute social selling.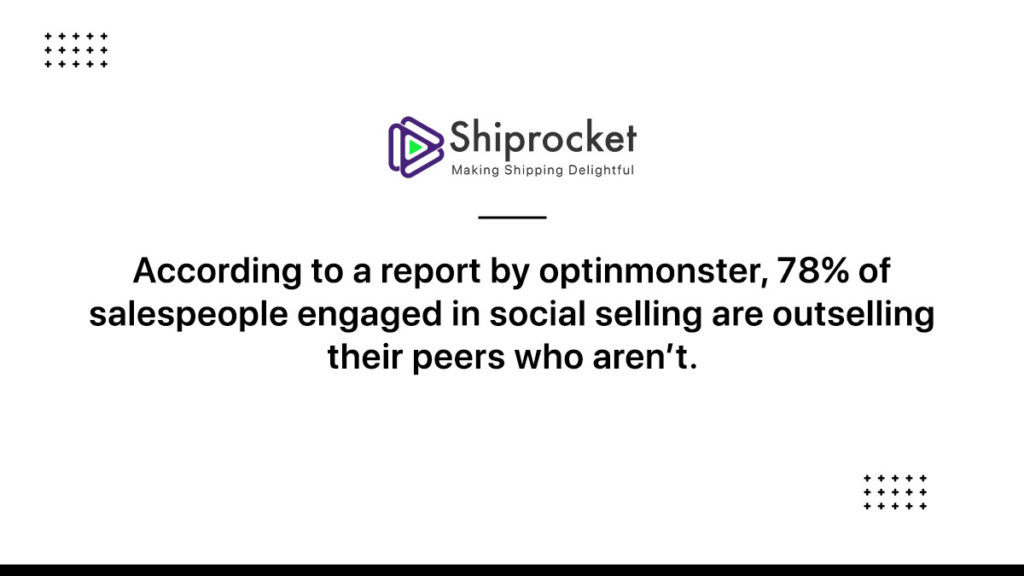 If you wonder why social media can be such an important platform to sell, think of the number of active users. According to a report by Statista, there are expected to be 3.08 Billion Social Media users worldwide. This means that around 45% of the world's population is using social media. Therefore, selling on social media is not such a bad idea.
But the road is not always so easy. Various challenges will come your way once you begin setting up your own store, market your products, and arranging for shipping. Here are a few of them –
Social Selling Challenges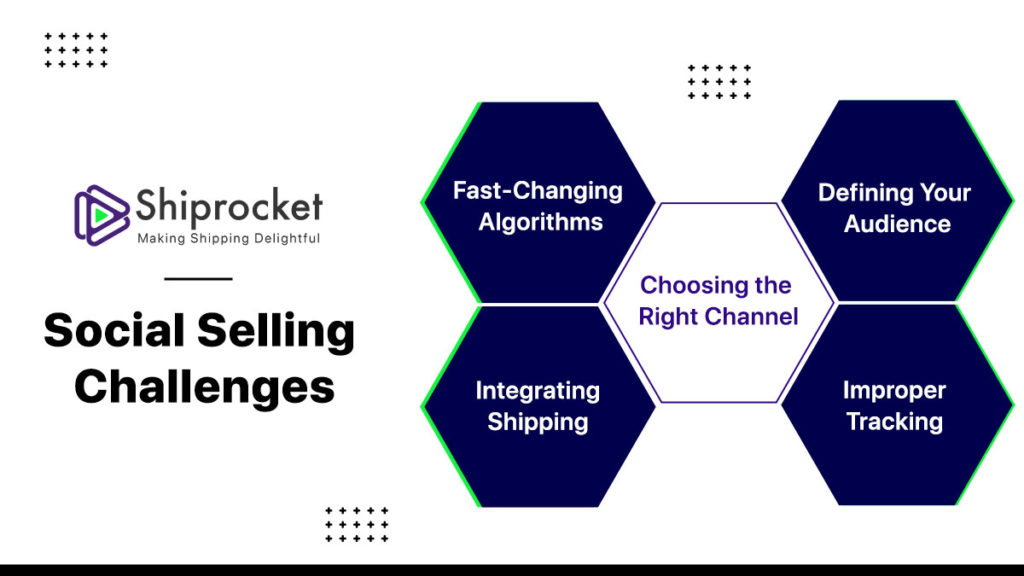 Fast-Changing Algorithms
The social media dynamic is changing rapidly. With more and more channels coming into the picture, and the user base increases, companies are trying to enhance the system every day. Every other day we see updates on significant social media applications island this can impact your social media strategy. What might be working one day could be completely redundant the next day.
Therefore it is imperative to stay up-to-date with all the recent trends and technology. Any social media platform changes should be at your fingertips. You can follow the websites and announcements of these channels and attend webinars whenever possible. Once you are adept with any recent changes, you will organize your social media strategy accordingly and sell better.
Defining Your Audience
Another critical aspect of social media selling is defining your audience. Social media channels are saturated with people from all walks of life. Therefore, it can get difficult to zero down your target audience and what their needs are. This poses a significant challenge because without figuring out the right people, you could be investing a lot of money and receiving no returns.
To find out the right audience for your product, try and run as many surveys as you can. Service can give you a deep insight into the buyer's preferences. They can tell you about their requirements, pain points, and possible solutions they are looking for. You can also join groups on channels like Facebook and LinkedIn to study the needs of people and interact with them to know what they are looking for.
Choosing the Right Channel
Selecting the channel you want to sell on is a task in itself. With various media being used by people worldwide, it can get overwhelming to choose the best one for your sales.
To overcome this challenge, you need to clarify who your target audiences are and what categories your products fall under. For example, if you sell paintings, it will be a good idea to sell them on channels like Pinterest and Instagram, where you can display your images aesthetically.
Integrating Shipping
Setting up a shop is one thing and delivering the product to your customers is another. With other channels like websites, marketplaces, etc., you can directly integrate your incoming orders with courier partners with shipping solutions. But it may not be the same in the case of social media. Usually, you might be taking orders manually and then arranging for shipping. Moreover, if you are a dropshipper and your supplier is based out of another town, things can get difficult for you.
The best solution to this challenge is using shipping solutions like Shiprocket. They give you a chance to integrate your inventory, upload orders manually, and ship with multiple courier partners to around 27,000+ pin codes in the country. If you are a dropshipper with numerous suppliers, you can add various pickup addresses with Shiprocket and arrange deliveries anywhere in India.
Improper Tracking
Tracking social media success can be difficult sometimes as you cannot equate the number of sales to the number of likes, comments, and social engagement. Hence, to track our organic and paid sales campaigns' success, you need to have clear metrics and definite results.
To ensure that you track every action and communicate with every lead on social media, you must use UTMs and maintain trackers for complete efficiency. You can also add marketing automation tools to stay updated with results continuously.
Conclusion
Even though social media can be advantageous, you must tackle a few challenges to be successful. Once you find solutions that can help you overcome this, you can try various permutations and combinations to grow your business. Since this space is continuously evolving, you can experiment with different styles and see what works best for your business. You never know how it may surprise you! Always be careful about the fulfillment aspect of your business to avoid any confusion on the delivery front. Do let us know if you have ever faced any of these challenges when setting up your social enterprise!
Calculate Your Shipping Costs Now