Things To Lookout For Before Starting World Wide Delivery In B2B eCommerce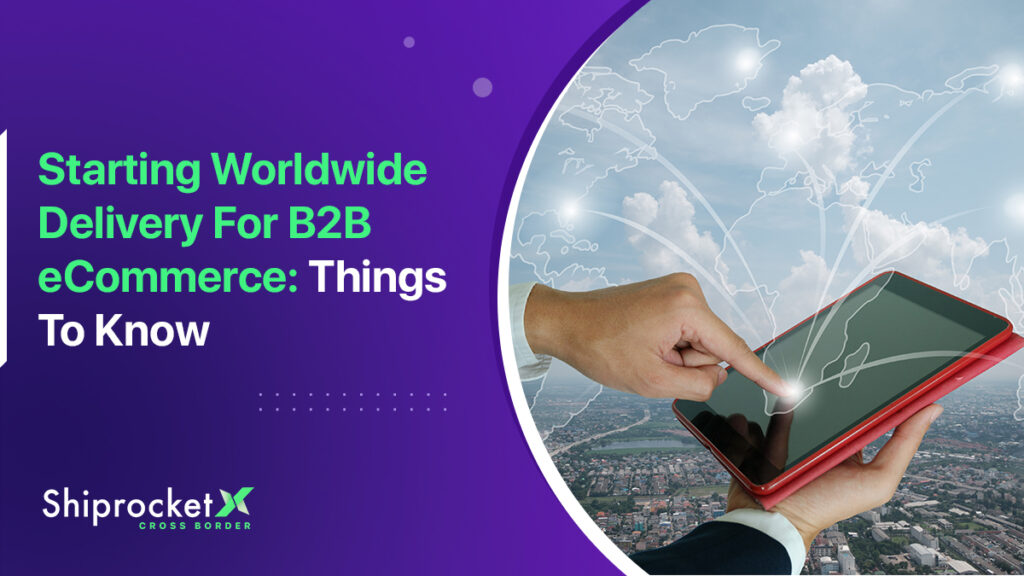 We often hear of nuances where hospitals in London import equipment single use recyclables from Indian shores, and vice versa. If you, as a domestic seller, ever contemplated whether selling overseas is worth it, the numbers will answer for you. Did you know that B2B sales account for approximately 8.7% of global retail, with a growth of 5% annually?
Four Reasons For Increase In B2B E-Commerce Worldwide Delivery
Less Stringent Border Regulations
With standard international regulations in place, it is easier for businesses to compartmentalize goods on the basis of hazardous materials, heavy items, and more. Moreover, the documentation process has upgraded to being hassle-free: all you need to get started is an IEC (Import Export Code).
Simplified Digitalization Of Freight
With digital freight optimization, the tedious management of documentation for each shipment container is quicker, easier and primarily, transparent. While there have been instances of businesses overpaying up to 30% on freights due to lack of transparency, freight digitalization helps cut down paperwork costs and keep the shipping rates accurate.
Global eCommerce Access And Mobile Penetration
With 4.95 billion internet users across the globe as of today, most of the business world is online. From home entrepreneurs to small & mid sized businesses and multinational enterprises, the massive potential for growth and direct market access is just a click away.
Cross Border Fulfillment Capabilities
Consumers in B2B ecommerce usually manage and maintain their inventory in one go, which is why most orders are always in advance and in bulk quantities to avoid multiple freight charges. This ultimately aids the sellers to meet the orders on time and skip on delays and mismanagement that might occur otherwise in case of multiple miniscule orders.
Buckle Up To Ship Globally
If you are a B2B business looking to make world wide delivery for your products, this is perhaps the best time to take advantage of the opportunities to sell internationally and create a demand. Although, there are a few typical issues that get in the way: incorrect quotes that forces your customer to pay more, a package getting stuck due to unavailability of the right paperwork, fraudulent courier services and more.
In lieu of these concerns, here are a few boxes to tick before you go global:
Where Does The Demand For Your Product Stand?
Suppose you are shipping to country X. The first collateral you need to consider is how much of a demand is your product to that country and what is its taxable amount. If the country's customs fee is equal to the value of your product, your customer would have to pay a hefty amount, deeming it expensive in that market. Knowing the duty charges and regulations impacting your product helps make a conscious decision in processing orders. This also facilitates you to decide which shipping mode to opt for during the transport.
How To Accurately Determine Global Shipping Rates?
Different international courier companies charge differently depending on the country of destination and customer base. Implementation of an integrated shipping rates calculator can allow sellers to search every international option available and make accurate shipping estimates. In an international B2B ecommerce scenario, most often buyers won't place an order unless they are in the loop of the complete cost, including delivery dues and duties of the products they're buying.
How To Incorporate An Ideal Fulfillment & Shipping Process?
For a timely and effortless fulfillment process, valid and accurate contact and address information from customers is the key. Nowadays logistics partners have shipping automation softwares in place that eliminate input errors by allowing users to automatically import orders from any/all marketplace platforms. Such softwares also allows users to locate orders and track them from a singular dashboard.
How To Cut Down Documentation Costs?
Choosing electronic documentation is not just a time-saver but also helps cut down the printing hassles. Some countries require more than 5 invoices of one single product at a go, and for B2B bulk shipments, the paperwork costs exceed than anticipated. By submitting electronic invoices/clearance documents, one no longer needs to print multiple copies.
Best Practices To Follow For A Hassle-Free Global Delivery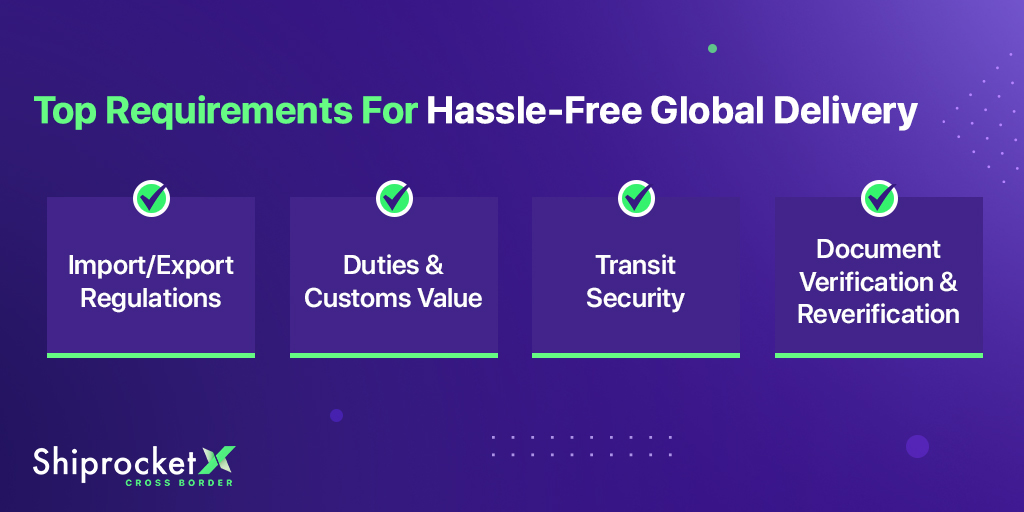 Import/Export Regulations
While shipping international cargo in B2B eCommerce, the shipment process depends primarily on the type of commodity, the purpose of exporting, its value, and restrictions in the sender's/receiver's country. An export license/ECCN number is required to file export information, which is done electronically via an automated export system. Additionally, the seller also needs to ensure that the receiver is legally suited to receive the cargo and doesn't fall in the gray area. Using relevant standards across your cargo while filing regulatory forms helps avoid any setbacks.
Duties & Customs Value
Did you know that most customs fines are due to improper valuation and classification of goods, and trade agreement misunderstanding? The primary fields to fill on customs review documents must always be correct to avoid such hassles. One can do that by using an automated system that intakes all shipment information from documents and translates accordingly. Furthermore, classification of shipments and application of the right tariff codes in all documents, followed by auditing and submitting data to effectively relay packages to the customs, help ensure accuracy.
Transit Security
B2B shipments mostly compose of bulk or heavy items, and are thus more prone to damage or go missing in transit. While most shippers procure insurance to cover for such mishaps, there are freight forwarders or shipping platforms that offer insurance policies inclusive of the total shipping procedure. It's always critical to opt for such an insurance-inclusive package prior to any loss and not wait until a loss actually happens to buy out insurance.
Documentation Verification And Re-Verification
One wrong entry in your documentation could land your shipment at a completely different country, or subject it to a lengthy scrutiny process at the receiver port. In order to avoid delivery disruptions as well as revenue mismanagement, it's crucial to ensure all fields filled in documents are complete and accurate.

Summary: Ship Global Yet Simple With Seamless Automation
As dreamy as it may perceive to be, shipping across borders isn't a light business. Too many than more, B2B businesses involve bulk, recurring shipments and partnerships that have grown over long periods of time. Constant tracking and monitoring of shipment, clearing legal dues, opting for the most cost efficient mode, and knowing the regulations per country you ship to are just the tip of the iceberg. Leading international logistic partners like Shiprocket X help supercharge your business across 220+ countries by leveraging your supply chain into a much simpler process.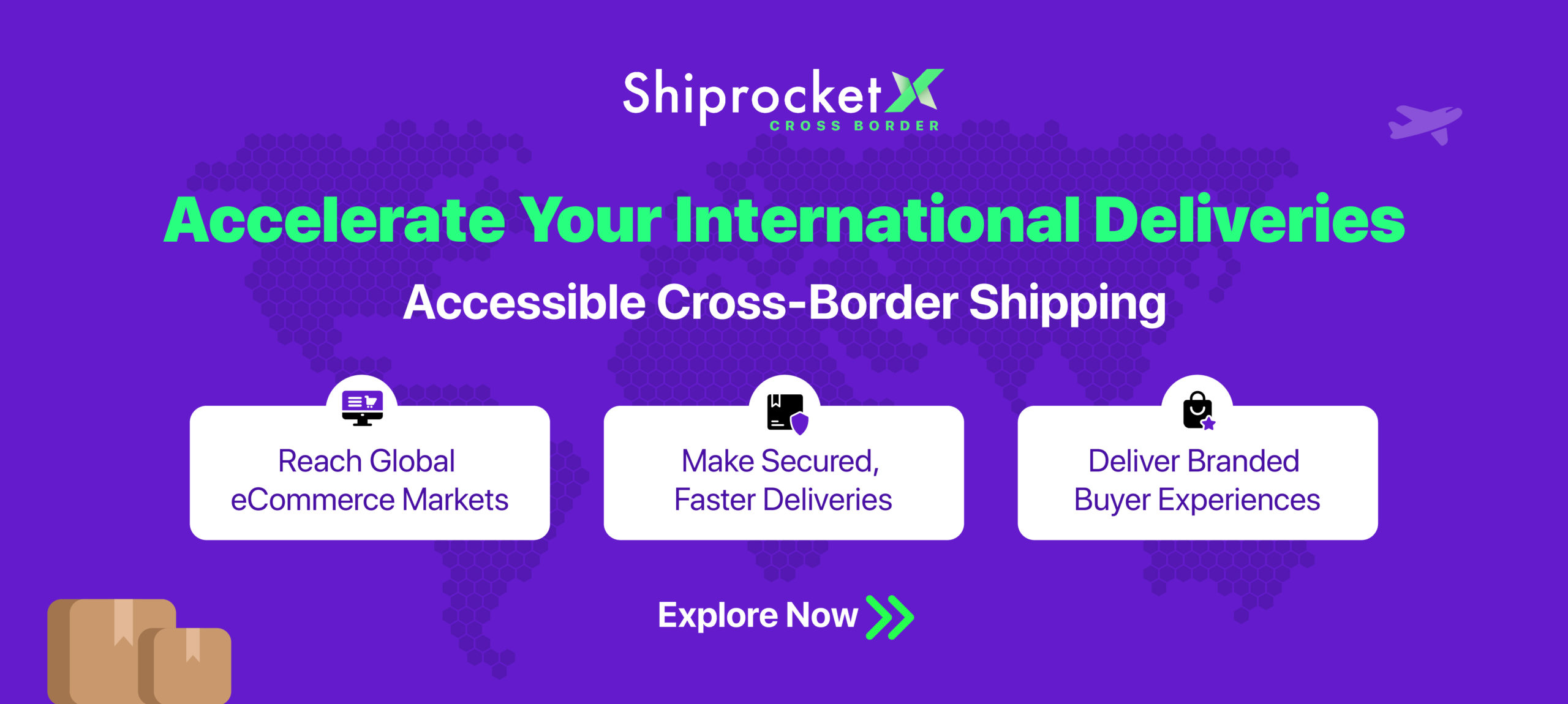 Calculate Your Shipping Costs Now