What is e-logistics and How has it Grown in India
The Indian logistics market is expected to grow at a CAGR of 10.7 percent between 2020-2024, and moving forward in 2021, brands are boosting this growth by leveraging cutting-edge e-logistics technologies.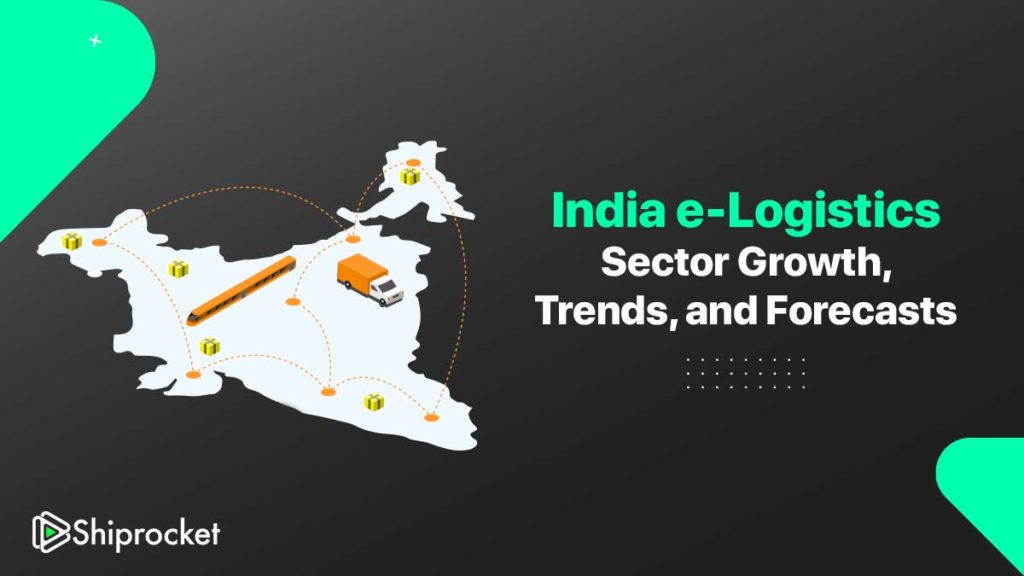 The increased competition in the eCommerce sector has forced companies to form new management strategies like e-logistics. The term e-logistics is about the concept of managing logistics using the internet, IoT, to conduct the business electronically.
What is e-Logistics?
e-Logistics refers to the process of utilizing information and technology infrastructure in the traditional supply chain process to simplify knowledge sharing, data transfer, etc. It essentially means carrying out most of the traditional logistics processes in the supply chain through an online platform. For example, website and marketplace selling, courier management, returns processing, etc.
Understanding the Concept of e-Logistics in India
Due to technology innovation and digitization, the demand for e-logistics in India has increased more. Numerous eCommerce companies are applying e-logistics in manufacturing and supplying on a domestic and international level. The e-logistics is making the supply chain process easy to manage. Let's understand some of the differences between traditional logistics and e- logistics.
When we talk about traditional logistics in India, many goods can be sent to lesser locations. But in the case of e-logistics, the products can be sent to many locations quickly.
The concept of traditional logistics is based on the efficient and cost-effective supply chain process. Still, in the case of e-logistics, it is more about meeting customer expectations and speed.
Traditional logistics gathers the information manually through paperwork, Management Information Systems (MIS), but in the case of e-logistics, the information is gathered through electronic modes like the Internet, RFID, Electronic Data Interchange (EDI), and IoT.
E-logistics is more reliable and faster than traditional logistics and is used by major eCommerce brands in developing countries like India and China. Lack of transport infrastructure in developing countries means access to new barriers in the supply chain process. The factors like security, privacy, and integrity are the government rules in different countries that e- logistics should follow to avoid creating barriers in the logistics process.
The concept of e-logistics in India is to enhance customer service, reduce cost barriers, and meet delivery deadlines. It also helps to control inventory through web-based systems and also helps in collaboration with logistics companies like BlueDart, FedEx, Gati, and DHL. The technology-enabled e-logistics helps to understand the customers more and also helps to meet their growing demand.
ECommerce leaders will leverage the Internet of Things (IoT), Artificial Intelligence, Business Intelligence, Big Data Analysis, and Robotics to provide smart e-logistics solutions, reduce cost, and minimize errors and delays. For example, e-logistics in India will help achieve operational efficiencies with driverless vehicles, AR/VR-enabled wearable devices, and automated warehouse operations.
Challenges Faced By Logistic Industry In India
Some of the main challenges businesses dealing in the logistics industry are the lack of integration in transport networks, poor distribution facilities, and the use of technology.
The logistics sector in India needs technology and the skilled workforce. There is also a lack of proper training that is causing management issues among the employees and the logistics managers.
Poor management and lack of transport facilities are the two main reasons for a major loss in the perishables sector. A good storage warehouse and maintenance are also needed.
Managing the eCommerce supply chain requirements requires industrial policies to ease the efficient transportation of goods and deploying effective managerial practices and technology.
Despite various challenges, the logistics industry in India is transforming by adopting innovative business models like e-logistics, outsourcing supply chain operations to 3PL services providers, and changing the policy-based rules.
What's More?
Undoubtedly, e-logistics opens up numerous opportunities for retailers but also brings some challenges. Anticipating these points and implementing appropriate e-logistics strategies are the keys to the success of your e-commerce business and the guarantee of customer satisfaction.
If you would like more information about what e-logistics offers, please do not hesitate to contact our teams at Shiprocket.
Calculate Your Shipping Costs Now