Augmented Reality Poised To Transform The Future of eCommerce
Nearly 47% of consumers in India agree to pay extra for a product if they can see and try it online using Augmented Reality. (Source)
64% of the leading ecommerce companies are going to invest in augmented reality in the coming year. (Source)
The Indian augmented reality industry has the potential to grow to USD 5.9 billion by 2022. (Source)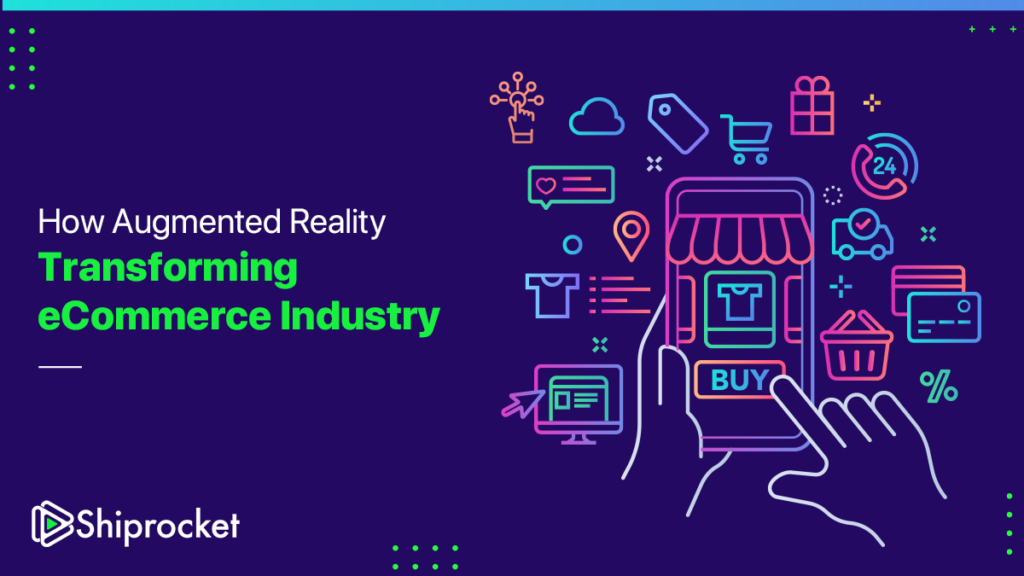 Augmented reality has now reached such impressive levels and lets you see what a piece of merchandise looks like in reality before you buy it. With AR in ecommerce, it's possible to take a look at a product from every angle, from every perspective you want, and look more closely into product details.
AR in eCommerce today is meant to be experienced through devices like smartphones, AR headsets, handheld devices, and head-worn AR glasses. There is a massive business opportunity tied to the meaningful AR applications in ecommerce & retail today that can propel business growth. Undoubtedly, the time for AR in eCommerce is now.
This technology is bringing scores of innovative opportunities for upcoming and existing ecommerce businesses and trades. Whether you are a top eCommerce development company, a service provider, or a would-be entrepreneur trying to understand how to set up an online eCommerce store, it will be extremely interesting to examine what augmented reality in ecommerce holds for all of us.
Why Augmented Reality in eCommerce?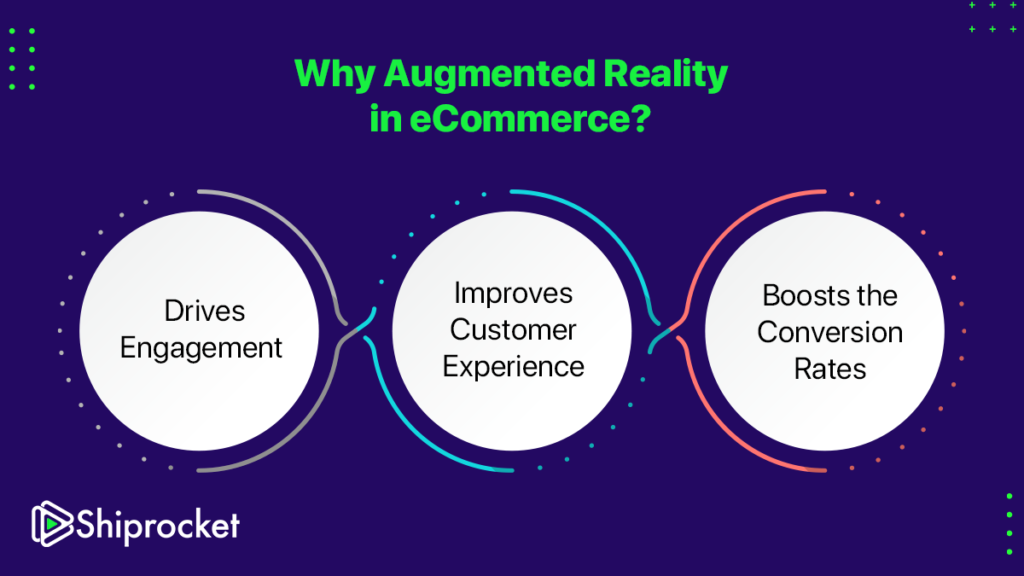 One of the greatest limitations of the ecommerce industry is inadequacy in presenting a product virtually. But the invasion of AR in ecommerce can help enhance the virtual shopping experience by making it easier for the consumers to get a true sense of the dimensions, color, texture, and details of the products.
In this post we are going to discuss the main reasons why AR in ecommerce has become such an important tool.
Forward-thinking firms like Amazon, IKEA, and Target are using AR apps to generate more delightful interactions with their users. You can place a virtual product onto your room or actual dining table, or place a virtual wardrobe in your bedroom without breaking a sweat. Likewise, how do you know whether that dress will actually look good on you without trying it in a fitting room? This is where AR comes in.
Drives Engagement
AR in eCommerce is on a growth trajectory and increases customer engagement by 66% by giving them a real-time online shopping experience. This trend is growing thanks to some major players in the ecommerce industry. For example, Amazon rolled out an augmented reality shopping tool that allows a customer to see a whole set of home decor items in real-time.
And when a customer spends more time on your website, the more likely they are to buy something. The improved engagement means they've developed a relationship with your brand and your product, which makes them more likely to make a future purchase.
For startups to grow their business in the world of AR ecommerce, they'll have to start thinking creatively regarding customer engagement. After all, implementing AR tools to your website plays a major role in defining how successful and engaging the experience will be for the end customers.
Improves Customer Experience
Continuing our thoughts about customer engagement, adopting augmented reality in eCommerce allows you to reach new customers and create a buzz around the brand. Not only is augmented reality a powerful tool for driving customer engagement, but it also improves customer experiences in the retail stores. Augmented reality in ecommerce could be used to give customers confidence about the product purchase and experiences where they need more information about products.
In fact, AR's impact on customer experience isn't limited to the product information only. The most exciting uses of AR come at the concept of smart packaging solutions where they can see compelling visuals of the product's packaging on their smartphone via AR.
This way augmented reality in eCommerce makes customer experiences richer and adds value to customers in new and exciting ways. It removes friction before a product purchase by showing the customer how the product will look in actual with complete details. And, by having better information about a product at the outset, customers will be less likely to return it later.
Boosts the Conversion Rates
Around 90 percent of companies with annual revenues of $100 million to $1 billion are now leveraging AR or VR technology. On the other hand, a poll conducted by a research firm revealed that 10 percent of ecommerce marketers utilize AR, and nearly 72% are planning to in the coming year.
We can say that augmented reality is becoming popular among marketers. And these days, most of the businesses that have never experienced AR benefits and the ones who experienced it, really enjoy implementing it. No doubt, with AR you can easily attract customers to your website. Likewise, your company could utilize AR to boost conversion rates.
For example, Nike is using an AR application to help its customers find the shoes of the correct size. Most people are wearing the wrong size of shoes. Nike is providing a solution to this problem with AR applications. Nike application will scan your foot and tell you the right size for footwear. Also, the customer information will be saved in the Nike app so that you don't have to check your size every time you wish to purchase from that app.
With AR technology, Nike increases its conversion rate to 11%. Also, AR in eCommerce helps keep people on your site longer that can actually boost sales. This is likely because AR gives users more information and real-time experience than static images.
Using Augmented Reality For eCommerce Businesses
Like we mentioned above, AR allows eCommerce customers to preview products in the real environment and give them an understanding of how they look in actuality. With this point, you will learn an overview of how eCommerce businesses can use augmented reality in their businesses. Read on!
Virtual Stores & Try On Solutions
Many eCommerce brands are building virtual stores to offer shoppers an intuitive and almost real-like shopping experience online. By simply creating a smartphone app, you can offer a virtual shopping experience where your customers can actually see the products just like they would see in an actual store.
According to a report, the top reason why 34% of consumers returned goods from Amazon was the wrong product fit, color, and quality. It is true that now every brand can offer a home try-on facility by adding AR ecommerce to their stores. Augmented Reality in eCommerce helps online shoppers to see and analyze what they're buying and how items will look on them. Virtual try-on solutions allow you to present your products in a real environment.
For example, the IKEA Place app lets users try and place home decors and furniture in their homes by using their smartphone or tablet.
Online eyewear portal Lenskart uses virtual reality to enable its users to try on glasses on realistic 3D models of themselves by clicking a selfie using their webcams. Similarly, online jewellery platform CaratLane's enabled virtual reality on its mobile application, so buyers can see how their products will look on them.
Similarly, the Wanna Kicks by Wannaby is a virtual try-on app for trying sneakers from your smartphone. The users have to download this app and place their feet in front of the phone camera, and select from available sneaker styles to see what shoes would look best on their feet.
The top brand Sony Electronics launched the Envision TV AR app that shows how a Sony TV will look on the wall before you buy it.
The concept of virtual try-on allows people to see products and try products along with options to change colors, texture, patterns, and to get a 360-degree view of the product and look. In this way, Augmented reality can help eCommerce businesses by making their products more visible, surprising, and memorable.
Augmented Reality In Social Media Filters
eCommerce brands engage with their audience on social media. And, augmented reality has had a profound impact on the way eCommerce brands engage with their audience on social media platforms such as Facebook, Instagram, and Snapchat.
For instance, by adding the AR camera feature on your platform you can allow a user to click selfies with facial filters. Brands can also add the filter of how to 'wear' a particular cosmetic or sunglasses. The AR-enabled social media filters add value to your social shopping technique when you share it with the circle of audience.
When connecting with new people on social media, AR filters help in a big way to reach new target audiences. eCommerce brands can use social media filters to showcase a new product and can encourage people to tag you in their stories when they use the filter. For instance, Snapchat added the animals' filter to the platform with AR camera effects.
Similarly, Snapchat has partnered with Amazon to include AR-enabled visual search through its Apps camera to find a product on the retailer's site. The makers of Netflix's original series Stranger Things launched a series of AR/VR lenses on Snapchat to market season two. With AR/VR lenses, users on Snapchat could record videos of themselves walking through different houses when the monsters pop out of the wall.
AR-Enabled User Manuals
With the most widespread use cases for Augmented Reality in eCommerce, the AR user manual is the best way to add convenience to the users. Point your smartphone camera at an electronic device and virtually get its user manual.
Augmented Reality user manuals are one of the best examples of how AR is the most suitable technology to transform the business impact. This helps the businesses to meet customer demand for product information related queries. This type of manual clearly explains the product and related instructions in a step-by-step format in the correct sequence of actions based on the particular product.
Today, eCommerce brands are becoming a lot smarter and interactive, as they create interactive AR user guides and place them on top of their website. This helps users better understand how their product works. Many other AR user manuals scan the product and let you explore the functions of a product or device easily.
Final Words
For smaller businesses and startups, to grow their market share in the world of AR eCommerce, they've to start thinking creatively about the products and solutions they offer. After all, AR is game-changing technology. And it's changing how eCommerce brands present their products online to customers. In the area of branding, customer experience, and sales conversion, AR apps and other solutions are becoming more widespread.
Global eCommerce firms are using AR to enhance the customer experience, which is groundbreaking. Luckily for brands and eCommerce service providers, new AR tools and apps are emerging, making it easier for organizations to deliver more engaging experiences right to their audiences.
Calculate Your Shipping Costs Now