The Role Of Predictive Analytics In Your eCommerce Business
The eCommerce market is growing rapidly with an evolving lifestyle. To stay relevant in the business, you need to be one step ahead of your buyer in every move. But, there is only so much you can do with your products and fulfilment. With changing consumer dynamics and increasing competition, it is a must that you incorporate a more engaging and personalized shopping experience for your customer. Predictive analytics gives you the information you need to provide your buyer with this experience. Let's take a look at what predictive analytics is and why it can be a game changer for your business.
What Is Predictive Analytics?
Predictive analytics refers to a branch of advanced analytics that is used to draw predictions for unknown future events. So, in eCommerce, it plays a role in determining the consumer's behaviour on your website based on their purchases, choices, and improve supply chain management for your eCommerce business.

In more straightforward terms, predictive analytics gives you a more in-depth insight into the buyer's purchase patterns and provides a clear idea of how you can prepare your future strategy to be proactive for new as well as existing customers.
How Is It Beneficial For Your Business?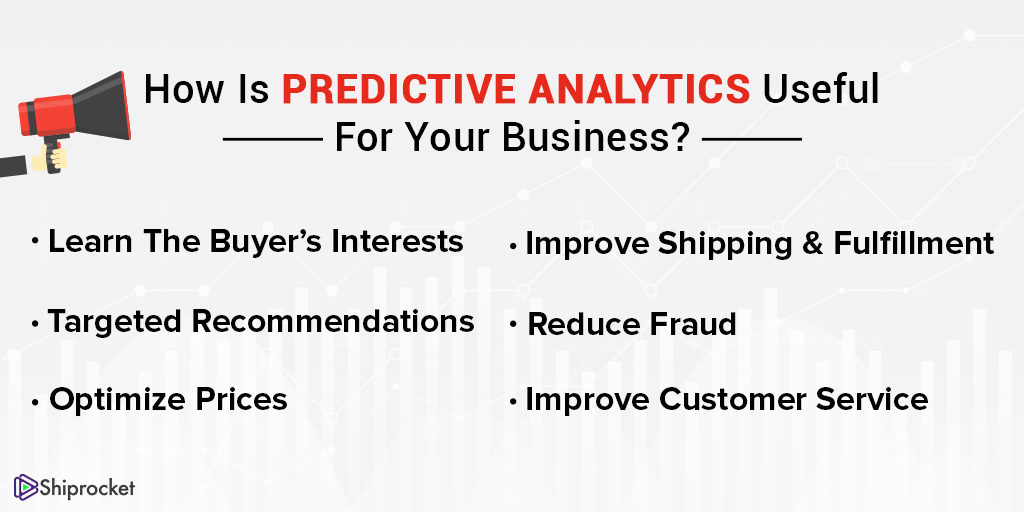 Know what your buyers like
To be different from your competition, you must be aware of your buyer's habits and preferences. With the software in place for predictive analytics, you can gauge what your customers like based on their past purchases, click through behaviour, preferences, etc.

As every customer is unique and their choices vary, predictive analytics can help personalize the customer's experience with a thorough analysis of their browsing behaviour and pattern, in real-time. Based on this information, you can improve the customer's experience by many folds and also influence their shopping decisions to a certain extent.

Targeted recommendations
When you know your prospects' recent engagements on your website, you can guide them to their desired product faster. Product recommendations play a crucial role in personalizing your buyer's feed. You should be sure as to what you display on your buyer's screen. Predictive analytics can help you analyze data from various touch points and deduce distinctive recommendations, which will be ideal for a particular customer or a group of individuals. With algorithms set in place, you can quickly find out which recommendation worked in the past, and based on that, recommend which product the buyer will buy next.

For example, if a buyer purchased a dress from your store, your predictive analytics software will recommend the products for their next purchase i.e., shoes or accessories. This will keep the customer engaged and provide them with a unique experience throughout.
Optimize prices
To ensure you stay on top of your game, you must continuously provide the best prices. Especially during sales and holidays seasons. You should be able to study past and present trends and reduce the rates accordingly. Predictive analysis can facilitate smart pricing by studying the consumer's history on your website. It helps you explore these trends by analyzing data from various factors. These include past pricing, customer activity, available inventory, competitor prices, order history, preferences, etc.

As pricing optimization is a continuous process, predictive analytics can add value by examining recent and historical data in real-time. This provides you with personalized results for each segment.
For example, when you decide prices for the upcoming festive season, you cannot use last year's sales data as your reference. Instead, predictive analytics can help you study the buyer's shopping patterns from the past week. This insight provides you with prices that are most relevant to your business.
Improve shipping & fulfilment
Fulfilment forms the core of your eCommerce business, and predictive analytics can help you run it smoothly. With detailed information about past shipments, inventory, and sales, you can forecast future sales and stay prepared. This information enables you to improve delivery, shipping, stock management, etc.

Shipping platforms like Shiprocket provide you with daily reports of your shipments. You can track the number of orders processed, revenue generated, preferred payment method, RTO orders, undelivered shipments, etc. through analytics in the dashboard. This type of data can help you make informed decisions for future orders and choose the most suitable carrier partners for every shipment.
Reduce fraud
Predictive analytics can reduce fraud by assessing the different products and their purchase patterns. This process will help segregate the products that are most susceptible to fraud. Furthermore, you can remove them from your catalogue. Fraud management models are designed to predict fraud before a customer completes their purchase. Analytics combined with machine learning is being deployed to define rules and automatically identify fraudulent activity during a purchase.
Improve customer service
Customer service is the backbone of any business. So, once you are aware of the concerns put up by customers over a long period and have data that depicts their purchase decisions, buying patterns, etc. you can be proactive in your approach. Predictive analytics can help you analyze the consumer's history with your website and formulate answers to questions they are yet to have!
Final Thoughts
Predictive analytics is an essential tool that can be used by you to improve sales. It will help provide your buyers with a personalized experience and also make tasks easier for you! Data is today's gold, and you must invest in mining it effectively for your business.
Calculate Your Shipping Costs Now