eCommerce Shipping
Top 5 Tools For Acing Festive Season Sales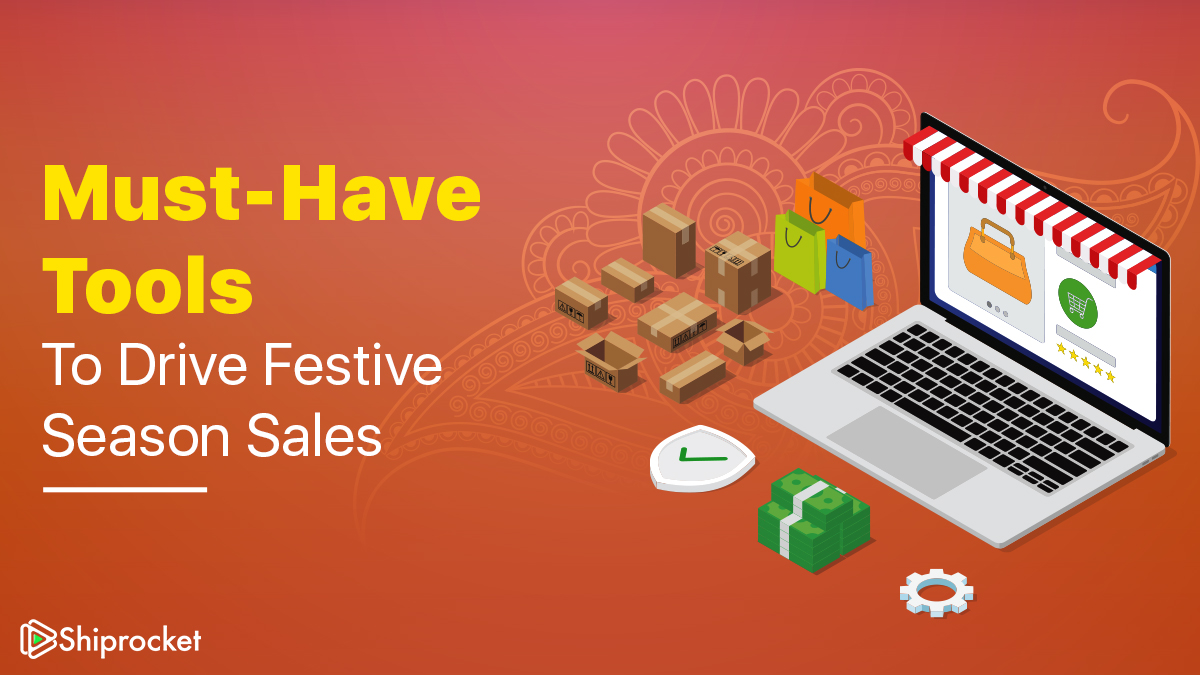 Aren't we all excited about the festive season? The eCommerce industry witnesses massive purchases in these months, which indicates huge sales opportunities for businesses. Sales made during the festival months account for nearly 40% of the annual sales. However, with the surge in demand during the festive months comes immense competition among businesses. To attract maximum customers to your website, you need an excellent channel that provides your buyer with a seamless experience, both pre and post-purchase.To achieve this level of service, you need tools that can make work easier for you. With a plethora of applications available online, it can get challenging to choose the best ones. Here are 5 tools that can help you increase sales and also provide your buyers with an excellent shopping experience. Read on:
Google AdWords – Marketing
Setting up an online shop is one thing and attracting users to it is another ball game altogether. You might have the most amazing discounts on your store, but they will not get you lucrative business if your buyers don't know about them. Hence, you need to invest in marketing. The right marketing will not only take your products and offers to your audience, but it will also prompt them to purchase products from your website. There are various marketing strategies that you can adopt.
The best tool for paid marketing is – Google Adwords. Google is the most widespread ad network, and it is always a good idea that you advertise with them. There are various types of ads you can opt for which include search ads, video ads, display ads, and also shopping ads. Each ad format has its purpose, and you can choose which goes best with your campaigns.
The pricing strategy is based on the PPC (pay per click) pricing plan. You need to pay according to the number of times an ad is clicked. You can read more about Google Ads on their website.
Zoho Inventory – Inventory Management
Inventory management forms an integral aspect of your business. Therefore, it's extremely important you deploy the right inventory management software that can help you reduce the execution and management that goes behind the various aspects of inventory management.
Zoho Inventory is one such software. It also featured in our top 5 inventory management software list. This tool helps you streamline your inventory by helping you manage inventories from different channels in one place. It gives you the option of end-to-end tracking, order management (offline and online), CRM management, shipping integrations, and many other features.
NetSuite Warehouse and Order Fulfillment – Warehouse Management
Once you receive your inventory, you must store it properly. If not saved correctly, it can cause chaos, which can ultimately lead to a delay in processing that will affect the delivery experience. To make things simpler, you must opt for warehouse management software. These can help you navigate easily across all products and reduce the time between product location and picking.
One such software that can aid you in this process is NetSuite Warehouse and Order Fulfillment. It helps in improving agility, labor efficiency, and visibility. This software enables you to minimize operations by optimally distributing functions and optimizing the labor and resources for your warehouse.
Shiprocket – Shipping
To provide an exceptional delivery experience to your buyers, you need to strengthen your shipping. Once you deliver the products on time, customer satisfaction is guaranteed. A poor delivery experience will not only tarnish your brand's reputation but also lead to negative reviews that can affect future sales. Therefore, you must look out for shipping solutions that can take care of multiple aspects of order fulfillment for your business.
Shiprocket is a platform that can help you with shipping across 26000+ pin codes, at the cheapest rates starting from Rs. 27/500g. The best part is that Shiprocket has integrations with 17+ courier partners. This gives you a wider pin code reach as compared to shipping with a single courier partner. Also, you can manage undelivered orders from an automated NDR panel that you find in the app. Furthermore, you get a customizable tracking page that gives the buyer a chance to give their feedback on undelivered orders and also take quick action on them.
ZenDesk – Customer Service
Your sales cycle can never be complete without proper after-sales support. Hence, having customer support software is necessary for your business. They must be able to accommodate queries and also have the provision to distribute these tickets among the team.
ZenDesk is one software that lets you add a knowledge base to your website. This Knowledgebase answers all essential questions, and you can also upload help docs that can guide customers to use the platform. As the festive season sees a lot of queries coming in, a tool like ZenDesk can effectively distribute work among the team members and also reduce communication gaps.
Conclusion
The festive season is an excellent time to conduct sales and double your profits. You can acquire many new customers and improve your base. The right applications, combined with the right strategies, can help you establish successful sales and also give you an edge over your competition.
Calculate Your Shipping Costs Now