Types of Warehouse Storages and Storage Equipment in a Warehouse
Warehouses are a crucial part of the proper functioning of any business. They have secured spaces where you store your inventory before shipping it out to the end customers. It might come across as an unnecessary expense to many, and many small businesses might think of self-storage facilities. Still, outsourcing warehousing to a 3PL can save you money and boost the productivity of your business. Therefore, knowing about the different types of warehouse storage is necessary.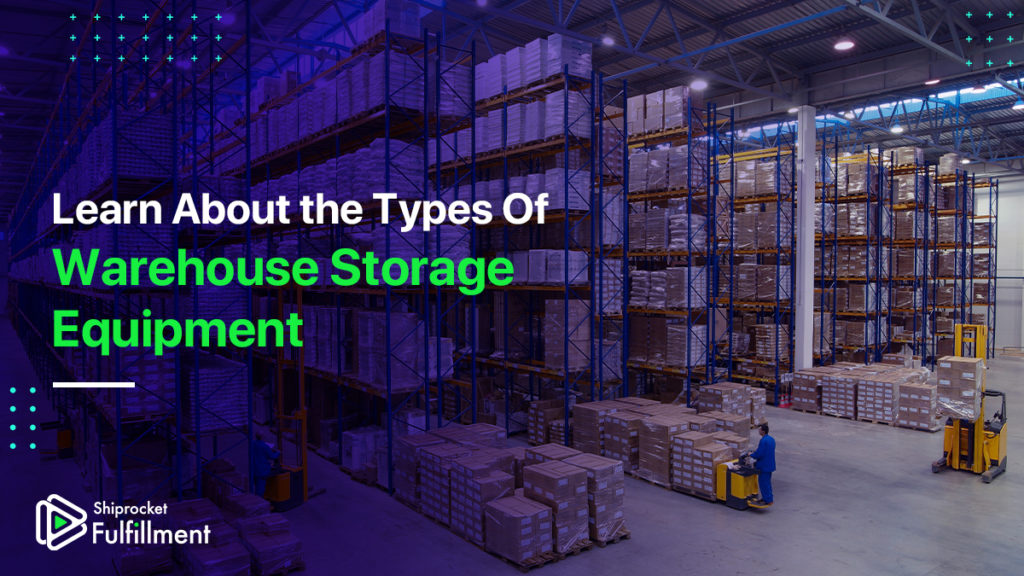 A customer journey doesn't end when an order is placed. A warehouse gives you better control over your inventory and ensures that your customers receive on-time delivery of products, ultimately leading to higher profits. Now that we have told you the importance of a warehouse let us talk about one of the essential things inside a warehouse space. That is the storage equipment! Warehouse storage is one of the most crucial parts of a warehouse that stores inventory safely and securely. Read on to find out the types of storage equipment inside a warehouse-
1. Storage Cabinet
Like in a household, storage cabinets are high-density steel storage containers that offer quick access to the inventory and are an easy and convenient way of storing goods. These storage cabinets are typically used to accommodate bulkier items. A single type of storage system will not be enough for a warehouse, as the supplies and equipment stored in different warehouses vary greatly. You would need to use different storage cabinets and storage systems to store various kinds of inventory effectively.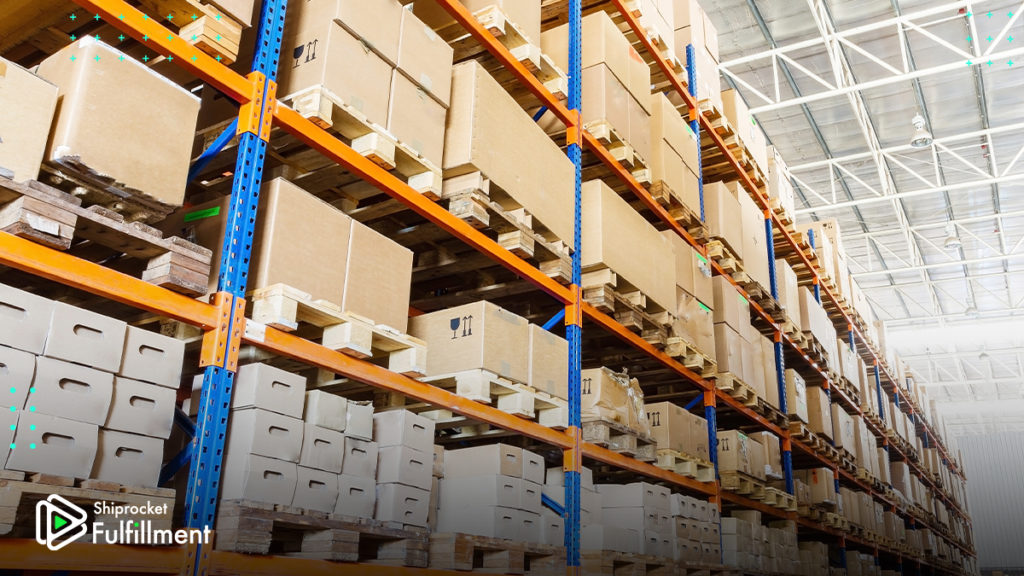 2. Pallet Racks
Pallet racking is one of the most common forms of warehouse racking systems. Pallet racks are storages designed to stack materials(SKUs) in horizontal rows with multiple levels. The pallet racking system's benefit is simple – why spend more money adding extra space in the warehouse when you can utilize the vertical space? These racks are topped with pallet, and forklifts allow for movement between the racking systems that add efficiency to warehouses.
There are different types of pallet racks that warehouses employ.
Selective Pallet Racking
It is the most common pallet racking system and comes in two configurations: roll-formed or clip-in configuration and a structural bolt-together configuration. Pallets rest on horizontal load beams held in place with mounting clips and can be moved quickly and easily adjusted to accommodate differing load sizes.
Push-Back Pallet Racks
These are used to maximize storage space at the cost of reducing aisle space. Push-back pallet racks are often used to maximize storage space at the expense of lowering aisle space. Each bay is displayed up to six pallets deep and stored on wheeled carts fitted onto rails. A forklift can set the pallet onto the cart, drive forward and bump into the next pallet, rolling the entire group backward to maximize storage space
Motorized Mobile Pallet Rack
This is another system designed to maximize storage space. These systems convert static access aisles into productive storage space and have helped companies eliminate new building costs by maximizing usable storage space.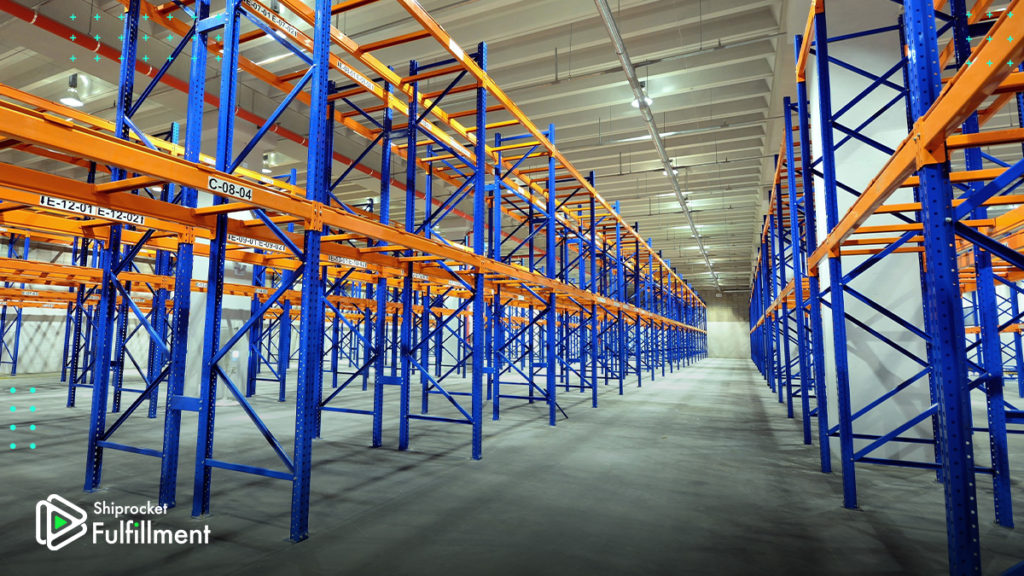 3. Multi-tier Shelves
Multi-tier shelving is the construction of shelves or racks on more than one level. Multi-tier shelving provides storage space at multiple levels, thus maximizing the utilization of vertical space available in a warehouse, making it easier for businesses to store more of their inventory, thereby increasing the warehouse's capacity as a whole. This system is an excellent choice for large stocks of items that have small unit sizes.
Each level of the multi-tier storage can be accessed by staircases, main aisles, and cross aisles. Mostly, multi-tier racking concerns relatively lightweight items that are picked and organized manually. To get the most out of this warehouse storage system, organize each tier strategically and pack items as densely as possible while at the same time paying attention to weight limits and ceiling-to-rack height compliance guidelines.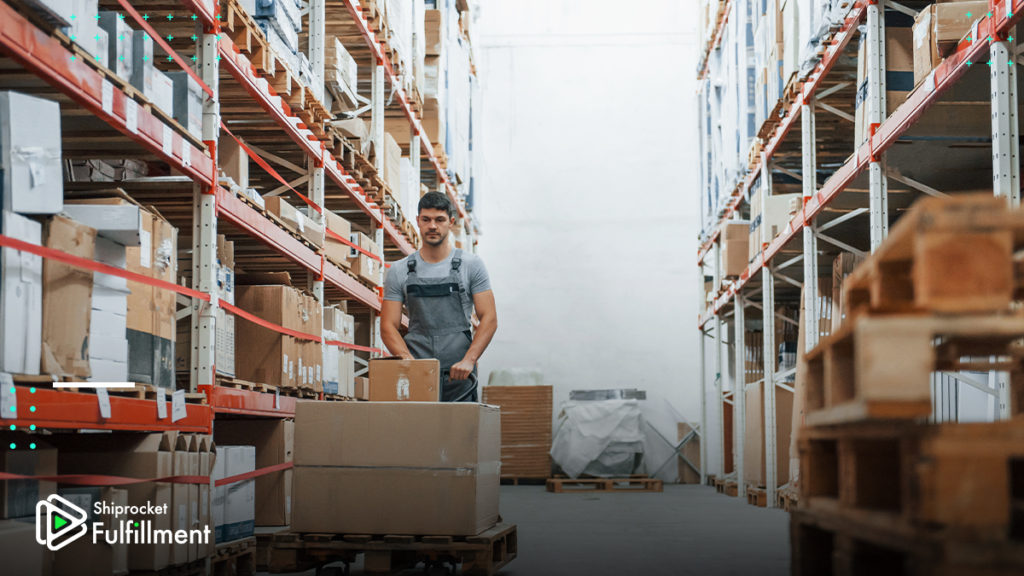 4. Mezzanine Flooring
A warehouse mezzanine floor can yield a massive amount of extra storage space. Effectively, you're just constructing a second floor above existing aisles, which provides extra shelving space, working areas for staff to pick and pack or check and move stock on. Mezzanines don't always need to be restricted to a single level; they can provide two or even three extra levels.
Mezzanine flooring technology has advanced in recent years, with a whole variety of custom designs to offer.
Because of these advances, virtually all mezzanine flooring is custom designed and fitted to integrate with most storage situations in almost every warehouse situation.
It's best to use a company that can manage the whole process for you – from designing and installing mezzanine systems to advising on how you should fit out and make the best use of your additional space.
5. Static Shelves
As the name suggests, shelves are used to keep the goods and products static – they aren't movable and stay in one place. They are designed in a way that they can store lightweight inventories that have to be handpicked or placed. This type of storage is not compatible with forklifts and has to be done by hand.
6. Mobile Shelves
It is similar to static shelving, but the only difference is that it can move and offers adjustable shelves. Such systems are designed to accommodate more goods in less space. Some of them can also contain locking systems and level tracks. The level tracks can either be mechanized or manual.
7. Wire Partitions
Wire partitions are secure wire cages, and sections are an essential accessory for improving warehouse security. They are typically made of fence-like wire mesh materials, creating a durable and robust enclosure that makes it easy to designate high-security storage areas or sections within your facility. Wire partitions are also practical additions as they help you section off areas without investing in major renovations.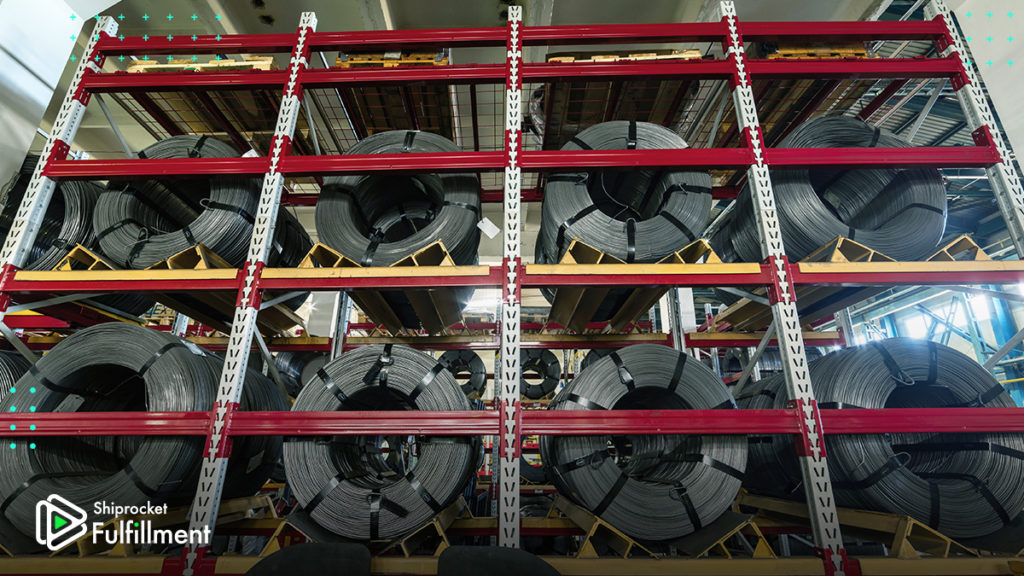 It is easy to restrict access to areas where you store sensitive or high-value materials or products with a wire partition. They are ideal for securing medical products, chemicals, and similar types of items that should not come in contact with other products, thus eliminating the risk of contamination or damage.
Now that we have talked about the storage equipment, let us take a look at some other necessary equipment in a warehouse –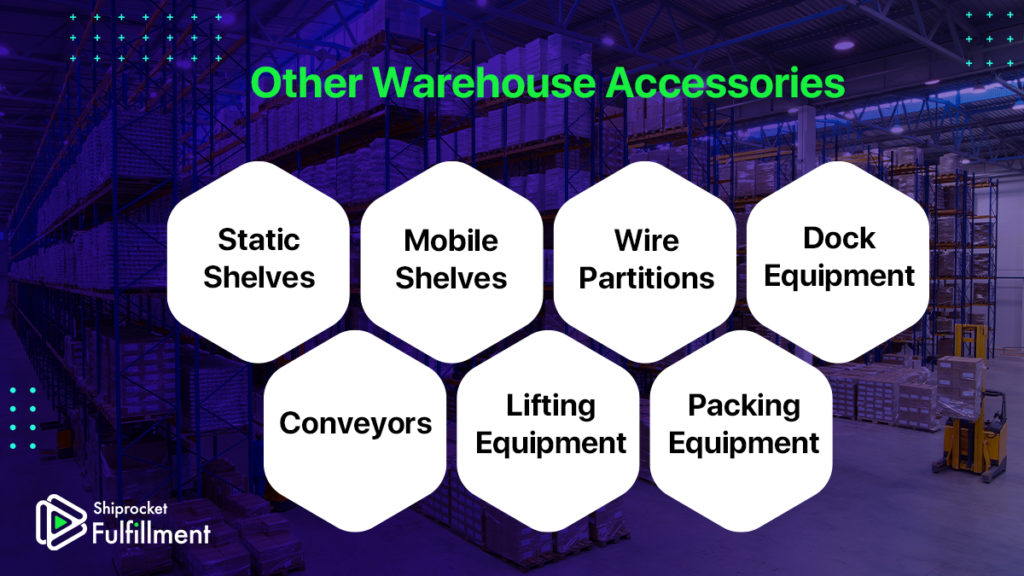 8. Dock Equipment
Choosing the wrong dock equipment can put employees at risk. As the docking area is the junction of the receiving and shipping processes, its safety should always be your top priority. If you are looking to optimize your dock area workflow, you need quality warehouse loading equipment to transfer goods to and from the trucks. As truck designs keep changing and safety is becoming a huge issue, selecting the right dock equipment can make your process more efficient, customizable, safer, and less time-consuming for workers.
Examples include:
Dock Boards and Plates
Edge of Dock Levelers
Truck Restraints
Dock Seals and Shelters
Dock Bumpers
Yard Ramps
Wheel Chocks
Dock levelers & Dock Lifts

9. Conveyors
Conveyors are material handling machines that can move cargo from one location to another. Compared to manually moving materials, this can speed up or automate the process to save time and labor.
Additionally, because they involve minimal human intervention, they can reduce the risk of injuries and serve as safe warehouse equipment, in the same way, forklifts do. They can help improve the picking, packing, and dispatching times while also helping automate and streamline the dimensioning, weighing, and sorting process.
Lastly, conveyors can be expensive; however, the benefits mentioned above make them a worthwhile investment if used in the right processes and installed optimally.
Examples include:
Gravity Roller Conveyor
Belt Conveyor
Plastic Belt Conveyors
Flexible Conveyors
Vertical Conveyors
Spiral Conveyors
Pneumatic Conveyors
Chain Conveyor
Dust Proof Conveyors
Automotive Conveyors

10. Lifting Equipment
Lifting equipment refers to the different types of machines that help streamline transportation and storage of goods. Unstable lifting equipment can wobble, which can result in poor handling while lifting the goods. Moreover, it can damage the equipment/property, putting a halt on warehouse operations.
To help choose the right lifting equipment, you must consider factors such as the type of inventory (pallets or smaller units) and the shelves' height.
Costs often fall on the higher side while purchasing such equipment, but they have the functional advantage to prove. They can reduce manual operations, be used across different areas, are highly customizable, and easy to maintain.
Examples include:
Forklifts
Pallet Jacks
Hand Trucks
Service Carts
Cranes, Hoists, and Monorails
Dollies and Castors
11. Packing Equipment
Packing involves wrapping a product or designing a container to provide protection and easy handling. Hence, packing equipment plays a crucial role in shipping goods by assisting the staff in packing faster and increasing productivity.
The right packing equipment can reduce labor costs and provide consistency in the wrapping process. Moreover, packing equipment also improves inventory control by eliminating product separation, which saves time in inventory counts.
Examples include:
Industrial Scales
Strapping and Banding Equipment
Stretch Wrap Machines
Packing Tables
Final Say
A modern warehouse always consists of machines and humans working together to make the operations seamless. Choosing the right equipment in a warehouse increases the warehouse's productivity and leads to high levels of customer satisfaction in the long run.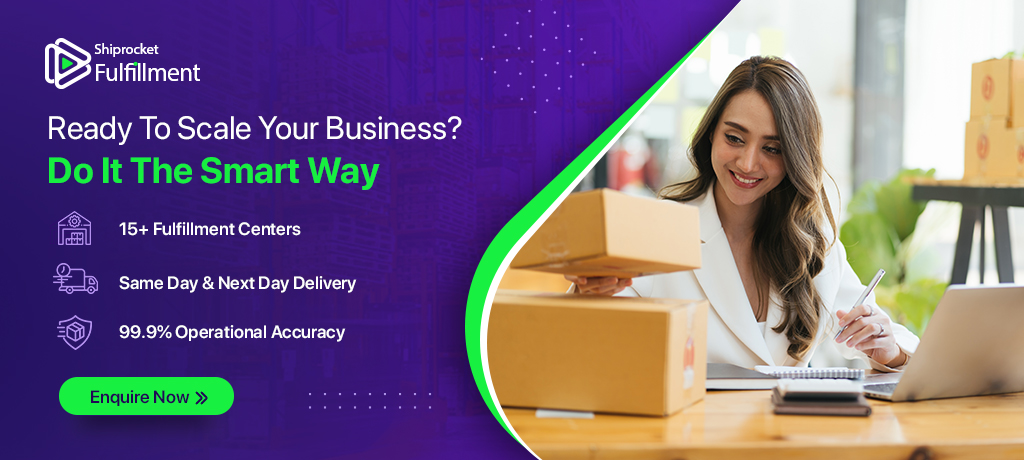 Calculate Your Shipping Costs Now