What is ONDC: A Complete Guide on How it Works
Buying and selling products and services have become easy with the start of eCommerce. It has made it easier for small businesses to showcase their product. However, with major eCommerce players such as Amazon and Flipkart dominating the market with cutting-edge technology, it has become challenging for small businesses to access this industry due to a lack of resources, expertise, and infrastructure.
To address this challenge, a promising initiative is the Open Network for Digital Commerce or ONDC, which aims to empower small businesses to enter the eCommerce sector. The primary objective of ONDC is to bring buyers and sellers together on a single digital commerce platform.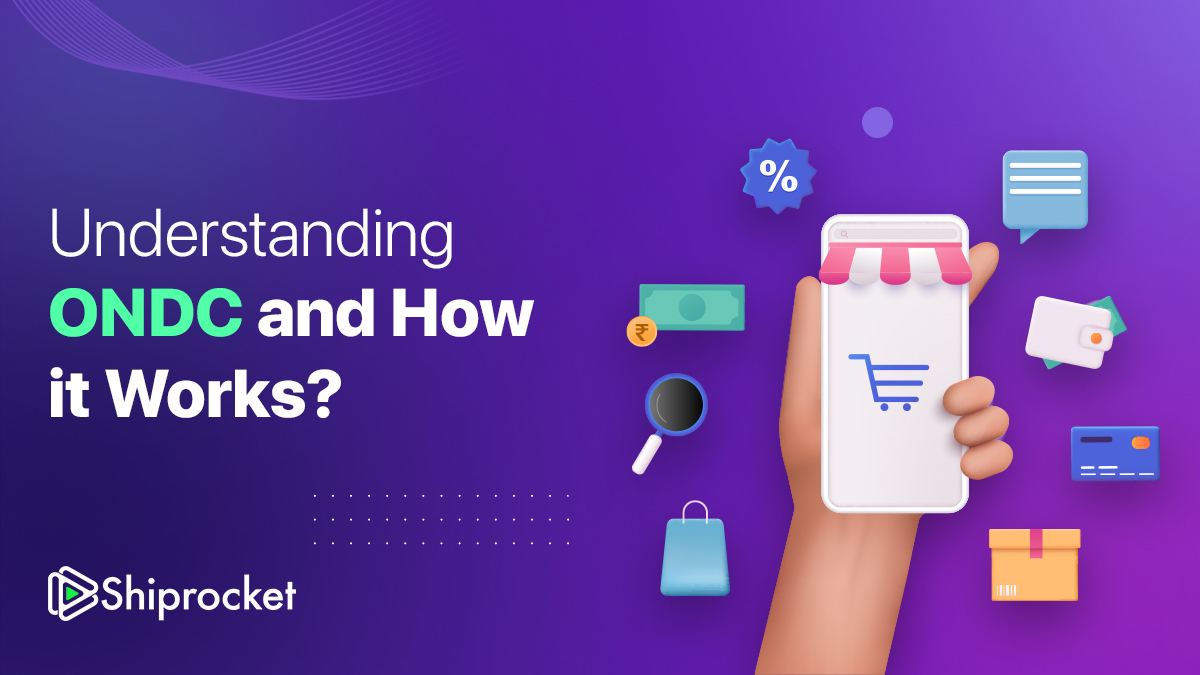 Let's gain a deeper understanding of ONDC, including its features, objectives and how it operates.
What Is ONDC: India's Open Network Digital Commerce
Open Network for Digital Commerce (ONDC) is an initiative of the Indian Government to make eCommerce accessible through open networks. ONDC is a set of specifications based on open-sourced methodology. It utilises open specifications and network protocols that ensure it is independent of any one platform. It is designed to nurture open interchange and connections between consumers, technology platforms, and retailers.
This platform ensures that consumers and suppliers can transact goods and services independently of the platform or application. ONDC is all about breaking the current platform-centric eCommerce model and providing an open network that any smart buying platform can access.
How Does ONDC Work?
ONDC's working can be better understood if we compare it to the Unified Payment Interface (UPI). UPI allows anyone with a bank account to utilise mobile payments irrespective of whether they use a particular app or not. Similarly, the ONDC platform is the intermediary layer between the interfaces hosting the buyers and the sellers.
For example, if a buyer wishes to buy a phone online, they will search on any existing eCommerce apps available, like Amazon or Flipkart. The buyer would have to surf individual apps to find the best deals. This can be time-consuming. ONDC provides a solution for this problem.
Suppose the buyer uses ONDC to open any one of the existing eCommerce apps like Amazon. In that case, the buyer will get a listing of sellers within the Amazon app and options from Flipkart, other stores, and any other app that has registered with ONDC. ONDC thus ensures buyers with opportunities to compare prices, quality, discounts, etc. It also allows the buyer or seller to choose delivery agents from other apps if the selected app's delivery agent is unavailable to provide delivery services.
Features and Objectives of ONDC
Some salient features of ONDC are
ONDC is a government-backed project: ONDC is a non-profit private Section 8 company established by the Department for Promotion of Industry and Internal Trade of the Government of India.
Enables access to processes and technologies used by large eCommerce platforms: Operations like listing, stock management, order management, and order fulfillment can be standardised using the protocols set by ONDC.
It provides better discoverability and trust for small and medium enterprises. Simplified payment processing is also available.
It offers data transparency. ONDC is able to rate service providers that will be applicable and visible across the network.
The platform is not limited to selling and buying within just one eCommerce site. It also offers digital marketing opportunities.
ONDC provides easy-to-use tools to create a branded storefront. Small businesses are also entitled to discount programs.
ONDC offers access to different types of products that may not be available on eCommerce sites but are easily available locally.
It provides a unique opportunity for small traders and mom-and-pop stores.
The objectives of ONDC are
Ending monopolies of the platforms: It aims to provide equal opportunities to all players in the market. It strives to provide a conducive environment for small businesses to compete with established players.
Enable digital commerce to be small business friendly: It provides easy-to-use tools and resources for small retailers to grow and expand their businesses online.
Increase eCommerce penetration in rural areas: It provides access to new markets and opportunities for small businesses in rural areas.
More focus on apps in Indian languages: It provides a platform for small retailers to reach a wider audience with their products and services.
Digitisation of the value chain: It aims to streamline processes and make them more efficient and cost-effective.
Standardisation of operations: It provides a common set of protocols and guidelines for small retailers to follow.
Increased efficiency in logistics: It provides a platform for small retailers to connect with logistics providers and streamline their supply chain.
Wider choices of products and services: It provides access to a diverse range of products and services for small retailers to offer their customers.
Data privacy and confidentiality: It aims to ensure that all data and information shared on the platform are secure and protected.
Decreased cost of operation: ONDC aims to provide cost-effective solutions for small retailers to grow and expand their businesses online.
Role of Shiprocket in Helping ONDC's Sellers
Shiprocket has become the first inter-city logistics provider to get registered with ONDC and has gone live on the government's ONDC portal. The first successful transaction was made in October 2022. It is one of the best enablers of eCommerce logistics and would help sellers to choose delivery partners to send products across India.
With the increase in digitisation and the Indian population becoming more and more computer literate, sellers from tier 2 and tier 3 cities are increasing. They need good logistics support to deliver their goods to the buyers. Shiprocket uses an inclusive open-access technology system for sellers to ease their business transactions.
Shiprocket handles around 220k+ shipments daily with around 24,000 pin codes in India and 220 countries covered. Shiprocket integrates with the top 17 courier partners to meet all customer business needs through increased reach, low shipping costs, and faster delivery. To know more about Shiprocket's services, click here.
Conclusion
By 2026, eCommerce is anticipated to attain 11.4 per cent of the total Indian retail market. With the implementation of ONDC, the Indian government is trying to increase eCommerce accessibility to various small and medium businesses and rural areas. ONDC has provided smaller sellers and merchants with a platform to showcase their products and enter the digitised business. ONDC is aiming to bring 30 million sellers onto its network via hundreds of seller-side platforms by the end of 2024. The higher number of eCommerce platforms registering on ONDC would portray the success of ONDC in the long run.
Frequently Asked Questions(FAQs)
In which city of India has ONDC been implemented by the government?
Bengaluru has become the first city in India to use ONDC starting from the 30th of September 2022. This is a part of ONDC's beta testing and is live across 16 pin codes in Bengaluru.
How can an Indian seller register on ONDC?
Indian sellers need to first register onto an ONDC seller app like Mystore, IDFC First, PayTm App, etc. With the help of these apps, a seller can easily register and sell their products or services on ONDC.
Does ONDC offer logistics solutions?
ONDC offers logistics solutions through its ONDC-approved logistics providers to its sellers. The sellers can compare and choose the appropriate logistic provider that best matches their requirements and cost.
Calculate Your Shipping Costs Now