Amazon Self Ship With SRF vs. Amazon FBA – Which is Better For Your Business?
Amazon has over 1,20,000 sellers on its platform, and most of these are SMEs. Amazon is a marketplace that has captured most of its market share solely based on quick deliveries and seamless shopping. Their success started when they began offering next-day deliveries across India. Since then, the number of sellers on the platform has increased drastically. The fulfillment models offered by Amazon are robust and give sellers the flexibility to choose their preferred delivery.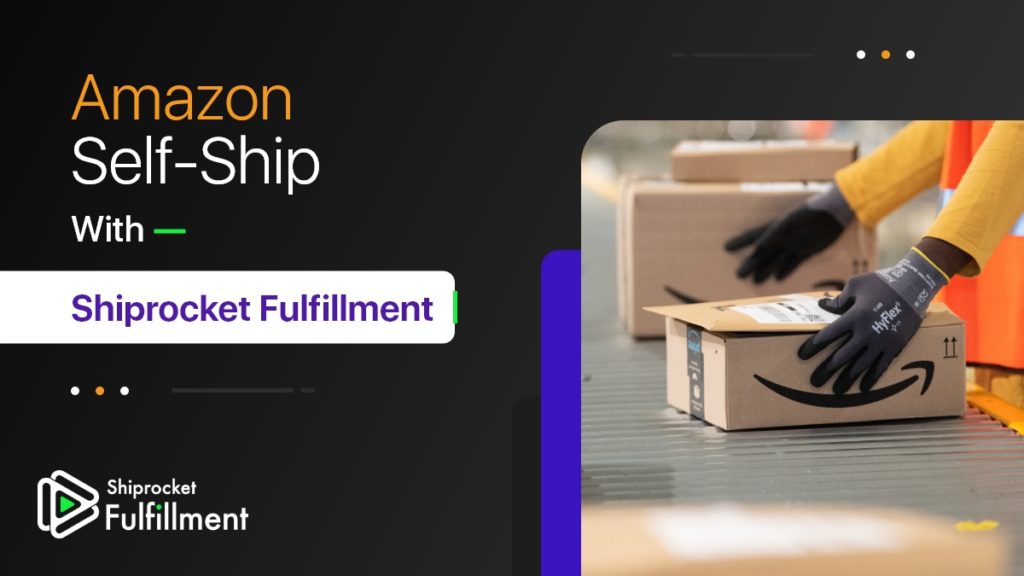 However, for those who do not sell on Amazon or sell on marketplaces other than Amazon, fulfillment can become a tricky task as Amazon only looks after the orders that come in via the marketplace. Sellers who cannot afford the fulfillment by Amazon model usually go with the self-ship model that allows them to ship products themselves. But in such cases, how do you match the fulfillment provided by Amazon?
You do so with 3PL fulfillment solutions like Shiprocket Fulfillment. Let's see how this is possible and a brief comparison of fulfillment by Amazon and Self-Ship when you do it with SRF.
What is Amazon Self-Ship?
For context, Amazon Self-Ship refers to Amazon's seller fulfillment model where the sellers fulfill the incoming order themselves. They only the website to list and sell their products. Post the sale, and the seller has to pack and ship the product themselves.
This model is mainly opted by SMEs that sell on their website or social shops and use Amazon only as an additional channel for their eCommerce endeavors. Many D2C brands opt for self-shipping on Amazon.
What is Amazon FBA?
Amazon FBA refers to Fulfillment by Amazon. It is Amazon's premium fulfillment service where you just send your inventory to Amazon's fulfillment center, and they take care of order fulfillment for your incoming orders. The small tag that says 'prime delivery' or 'fulfilled by Amazon' are the products that are sold by sellers who opt for FBA.

Without a doubt, FBA's services are top-notch. It also saves you ample time and money since you have someone else doing the job for you! But, if you have to manually fulfill orders that are coming in from other channels like websites, marketplaces, social media, and offline, is FBA the ideal pick for your business?
In such cases, you need a platform that can provide your services like Amazon FBA and help you grow your business and brand independently by only fulfilling orders for your store. One such platform is Shiprocket Fulfillment. Let's have a look at what SRF is and how it can be beneficial for your business.
Shiprocket Fulfillment – Hack to Fulfill Self Ship Orders Like FBA
Shiprocket Fulfillment is an eCommerce fulfillment solution that allows you to outsource fulfillment operations and improve your delivery performance. Just like Amazon FBA, all you have to do is ship your inventory to our fulfillment centers, and we will take care of the rest.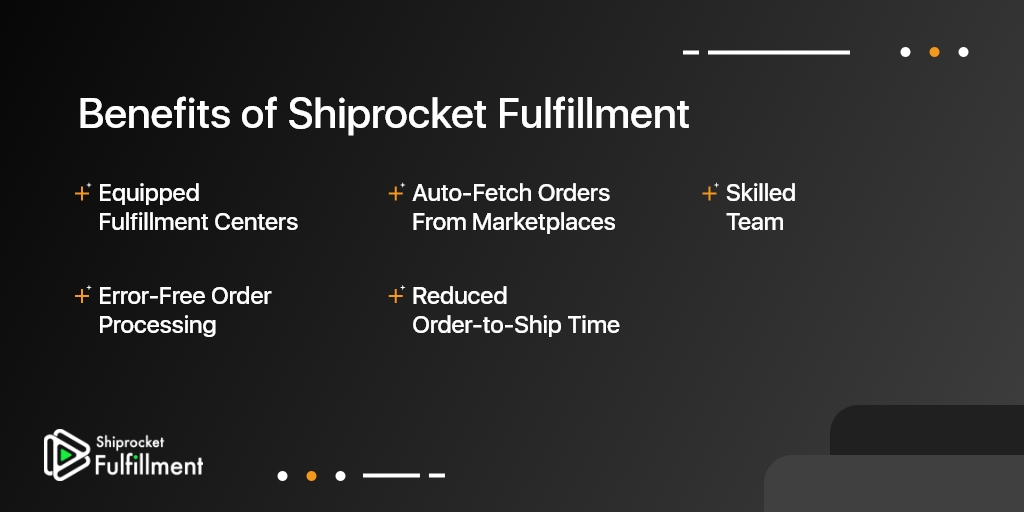 So if you self-ship orders on Amazon, you can still avail the type of fulfillment offered by FBA without actually opting for it. You can get the same service, a robust network of fulfillment centers, skilled team, storage, inventory management, packaging, shipping, error-free operations, and more for all your self-ship orders on Amazon and other sales channels. This gives your a more excellent footing in the market when you sell from your website, social media shop, Amazon, or any other track.
Here is why your Amazon Self-Ship orders are delivered as successfully as FBA orders when you opt for fulfillment by Shiprocket Fulfillment –
Equipped Fulfillment Centers
Shiprocket Fulfillment has eight active fulfillment centers located in different zones across India. These centers are equipped with the latest technology and infrastructure to enable the quick processing of orders. With devices like the Hand Held terminals and Automated Falcon Machine, these fulfillment centers are designed to ensure that the incoming orders are picked, packed, and shipped in the fastest manner possible to ensure 3x quicker delivery. Since these fulfillment centers are located at critical locations in the country, the inventory you send is stored and processed from centers that are close to your customers, enabling you to ensure a much smoother and faster delivery experience for them. This enables you to offer them next-day and 2-day delivery like Amazon Prime and gives you a significant advantage of reduced shipping costs.
Auto-Fetch Orders From Marketplaces
Shiprocket Fulfillment's platform has automated technology that lets you integrate your Amazon marketplace orders directly. So pre-integrated channels automatically fetch and display new orders in the platform, ensuring that no new orders are missed. You can fulfill a more significant number of orders each day and quickly meet the stringent Amazon marketplace requirements. If you perform well with fulfillment and receive good reviews, you will also improve your ranking in Amazon's search even though you fulfill orders with the Self-Ship model.
Skilled Team
Each fulfillment center has a dedicated and skilled workforce for every fulfillment operation. If the order has to be picked, reliable picking operators are assigned to ensure that the correct product is determined from the right location. Different individuals are assigned to tally the products selected and print the invoice before these products are packed. Similarly, all operations are carried out in perfect sync with each other, and your Amazon self-ship orders are processed and shipped and lightning-fast speeds.
Error-Free Order Processing
Since the operations are segregated, and different individuals are deployed to process your self-ship orders, the chances of error are reduced to the bare minimum. Every product is barcoded and matched with the bin where it is stored to ensure that no mistakes are made when the products are being picked from their place. If there is an error, the devices automatically detect it as the bar code scans don't match. Such robust technology enables our experts to carry out operations quickly and achieve 99.9% order accuracy. They process a more significant number of orders than someone who ships from their center or similar to FBA.
Reduced Order-to-Ship Time
Most D2C businesses that opt for self-ship are unable to deliver on time because of a high order-to-ship time. This is because the processes are not in sync, and you are not streamlined in your approach. Hence, sellers who don't have the bandwidth to ship orders themselves and can't oversee the process opt for FBA. With Shiprocket Fulfillment, the operations are set in the fulfillment center, and the team is trained to look after and function all incoming orders at super-fast speeds. This reduces the order-to-ship time, and you can deliver products 3x faster.
Final Thoughts
You can fulfill Amazon Self-Ship orders like Amazon FBA. You only need to outsource to the right provider. This will enable you to enhance your business initiatives. You will be able to set higher goals for growth and innovation—both Amazon FBA and Self-Ship with SRF and viable options for your business. But you need to choose the correct choice and go with it to succeed in your Amazon marketplace venture.
Calculate Your Shipping Costs Now