Concept of Backorder and Steps to Deal With It Correctly
Has it ever happened to you that you want to purchase a specific product in high demand during a Diwali sale, and suddenly while checking out, you find the product is in backorder? Is the company requesting you to wait until a further date?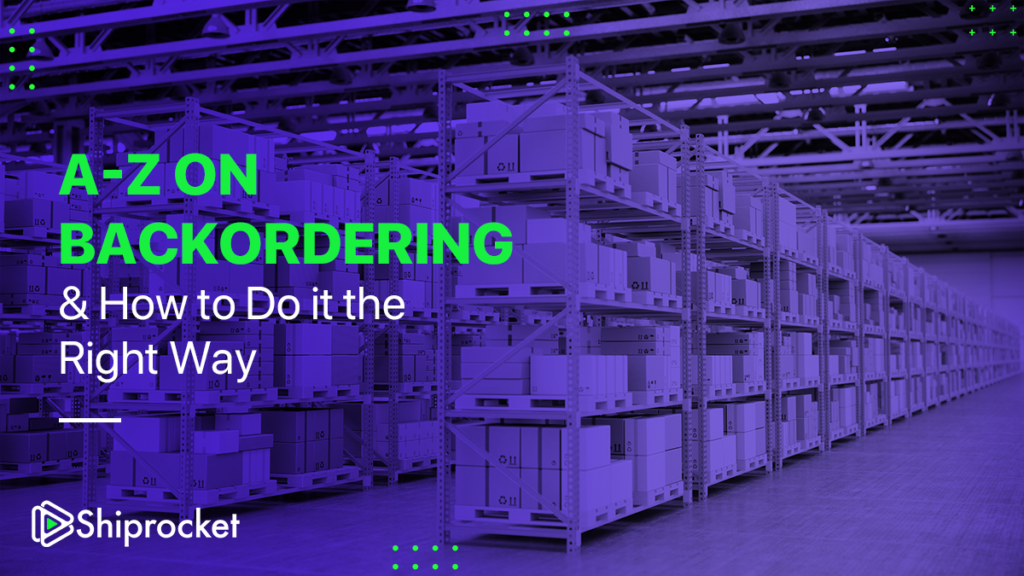 This is what we call a Backorder. As an end-customer, do you still wait for the product to get back in stock, or do you visit some other eCommerce store to buy it?
Backorders, typically, are created by those eCommerce companies whose inventory leaves the shelves quickly. In this article, we will discuss the meaning of backorders and how you can implement it correctly.
What is Backorder?
A backorder can be defined as an order that appears out of stock when a customer visits an online store's product page but is promised to ship once the item is available with the retailer. It is a process to allow your customer to shop products even when you have limited stock available in hand.
Allowing a backorder item means the buyer can order for the thing now and receive it later when the product is available with the company. When an order contains multiple items, and any object is a backordered item, the latter can't be packed and shipped given the lack of inventory currently. However, the other items in the order can be split and sent to the end customer.
Most people often tend to confuse between the two terms – backorder and out-of-stock. Just to clear all your doubts, out of stock means that a product is not available with the retailer as of now, and the retailer cannot provide a date of resupply of that product. On the other hand, a backorder item promises a date of resupply to customers.
To make it easier for you to understand, it's the difference between 'This item is currently unavailable' and 'This item will be shipped in the next ten days.' There is hope in a backorder item, whereas this is not the case without stock products.
Causes of Backorders and how to Deal with them
Multiple reasons urge eCommerce businesses to declare an item as a backorder. Here are a few of the most common reasons that lead to the backorder of a product-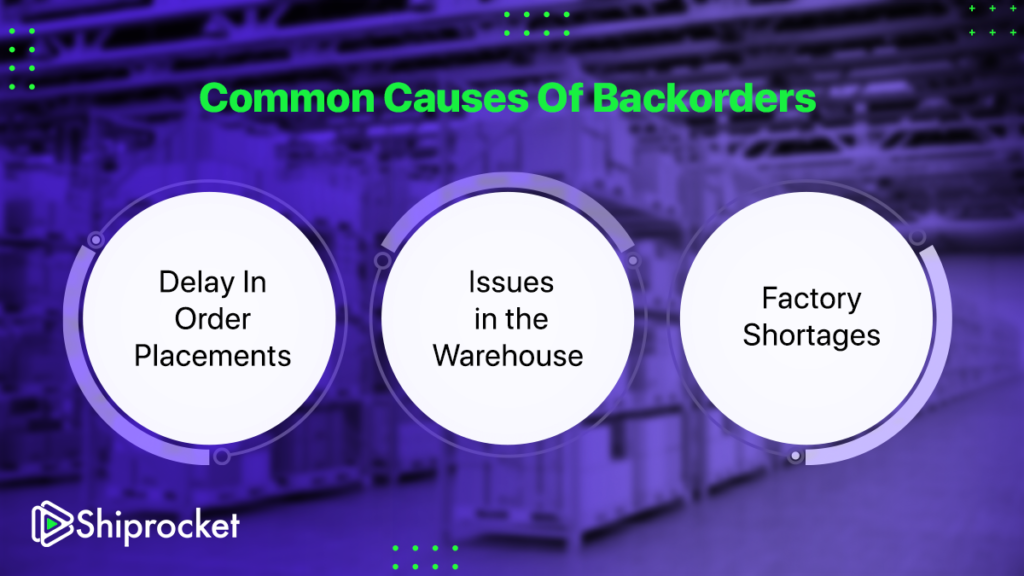 Delay in Placing an Order
Most businesses take a data-driven approach when ordering inventory from the supplier or manufacturer. However, there are many where the reordering process happens manually. A dedicated person or team manually reviews the order before a purchase order is sent and makes the final call about whether the company needs to replenish its stock.
Sometimes, they decide no replenishment is necessary, only to experience an influx in orders. Since they haven't put in an order, their upstream supply chain partner may not have replenished either.
As a result, the company must put these customer orders on backorder.
How To Deal with this Cause
Use a data-driven approach to safety stock and re-ordering inventory rather than following a manual or an intuitive inventory management strategy.
Discrepancies in the Warehouse Management System
Insufficient data leads to bad decision making. Inaccurate inventory data is a massive issue for many businesses. Their WMS or inventory management system tells them they have enough stock in their system to last through another reorder cycle.
Things are fine until they check their physical inventory and see that their system's numbers are way off. This often happens because the WMS doesn't correctly sync its inventory with other data sources, including point-of-sale systems (e.g., in-store, online, mobile app).
How To Deal with this Cause
Conduct physical inventory counts and compare them against your inventory system data. You should keep doing this until you've identified the sources of error. The goal is to get an inventory accuracy rate between 95% and 100%.
The exact inventory accuracy number you're aiming for depends on which type of business you're in. Some companies can afford stock-outs, while others (like the food and beverage industry) have little room to afford backorder costs.
Factory Shortages
This is a backorder cause over which downstream partners have little control. In this case, the manufacturer that supplies distributors, wholesalers, and retailers can't fulfill orders. This could be because the manufacturers aren't producing materials, or perhaps they're having trouble getting the raw materials they need.
How To Deal with this Cause
This is where information sharing between supply chain partners is essential. If certain weather events, seasonal influences, or other external factors impact a manufacturer's production or supply, they should share this with downstream partners. Then, downstream partners can plan accordingly.
How to Retain Customers When you have Backorders
Customers can leave your online store and navigate to a competitor's website faster than if they were window shopping at brick-and-mortar shops. When they come across something they don't like, they will abandon their cart within seconds. You don't want that to happen, right? So, here are a few steps you must follow to retain customers even when you have backorder items-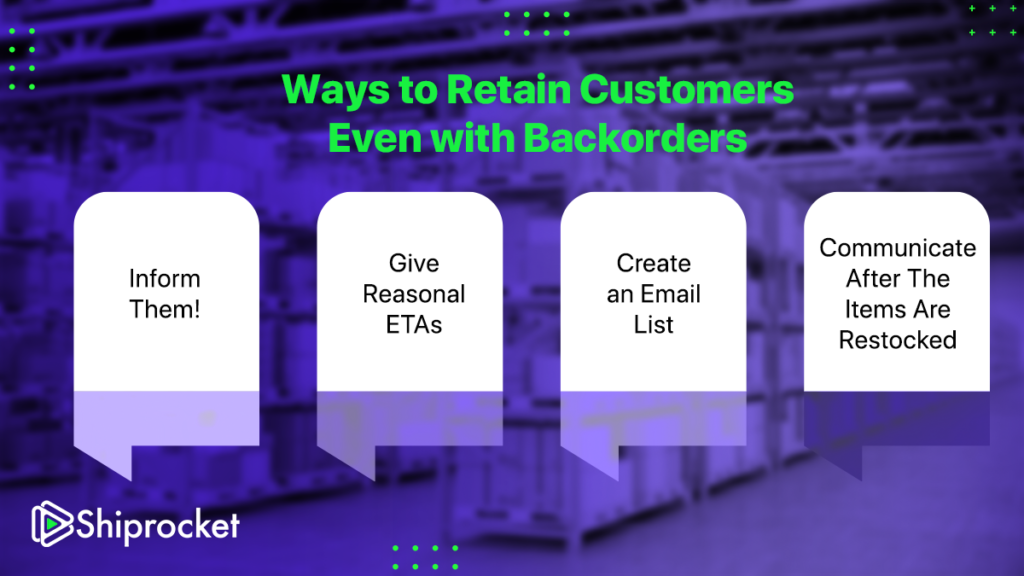 Inform Buyers
Notify shoppers that there is not only a stockout but also provide the date you expect the inventory to become available again. Communication is critical, and the product page is the place to do it. Don't let customers keep shopping on your site only to find they can't buy it when attempting to check out.
Give Reasonable ETAs
Post an estimated time of arrival for your products, so customers aren't left in the dark.
Create an Email List
Collect email addresses on the product page for those who want to be notified once the product is back in stock. This is a tremendous opportunity to build excitement and create a sense of urgency once the product is available again.
Communicate once Products are Restocked
The most important part of having an email list is to send them the right message. Email any interested shoppers once the stock has arrived and you've fulfilled any back ordered orders for customers who have already paid.
Opening a backorder means higher sales and anxious customers. After all, you're asking your customers to pay for a product in advance, so naturally, they'll be worried, and they will be asking for constant updates.
If you promise them you'll start shipping on an X date, every customer with their products on backorder will be expecting to receive shipping notifications on that date. So a good rule of thumb is to keep your customers in the loop. If there's a delay, tell your customers before complaints start pouring in.
With a reliable inventory tracking system, you can easily manage backorders to ensure your customers aren't left waiting long.
Calculate Your Shipping Costs Now