Most Popular & Free WooCommerce Themes For Your eCommerce Store
Woocommerce has gained immense popularity and recognition in recent years. It is one of the best eCommerce systems that offer all basic and advanced features. Actually, WooCommerce is a type of WordPress plugin that converts WordPress into an online shopping store.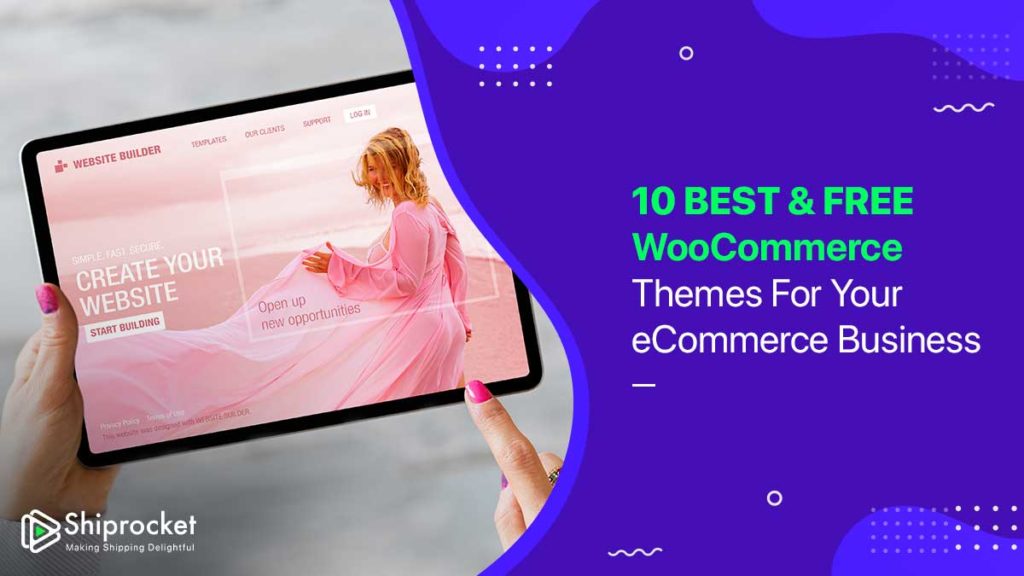 It has a flexible and intuitive interface with some power-packed features. It's easy to use for online retailers, Woocommerce themes let anyone open an e-commerce store within seconds. Let us dig deep into the best WooCommerce themes of 2023 and avail the benefits of these WordPress themes for free:
10 Best WooCommerce Themes For Online Stores in 2023
Leto
Planning to launch your first online store? It can be overwhelming especially if your budget is tight. To get your online store up and running, you'll need to implement a simple WooCommerce theme with basic features. Leto could be an ideal choice.
This is one of the best WooCommerce themes to use for your online store. It comes with multiple niches and is suitable to use for almost any kind of online store. With the Leto WooCommerce theme, it's easy to customize your store design, thanks to its built-in widgets and an extensive collection of Google Fonts. It also offers the Customizer to change colors, adjust font sizes, and more.
You can impress your visitors, with Leto's impressive header feature that you can use to showcase an image or a video. The WooCommerce WordPress theme is also good to use for translation and allows you to reach your audience in their native language. Moreover, if you're looking for a free and best WooCommerce theme for your online store with a simple layout, Leto will help you get the job done.
Jayla
If you're searching for a flexible WooCommerce WordPress theme, consider Jayla for your online store. This theme offers a multi-concept approach to employ anything in your store from clothing products to furniture, glasses, jewelry, cosmetics, and more that need in your store, Jayla covers all of it. In addition to that, you can also customize and style this WooCommerce theme quickly and effortlessly. It comes with a drag and drop feature for customization.
All in all, Jayla offers an array of pre-defined page layouts that will go well with your online store. Just design an impactful eCommerce website in no time with all sorts of features, like slider revolution, parallax effect, mega menu, header/footer builder, product quick view. So, just start-off your online store in style with the Jayla WooCommerce theme.
eStore
The eStore WooCommerce theme can turn your website into a stunning store with a visually appealing layout and striking features. This is one of the best WooCommerce themes for online stores, as it offers everything that you'd need for your online store.
It gives you easy access to adding ads to your store, contact details, and multiple slots to promote the different deals and offers. This makes this WooCommerce theme an ideal choice for anyone looking to maximize their reach through their website. You can even personalize your store according to the need of customers in different countries. The eStore theme also gives you the choice of choosing between different languages and currencies.
It comes with a search feature that allows you to review purchased products and product pages, as well as details you need to include on the website. No doubt, the eStore WooCommerce theme is a perfect choice for eCommerce businesses and it's free.
Hanger
The Hanger is the free and best WooCommerce theme with a great collection of features and functions. It offers a vast array of features when it comes to building your first online shop. It gives you all sorts of advantages in form of pre-defined content, home pages, product pages, contact sections, easy checkout prcesss, and a blog system. It is all in one place.
And you don't need an experienced coder to customize and work with The Hanger. You will only need to search for a striking theme. The Hanger, after all, offers all the necessary features at your service.
Shopstar
The Shopstar WooCommerce theme gives your online store maximum style and responsiveness. ShopStar themes offer plenty of white space to design your online store to showcase your products and the most important parts of your company. It is one of the best WooCommerce themes for a fashion blogging website or clothing store because you can highlight your fashion products in the large section by using the showcase button.
You'll also find that the Shopstar WooCommerce theme integrates well with SiteOrigin's Page Builder. This allows you to use certain page elements on your website without any heavy coding. It also integrates well with the Contact Form 7 plugin that allows you to insert a contact form to keep in touch with your customers.
The Shopstar WooCommerce theme is ready to use and you can add and organize products within seconds for your customers to find. It also comes with social media buttons that are great for guiding people around your website. Along with all these features, it comes with a full-width template, translation tools, and ready-to-start themes for your online store.
Astra
For e-commerce websites, fast loading page times are imperative for success. Astra is a lightweight WooCommerce theme that offers fast loading speed to help you boost sales. This is why Astra should be on your list of the best WooCommerce themes for online stores.
This theme is also best to use for its super-fast speed, features, and performance. It gives you various pre-built formats, which you can customize without writing a single line of code. With Astra, you can also use tools, such as Beaver Builder, Elementor, Divi, to build your online store in a more efficient manner.
You can create and customize product catalogs and display them in responsive grid layouts. So if you want to take your online store to the next level of success, you have the option of Astra WooCommerce theme to maximize your marketing efforts.
Woostify
Woostify comes loaded with features, which could potentially offer you a clean and intuitive theme that is lightweight and fully optimized to work with the WooCommerce WordPress plugin.
This theme comes packed with multiple themes and layouts for your product page and cart options. You can easily create a perfect online store with several headers, videos, images, product swatches, and more.
Woostify also provides wishlist plugins to add to your online store and keep your customers to store their favorite products back in stock. This theme will also boost your marketing efforts because of its highest coding standards. Overall, if you need a lightweight WooCommerce theme, Woostify could be ideal for you. It's an excellent theme for any online store.
VW eCommerce Store
The VW Ecommerce Store is also one of the best WooCommerce themes for online stores. It gives a clean and minimal design to build online stores especially the fashion, makeup, and beauty stores, and more. The homepage design it offers makes it easy to display your most popular products. Store owners can easily add newsletters, coupons, and sign-up forms to attract potential buyers.
The theme is easy to customize your color options, change the fonts, and add various widgets to your home page and product pages. In addition to that, the theme is optimized for marketing and SEO and it also allows you to create a multilingual store.
Shopping Cart
The Shopping Cart WooCommerce theme is popular for its beautiful and elegant layouts that display your products in the center and front. It also comes with a search bar so that your customers can easily search for products. You can also add widgets to your website for specific product categories. Another best feature of this WooCommerce theme is its ability to present your brand names in the form of a carousel and customization features.
The theme offers all the necessary pages for your online store. The theme is also responsive and supports multilingual content. Moreover, it supports the plugins to easily add even more functionality to your store.
Easy Store
The Easy Store is a popular and best WooCommerce theme that features different built-in layouts built for online fashion, sports, and general stores. The layout it offers can be used to display new arrivals, popular products, and product categories on sidebar menus that make it easy to link to all the shop categories for your visitors. With the Easy Store WooCommerce theme, your customers can easily add the product to their cart straight from the homepage or create wishlists.
This WooCommerce theme offers customization with its powerful theme options panel. You can also set a color scheme so that your store will look great on high-resolution screens.
Final Words
WooCommerce themes come with features that you really need to build your online store with more versatile and unique features. The most important feature to look for in WooCommerce is the quality of its features, customization, and integration. The best way to assess the quality of a WooCommerce theme is to listen to what customers have to say.
Calculate Your Shipping Costs Now