5 eCommerce Mistakes to Avoid in the Year 2023
Are you looking to start an eCommerce website? Trying to revamp one that you've already established? There are a few basic things that every entrepreneur needs to consider before setting up an e-commerce site.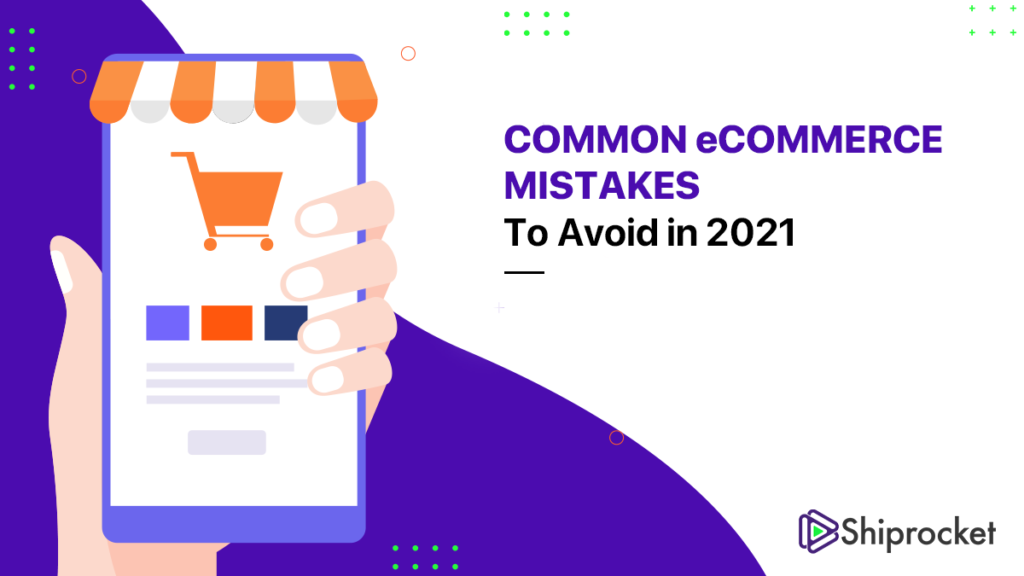 It is a common misconception that setting up an online eCommerce store is a simple task and leads to quick results. The real challenge is to create the right website that highlights the product and pulls in the right audience. The second challenge is to ensure that all logistical and fulfillment issues are anticipated and planned for.
So, if you don't want your new eCommerce business to suffer in the competitive space, it's necessary to understand what common eCommerce mistakes to avoid in the coming year and how they can be avoided.
eCommerce Mistakes To Avoid In the Year 2023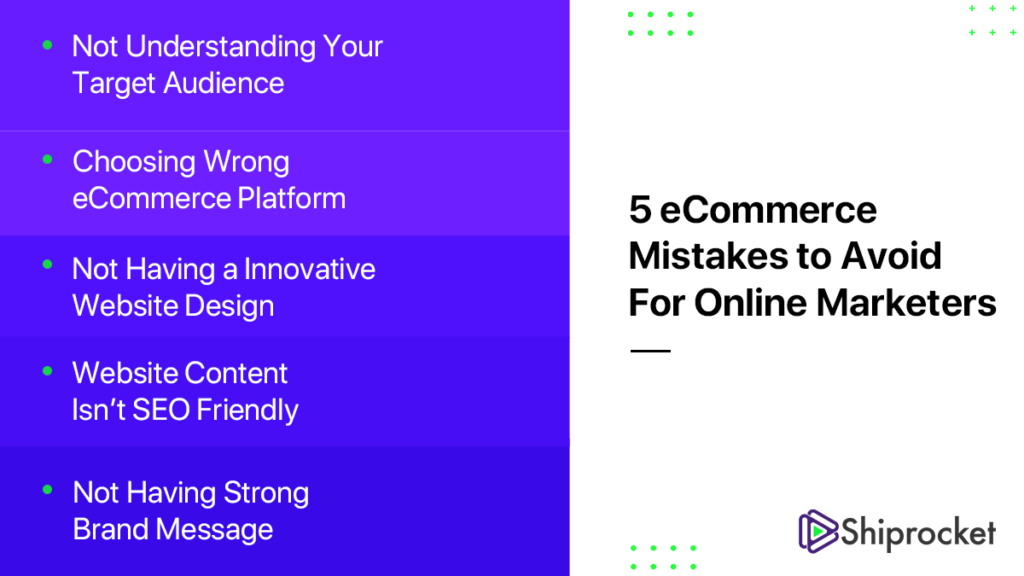 Not Understanding Your Target Audience
Not understanding your target audience is one of the biggest mistakes a business owner can make. You have a perfect plan to market your products, and you also have an awesome website. But if you don't know who is your target audience, then it's not enough to have a website and product. Understanding your target audience is important and will help you entice them to visit your store again and again.
To avoid this eCommerce mistake, you'll need to ensure that your audience actually needs your product, you understand their language, know about their pain points, know what type of content engages them online, address their problems related to your products.
By following these points, you'll be better positioned to communicate with your audience and get your products in front of them.
Choosing the Wrong eCommerce Platform
One of the biggest eCommerce mistakes is choosing the wrong eCommerce platform for your business. It can truly make or break your business. An eCommerce platform not only helps in showcasing your products to customers, but it also plays a role in how you attract new visitors to your website over time. To know whether you have chosen the right eCommerce platform, you'll need to consider a variety of factors, such as what tools your platform needs for multichannel integration, your budget, template design, customer experience, and your marketing plan.
Choosing the wrong eCommerce platform may limit your business growth. Never choose the one that doesn't integrate with your existing systems, or doesn't offer the level of customization that you want. This eCommerce mistake can lead to a range of issues in your business like reduction in website traffic, revenue loss, lower conversion rate, security issues, and errors in website design. This critical eCommerce mistake could result in having more issues and you'd have to invest even more time, money, and efforts into updating your platform or moving it to a different one.
So always make sure that you take your time while choosing the right eCommerce platform for your online store.
Not Having an Innovative Website Design
There is no doubt that choosing the right eCommerce platform lays the foundation for your website's success. The next eCommerce mistake to avoid in the year 2023 is not utilizing an innovative website design for future growth.
Don't make this mistake if you're thinking of expanding your eCommerce business into new markets. Make sure you include complex features on your website to accommodate a wider range of products.
Your eCommerce website should look good and maintain collaboration between design, functionality, and performance. This will also help you to convert users into paying customers. If your site design or navigation is confusing, and it is hard to find the right content or certain features, users will get frustrated and go somewhere else.
To avoid this mistake, work with experts to optimize your website design for smooth navigation so that you can give your users an enjoyable experience. This will help your users find the information that they are looking for faster and that also means more sales for you.
Your Website Content Isn't Seo-Friendly
If your eCommerce website content isn't SEO-friendly, then it may affect your business that relies on organic traffic in order to attract customers. Make sure you avoid this eCommerce mistake and add quality content on your website with both the user and SEO in mind. Many businesses make this eCommerce mistake of not adding quality content on their website. Adding each piece of SEO friendly content is an opportunity to attract more traffic and convert website visitors into customers.
You need to offer content that is optimized and entices users to read your content and buy your products. Update content for all the sections of your website from the homepage to your product descriptions, you need to offer content. that is on point for your target audience.
Whether you are doing it yourself or taking help from an agency, it's worth investing in content that's SEO-friendly.
Not Having a Strong Brand Message
A brand message builds your business identity. A brand may be known for its products, but a strong brand message creates a brand identity that is recognized across the world. Never make this eCommerce mistake of thinking that your products are good enough to sell themselves. In order to build a successful business, you will need to work on brand awareness. Cultivating a strong brand message that will be relatable to your audience helps increase your brand awareness.
You should have an idea of what your audience is looking for, what they prefer to shop for, and what type of language they speak. It's just a matter of being consistent in your messaging. A brand message should be of high-quality, trustworthy, attractive, and relatable to your customers.
Having a strong brand message increases your business potential for a widespread audience.
Final Thoughts
These are 5 eCommerce mistakes which you need to avoid in 2023 in order to establish your eCommerce business. It is important that you write great content on your website and add high-quality images. This will help your potential customers understand your offerings in detail and make quick purchase decisions.
Also, focus on your brand messaging, website design, and target audience. If you don't, your customers might leave your website. If you don't want that to happen, follow these above mentioned recommendations.
If you know of any other eCommerce mistakes to avoid in the coming year, please feel free to share your thoughts in the comments below.
Calculate Your Shipping Costs Now