How Can You Adopt Composable Commerce For Your Business
Today digitization of eCommerce continues in both B2B and B2C. We are seeing changes in customer behaviors and the way they research for a product or service and consider a brand. According to a study, 85% of customers research a product or service online before they go to a physical store. Digital commerce is now much more than a sales platform.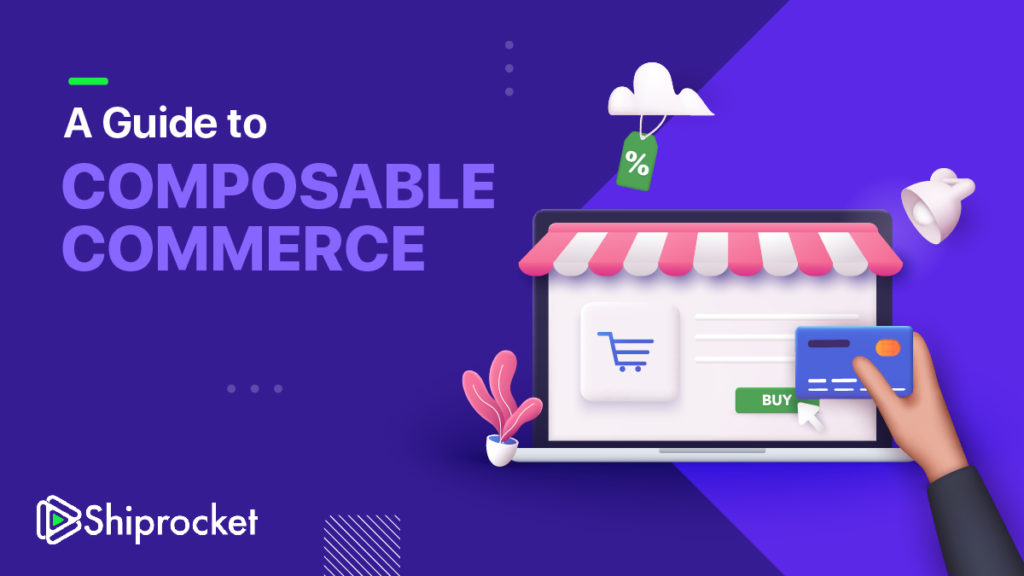 Digital commerce platforms are experiencing ongoing growth and modularization. The industry leaders responsible for business growth should prepare for a "composable commerce" approach using future-proof digital commerce experiences.
Key Features of Composable Commerce
Modular System
Modular commerce is the system's main component system that consists of technology, CRM tools, etc. that can be deployed, and interchanged in your system.
Open Ecosystem
The open approach model allows eCommerce applications to be seamlessly integrated with all other systems in your business.
Flexible Commerce
With a flexible commerce model, you can create unique digital experiences that your customers want.
Business-Centric Design
This business-centric model is to manage the changing business requirements by lowering cost and implementing innovative features.
What are the Advantages of Adopting Composable Commerce?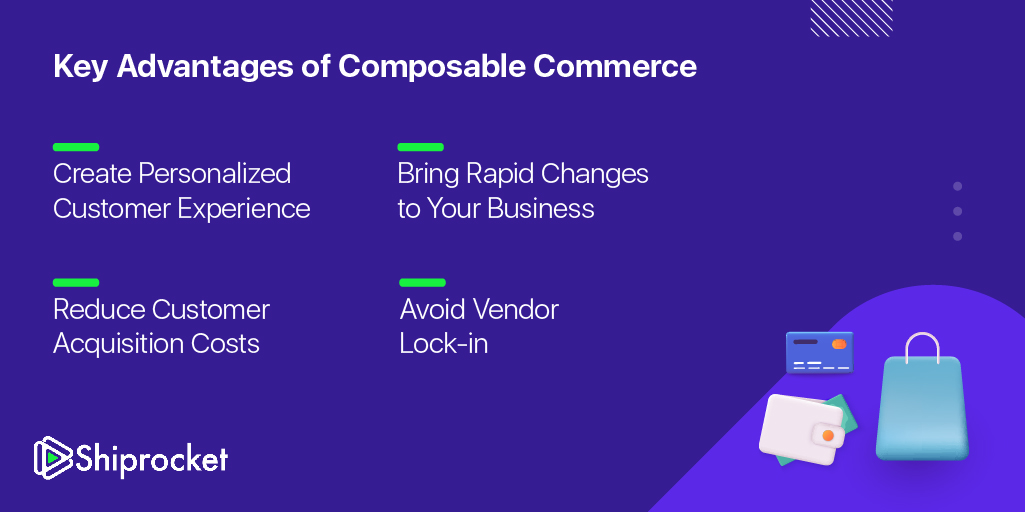 As digital commerce continues to evolve and retail stores find new ways to innovate their businesses according to changing customer expectations. Particularly after COVID-pandemic most brick-and-mortar shut-downs in 2020-21. Nowadays online commerce competition is higher than ever because of the changing customers' expectations, challenges, and growing expenses.
The composable commerce approach offers businesses the agility they need to deliver satisfying experiences so that they can differentiate themselves from a growing number of competitors.
Help Create Your Own Personalized Customer Experiences
Digital eCommerce has expanded from "online selling" to social channels, marketplaces, technology devices, and more. Customers interact with a brand before buying a product that's a very different and dynamic approach.
Today, branding is happening from social channels; they're a direct medium for selling and brand promotion. This is happening because of engaging content that requires a level of flexibility that is just necessary for eCommerce nowadays. But providing that additional level of personalization can pay off to brands that offer a unique shopping experience.
Bring Rapid Changes to Your Business Needs
In the year 2020, shoppers' lives were upended by COVID-19. But today businesses are more prepared to adjust to changing needs and expectations of customers. Online stores that could bring rapid changes to the needed services like buy online, pick up in-store (BOPIS) or curbside pickup were better able to reduce the pains of the pandemic. In fact, the use of BOPIS increased in May 2020 due to the pandemic.
A modular composable approach allows you to address the area of business capabilities without the risk of impacting other business operations in your ecosystem.
Reduce Customer Acquisition Costs
Increasing the use of advertising platforms is the main factor contributing to a rise in customer acquisition costs. Relying on paid ads simply isn't the right solution.
That's why many e-commerce brands have shifted to a modular approach which includes the use of innovative content, experience-led commerce, and technology stack. Most businesses identified two strategies as the most helpful to managing or reducing customer acquisition costs: creating quality content for their own channels and improving their overall digital experience.
No Vendor Lock-in
Vendor lock-in is a situation that defines the cost of switching to a different vendor that is so high that the customer essentially can't afford it with the vendor. Due to financial pressures in the business operations, the customer is "locked-in" to use an inferior product or service. Plus, the use of monolithic software in digital commerce reduces flexibility. The composable commerce approach allows businesses to eliminate vendor lock-in risks with the ability to swap in/out components when needed and rapidly respond to changing business requirements.
How to Adopt a Composable Commerce Solution?
Composable Commerce is a modern approach that is built for eCommerce teams for the rapid deployment and continuous optimization of e-commerce experiences. As businesses increasingly move towards headless eCommerce and microservices-based technology to create innovative eCommerce experiences. MACH architecture (Microservices, API-First, Cloud-Native, Headless) is an important part of composable commerce that allows implementing Jamstack, microservices, API-first, serverless, and headless technologies.
You can also create components that solve your business needs. With composable commerce, businesses can select the best available applications with certain capabilities based on business requirements. This will give you effective and personalized experiences to improve your customer base and revenue growth.
Wrapping Up
Ultimately, the role of composable commerce is giving retailers the technology and tools to make rapid changes to their business operations and growth. At this point, if you are thinking of adopting a composable commerce strategy and implementing headless and MACH technologies, you are already on the path to composable commerce.
This will further accelerate business innovation. In turn, will reduce the implementation costs.
Calculate Your Shipping Costs Now