How To Double Your Conversions With Online Visual Merchandising
Visual merchandising has always been an integral part of brick-and-mortar stores. When you walk into a physical store, you notice enticing and well-organized displays to attract customers. These are arranged strategically to help the products sell themselves.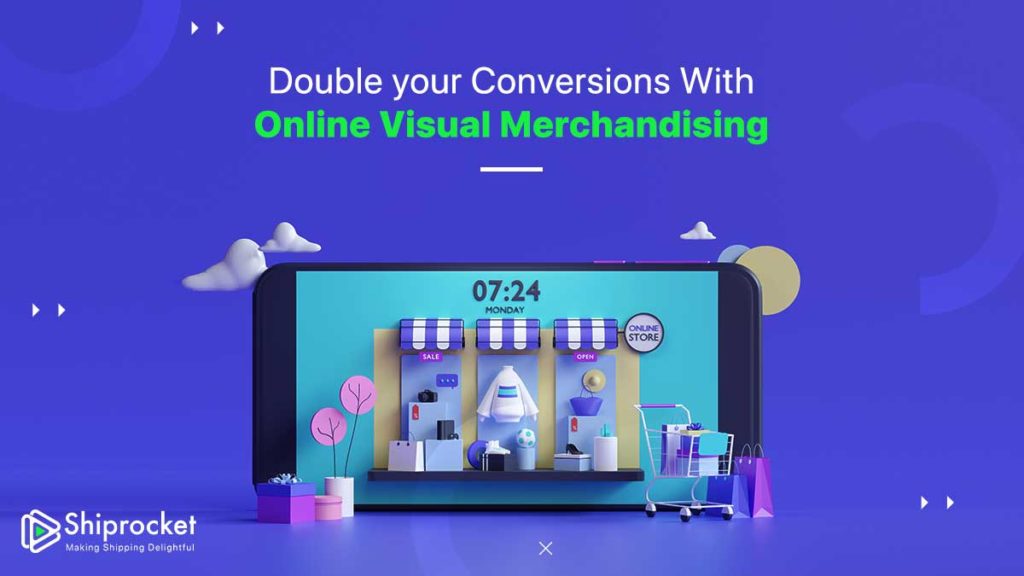 Essentially, the retail space, from where you sell your products, is the most productive salesperson in itself. But in the eCommerce world, your website is everything. It is the place where your audience goes (users land) to interact with the products/services and make a purchase. Thus, visual merchandising plays a critical role in an eCommerce store as well.
Visual merchandising is the physical store's layout – how the products are placed, organized, and stored. It helps in improving the customer experience, engaging them, and communicating with them efficiently. In an online business, online merchandising helps in:
Conversions
User engagement
Store navigation
Ease of use
Average order value
Repeat visits from the customers
What Is Online Visual Merchandising?
Visual merchandising is how online retailers attract customers to their websites or mobile applications. For a physical store, it goes far to all the senses than just vision. The following are a few examples of how physical stores involve all the senses of customers:
Smell: many physical stores use room fresheners to give a pleasant welcome to their customers.
Feel: the feel or touch goes beyond just putting the products on display. It's important to provide the customers with product demos or let them try clothes to help them experience the product.
Sound: friendly staff and soft-soothing music playing in the background is a way of creating the right energy. Some stores want to exhibit high-energy while some opt for a calming and relaxed feel. They choose music and volume according to the mood they want to set.
Now for online stores, they can also provide visual treats to their customers via their sales channel, i.e., the website. Many brands these days are opting for an omnichannel strategy where they are selling through their site, social media channels, Amazon, Flipkart, etc. Therefore, there is a need to differentiate each selling channel. Given that you don't have much control over the channels that you don't own, you can focus on customer engagement and conversions on your channel – your website.
Customers are also looking for a great experience from web stores and this is where visual merchandising comes into the picture.
Benefits of Visual Merchandising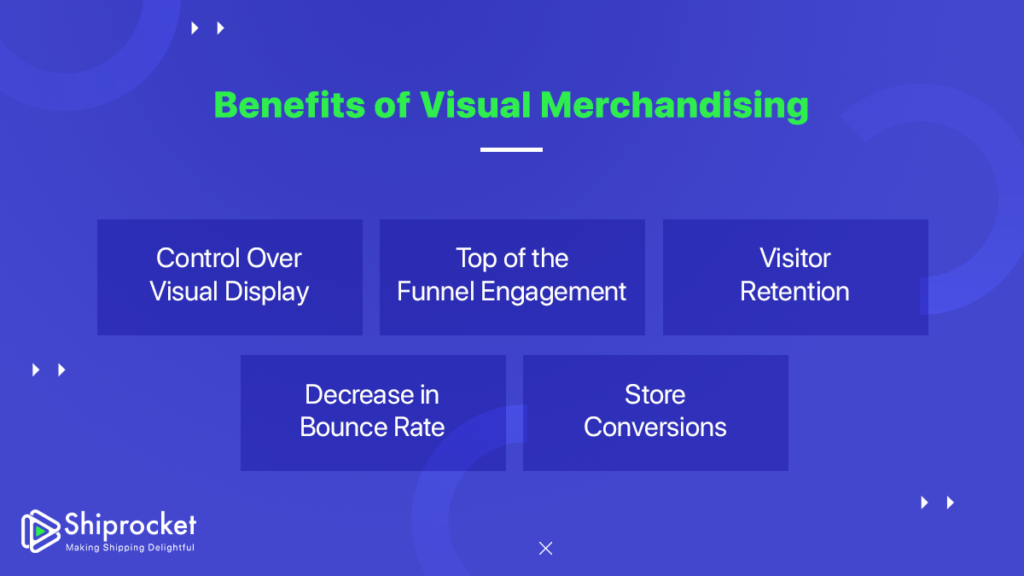 Control Over Visual Display
Online users are like guests coming to your house. When guests arrive, you keep your home tidy and decorate it to ensure it looks good, visually appealing, and inviting. It should make your guests feel welcomed. Similar is the case with online visual merchandising – it attracts the users and welcomes them to your website.
With visual merchandising, you get control over the user experience. You can customize the information/formatting of a page according to your customers. It will help bring maximum user engagement, generate revenue, and improve the performance of the store.
Top of the Funnel Engagement
Online retailers spend a lot on social media marketing, SEM, and other such sources to bring more traffic to the website. Their main objective to increase the top of the funnel engagement but the visitors are not necessarily engaged. Without any engagement, they may leave the website immediately – increasing the bounce rate. Besides, the customer acquisition cost is also increased.
To engage customers, you need to provide them something interesting within a few seconds of them landing on your website. Then you can lead them to view your products. Increasing product views is the main goal of visual merchandising and it can be done by placing all the elements in the right place.
Visitor Retention
Online stores and websites generally have just a few seconds to grab the attention of the visitors. Your online store is competing with other online stores or mobile applications for the visitors' time and attention. The chances are the visitors won't buy anything on their first visit. You can attract them to make them visit again to make a purchase.
Each product review by the visitor points out that he is likely to visit again to make a purchase.
Decreases Bounce Rate
Online visual merchandising can help in preventing the visitors from exiting the website immediately after landing, and thus, decreasing the bounce rate. As visitors explore more, the product discoverability increases, and the bounce rate decreases.
Store Conversions
Online merchandising is not only related to improving the customer experience. It is performed to increase sales and revenue as well. With analytics, you can analyze customer data to understand their patterns. With this information, you can predict their behavior and improve the chances of store conversions.
Tips To Use Online Merchandising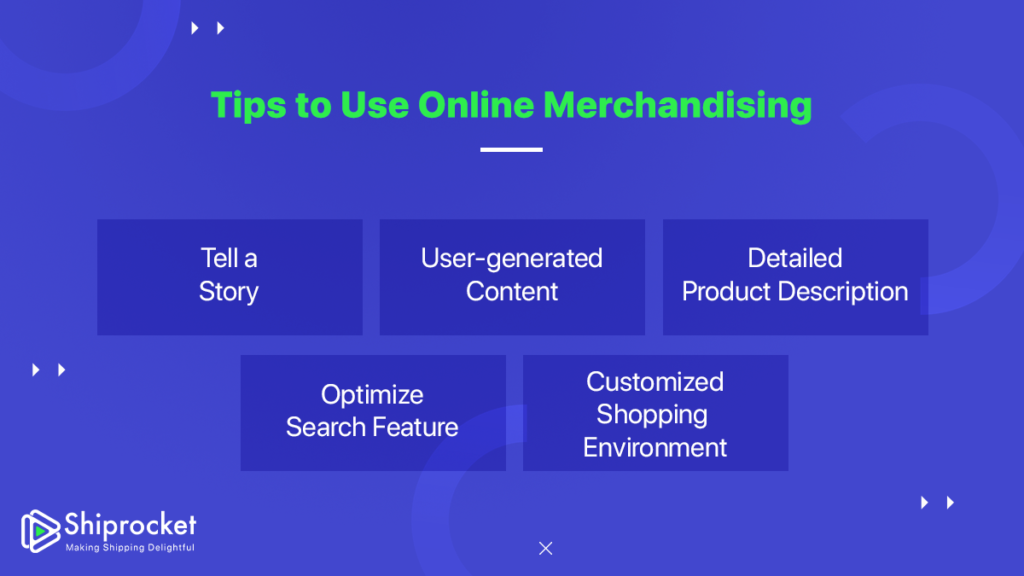 The following online merchandising practices can help you with conversions:
Tell a Story
With your online merchandising plan, you should focus on telling the customers your brand's story. You can create a browsing experience for them that encourages them to impulse buy. Entice them further to buy multiple products. Use quotes and visual elements to make your story-telling interesting and seamless.
Use-Generated Content
Tell your brand story with the help of user-generated content. With its help, you can make your customers believe in the authenticity of your brand and products. Customers tend to believe more in what other customers say than what you say. It helps in building customer loyalty. User-generated content also provides the users with first-hand user experience about your product.
Detailed Product Descriptions
Give every detail about the product to your customers with detailed and explanatory product descriptions. It should include all the details that your customers might want to know. Besides, also paint a picture of how your products will benefit them. This means, clearly outline the features, size, and shape of the product. And also highlight how the product can be used – outline its usage in real life.
Optimize Search Feature
One of the advantages of eCommerce merchandising is that it gives shoppers the power to sort products on the web. The shoppers can sort products by colour, size, shape, and specific feature that they otherwise could not do in a physical store. Also, online stores that sell hundreds of brands and a huge inventory make it easy to scan and sort products. Also, many customers start by searching for their favourite products in the search bar. So, keep the product pages up-to-date with relevant keywords.
Customized Shopping Environment
With online visual merchandising, you can also tailor the experience for the customers. You can prompt your customers to provide their shopping preferences to create a customized shopping experience for them. Accordingly, you can provide relevant products and thereby, increase the chances of conversion.
Visual merchandising is not a tool to be only used by physical stores. It can be really helpful for online stores as well that need to offer a personalized and engaging experience to their customers. The goal is to move the customers from the landing page to the checkout page and help them successfully make a purchase as quickly and effortlessly as possible – meanwhile, keeping them engaged as well.
Calculate Your Shipping Costs Now