Introducing Early COD – Maintain An Uninterrupted Cash Flow For Your eCommerce Business
For any eCommerce business, maintaining a steady cash flow can be difficult. Especially in a country like India, where over 45% of the population still prefers COD as the desired payment method. You often find yourself caught up between delayed COD remittance and an improper inventory as there is a gap between the inflow of cash and forecast. This situation often leads to losses because, more often than not, you lack the funds to purchase fresh inventory or you over purchase and cannot sell enough. To avoid these issues and thrive with COD buyers, Shiprocket has introduced its Early COD feature. Read on to know more about it and how it can benefit your business.
What Is Early Cash On Delivery (Early COD)?
Shiprocket's Early COD is a plan that allows you to receive your COD remittance within 2 days of order delivery.
Typically, with Shiprocket, you receive your COD remittance once the same has been processed to us by the courier company. This can range from a period of 7-9 days.
But with Early COD activated, you can receive your remittance the next day, after 1 day or after 2 days of order delivery. This means you skip the waiting period of one week and avail the benefits of uninterrupted cash flow by just paying a minimal fee to Shiprocket.
How Does Early COD Work?
First, you need to activate Early COD from your Shiprocket panel and select your desired plan. Once you do so, you get enrolled in the next Early COD remittance cycle. Further, when your orders are delivered successfully, you are paid the remittance according to your desired plan.
How To Activate Early COD?
To activate Early COD on your Shiprocket panel, go to :
Billing → COD Remittance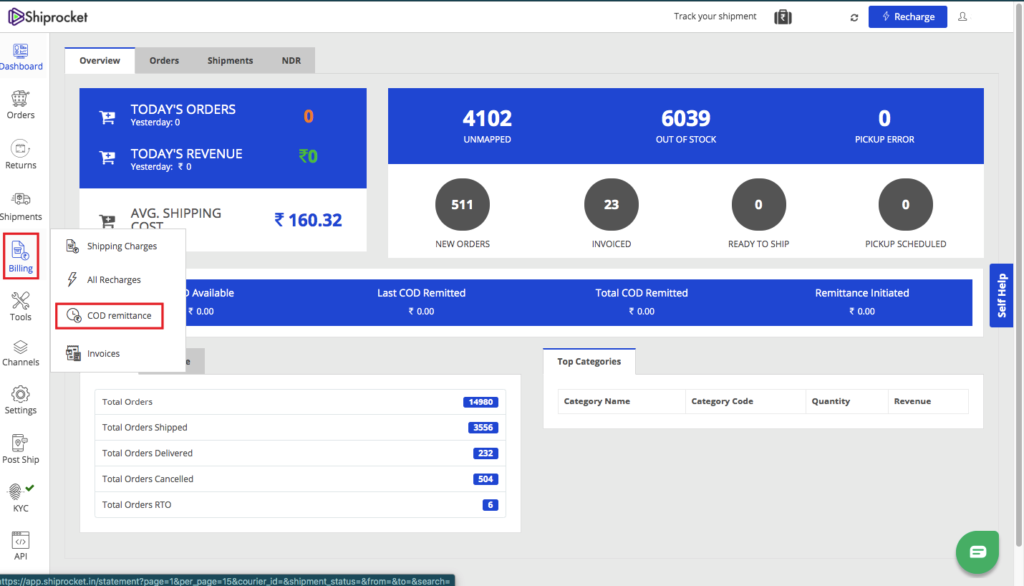 In the COD Remittance screen, go to the 'Early COD' section in the top right corner of the screen.

Post this, you will be shown a pop up displaying the various plans that are offered in Early COD service.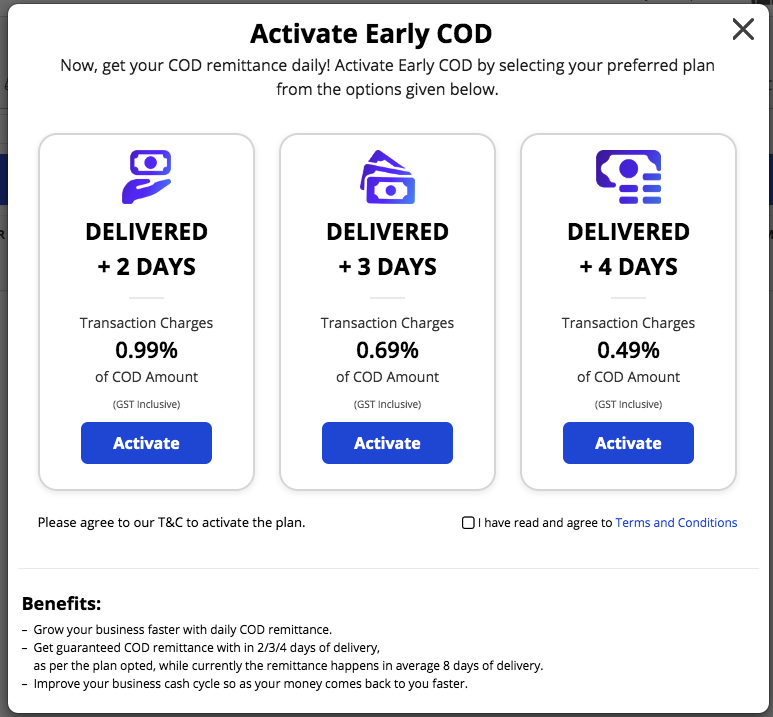 Select your desired plan, agree to the terms and conditions, and activate your Early COD service.
Plans Offered In Early COD
Currently, Shiprocket offers 3 Early COD plans(all these are inclusive of GST) :
Delivery + 2 days
In this plan, you receive your COD amount 2 days after the shipment is delivered to your buyer
Transaction charges are 0.99% of COD amount
Delivery + 3 days
In this plan, you receive your COD amount 3 days after the shipment is delivered to your buyer
Transaction charges are 0.69% of COD amount
Delivery + 4 days
In this plan, you receive your COD amount 4 days after the shipment is delivered to your buyer
Transaction charges are 0.49% of COD amount
Benefits Of Early COD
Uninterrupted Cash Flow
With Early COD, you get an uninterrupted cash flow that helps you maintain a continuous cash cycle and plan your business better.
Scope For Further Investment
Once your cash cycle becomes stable, you get a chance to invest in various other ventures like marketing, technology, warehouse management, and predictive analytics. This allows you to prepare beforehand for busy seasons like the festive period.
Sorted Inventory Management
Steady cash flow gives you a chance to analyze your sales trends accurately and planning for the future in a much more sorted manner. You can stock products accordingly and modify the quantities based on previous patterns and trends.
With stable cash flow and super fast remittance, you can quickly improve your operations and optimize your resources for a better output of your business. So, activate Early COD and enjoy a plethora of benefits for your business.
FAQs (Frequently Asked Questions)
What is early COD?
Early COD is a payout plan where an online seller receives COD remittance early, within 2 days.
What are early COD charges?
Early COD charges are the minimum charge that the online seller has to pay to get his COD remittance early.
Does Shiprocket offer early COD?
Yes, you can opt for early COD with Shiprocket.
What are the benefits of early COD?
With early COD, you have uninterrupted cash flow.
Calculate Your Shipping Costs Now