eCommerce Shipping and Delivery Challenges Faced During the Festive Season
The festive season is a huge deal in India. Like you would know, most individuals indulge in exchanging gifts and celebrating the merry times starting right from Navratri uptil New Year. Even though the festivities go around in India all year, this period between September to December sees the most hike in retail. Therefore, the sudden surge in demand brings about several challenges in the logistics and delivery space. Often, sellers cannot live up to the buyer's expectations and face a lot of backlashes. To overcome this problem, it is essential to identify the challenges to get over them with a practical solution.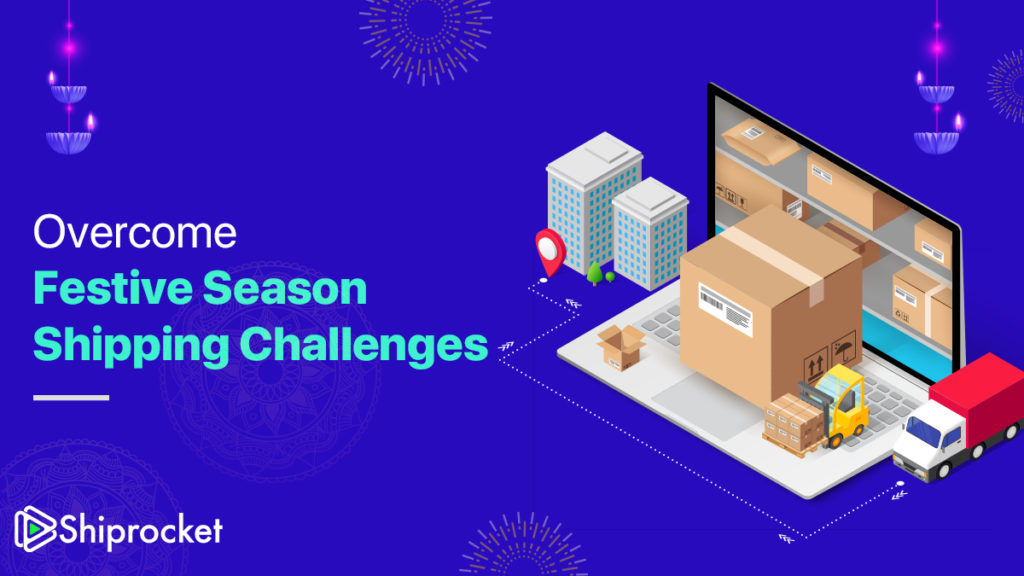 Here, we have compiled a list of challenges that eCommerce sellers face in shipping and delivering festive season orders. Let's dive into and get started.
Festive Season Demand
Management consulting firm ReedSeer has projected a gross merchandise value of $7 billion for the festive season and an 84% increase in growth from last year.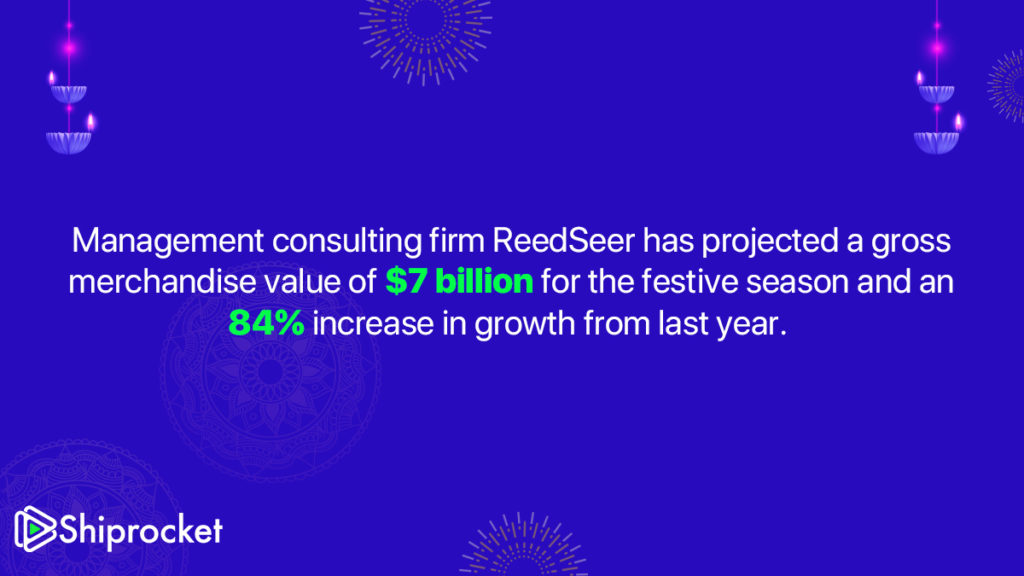 Even after the Covid-19 pandemic, eCommerce has seen positive growth as many new shoppers have shifted to eCommerce for their immediate purchases. As the demand for online shopping is high this year, you can expect a good turnout this year compared to previous years.
The demand categories have changed from luxury items to more work from home and home essentials like laptops, mobiles, etc.
A rise in eCommerce and digital penetration will eventually lead to a large dependency on organized logistics and reliable shipping options. Here are a few challenges that you might face during the festive season concerning shipping and delivery.
eCommerce Shipping & Delivery Challenges Faced During Festive Season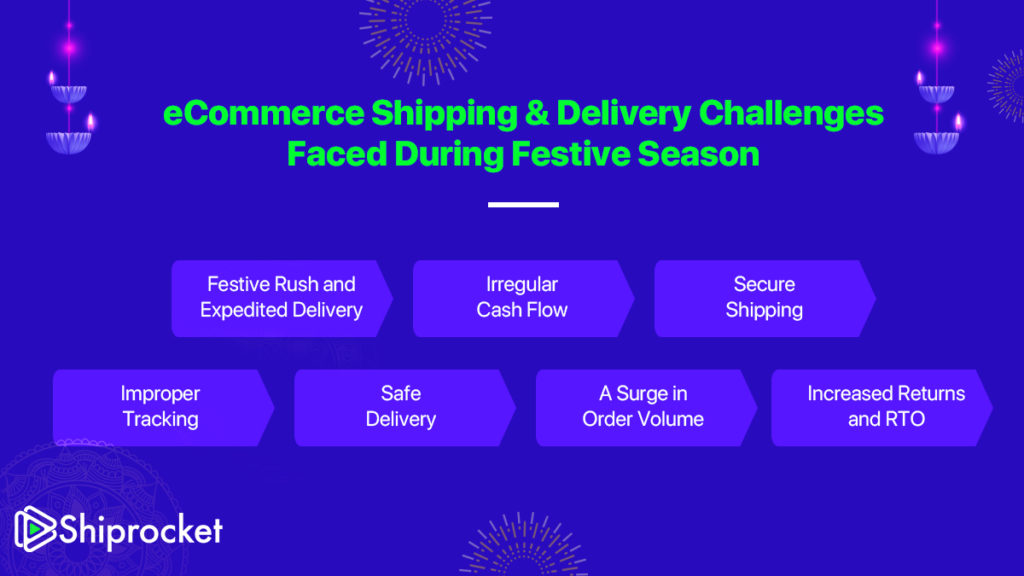 Festive Rush and Expedited Delivery
eCommerce sellers' significant challenge during the festive season is the rush hour and expedited delivery demands. There is a large chunk of buyers who want last-minute deliveries to cater to last-minute needs during this period. Therefore, not providing the same day or next day delivery can be a huge challenge and can lead to a loss of consumers.
Irregular Cash Flow
It can even get difficult to keep track of a regular cash flow with courier companies along with expedited delivery. Since India is mostly dependent on the cash on delivery payment mode, it can get difficult to track the remittance and maintain a steady cash flow during a high volume of orders. In such cases, you must get in touch with companies that provide you with one or two-day COD remittance so you can process your orders continuously.
Secure Shipping
Since many items ordered during the festive season are high-priced, it is essential that they reach the buyers without any damage or not lost on the way. As there are only a limited number of logistics players in the country, there is a chance your order might get lost due to the high delivery volume. So, you must make sure that you have insurance to take care of any damages or losses. As you even ship fragile items during these times, like glass items, ceramics, etc.you must tie-up with shipping aggregators that provide you with insurance for the products you ship.

Improper Tracking
Since the order volumes are large and customers expect delivery within no time, you must provide a proper real-time tracking experience to buyers. A significant roadblock can be the lack of granular tracking during this period as there is a considerable workload on courier companies. Sending out regular emails and SMS updates must always be carried out and automated to a great extent.
Safe Delivery
2020 has been an unfortunate year with many changing trends in the COVID-19 pandemic. Safe delivery and hygienic practices have come out. We have the utmost importance during this time. If orders are not delivered safely while following all social distancing and sanitary practices, it can be a significant challenge for your customers and your business. Try to follow the contactless delivery model to avoid any mishap and safely deliver products to your customers. It can be a challenge to educate a large workforce during a hectic period.
A Surge in Order Volume
Another major problem faced during the festive season is a surge in the order volume. Sellers see almost a 40% increase in order volume during this period as orders are flowing from all parts of the country. For this challenge, you must plan and store inventory across India, and different fulfillment centers do not have to worry about on-time delivery, order packaging, and processing. Due to this challenge, many sellers also miss out on many essential orders because they cannot keep track of their inventory and arrange for shipping on time.
Increased Returns and RTO
Since most deliveries during the festive season are time-sensitive, there is a high chance for increased return orders and non-deliveries. Therefore, you must be prepared to tackle these challenges of non-delivery and take action in minutes to avoid any further delays. You can avoid any returns if you store products closer to your customers and provide regular tracking updates via emails, SMS, and customized tracking pages.
A Practical Solution to These Challenges
A practical and intelligent solution to most of these challenges is to tie-up with a shipping solution like Shiprocket. It has several benefits like shipping insurance of up to Rs.5000 in case of damaged or lost goods, automated tracking updates in the form of email and SMS at every stage of delivery, and an Early COD program for one and two day COD remittance after order delivery.
Along with this, Shiprocket Fulfilment also helps you stock products in advance fulfillment centers across India in states like Mumbai, Delhi, Gurugram, Kolkata, and Bengaluru. This enables you to store products closer to your customers to reduce your delivery time and costs and improve customer satisfaction by a large margin during one of the most crucial retail months in India.
Conclusion
Shipping and logistics can be a significant challenge if not taken care of properly. Therefore, you must outsource these operations to experts to stay on top of your eCommerce game during the festive season demand. Suppose you ace the festive season and make a mark on your customers' minds during this period. In that case, there is a big chance that your customers will visit your store next year and during other festive opportunities too. Therefore, analyze the challenges your business faces so that you can overcome them with practical solutions. We wish you all the best and a happy festive season!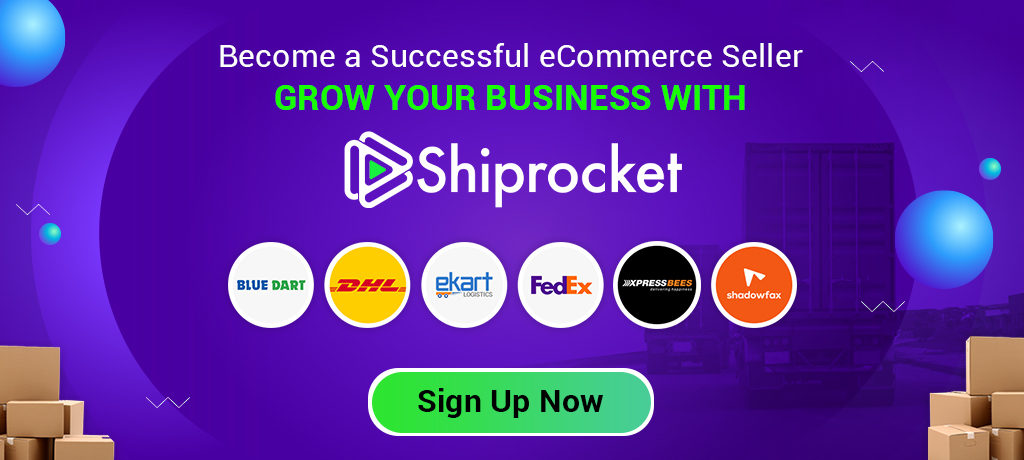 Calculate Your Shipping Costs Now