13 Reasons Why Your eCommerce Business Needs an Enterprise Logistics Plan
Running an eCommerce business can be a tedious task. Right from the start, you have many responsibilities on your shoulders that need to be executed with utmost perfection.
Once your website grows, it becomes your responsibility to ensure no delays in delivery, and you can reach every household for delivery.
Thus, you need a solid logistics foundation with a cheap, customizable, and efficient solution.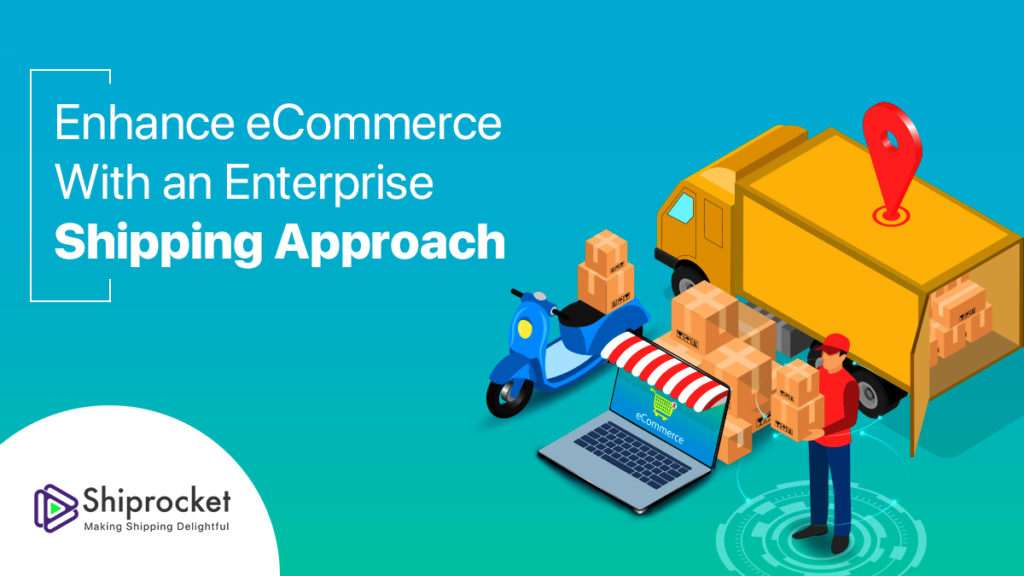 As the order volumes increase, it can get difficult to manage operations holistically. Inventory, order, and logistics management can have clashes if you do not proceed carefully. In such cases, A lot of time is wasted in tallying the details between inventory, orders, and shipments.
For example, if you ship 1000 orders a day, it can get tedious to assign couriers individually and update different buckets of information for inventory, order management, and shipment processing. You can miss out on vital information, causing you to lose out on precious time for innovation & growth.
Therefore, to simplify fulfillment, you need to have access to a powerful shipping solution that helps you ship faster and organizes your fulfillment operations for you.
An enterprise shipping plan can you achieve all that and much more! Let's have a look at how
How is An Enterprise Plan Useful for eCommerce Businesses?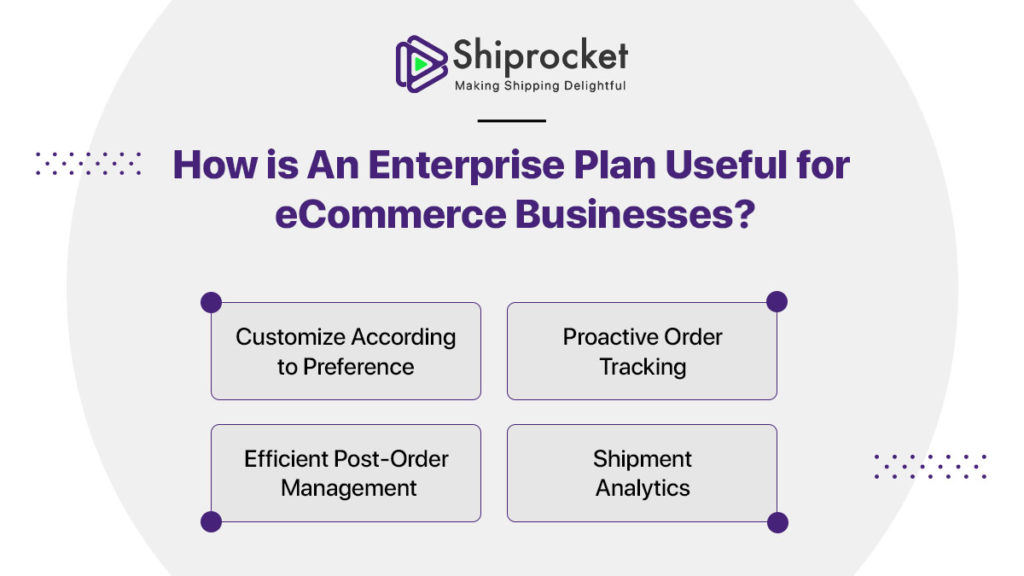 Easy Shipping
Uncomplicate the shipping process with a data-backed dashboard with all elements, such as order management, inventory management, and shipment processing in one screen. Just create an account and process orders on the go! What's more? Make shipping much more accessible with our Android and iOS applications.
Customize According to Preference
With shipping solutions and aggregators, you can choose from multiple courier partners for every shipment. For example, with Shiprocket's Courier Recommendation Engine, you can expedite this process by customizing your courier selection based on shipping rules and data points such as weight, payment mode, location, order value, etc.
International Shipping
Grow your business with a scalable shipping solution. Indulge in international shipping to over 220+ countries and union territories in the world. With our enterprise plan, you can ship with the best-in-class courier partners like DHL packet plus, DHL international, etc.
Proactive Order Tracking
Give your customers a delightful shipping experience with a proactive order tracking page. Provide information like the order detail, estimated delivery date, and granular tracking updates. Along with the tracking page, also provide regular email and SMS updates about their order's whereabouts.
Efficient Post-Order Management
Keep track of the orders that you have placed for shipping. Actively track the updates right from pick up from your warehouse to the delivery at your customer's doorstep. Get all updates regarding undelivered orders instantly on your Shiprocket panel. This can help you reduce your NDR by 2-5%.
Simplified Return Management
With an elaborate order tracking system, track the returns, and conveniently schedule return orders with the platform's help. Do it all without contacting several individuals to procure the correct information.
Widest Reach
Ship to the wide coverage of pin codes in India. Deliver to every nook and corner of the country with the best delivery partners. Reach customer doorstep without facing the hassles of multiple arrangements with courier partners and exorbitant rates for shipping.
Shipment Analytics
Get detailed shipment analytics for all the orders done by you. Analyze the logistics of your business better to make much more informed decisions related to inventory and order management.
Timely COD Remittance
Receive your remittance thrice a week. Don't wait for long to get your money back to your account. With Shiprocket's enterprise plan, you can opt for Early COD and get it within 2-3 days of order delivery.
Postpaid Shipping
Do not want to recharge your wallet frequently? You can avoid this by simply choosing the postpaid plan for your business. Under this plan, you can add a part of your COD remittance directly to your shipping wallet.
Shipping Insurance
Get an insurance cover of up to Rs.5000 for lost or damaged goods. Ship securely to the entire country and deliver hassle-free. If your product is damaged or lost during transit, we at Shiprocket will give you Rs.5000 or the product amount, whichever is lesser.
Dedicated Account Manager
With an enterprise plan, you usually get a dedicated account manager for your account, and you can let go of the need to contact multiple people for information. Stay in touch with the single point of contact and eradicate all confusion you may have regarding the fulfillment of your orders. Get priority support and clarify all your queries with an experienced manager.
What is Shiprocket's Enterprise Plan?
Shiprocket's enterprise plan is a business plan for order fulfillment. With this plan, you get a plethora of features offered by Shiprocket on its dashboard along with various customization options to make sure your goals are always given priority.
It is a fulfillment plan that lets you ship massive volumes of orders seamlessly at the best rates and several additional benefits.
You can offer smart shipping and seamless delivery for your orders with features like channel integrations, post order management, timely remittance, etc.
How to Get Started With Shiprocket's Enterprise Plan?
It's effortless to begin using our enterprise plan.
Fill in the request form.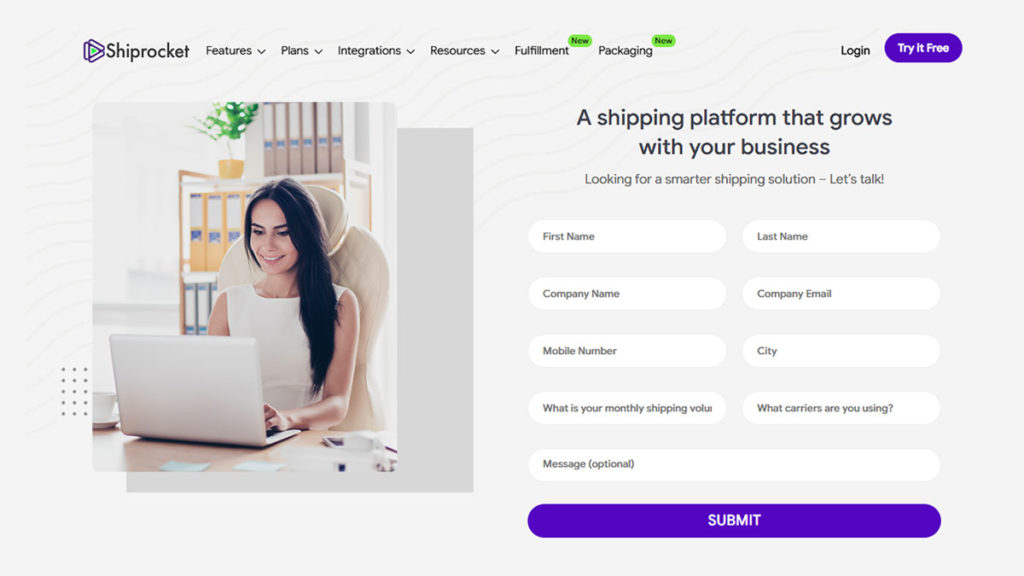 Post this, someone from our team will contact you and inquire about your business needs to suggest the best possible solution for your business.
Final Thoughts
To scale your business, you need a logistics platform that can scale with your demands. Shiprocket services are designed to incorporate any changes in your industry. With no rigid boundaries, you can choose how you want to conduct shipments. Moreover, with powerful features and an all-in-one platform, you can manage the fulfillment of your orders seamlessly!
Calculate Your Shipping Costs Now