How To Export To UAE From India In 2023
Trivia: Exports from India to the UAE increased from INR 206.41 Billion to INR 210.03 Billion between December 2022 to January 2023.
Post the free trade agreement between India and the UAE in May 2022, exports from India are estimated to cross USD 31 Billion in FY2023 due to the increasing and healthy demand for various sectors.
Before we dive into how to export to UAE from India, let's see what are the top products being shipped from our country to this middle east region.
Items Exported From India To The UAE
Clothing
Both stitched and unstitched garments are one of the topmost exported products from India to the UAE. Stitched apparel products of USD 200000 value and unstitched garments of USD 1600000 value were exported to the UAE from India in the last year.
Textiles
Out of the total textile production in India, more than 15% is exported, which amounts to a value of $120 billion. UAE is the largest importer of this segment of exports. Khadi textiles and silk garments make the maximum exports to the Middle East nation, and the amount is expected to increase by 25 per cent next year.
Electronic Items
In 2022, India exported USD 620000 electronic goods such as television, computers, sound recorders, television, and more to the UAE. The maximum demand for Indian electronics originates from Dubai, amongst all regions of the UAE.
Cosmetics & Personal Care
In 2019, daily use products such as perfumes, essential oils, toiletries, and resinoids were exported from India to the United Arab Emirates amounting to a value of US 170000 thousand dollars.
Nuts & Edible Packaged Goods
India made exports of USD 890000 thousand in 2019 that included various types of nuts, dry fruits, cereals, and other edible but packaged food items to the UAE. Please note that such edible products require an FSSAI license to ship beyond Indian borders.
Benefits Of Exporting To The UAE
The UAE, especially Dubai, is one of the fastest-growing eCommerce hubs in the world and has a mixed population of more than 90% foreign citizens residing in the destination. This helps to target a wider audience range for your global business and spread good word of mouth for your brand. Not just this, the country provides your business the scope to export with minimal tariff requirements, which helps it to make more profits than it usually does exporting to other countries.
Documents Required For Exporting To The UAE
The following documents are primary to your business if you're planning to sell your products to the UAE region.
Airway Bill: The Airway Bill Number or the Airway Bill is a document that is sent alongside cargo shipped by any international carrier, which also is a mode of tracking the package.
Pro-forma Invoice: A ProForma invoice is generated based on the mutually agreed terms and conditions between the exporters and the importers.
Certificate Of Origin: It is a declaration that the goods being shipped were manufactured or processed in the country mentioned in the invoice.
Purchase & Sales Contract between importer and exporter
Packing List of relevant exporters and their products of shipment
Details of the manufacturer, manufacturing date, expiry date

Step By Step Guide To Start Exporting To The UAE
Decide On Your Product Type
Throughout the journey of exporting to the United Arab Emirates, the first step is to confirm which products have the maximum demand in the region. For example, as listed above, Indian handcrafted apparels curated by local artisans have very high demand in the middle east nation.
For other product categories, check if there are requirements for any licenses involved in exporting them.
Choose Your Top Hubs
Opt for locations that have a clear link with roadways and airports. For example, when shipping to Dubai, you can choose whether to export to the mainland or the free zone area. The free zone area is not only serviceable with roadways and airports but also offers total exemption from export taxes and other currency restrictions.
Apply For A Trade License
Apply for a trade license first if you're looking to ship to the UAE. Firstly, you will have to submit your company's registration details to the Department of Economic Development, post which you will have to pay minimal fees for acquiring the trade license.
Stay Atop The Regulatory Compliances
Be it the middle east or any other foreign destination, every country has a different set of laws and regulations regarding the import and export of goods into its borders. It is significant to learn and stay updated on these regulations to avoid last-minute penalty issues and unforeseen charges after the product reaches the destination country.
Tips To Expand Your Export Business To The UAE
Build Relationships With Destination Buyers
In a country rich in domestic production of goods from various sectors, customers from the UAE choose to shop from international brands only when there is brand value and trust involved. Thus, it is important to build a friendly relationship with your customers in the region. One can do so by attending relevant trade shows and exhibitions that will help in networking with potential buyers. You can also partner with logistics companies that have local courier services in place to help you navigate the local market.
Establish Your Presence Online
When you export to UAE from India, you must be prepared with an online presence for your business. This means, your products should be listed on top global eCommerce channels such as Amazon and eBay, as well as create sub-domains for your business with domain IDs ending in country-specific links, for example – www.yyyy.uae.
Deliver The Best In Quality
An international business stands out from the domestic market with unparalleled brand trust and impressive product quality. Therefore, your products' quality should be of high value and meet the requirements of the country's compliances.
Work With A Comprehensive Logistics Support
Making your export business to the UAE a sure hit is possible when you have a global shipping solution partnered with you. An end-to-end shipping service not just helps to brief you of the prohibited goods not allowed to be imported into the country, but saves your products from unnecessary delays and rejection at destination ports. They help achieve this by ensuring you have all the documents handy for shipping, as well as assisting you with an in-house CHA for clearing customs effortlessly.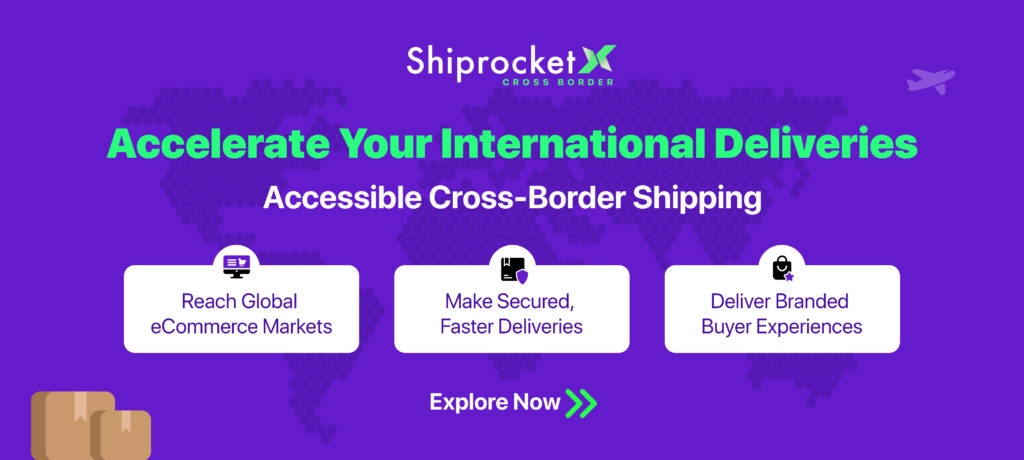 Calculate Your Shipping Costs Now