Top Tips to Get Likes & Engagement on Facebook Videos
Until a few years ago, people thought Facebook is only meant for text-based status updates. Not anymore! Now it has many more functions to serve, especially to businesses. Facebook videos have become the king of content on all social media platforms, and it is giving stiff competition to YouTube. Facebook has captured a big market share when it comes to advertising aspects of videos.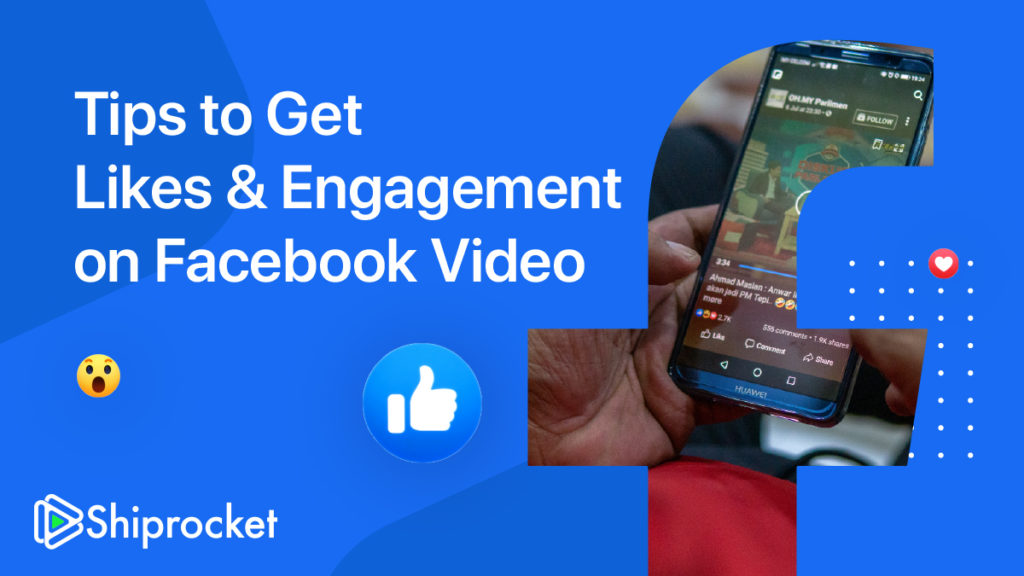 In this blog, we shall discuss the benefits of using Facebook videos for a business and how they can be used effectively for a business.
Benefits of Facebook Videos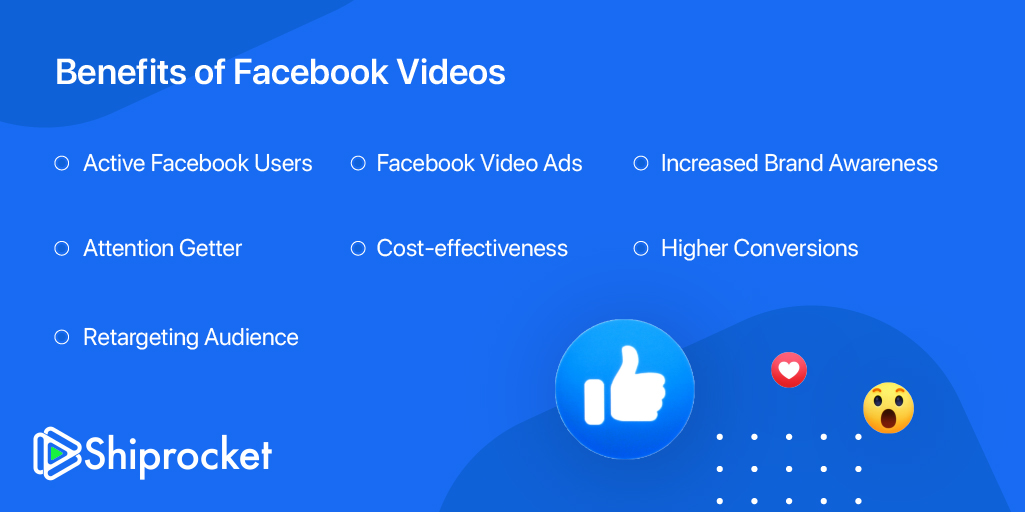 Facebook is one of the largest social media platforms with the largest network and most number of users. Clearly why Facebook has become one of the favorite tools of marketing. As Facebook provides nice opportunities for business growth, a good approach is to effectively use Facebook videos to increase brand awareness and reach more audiences.
Let's get deeper to understand the benefits of using Facebook videos in marketing activities:
Active Facebook Users
Facebook has a very number of daily active users who watch videos – approximately 140 million users a day. This is an exceptionally good number to reap benefits from. You can attract a good number of users if you create attractive and interesting videos. You can use create creative posts with humorous jokes to catch attention.
Facebook Video Ads
With Facebook video ads, you can get more likes, comments, shares, and high engagement. Facebook videos bring higher engagement and can be helpful for both online as well as brick-and-mortar stores. With the help of high-quality videos, you can increase the chances of reaching more audiences and bringing more followers. Just follow one thing – keep followers' interests in mind to get more visitors and high conversions.
Increased Brand Awareness
Brand awareness and reputation in the market are the base behind the sales of the products and brand success. Videos can help you get these desired results with the help of marketing campaigns. With a successful marketing campaign, you can get:
Increased and quality traffic
High conversion rates
Increased revenue
Attention Getter
These days, Facebook videos dominate marketing strategies. Using Facebook videos in the marketing strategy increases the chances of success for a brand. Apart from being eye-catching and attractive, Facebook videos can also be used as an education tool – educating the customers about the product and its uses. It can also help in converting sales. What's more, if your customers find your videos interesting, they can share them as well – increasing the viewership.
Cost-effectiveness
Investing in digital marketing is an important step in building a business. However, the marketing cost/budget differs for every business depending on the goals they want to achieve. In fact, the budget also differs for every social media platform. Said that, Facebook video advertisement is very cost-effective. How?
Firstly, videos are inexpensive. Secondly, they keep the audience engaged for a longer time. Lastly, they provide more information to the audience as compared to a text-based static post. Thus, they have better results than other alternatives.
Higher Conversions
According to many marketers, videos are an effective tool of marketing with higher CTRs. A video advertisement has higher click-through rates (CTR). The conversion rate on Facebook across different industries is over 9.21%. Videos are able to connect with the audience through emotional connect and interesting content.
Retargeting Audience
Facebook video is a great option to retarget the audience. Because it is a great opportunity for businesses to engage the customers. Significantly, retargeting the audience is imperative in marketing as it helps in generating more sales while keeping the brand in the center position. Besides, it also helps in brand recognition.
Tips to Get More Engagement on Facebook Videos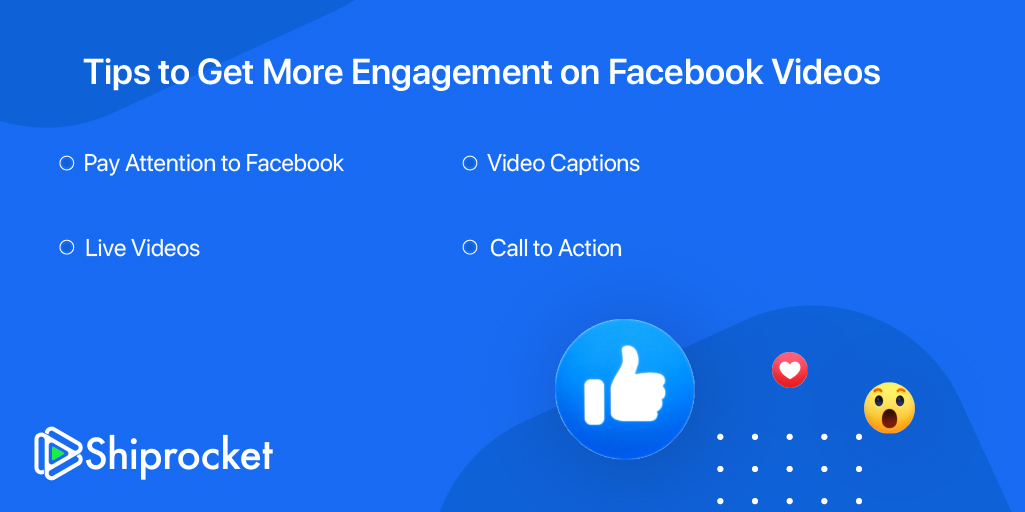 In a world where marketers use thousands of tools to target an audience, it can be challenging to grab the audience's attention. That is why you should work towards creating a captivating and attention-grabbing message. So, the first thing that the Facebook videos should be is engaging.
Let's now take a look at some tried and tested tips to get likes and greater engagement in Facebook videos:
Pay Attention to Facebook
Listen to Facebook – it tells you what it wants. Pay attention to the Facebook algorithm. As per Facebook-
Multiple views are prioritized over other videos in news feeds.
Facebook gives more weight to the videos that have a running of at least three times. And they must capture the attention of the viewers for at least one minute.
Repurposed or unoriginal videos with immaterial value can negatively affect the video pages.
This information is available publicly. You must know about all the algorithms and accordingly create your Facebook video strategy.
Live Videos
Though Live Facebook videos only make up for the 12% of the videos on Facebook, they create higher engagement than others. The length of the video also matters. A live video of at least 60 minutes has more engagement rate than shorter videos.
Before going live, you can explore the opportunities and also see what your competitors are doing. Thus, you will get a fair idea of how to use live Facebook videos to get the best possible result. You can think of live streaming a conference, event, product launch, or even a conference.
Video Captions
Facebook now auto-play the videos on the feed with sound. However, many users can disable the auto-play feature with sound as well as per their convenience. Also, the mobile phone is on silent mode, the video is played without sound. Well, the point is that many users watch the video without sound, and that is where captions play a significant role.
When uploading the video, you can add an SRT file of the captions. Thus, people who are not watching the video with sound can still understand the video by reading captions. Alternatively, you can also overlay the text on the video by using an editing tool.
Call to Action
A call to action is a great way to encourage engagement on the video and drive traffic to the landing page. A CTA is a must to turn the audience into customers. While you might think that CTA is essentially a button to encourage the audience to buy a product from your website, it can also be used to encourage the audience to read your blog or visit your YouTube channel.
While you can't add CTAs in the videos, there are several other ways of them to your video post:
Include a CTA in the post copy – a link to the landing page, website, or blog post.
CTA can be to ask your customers to share their feedback about your product or services. You can simply ask them to share feedback in the comments section.
Mention the CTA during the blog. Like in the last slide, you can write visit <website> to know more.
Conclusion
Including videos in the Facebook marketing strategy is crucial. With the tips mentioned above, you can get higher engagement on the videos. While Live Facebook videos have higher engagement, adding subtitles or captions in the video also helps in getting more engagement. Following the algorithm of Facebook is also important. Finally, a video without CTA is like a marketing strategy without any goals. You need to tell your audience what to do – to buy a product, follow your Instagram page, or read blog posts. Lastly, don't forget that creativity and interesting content is the lifelines of the video.
Calculate Your Shipping Costs Now