Tips & Tricks to use Medium For Your eCommerce Business
You have often come across multiple social media channels to promote your eCommerce website, such as Facebook, Instagram, Twitter, and so on. But how often have you heard of Medium when it comes to promoting your business? Maybe just a couple of times. Medium is seldom mentioned as the top platform for content marketing. However, smart companies nowadays are actively using this platform to reach out to an audience who is interested in what the author is talking about their business.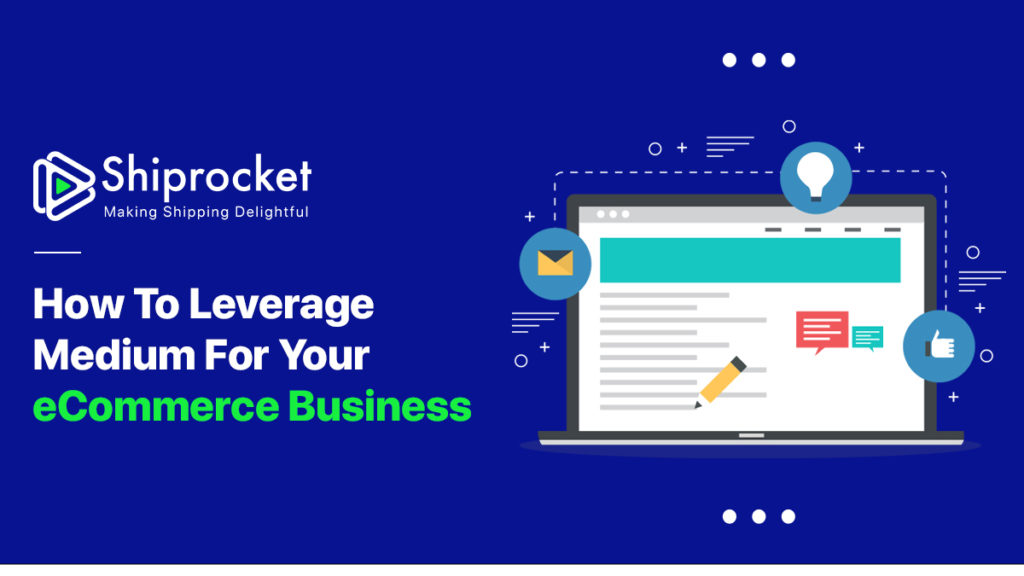 Medium is less of a social networking site and more of a platform for high-quality content. And, what better way to promote your business than creating rich content related to your business' features, vision, end goals, and so on.
Medium is the platform where your content can be discovered and appreciated for its richness. You can start growing your business by creating a separate Medium publication dedicated to your content about your company. With the increase in the number of followers on your Medium publication, more and more people will come to know about your brand. You can quickly drive quality traffic to your eCommerce site by creating popular stories on Medium.
All of these ideas indeed sound great. But what do you exactly need to achieve these goals? Let us take a look at how Medium can help your eCommerce business grow to the next level-
How does Medium Work?
Each story on Medium receives views from three types of audiences: the readers of your company publication, your (author's) followers, and those who follow the tag. A tag is a popular word (related to your business) having several views that you add to your story while publishing. Once you write a story on Medium, it will show your content to all those people you are already connected to on other social media channels. Your Medium followers will immediately receive an email notification whenever you publish a new story. If a Medium recommends your story, it will be shown to his/her followers too.
The quality of your content will most often determine whether anyone will stay with it or skip it immediately after opening. People often enter Medium with a particular piece of content they had found somewhere else and stay to see what more there is to read.
Medium shows reading time for all stories and rates content based on reader engagement. This means that if people have read your content to the end most of the time and added many claps, it will inevitably become trending. The algorithm also considers the number of views and recommendations, but the read ratio (the percentage of people who read your story to the end) – is the most critical metric.
How to Get Started with Medium?
Starting on Medium is pretty simple. Let us take a look at how to do that-
The first step is to create a profile.
After you are done creating a profile, start a publication under your profile.
In case you wish to import content from other platforms, you can do that using the Import tool.
Interact with other authors by commenting and clapping on their Medium stories.
Encourage your readers and followers to respond to your stories by tagging them directly. This will ensure your readers get sufficient importance.
Add catchy story titles.
Try original and high-quality photographs to make your content more authentic.
Keep SEO in mind while creating a title and URL slug for your publication.
Keep keywords in mind while writing your post titles, and try not to make them longer than 50-60 words.
How to Use Medium As a Marketing Channel for your Business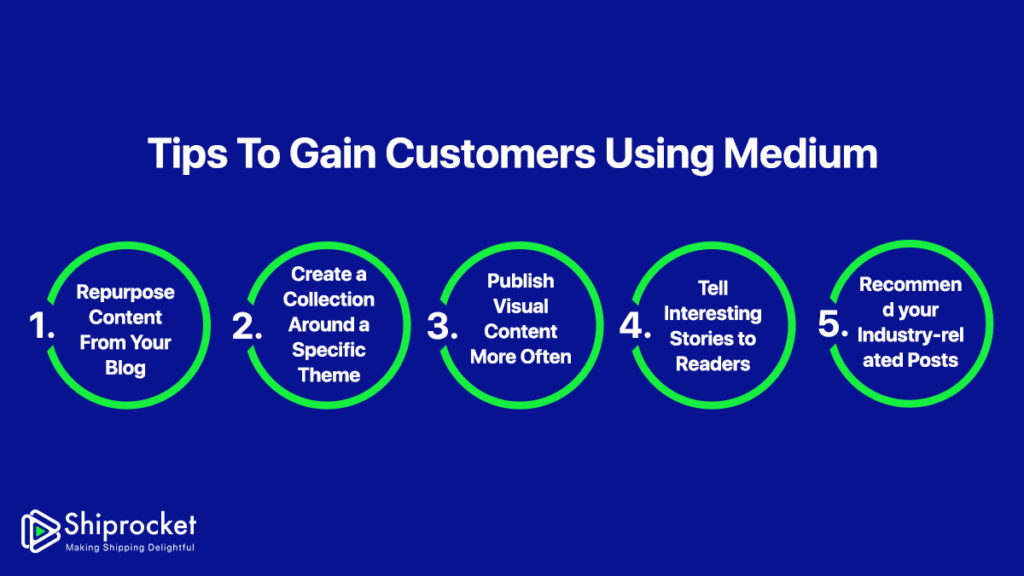 There are multiple ways in which Medium can be beneficial to your eCommerce business. Let us look at a few of the ways how you can leverage Medium to grow your business:
Repurpose Content from your Blog or Website
This is a great way to promote your business on Medium – by republishing or repurposing content directly from your website. You can either publish blogs as it is or posts snippets of your blog. However, you must ensure that the snippet contains relevant content, and it is a standalone piece on its own. You can add a 'read more' phrase into it so that your readers can ultimately land on your website's blog page
Create a Collection Around a Specific Theme
Create a themed collection related to your business, and publish content about that particular theme, which can be either newly created content around your business or articles syndicated from your blog. This will help establish your brand as an expert in your field.
<Screenshot>
Publish Visual Content More Often
Visual content always attracts more audience. Not all stories need to be in a written format. You can create a video, an illustration, or relevant infographics to promote your brand. You will see a drastic jump in the number of viewers engaging with your content.
Tell Interesting Stories to Readers

Do not forget the main agenda of Medium. Medium is accessed by people who want to read insightful stories. Therefore, eCommerce businesses using Medium for promotion purposes must always keep in mind not bragging about their brand. Instead, write stories that consist of useful information for your readers. Your top priority should always be to add value to your readers' lives.
Recommend your Industry-related Posts
Your followers on Medium will always see articles you recommend on their homepage with a line saying that you recommended a particular story. Take advantage of this opportunity to make a positive impression as an influential voice in your industry and as a brand that leads people to highly-engaging content.
Integrate Medium into your Content Marketing Strategy
Unfortunately, you cannot connect your Medium blog to your business profile on Facebook or Twitter and automatically sync it. You will have to use your account to do it. Add your Medium post links to your eCommerce website and all your social media accounts so that people get a chance to read more of your business-related content.
One essential thing to follow is not to immediately republish all content from your blog to Medium. You need to wait for a week or two for Google to index your content and then syndicate part of the blog as a Medium story with links to your website. Choose to republish those blogs on Medium, which are of high quality and are already generating adequate amounts of traffic to your website. Use the Google UTM tool to which posts are bringing the most traffic to your eCommerce website.
Final Say
Now that we have told you about the importance of this less-talked-about platform, it's time you implement these ideas to promote your website on Medium. Keep your content highly engaging and give your audience sufficient information, which will help you build your business as a reputable brand. Medium has got immense reach to help you grow your business to the next level.
Calculate Your Shipping Costs Now