Everything You Need to Know About Parcel Insurance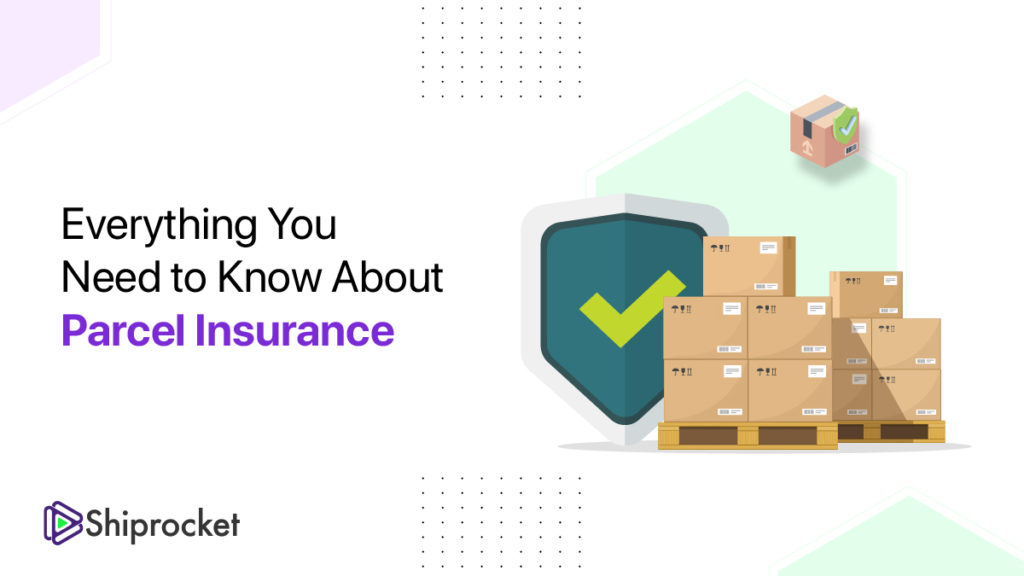 One of your main worries when dealing with shipment management is whether or not the consignment will arrive at its destination securely and on schedule. You do everything you can to guarantee that the shipment is well cared for at all times along the journey. However, as an online seller, you have no control over a variety of issues, such as the weather or other natural disasters, political disturbances, mishandling of goods, theft, and so on. These can have a negative impact on the quality of your products and, in some cases, render them unfit for delivery, resulting in significant losses on your part.
Parcel insurance is one of the most effective solutions to deal with such losses. Parcel insurance can help you cover a wide range of such unintentional losses, and it can mean the difference between going bankrupt and starting over.
What is Parcel Insurance, and Why Do You Need One?
When a carrier agrees to transport your cargo, they are legally obligated to ensure the items. Carrier liability is the name for this type of insurance. Carrier liability does not necessarily cover the whole value of the goods, especially when it comes to high-priced or high-volume items. As a result, choosing parcel insurance above and beyond the standard carrier liability insurance given by the shipping firm is the best approach to receive the maximum liability insured.
Parcel insurance is a sort of protection that allows traders to secure products that are being sent by or to them. It covers your shipment from the time it is dispatched until it arrives at its final destination, and it protects it from damage, theft, and mishandling, among other things.
Types of Risks That Shipping Insurance Covers
There are many different types of parcel insurance, each with its function. The easiest method to choose the finest parcel insurance for you is to research the many types of coverage each policy offers and then choose the one that best meets your needs.
The Common damages that parcel insurance covers are listed below:
Physical Damage
When carrying commodities over a lengthy distance, it frequently changes hands. Mishandling of your cargo while loading and unloading can result in damage. The package can be destroyed while en route owing to harsh storms, traffic accidents, and other factors. The physical damage coverage will cover all of this harm.
Stock Throughput Damage
Stock throughput hazards emerge when commodities are imported and stored in your warehouse before being distributed further. This type of insurance protects your stock from being damaged while it is being stored in your warehouse.
Rejection Risks
Some cargo is frequently rejected by government authorities during international shipment because it does not fulfill certain standards. In this situation, the provider suffers significant losses as a result of non-payment for the items. Rejection insurance may pay all or part of the expense of such a transaction, depending on the policy.
Exhibition Risks
Many suppliers send samples of their products to trade shows and exhibitions all over the world so that potential buyers can see them up close. However, this exposes the products to shipping dangers as well as any other harm that occurs during the show. Such damage is covered by the insurance policies that cover exhibition hazards.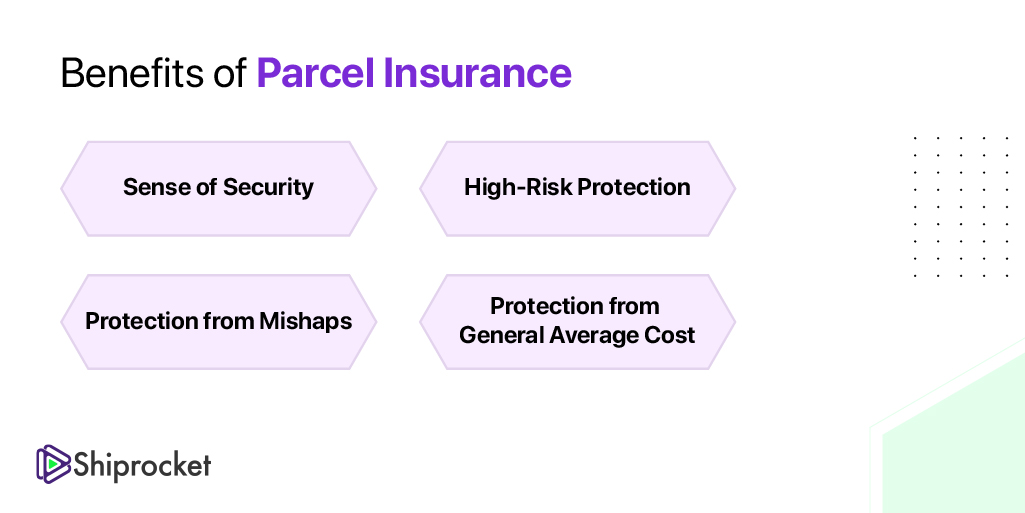 Benefits of Parcel Insurance
Sense of Security
Ensuring your goods provides you with a sense of peace and security above all else. You don't have to worry about all the many ways that your cargo could be destroyed any longer. You can breathe a sigh of relief and get back to running your business once you've insured your goods against all of the most common risks.
High-Risk Protection
Parcel insurance provides you with much-needed protection against any major financial loss caused by damage to your shipment. It allows you the flexibility you need to get back on your feet, as the insurance company reimburses you in part, if not entirely, for the losses you've sustained.
Protection from Mishaps
Many disasters strike us from time to time, and when they occur, we must be prepared to deal with the fallout. Many companies suffer significant losses as a result of disasters, significantly limiting their capacity to continue operations. However, if you've insured against a predictable set of similar mishaps at work, you'll almost certainly get reimbursed by the insurance company.
Protection from General Average Cost
The costs payable by all parties involved in a trade in the event of damage to the shipping carrier are known as general average costs. It's a common principle in international trade, and it can keep you awake at night. When the carrier is damaged, the carrier corporation demands that all of the cargo on the container's suppliers pay a specified sum, or the products will not be released. If you are insured against these costs, your insurer, is responsible for paying them.
Secure Your Shipments with Shiprocket
Don't worry about the damaged or lost shipment because the shiprocket is here for your rescue. Shiprocket can help you protect your high-value shipments. The safety of your shipment is our top priority. It's 3 steps and the easy process will vanish all your worries.
Secure Your Parcel
Secure your packages with ease. The premium will be determined by the value of the package.
Submit Claims
If the package is damaged or stolen, file a claim for reimbursement.
Receive Reimbursement
You'll be reimbursed up to the package's total value.
Shiprocket Offers Two Protection Covers Options
Selective Cover: Opt protection on individual shipments and bulk shipments above Rs. 5000 and below Rs. 25 lakhs. This type of cover allows you to choose specific shipments as and per your requirements. Not all shipments are covered automatically and you can choose the specific shipments you wish to secure.
Blanket Cover: Opt for security on all shipments in the Rs.5000 to Rs. 25000 bracket. When selected this coverage, all your shipments will be secured automatically.
Should One get Parcel Insured
This is a divisive topic that almost always ignites heated conversations anytime it is brought up. Consider a safety valve, which is rarely utilized but is an important feature of any setup. In the same way, your shipping insurance acts as a safety valve in your shipment management system. It doesn't matter if you don't use it very often; it's still really necessary. Never consider the innumerable times when you insure your goods and nothing happens to it, as any veteran will tell you. Consider what would happen if you didn't have insurance and something bad happened. This is why it's critical to protect your cargo with a comprehensive parcel insurance policy.
Calculate Your Shipping Costs Now