Top 5 Order/Shipment Tracking Plugins for Your WooCommerce Store
Once an order is placed on your website, there's only one thing your customers are hooked onto- the tracking page. There's an altogether different level of excitement in waiting for your order and knowing its current status in its journey to arrive at your door.
And when it comes to WooCommerce, which accommodates more than 500,000 websites from all over the world, you need to have your order tracking in place for your customers.
We understand that a lot of time and resources are exhausted to conduct market research for finding the best order tracking plugin for your eCommerce store. Since the WooCommerce store has so many plugins to choose from, the entire process can get confusing.
But now that you're here, there's nothing to worry about. We've gone ahead and found out the top 5 order tracking plugins for your WooCommerce store that you must be trying out today!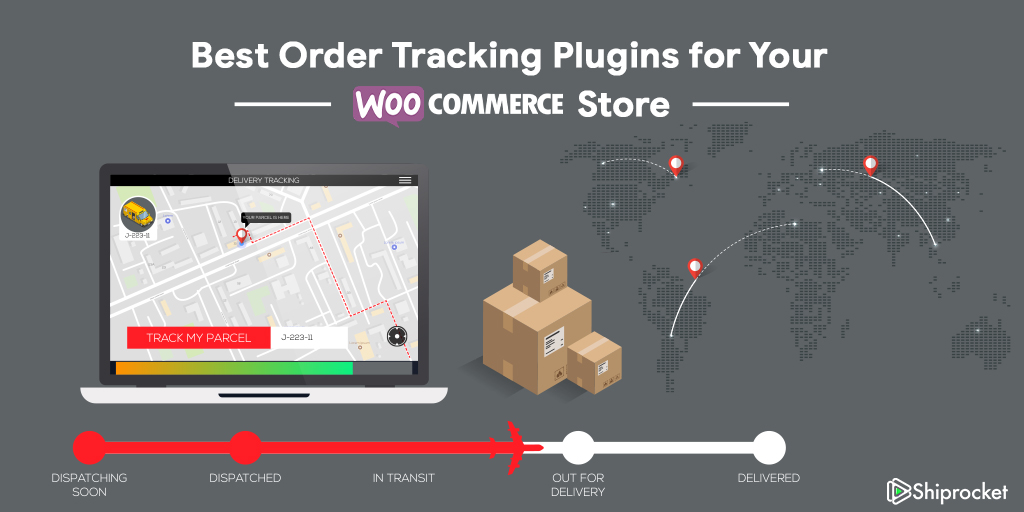 It is an eCommerce order tracking plugin by PluginHive and probably one of the best options for eCommerce store owners. To make Shipment Tracking Pro ready to track your shipments, you need to enter the names of your shipping carriers along with their tracking URLs. Overall, it has a user-friendly interface and easy to use features. Here are some of the exclusive features that you can enjoy with the WooCommerce Shipment Tracking Pro:
Preconfigured shipping carrier support for over 80+ courier companies. Furthermore, you can add or remove carriers according to your preferences.
Live tracking of FedEx and USPS. Since the plugin provides additional features for these two carriers, store owners and their customers can get real-time updates of the orders whenever they want.
Order tracking details are available on the orders page, where sellers can manually update the tracking details for an order.
Tracking information for customers via the 'My Account' page.
Bulk Import of tracking data via CSV
Schedule the import of tracking details from the FTP server
Automatically mark order status as 'complete' using CSV or FTP Import
Custom tracking page via email.
Another top-order tracking plugin is the shipping details plugin for WooCommerce. It helps in tracking shipments, orders, and more with much ease. One of the best parts of this plugin is that it keeps you and your customers updated about the status of the shipment via regular emails. Moreover, the sellers also have the option to customize these emails as per the requirements of their business.
Other features offered by this plugin include-
Tracking number and courier details that are sent to the customer via emails.
Dynamic URLs that help customers land directly on the tracking page of the courier company's website.
Supports more than 140 courier companies
Allows a maximum of 5 tracking numbers per order
This plugin by Etoile Web Designs makes it to our list of the top 5 order tracking plugins for WooCommerce due to many reasons. It lets you create an unlimited number of orders, shipments, and other projects- all from a single platform. To help you understand the plugin better, it comes with inbuilt Youtube videos, demos, documentation, etc. Although Status and Order Tracking is a paid plugin, it is every bit the worth and adds value to your WooCommerce store.
Here's what you get with Status and Order Tracking Plugin for WooCommerce-
Customers can add specific notes related to shipment in designated fields
Provides precise information related to shipment tracking to your customers. These may include expected delivery date, special note, email address, order numbers, etc.
Multiple tracking graphics that can be customized according to your website
WooCommerce Orders can be easily added to this plugin
Import/Export Orders
Front end customer order form
The WooCommerce Shipping Tracking plugin facilitates the assignment of multiple courier companies along with tracking numbers to individual orders. Each tracking information in the plugin offers crucial information such as tracking company and tracking code along with optional information such as dispatch date, custom note etc. It has the following features-
Predefined 40+ courier companies
Customizable email notifications for the customer
Automatic updates
Date and Time delivery fields
Estimate shipping for products
Shiprocket is one of the most valuable plugins for tracking orders for your WooCommerce Orders. As an eCommerce seller, you can easily integrate WooCommerce with Shiprocket and enjoy a plethora of features without spending a hefty sum of money. Shiprocket not just facilitates a smoother order tracking but also an unparallel shipping experience for your WooCommerce orders at the cheapest rates and best in class services. And the best part? There's no upfront fee for all these services. Explore features like-
Multiple Pickup locations
Convenient order tracking
Creating shipments in easy steps
15+ Courier partners
Cheapest shipping rates
Customizable tracking page
NDR management
Post-Order Experience for the customer
We hope you've found the best order tracking plugin for your WooCommerce store. Before cherry-picking a plugin, try to analyze the demands of your business and then look for the plugin that can cater to a majority of your needs. In case if you're still confused about the importance of these plugins, remember that order tracking plugins can increase the overall traffic of your website. They assist in providing vital information to both your organization and your customer, making it a must for any eCommerce website!
FAQs (Frequently Asked Questions)
How do I track orders on Shiprocket?
You can easily track your orders by visiting the Shipment Tracking page and entering AWB/Order Id. Also, we keep the customers updated about their orders via SMS, emails, and text messages.
Why should I integrate my WooCommerce store with Shiprocket?
Integrating your store with Shiprocket will help you manage inventory, process orders, and ship them through a unified platform.
Where can I find the order ID or AWB no for order tracking?
The order ID or AWB number can be found on the order confirmation you must have received via email or SMS.
Should I connect with Shiprocket if I have concerns regarding my order?
In case of order and delivery concerns, you must contact the seller only.
Calculate Your Shipping Costs Now