Tips For Packaging And Shipping Fragile Items
Usually, when you visit shops selling fragile items that can be easily broken, i.e. glass or ceramic, there is always a small quote mentioned – If you break it, it's yours! For the longest time, this has been a caution message to help customers be more careful.
But with the growth of eCommerce, the tables have turned. Now, if a customer receives a damaged item, it's yours and not theirs!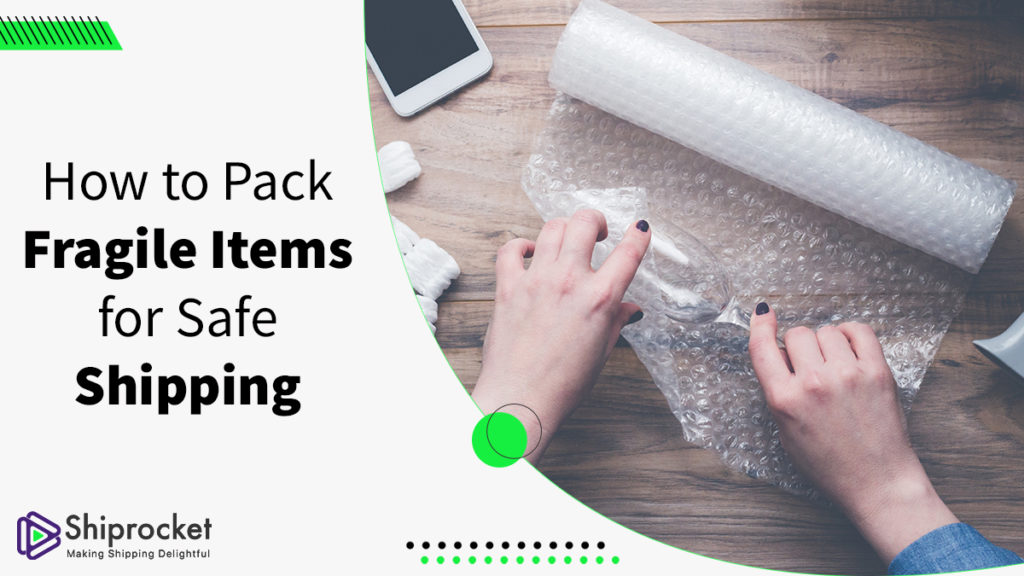 Hence, it has become imperative to ship your products safely to reach the customer without any damage. Sometimes, the products are mishandled or even piled up together, increasing the chances of them being damaged during shipping. Hence, to ensure the shipping is safe, you need to ensure that the packaging is appropriate and does not harm the product. It must keep the product safe and sound during shipment until it is delivered to the buyer's doorstep.
One of the packaging material's fundamental roles is keeping the product safe from the road's friction while being shipped. With fragile items, you have to be careful that the material you choose and how you package it will keep the shipment safe during transit. Besides, there is a need for packaging inserts as well to keep the fragile items in place and get damaged by going to and fro during shipment.
So, to make the process easier for you, we have compiled five techniques for packaging fragile items so that they remain safe when shipping and your customers get the best shopping experience with you.
What Are Fragile Items?
Before we begin, it is essential to understand what constitutes fragile items so you can categorize them accordingly.
Fragile items constitute materials that can break easily when they face even a low impact force. These include objects that are usually made of glass, ceramic, crystal, etc. but are not restricted to this list. Even items having many bends and folds can be constituted as fragile items. They could include musical instruments, technological gadgets, etc.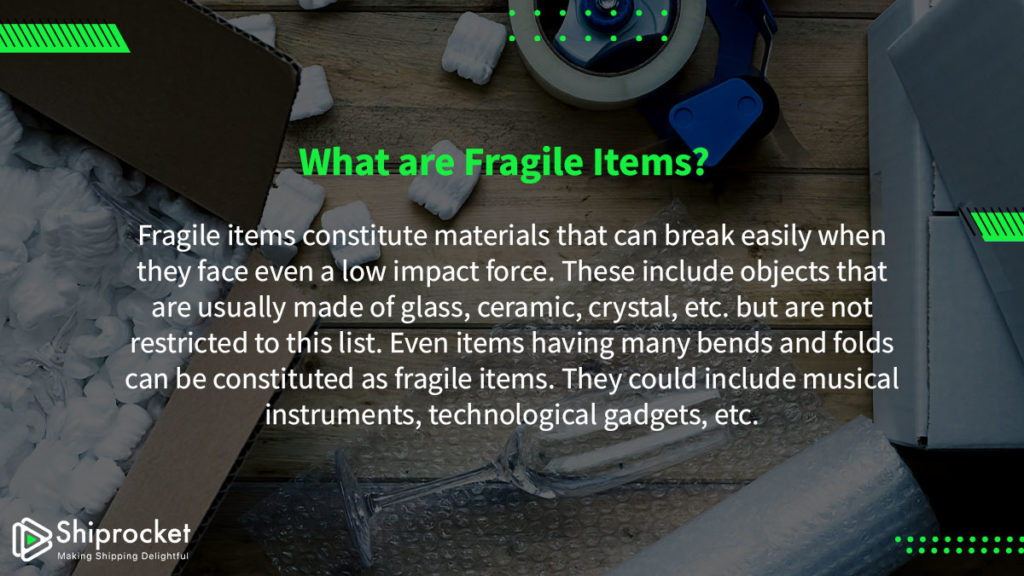 Why Is Safe Packaging Vital For Fragile Items?
Packaging forms a safety blanket around fragile products. Here are a few more reasons why you need safe packaging for delicate products.
Safety
Packaging material must provide safety to the packet to not break when faced by a low or high impact force. It must be enough to absorb the shock from the impact, and the fragile item can be protected from any damage.
If an item is shipped via air or surface mode, it is evident that there will be friction with other products that can lead to damage if the product is not packaged correctly. Therefore to maintain the product and its safety, packaging plays a vital role. We will read further how you can package your product to maintain more safety.
Poor Unboxing Experience
If your customer receives a damaged product, it will lead to a bad customer experience. Nobody likes to open a package and receive a product with scratches, cracks, or bends. It is unappealing to see and even more disheartening as the customer waits for the product. This poor experience can even lead them to never order from you again. Consequently, you can lose a loyal customer just because you didn't pay enough attention to how to package a fragile product.
Next, with the advent of social media, the first place the seller will go after receiving such a product is your social handles. This can also lead to your other customers never buying from you. So, if you want to save yourself from a social media trial talking about damaged products that your brand offers, you must take all the necessary steps to package your products appropriately.
Bad Reviews
With the advent of social media and availability of a number of alternative products in the market, the customers these days first read the customer experience and reviews of your product and company. Damaged material will prompt the customer to leave bad reviews on your website, social media, and other platforms. This can be extremely poor publicity for your brand and will hamper further sales. Therefore, always ensure that there is ample packaging for fragile products. You follow specific techniques to ensure that your product is not tampered or damaged when it reaches the customer.
Increased Returns
It goes without saying that you will have to accept returns if the product reaches the customer in a damaged or tampered state. Returns can be expensive as you have to pay extra to the shipping company to bring them back to the warehouse. Along with that, you will have to bear the cost of the damages. So, ensure the packaging is done correctly to avoid returns due to damaged items.
How To Package Fragile Items For Safe Shipping?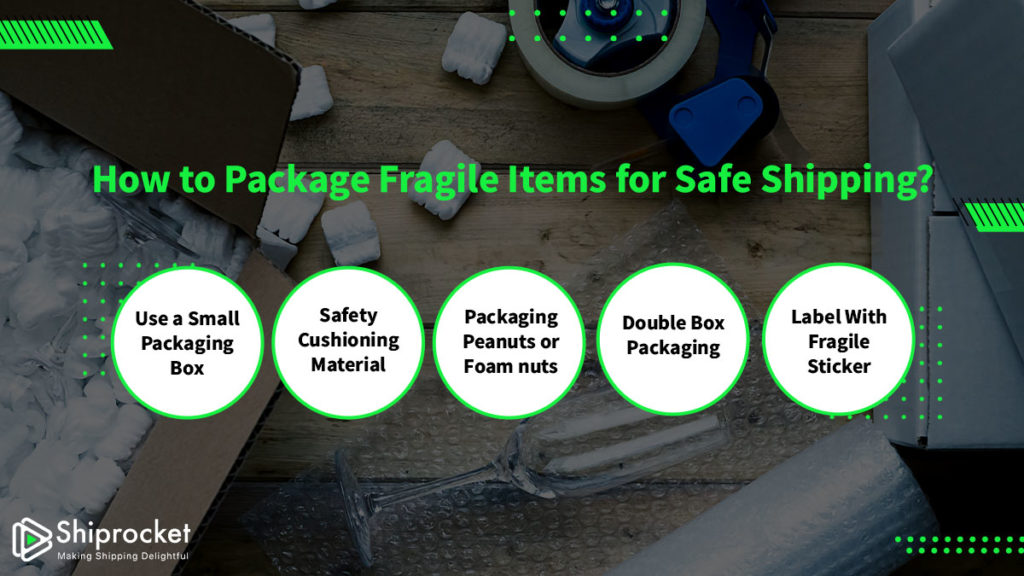 Use a Small Packaging Box
The usual rule for packing fragile items is to use a packaging box that is only slightly bigger than the product. This does not leave any empty spaces for the product to shift around and the product can stay put in one place. This restricts movement and firmly holds the package together.
The empty spaces can be filled with dunnage for added safety. This will provide safety to the product from friction during shipment. Also, the tape you use must be thick so that it does not open easily, and you should seal more than one time to ensure that the package is not open even in the harshest conditions.
Safety Cushioning Material
The fragile item must always be packed with questioning material that can provide an additional safety layer. For example, you can wrap the product with bubble wrap to ensure that the material is adequately protected in case of impact. So, if your product is shifted from one place to another and faces a strong influence from an external object, it won't break easily. There are several cushioning materials available for different fragile products that you can choose from.
Packaging Peanuts or Foam nuts
After you have packaged your fragile item in a box of appropriate size, you must fill the empty spaces with packing peanuts or foam nuts.
This tonnage will help protect the item from impact and absorb the shock before affecting the product. It forms an additional layer between the external packaging and the product.
Double Box Packaging
For fragile and costly items, you must double pack these products. You can follow the double Box packaging method where you use the box-in-box technique.
You can place the product in the small box, place this small box inside a larger package, and fill space between the two boxes with nuts or other dunnage.
It is recommended to use corrugated boxes for packaging such products as they are prepared with layers of paper. You can consider corrugated boxes of different strength as per your requirements.
Label With Fragile Sticker
Last but not least, it is essential to label the package with the label 'FRAGILE' or 'Handle With Care' in bold. This will alert the person handling the product to make sure it remains safe so that the material inside does not damage or crack.
You can mention this information on the app that you used to seal the package or get it directly printed on the packaging material.
Shiprocket Packaging – Packaging Material To Help You Ship Safely
Add Shiprocket; we provide you a sufficient quality packaging material at the most cost-effective rates.
These include three-ply corrugated boxes in many sizes, courier bags with and without POD sleeves, transparent and white tapes, and stretch film rolls.
You can use our packaging material to pack your fragile items safely for shipping and delivering the best unboxing experience to your customers. Our packaging is made using the best material to meet the highest expectations.
With our plane carrier bags in various sizes, you can use them as the primary packaging material for your fragile item, followed by packing in corrugated boxes.
You can order these from the Shiprocket Packaging website, and they will be delivered to your doorstep without any additional shipping fee. The best part is you do not need to fulfill any minimum order commitment to purchase these packaging materials.
Final Thoughts
To ensure the safe packaging of fragile items, you must follow guidelines and packaging techniques properly. If not done correctly, it can cause a significant loss to your business in terms of money and reputation. It is also a good idea to go for shipping partners that offer you insurance for damaged items so you can at least claim a part of the product value if valid. We hope that with these tips, you will be able to process your shipments more safely and efficiently deliver fragile items.
FAQs (Frequently Asked Questions)
Can I ship fragile items with Shiprocket?
You can ship all items with Shiprocket.
Which courier is the best for fragile items?
You can ship your fragile items with any courier. Shiprocket has 14+ courier partners, and you can ship your products with any partner.
How should I pack fragile items?
You can pack fragile items in a small box and use peanut foam or bubble wrap around them.
Calculate Your Shipping Costs Now