Creative Ideas for Packaging Inserts for Your eCommerce Orders
Marketers across the world believe that personalization plays a critical role in advancing customer relations. Around 85% of these marketers state that their customers and prospects expect a personalized experience when delivering products.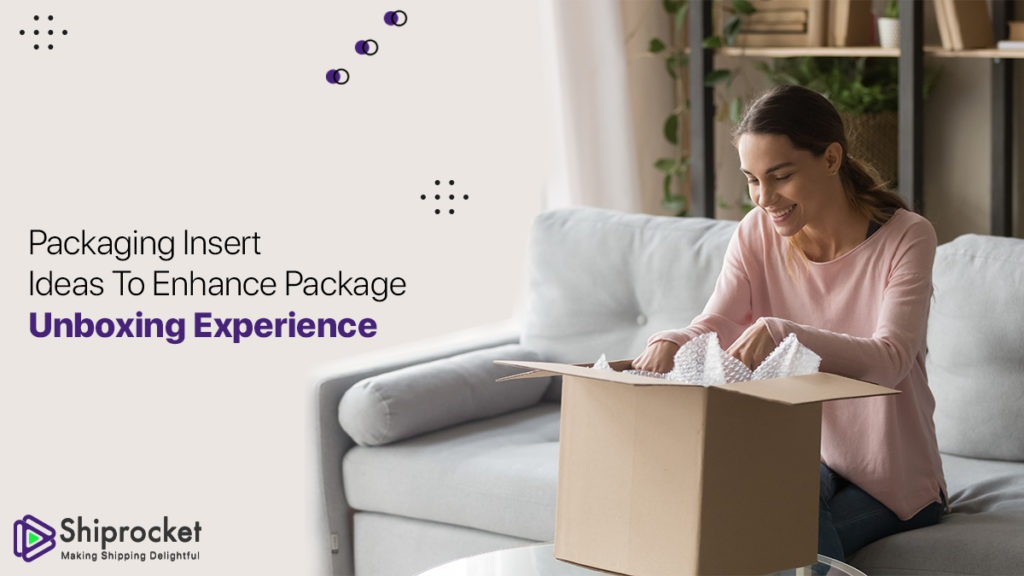 This means that along with your website and mobile application, the personalization experience needs to be extended to packaging and delivery to provide a superlative customer experience to your buyer.
With changing trends and increasing competition, the role of packaging has changed from just the safety and security of the package to carrying the brand identity and enhancing the overall delivery experience.
Packaging inserts are one such aspect of packaging that can help you personalize each package so that your customers can have a pleasant unboxing experience. Let's have a closer look at what packaging inserts are and how you can use them to your advantage.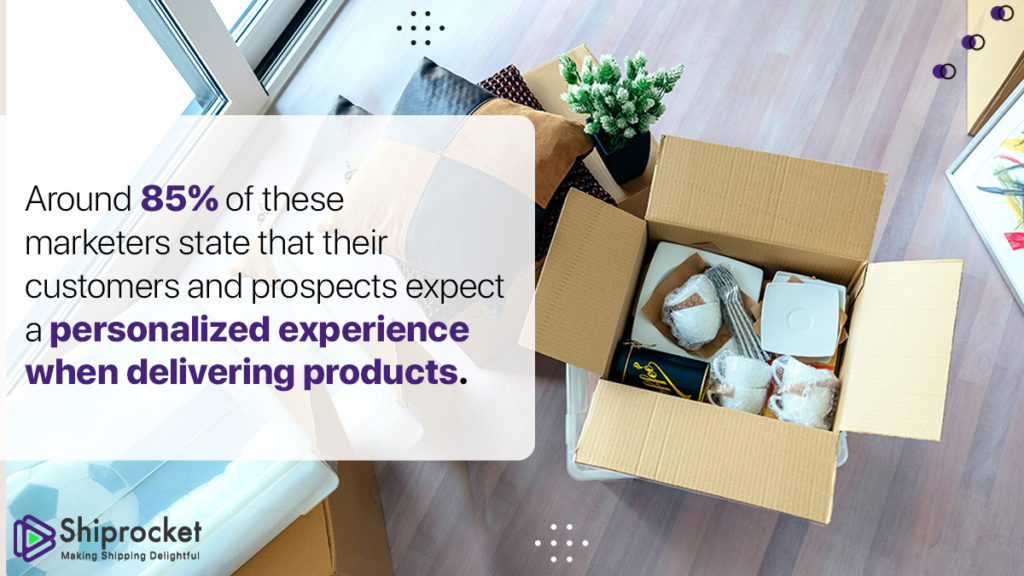 What are Packaging Inserts?
Packing inserts a.k.a. packaging inserts are the additional items that you include with your package along with the product that is primarily ordered by the customer.
These inserts can be useful to establish a good relationship with the customer and help you provide them with a customized experience. These inserts can be of various kinds ranging from discount coupons, how-to guides, social media details, cashback offers, or even a thank you card.
You can use packaging inserts to make your customers more aware of your brand and the products you offer or even gather their feedback about your store. These inserts show that you put in an effort to make your customer feel valued and are often appreciated for their minimum effort results.
How are Packaging Inserts Useful?
Packaging inserts have several advantages for an eCommerce seller. Let us have a look at some –
Low-Cost
Firstly, they are low-cost and hardly require any additional investment from your end. You just have to pitch in a little extra to add to the package. If you have good ties with your printing partner, they might cover it for you at a very low cost.
Positive Customer Impact
They have a huge impact on the customer and also influence future purchase decisions. Packaging inserts combined with customized packaging can help you target an audience that is niche and is looking for edgy classiness in their packages.
Marketing Tools
They act as superior marketing tools as you do not have to spend any more on remarketing or putting the message out. Like it is said, the physical message has a stronger impact than a digital one, packaging inserts help you achieve that with almost no additional investment. If you include personalized messages along with small freebies, packaging inserts can help you build brand evangelists and loyalists in no time.
Improve Customer Retention
Packaging inserts can also help you improve customer retention without having to spend a lot on relationship marketing. You can send in a few discount coupons a cashback offers to lure customers into shopping with your website again. This will ensure these people keep returning to your website to make purchases and avail discounts. Eventually, these people will become loyal customers and automatically improve your customer loyalty score.
Let's have a look at a few types of packaging inserts and how you can use them for your eCommerce business.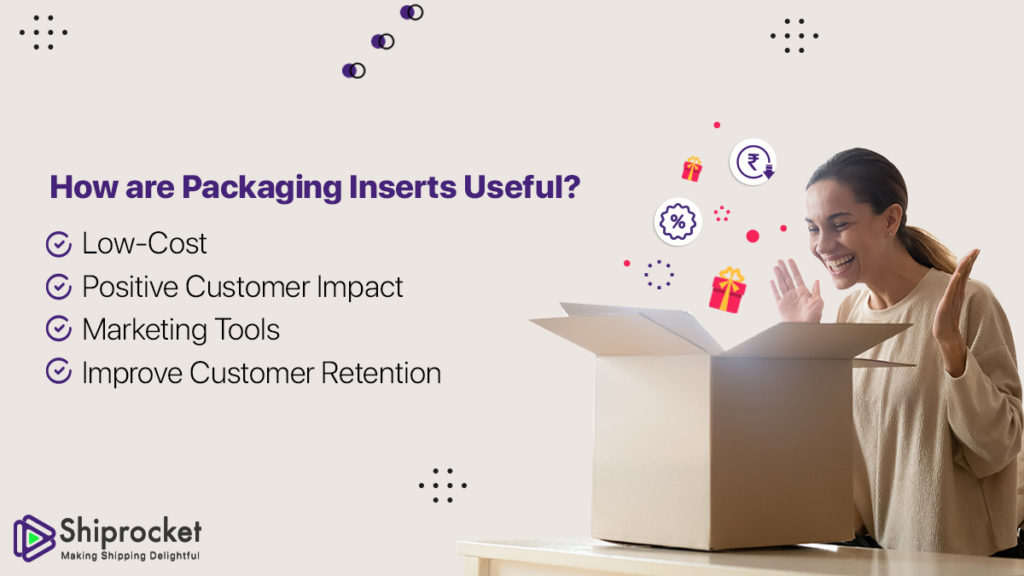 Types of Packaging Inserts
Discount Coupons
Discount coupons are by far the most popular and direct way of using the packaging insert. It gives your buyer a sense of personalization and also gives them the idea that their purchase on the website is valued. Even though it is easy to deliver these posts to purchase through email, adding them in our package box adds that little element of surprise to your shipment.
It is always a good idea to include more than one of these discount coupons as customers can even give them to their friends or relatives and this will help spread the word about your brand.
For example, DailyObjects, a popular phone case brand includes 2 discount coupons in their packaging to ensure that you return to their store to make a purchase.
Here are a few of the discount vouchers that you can include –
Free shipping on your next purchase
Rs.500 off on your next order above Rs. 1500
Loyalty membership free when you make another purchase.
Rs. 250 off when you get a friend to shop with us
Thank You Cards and Notes
Thank you cards and personalized notes that are handwritten can add a lot of value to your package. If you send a thank you card talking about how flattered you are about a customer making a purchase from your website and choosing you, they will feel special and will definitely return to your website to shop again. Retail today is all about the experience.
For example, when the cosmetic giant Kylie Cosmetics started shipping their lipstick kits, they always included a thank you note and a personalised letter signed by Kylie Jenner herself. This increased the value of the package by many folds and the products were sold out within minutes.
Brands are also defined by their stands these days. The trend for vegan packaging and recyclable material is doing the rounds. Therefore, if you are using recyclable material or sustainable packaging by brands like ship rocket packaging, you can mention it in a separate note. This will amplify your concern towards environment-friendly efforts and make it clear to the customer that you are as concerned about the environment as you are about them and the products they are buying.
Freebies or Samples
Customers are always happy when they get more than what they ordered. This means they will be very surprised and joyful when they receive a package with freebies or samples. This will not only give them a sneak peek into the other products you offer, but also give them a reason to come back to your website.
This even adds value to their purchase as they are receiving more returns on the investment they made on your website
For instance, the beauty brand, Kama Ayurveda has products that are slightly on the expensive spectrum. So their audience is targeted. But, when you order from the website online, you get a bag full of samples that range from creams, oils, face packs, etc.
This gives the sellers a hands-on experience for other products and they gladly return to purchase more. Also, with free products, the word of mouth promotion is greater!
Social Handles
Next, you can always send your social media handles to your customers along with something quirky. This will give them a chance to leave their feedback on your social pages and have their voice heard. You can also request them to leave positive feedback if they like your product and in return, they could get a free coupon for the next purchase.
You can also ask them to tag your page in the pictures they post with their product, in return for membership points or discount offers.
The popular apparel brand, Shein, rewarded its customers with shopping points for their next purchase when they uploaded images and tagged Shein on Instagram or Facebook.
This will not only help you increase your social reach but also help you establish many Nano-influencers to take forward the word about your brand and website.
How to Use Kit Or Quick Start Guide
Whenever you order any electronic item or home appliance online, you always get a user manual with it. It is time to make that packaging insert quirky and minimalistic. You can engage with your customers with the help of minimalistic graphics and content that can help optimize this guide. Instead of including a five-page long guide, you can guide your customers to your demo tutorials and make the process easy for them.
You can use this packaging insert to educate your customer about how they can use the product or give them an inspiration to apply it better.
We have always seen food brands like Del Monte or Hershey's offer their customers with quick recipes on the label of the product. You can follow a similar strategy and include such inserts to improvise your regular package.
Warranty Card
Always include a warranty card if the product is under warranty. This packaging insert does not need to be very fancy but it can add a lot of value and increase the trust of your customer. Especially for expensive products, direct them about the warranty and guarantee that you offer for the product. If it is not a certificate that you can offer, then direct them to the website or page where they can read more about this warranty.
This will save them from a lot of struggle of going online and looking for it and they will not have to contact you to learn more about it. In India, we have seen generations save the warranty cards for the future. Today, customers value the time the most and a warranty card can help them save it. Trust us, your customers might not realize it the minute they receive this, but they will definitely thank you in case they need some help!
Stickers and Catalogs
The main purpose of acting in search is to put the name of your brand out and make your buyers, promoters for your brand. With stickers and catalogs, you can do so directly.
When Jio and Apple sell their SIM cards and phones, they always have a few stickers within the packaging. It is obvious that these stickers serve no deep purpose. But when customers use them on their phone covers, it helps put the brand logo out there and it gets noticed.
For sellers in the apparel industry, it is always a good idea to include a small sneak peek of an upcoming collection in the package. This will give your buyers an idea about the other clothes that you might be selling and also tell them about an upcoming collection that might interest them. You can use your packaging in multiple ways to give your customer a reason to return to your website.
Conclusion
Packaging can be used as a strong marketing tool for your eCommerce business. Make sure that you make the most of it with the help of packaging inserts. Play around with the ideas of food and give your customer the best experience while shopping online. Reach out to companies like Shiprocket Packaging for using the best material and enhance the packaging with these inserts.
Use branded packaging wherever possible. But, if you can't, then make good use of packaging inserts like the ones mentioned above to make your package stand out.
Calculate Your Shipping Costs Now