Packaging 101 – Tips to Ensure Proper Packaging for Every Order
Research has shown that nearly as many consumers (10%) consider the packaging of a product almost as important as the brand itself (12%). This means that your packaging needs to be on point if you want to improve your customer experience, reduce shipping damage, and avoid any operational delays.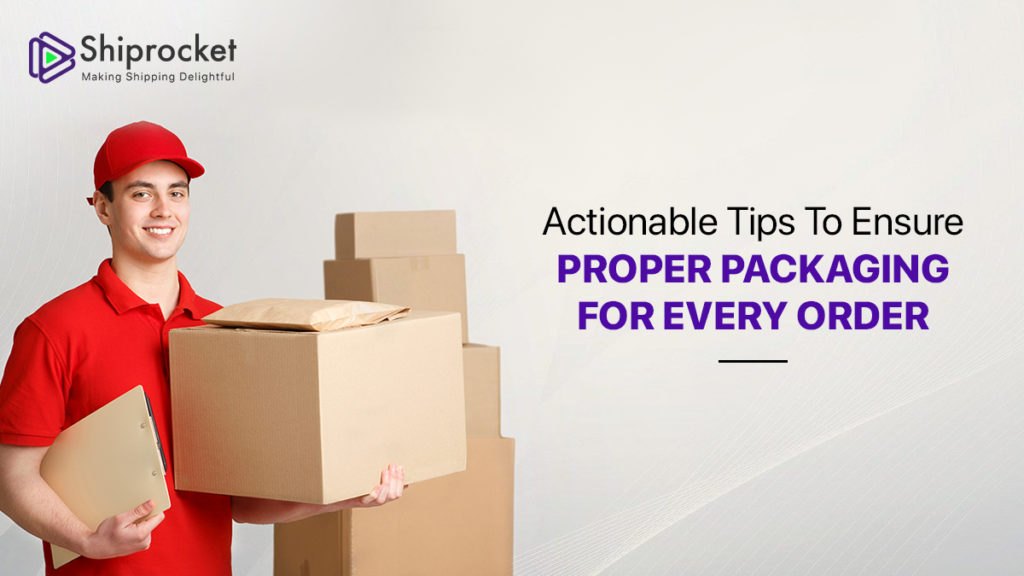 Understanding the Importance of Appropriate Packaging
First impressions count. For instance, if you are selling a mobile phone and it is not packaged appropriately in a corrugated box in several layers of protective packaging,it might face slight friction during transit causing damage either in the form of a broken body, cracked screen, or something else. How will such a delivery impact your buyer's experience? Impossible to imagine, right? That is why it is essential to package your product appropriately so that your buyer receives what they order and the shipping is smooth.
We are sure you are aware that many packages are picked up from a courier hub and then delivered to respective destinations. This means that if your product is not packaged appropriately, it can also damage other shipments with the delivery agent.
Are you worried your product might be at risk? Amcor conducted comprehensive tests on common consumer products in line with the industry standards and found that out of the 170 products tested across 34 categories, only 53 items survived to test. That adds up to a whopping 70% which are alarming results.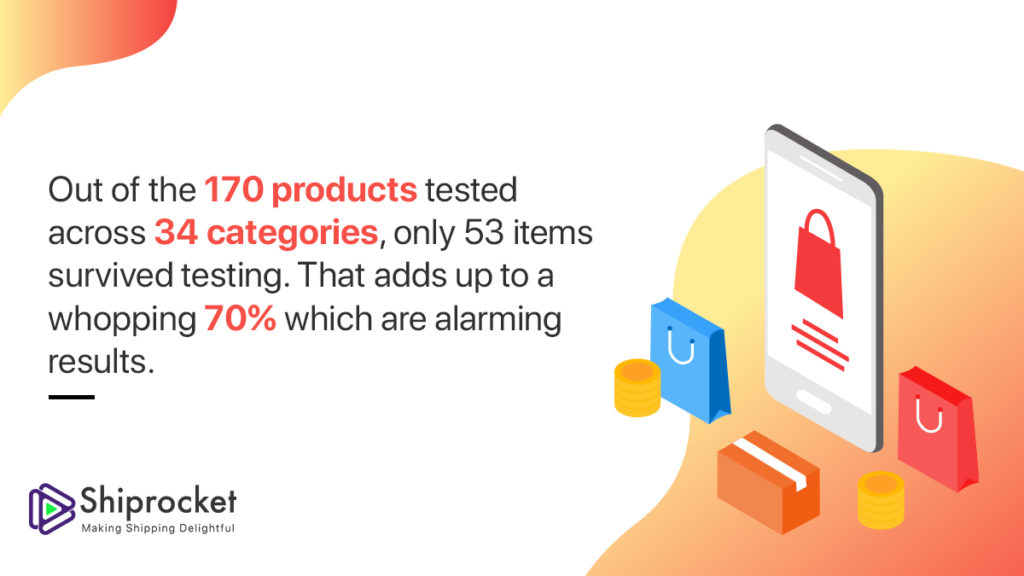 Furthermore, the importance of packaging is not just restricted to safety and consumer experience. It can also help you reduce weight discrepancies. As a shipping company, we realize that most of your time goes into waste in tackling weight discrepancies that arise due to improper packaging.
Such errors can cause a major setback for your operations and eat up your bandwidth. Most of all, they can be extremely frustrating to deal with. But, with proper packaging and weight measurement, you can avoid these challenges altogether.
Packaging may seem like a small part of the process but it indeed solves more than one purpose in the fulfillment supply chain for your eCommerce business.
How to Ensure Proper & Efficient Packaging for Every Order?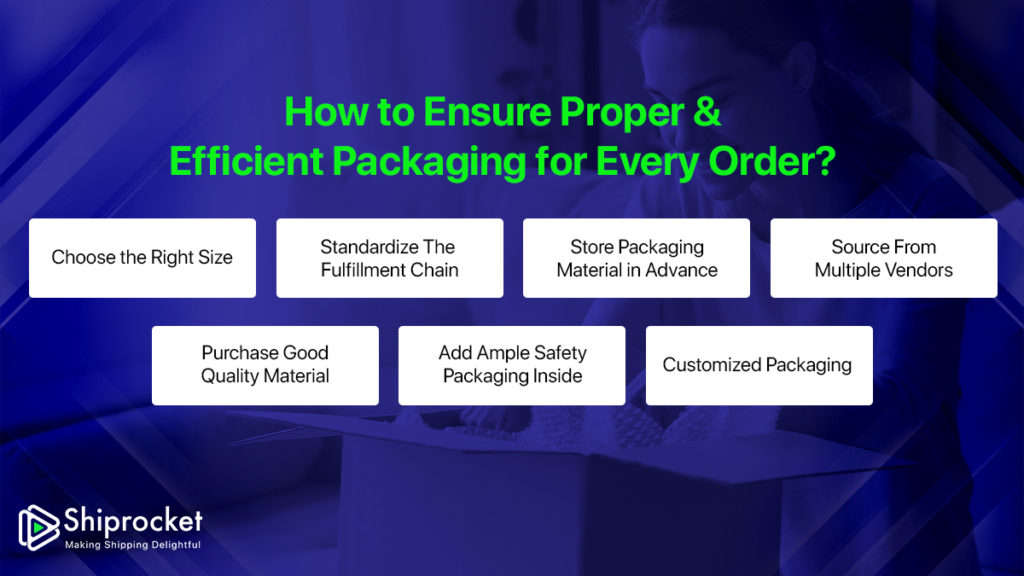 Choose the Right Size
Don't pack your product in oversized packaging. You will only be paying extra for space as couriers charges are based on the volumetric weight i.e. (Length x Breadth x Height) / 5000. This includes the dimensions of the final package. Hence, choose the most appropriate size for packaging and firmly package the product inside it.
To ensure you find the perfect fit, test with multiple boxes to see which ones fit best for your SKUs. This step will give you more clarity about the packaging size and help in standardizing the process.
Standardize The Fulfillment Chain
Don't confuse your staff with multiple steps and several touchpoints. This will increase the processing time and eventually your package will ship late leading to delayed delivery.
According to a report by GWP, slow shipping time will deter approximately 40% of consumers from making a purchase.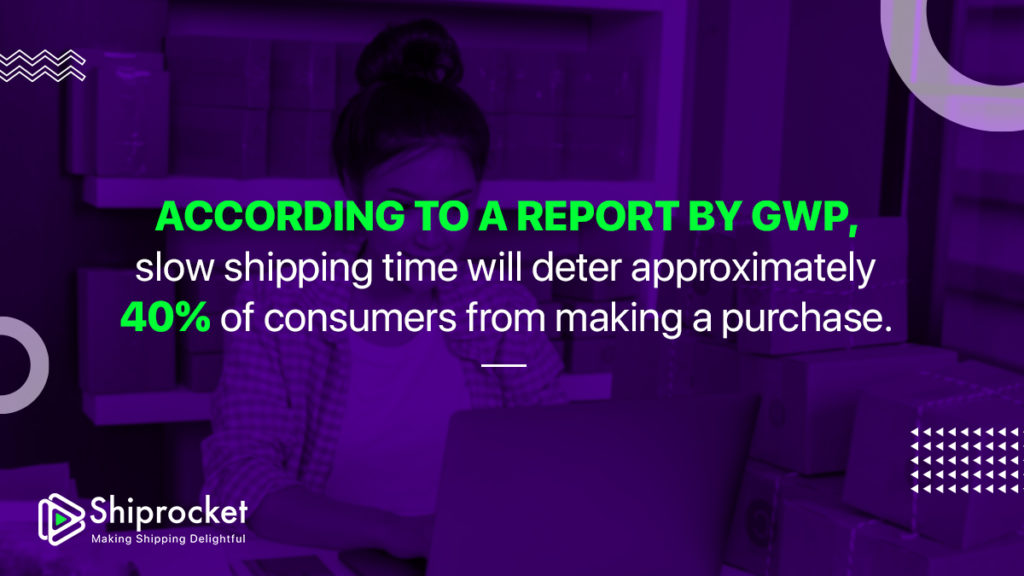 Hence, set up a streamlined process with specific spots designated to different materials. Specify packaging material for every SKU and train your employees to pack accordingly.
You can create checklists and SOPs to make sure every member follows the same guidelines. This will ensure that packaging is carried out faster that will eventually speed up the fulfillment, shipping, and delivery process.
Store Packaging Material in Advance
Analyze your inventory, forecast sales, and order your packaging material well in advance. This will help you stay prepared and process incoming orders quickly. When you check your inventory on a regular basis for determining the levels and repurchasing your products, do the same for your packaging material as well.
Run an inventory check and purchase packaging material from your vendors. Do this exercise before any major sale or occasion where you are bound to witness a spike in orders. For example, Diwali or New year.
A suitable practice would be setting up a calendar and identifying the dates where you will need more packaging than usual. This will help you plan for ahead and stay updated with the incoming orders
Source from Multiple Vendors
If you have many shipments to fulfill, then it makes sense to have more than one vendor onboard for your packaging material. This ideology is debatable and there are two schools of thought behind it.
The first school says that having a single vendor can be useful for your business as your packaging will be uniform and you can skip the hassles of coordinating with multiple people for the same thing. Moreover, you will be able to get the best rates for the material. But there is a downside to this. If due to some reason your vendor is not able to supply you the material, you will face a major setback and it will be difficult to arrange material instantaneously.
The second school of thought proposes the idea of having multiple vendors for your packaging material. Yes, this will be cumbersome as you will have to give double guidelines to different people and synchronize accordingly. But, in case of emergencies, you will always have a backup to rely on. Since packaging is a major part of your business, you need a Plan B to be secure always.
We believe this is a better approach as you can source material from several places and be prepared.
Purchase Good Quality Material
Packaging can add up to your total fulfillment costs and also be a reason that they increase. But, they should not be an area for cutting costs. Even though good quality packaging material can be expensive, it is imperative that you invest in it. Poor quality material can damage products while in transit and if it is not durable or sturdy, it can also damage other products that are in the vehicle, leading to extensive loss.
Instead, find means to save up on logistics costs. You can tie-up with companies like Shiprocket to ship at discounted rates and with the best courier partners.
Add Ample Safety Packaging Inside
Add enough safety packaging material like pellets, bubble wrap, polystyrene peanuts, foam caps, etc.
These help your product sustain friction on the road and absorb any additional shocks that the package might go through.
If you are shipping fragile items like glass, bottles, jewelry, etc., always ensure to use these materials inside your box. Your products will stay safe and you will save up on the cost and embarrassment of delivering damaged products to your customers.
Since it is also a responsibility to use sustainable material for packaging, try to use biodegradable products for safety. For example, instead of using polystyrene peanuts, you can make use of biodegradable ones made from starch or composting material. Also, you can use corrugated bubble wrap instead of traditional plastic bubble wrap.
Similarly, you can also use acting materials made from plant-based processing and starch-based packaging to ensure environmental safety.
Customized Packaging
Customization in packaging is not particularly impactful for shipping but can be extremely useful for improving your customer's delivery experience. Customers love it when the package has their name and specialized products. To customize your packaging, you can add a handwritten card, or even discount coupons for their next purchase.
How to Identify Good Packaging Materials?
A good packaging material will be thoroughly tested for several qualitative parameters. These will be mechanical and environmental parameters that will help determine the quality of the package. Here are a few parameters you must enquire about from your vendor before you purchase the material.
Flexibility
A good packaging material will have a good flexure strength. It will be able to absorb shocks at bends and will not have a very weak bend strength.
A good bend strength or flexibility is important as the package will be molded into several shapes or bent at several spots to ensure safe packaging. At any point, the packaging must not rupture & keep the product safe.
Compression Properties
A package must have superior compression properties so we can assess If it will be able to sustain stresses, strain, or defamation during transportation. More often than not, boxes or flyers are stacked upon one another when being taken from one hub to another. This means the package needs to be able to bear stress so that they can be transported without damage.
Tensile Strength
This tensile strength determines how much product packaging can contain. You must select your packaging for SKUs based on the tensile strength. If the packaging material has a poor tensile strength and your product is bulky, it might lead to damage, leakage, or even spilling.
Barrier Properties
An important quality of packages is that it should not interact with the content inside. Also, it should not allow any gas or liquid to permeate through. If your package is not airtight or liquid-proof, it can be easily damaged or lead to damage. Strong barrier properties ensure a sustainable and reliable package.
Steps to Choose a Suitable Packaging Material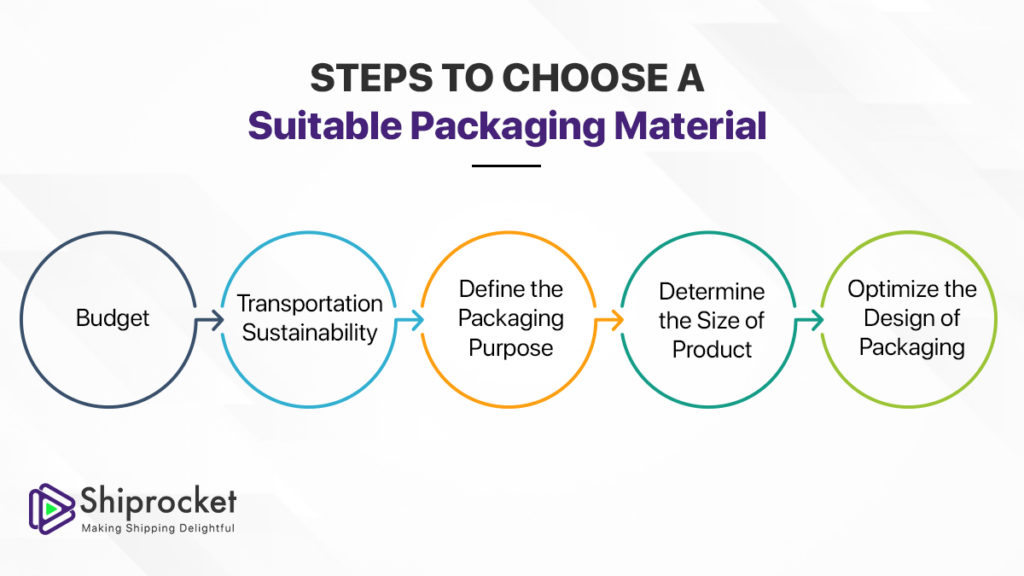 Budget
You must start planning for your packaging based on your budget. Segregate the funds and chalk out how much you are willing to spend on the packaging of your product. If you're just getting started, it would not be ideal to spend a lot on customised packaging and basic cardboard boxes or flyers might be the best option.
Whereas, if you are looking to provide your customers with a customised solution, you can opt for a little more expensive packaging that has other elements to beautify the entire look along with safety & sturdiness.
Transportation Sustainability
Next, you must always look out for how sturdy the package is as it will determine the load it is able to take. Take in consideration factors like tensile strength and compressive properties and analyze how well your packaging will perform under pressure. Transportation stability is extremely important for determining the final packaging material.
Define the Packaging Purpose
Keep in mind the basics about who the packaging is targeted to. Packaging is helpful in formulating the first impression on the buyer, therefore, choose it accordingly. Also, keep in mind the products you are sending and what role does the packaging have to play in the entire shipment. For example, if you are shipping dried products, make sure you use vacuum packaging or several layers of packaging to maintain the moisture sensitivity. Whereas, if you are shipping cosmetic products, you can ship them in simple boxes to avoid damage.
Determine the Size of Product
The size of the product is extremely important in determining the type of packaging you choose. If the product is large, go in for a corrugated cardboard box. Similarly, if you ship documents or small sized products, use flyers.
If you try to squeeze large products in small packaging material, you might burst the packaging or tear it from the edges. Also, if you ship small products in large boxes, you will be paying extra for shipping.
Therefore, carefully analyse the different sizes of packaging you require and then choose an assortment of suitable packaging material for different SKUs.
Optimize Packaging Design
Lastly, optimise the design of your packaging. For designing the package, you will have to consider all the parameters like the budget, transportation sustainability, the purpose of your packaging, and the size of the product. With complete information around these, you will be able to give your package a unique design that can help you save costs, be efficient, and also promote your brand at the same time.
This step is extremely tedious and requires a lot of research. But once you complete this step, you will have a much better understanding about the type of material you need and how you can mold it according to your needs.
Final Thoughts
eCommerce packaging is an extension of your fulfillment process. It is vital for you to carry out all the processes of packaging selection, analysis, and make sure it aligns with your shipping goals. If the packaging is on point, it will help you speed up the fulfillment supply chain and also give your customers a superior delivery experience when they receive the product.
Calculate Your Shipping Costs Now